We already published the list of best Switch games of all time, now it's time to discover the best Switch visual novel games of all time.
With amazing titles available, the Switch definitely has a great library of visual novel games.
So, if you're a fan of both the Switch and visual novel games, there's a chance you'll like this list.
And some of you may already know some of the games mentioned in this list.
#5. World End Syndrome
Release Data: TOYBOX/Arc System Works, 2019
Genre: Adventure » Visual Novel
In this game, players follow the story of a young man who moves to a small town in search of a new start.
And as he gets drawn into the lives and conflicts of other characters, he begins to uncover the secrets of the town and its dark past.
If you're looking for a captivating narrative experience, then check this out.
#4. Bury me, my Love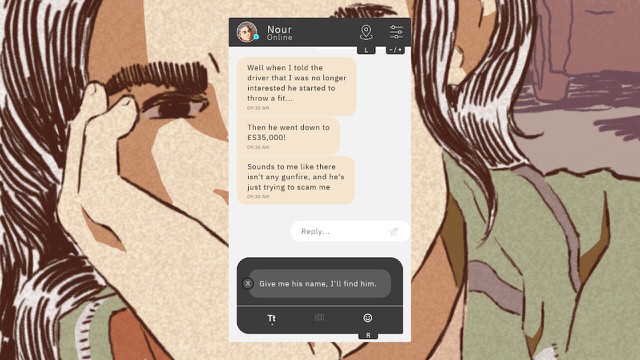 Release Data: Plug In Digital, 2019
Genre: Adventure » Visual Novel
This visual novel tells the story of a Syrian refugee and her journey to Europe.
As you play, you'll receive notifications on your Switch, and you'll be able to respond to her messages.
It's a clever way to tell the story, and it helps to bring you into the experience of the game in a way that other visual novels don't.
#3. Cinders
Release Data: Crunching Koalas, 2019
Genre: Adventure » Visual Novel
In this game, Cinderella is a strong, independent woman who is determined to take control of her own life.
In terms of gameplay, Cinders is a fairly traditional visual novel, with players making choices throughout the story that will affect the outcome of the game.
Overall, it is a visual novel that offers a fresh take on the classic Cinderella story.
#2. Subsurface Circular
Release Data: Mike Bithell, 2018
Genre: Adventure » Visual Novel
This interesting game takes its inspiration from classic text adventure games.
The game is presented in a three dimensional world and from a third person perspective, and follows the android detective on his mission.
In the end, you will explore the subway as you see fit, engaging in conversations, finding items, and solving puzzles when necessary.
#1. 80 DAYS
Release Data: inkle, 2019
Genre: Adventure » Visual Novel
In 80 DAYS, you play as Phileas Fogg's loyal valet, Passepartout, as you travel around the world in an attempt to circumnavigate it in just 80 days.
Along the way, you'll encounter a variety of different characters and locations, each with their own unique stories and challenges.
Overall, 80 DAYS is a must-play for fans of narrative-driven games.
---
Browse Switch Games By Genre
See also: Best Wii U Games & Best Gaming Chairs
Are your favorite games on the list?
Deciding which Switch visual novel game is the best is no doubt a never ending topic, but it's fun to do!