So far, I've covered a few specific categories here and there, from best racer chairs to best rocker chairs.
This time though, I want to make a big post covering all the needs you could ever have!
As such, I've compiled this list of some of the best gaming chairs in each category, whether it's chair under $100 or even bean bag gaming chair.
If it has a category, I'll probably be covering it.
So, without further 'ado, let's get going!
If you're looking for something really high end that would fit both a desktop and a living room, then this is the chair for you.
The first thing you'll notice is that the chair is decked from head to toe in high-end PU leather, as well as some pretty thick padding.
Combine that with the 135-degree recline, with a footrest that can also be raised independently, and you get yourself a pretty amazing sitting experience. That's not all though.
You also get yourself a cup holder, which is always super handy, as well as a side pouch to put your remotes/controllers in, a feature you don't often see for living room solutions.
Finally, in terms of added features, you get yourself a headrest pillow.
One thing I will mention is that because it has a pedestal, it might not be the best for a desktop. Nonetheless, you don't often find a chair that can handle both desktop and living room, so it's a worthy sacrifice for the added functionality (although dragging it around will be a pain).
This Furmax gaming chair has shown up a lot in previous articles, and there's a good reason for that: It's a really, really great chair.
For starters, it's built out of a metal frame, so it's really sturdy. Covering that metal frame is some thick padding, which is actually thicker than the previous version of this chair.
Finally, it's surrounded by some nice PU leather.
Functionality wise, you get a lot. The chair can go all the way back to a whopping 180 degrees, and it does have a rocker function, which is always a nice inclusion.
Unfortunately, the armrests are only adjustable up and down, although they are somewhat soft, so that's something.
Finally, you do get a headrest and lumbar support pillow, as well as a footrest on rails (not as fancy as the Respawn-900, but it's still good to have).
Another great desktop chair from a known manufacturer, you can't go wrong with the Homall if you want to get something that's mid-range.
Compared to the Furmax, this chair only has a metal frame, rather than a steel one, although that's still pretty sturdy.
In terms of cushioning it's about the same, with some thick padding, although slightly less than the Furmax.
Finally, they're both essentially equal in terms of PU leather, which isn't surprising since it's the most front-facing part of the design.
Similarly, you do get some downgrades, such as the armrests not being adjustable. Thankfully it does recline all the way down to 180 degrees, as well as having a rocker function, so it's not a complete loss!
Finally, just like the Furmax, you get a headrest pillow and quite a sizable lumbar support pillow.
Alright, so maybe this isn't really pretty or fancy looking, but it's a good budget gaming chair, especially if you're looking for a rocker type chair for your kids.
As you'd expect, there aren't many features here. The frame is made out of wood, and then stuffed with polyurethane padding, finished with a vinyl cover.
Unfortunately, it doesn't fold in half for easy storage, but as it's pretty small, that shouldn't really be an issue.
It's also pretty ideal for non-gaming, such as if your kid wants to listen to music or read a book.
While at first glance you might not consider a bean bag as a gaming chair, it's certainly a good option. It's easy to move about, it sits low on the ground if you have low TVs, and if it's big enough, you can take a nap or use it as a couch for two people.
While this Chill Sack might not fit two people, it's still pretty good. The outer material is double-stitched microsuede, so it's both comfortable and durable.
It can also be removed and is easily washable, which is always a massive plus with bean bag chairs.
Of course, this bean bag doesn't actually have any beans in it, but instead, it has shredded memory foam. It's a different feel from traditional beans, in that it's softer and sinks more, so you have to consider whether that's something that bothers you or not!
So far we've only really looked at general gaming chairs, but what if you're a big racing sim and want to get a chair to fit that. Well, OpenWheeler has you covered.
The most amazing thing about this chair is the amount of adjustability. The seat, the pedal board and the wheel shaft can be moved back and forth.
The wheel shaft can also be adjusted up and down, and the wheelboard can also be tilted upwards or downwards.
Finally, the pedal board can also be moved into three different positions left and right.
Actually, there's also one more bit of adjustability, which is that the shifter can go on either the left or right side, which is a big plus for those of you who drive on the left-hand side.
In terms of the chair itself, it's reasonably good, and resembled what you'd find in a racing car, although not nearly the same level of quality and build.
It does manage to recline though, so if you're into the 'sleeping in a car' feel, you're all set!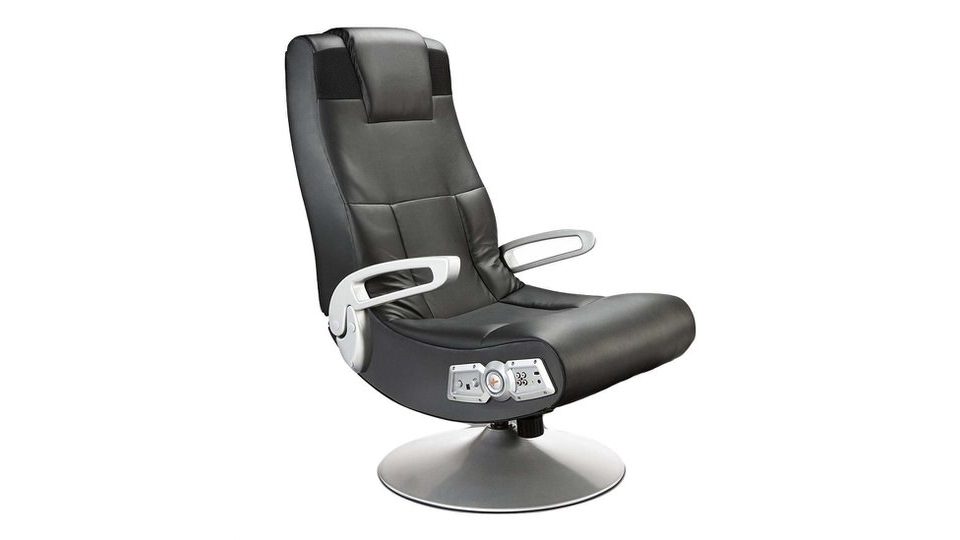 You've probably seen the Ace Bayou show up on this site before, and that's because it's a great chair. This is the pedestal variant, so if you have experience with the other type, you should know what I'm talking about!
This chair packs a bunch of features, from the front-facing speakers, to the comfortable padding and great PU leather.
You also have easy access to everything with a nice side-panel for volume and the wireless audio system. Finally, it has a rocking feature, which would be weird if it didn't since 'rocker' is in the title!
Of course, you don't get a head or lumbar support pillow, but that's not too much of an issue given that it is somewhat ergonomically designed.
If the Homall isn't nice enough for you, and the Furmax is a bit too expensive, this is a nice middle ground between the two.
One of the main differences between the GTRacing and the Furmax is that the GT has a bit more of a bucket seat.
It also doesn't have a footrest. Other than that though, they're essentially the same seat.
Much like the Furmax you get a nice cushiony seat, with some great quality PU leather to top it off. The armrests are adjustable up and down, and they're also padded with extra rubber for some softness.
Unfortunately, the GTRacing chair only reclines to 170 degrees, as compared to the 180 of the Furmax, which isn't that big of a deal, to be honest.
Finally, you get yourself a rocker function, as well as a headrest and lumbar support pillow.
Another chair that's featured quite a lot on my website, this is the grand master of rocker chairs with pretty much all the features.
The big standout one though is the 4.1 surround sound that comes with their patented AFM technology, which is essentially a sound-based rumble feature.
As you've probably noticed from the picture, the padding is super thick, and the PU leather is excellent, making for an unrivaled seating experience.
Unfortunately, while it does have gunstock arms, they aren't adjustable and that's a bit annoying.
Just like the other X Rocker on this list, this one has wireless connectors for your TV so you don't have to have a bunch of cables.
That being said, it still needs a power cable, so it's not truly wireless.
Finally, it folds in half, a great feature if you don't have much space and need to store it when not in use.
So the final option on this list is if you're looking for more of a theater feel.
For starters, this is probably the thickest and plushiest cushioning you're going to find on this list. Of course, great cushions don't mean anything without anything to cover them with, and for that, you get actual real leather, not just some PU stuff.
Then, of course, come the features. Each end of the sofa has a cup holder, as well as a hidden tray. The middle seat actually comes down and offers you an additional tray, which has two USB ports and two standard plugs, so that you can charge all your devices and then some.
The headrest in the middle also pulls up and gives you a very faint overhead light; enough to see, but not enough to blind you in a dark room.
Finally, the two end seats recline with the footrest, so you can lie back and enjoy whatever you're doing. There are also some blue LED lights hidden below, so that you can see where you're going if the lights are off.
Oh, and the best of all, is that all of this is controlled from a handy panel on the side of the armrest!
Conclusion
There you have it folks, a chair for each category for whichever need you have. At this point, I usually give some quick picks, but since every chair on this is the best in the category, there's very little reason for me to do that.
So, enjoy your shopping, and I wish you the best of luck in finding a gaming chair for your needs!