We already published the list of best Switch games of all time, now it's time to discover the best Switch action games of all time.
With amazing titles available, the Switch definitely has a great library of action games.
So, if you're a fan of both the Switch and action games, there's a chance you'll like this list.
And some of you may already know some of the games mentioned in this list.
#25. Captain Toad: Treasure Tracker
Release Data: Nintendo Software Technology/Nintendo, 2018
Genre: Action » Platformer » 3D
Captain Toad: Treasure Tracker perfectly made for handheld, offering a refreshing break from other story-heavy games.
For a puzzle platformer game, the levels are not challenging enough, but not every game is meant to be challenging.
Simply put, Captain Toad: Treasure Tracker gives a story to a side character in the universe of Mario World, and Nintendo did it brilliantly.
#24. Pinball FX3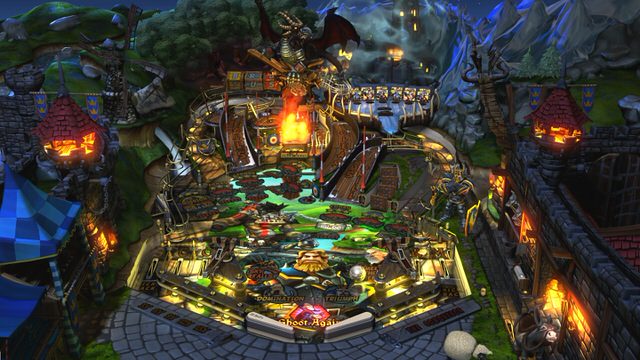 Release Data: Zen Studios, 2017
Genre: Action » Pinball
Virtual pinball has never been better, and Pinball FX3 shows us just how much that is true.
Whether you're smashing ramps in The Walking Dead Pinball, hanging out with your favorite cartoons in South Park Pinball, or enjoying some horror movie madness with Aliens Pinball, Pinball FX3 has any kind of pinball table you could want.
#23. Splatoon 2
Release Data: Nintendo, 2017
Genre: Action » Shooter » Third-Person » Arcade
Its colorful nature and wacky combat is a great departure from the violent shooting games.
You play as an Inkling, a semi-aquatic being that can shoot ink out of their guns and then swim through it.
This also plays into the major mechanics of the game, which has you shooting and swimming through a variety of levels in its story-driven campaign.
#22. Yoku's Island Express
Release Data: Villa Gorilla, 2018
Genre: Action » Pinball
This lighthearted and colorful adventure is a mixture of Metroidvania mechanics and classic pinball gameplay.
You work your way across the large world of Yoku's Island, meeting fun characters and working hard at your job delivering stuff.
The gameplay is addictive and enjoyable, and the end result is a wonderful mixture of adventuring and pinball.
#21. VOEZ
Release Data: Flyhigh Works, 2017
Genre: Action » Rhythm » Music
VOEZ looks similar to other dancing-based rhythm games.
As the song plays out, diamond shapes approach you on a static track, and you must tap the diamonds along with the beat of the song.
Since you're playing this game with your fingers and not your feet, this opens up an exciting amount of gameplay difficulty.
#20. Sayonara Wild Hearts
Release Data: Simogo/Annapurna Interactive, 2019
Genre: Action » Rhythm » Music
Sayonara Wild Hearts is a trippy audio surf game with a compelling story and tear-jerker moment in the end.
It is an imaginative game with incredible music and creative visual throughout the game.
While the content is relatively short, Sayonara Wild Hearts will keep you coming back simply for the amazing experience and journey the game delivers.
#19. GRIS
Release Data: Nomada Studio/Devolver Digital, 2018
Genre: Action » Platformer » 2D
GRIS delivers a moving story about grieving and moving on from the loved one.
The beautiful soundtrack and majestic visual combined to make GRIS a roller coaster ride of emotion.
Play GRIS if you're ready to feel emotional and to think about the meaning of life, and lesson from every step you take.
#18. Freedom Planet
Release Data: GalaxyTrail/XSEED Games, 2018
Genre: Action » Platformer » 2D
Freedom Planet is a game that let you explore the game to find hidden secrets and treasures along with the level.
Overall, the story is enjoyable, every character is well laid out, the graphics are amazing and an additional game mode beside adventure will keep you hooked to the game.
#17. Ape Out
Release Data: Gabe Cuzzillo/Devolver Digital, 2019
Genre: Action » Shooter » Shoot-'Em-Up » Top-Down
Ape Out's art style is aesthetically pleasing, giving the game a strong indie vibe.
It is a simple and fun four chapters story that will take around half an hour per chapter.
Overall, Ape Out is a blast to play, and the fluid explosive gameplay combined with a fast-paced jazz drum is a fresh and unique encounter.
#16. Sonic Mania
Release Data: Tantalus/Sega, 2017
Genre: Action » Platformer » 2D
This amazing Sonic game brings us back to yesteryear, as the graphics are more reminiscent of Sonic's time on the Sega Genesis.
The game features a combination of both classic Sonic levels and brand new ones, offering a good mixture of familiar and exciting new content.
You can play both single-player and coop, which is great if you have friends.
#15. Just Shapes & Beats
Release Data: Berzerk Studio, 2018
Genre: Action » Rhythm » Music
Just Shapes & Beats stay true to its name, a simple-looking bullet-hell game, but what lies beneath is a perfectly polished game with a pleasing audio-visual stimulation throughout the game.
And it is at its best when paired with your best headphone, or even better your living room speaker, turn the volume to max and enjoy a pleasant musical gaming experience.
#14. Shovel Knight: Specter of Torment
Release Data: Yacht Club Games, 2017
Genre: Action » Platformer » 2D
This fantastic indie game recalls classic action platformers like Mega Man and Castlevania.
The controls are tight and responsive, and the basic attacks and digging mechanics are incredibly easy to pick up.
In the end, this pixel art indie is an absolute masterpiece, and should be played by anyone who is a fan of retro sidescrollers.
#13. Donkey Kong Country: Tropical Freeze
Release Data: Retro Studios/Nintendo, 2018
Genre: Action » Platformer » 2D
This Wii U game was amazing when it was first released, and the Switch version adds even more awesome features.
You'll jump and roll through a variety of awesome looking levels across the game's multiple worlds, before taking on the Snowmads in their frosty kingdom.
Overall, this is a great game for those looking for a colorful platforming challenge.
#12. The Messenger
Release Data: Sabotage Studio/Devolver Digital, 2018
Genre: Action » Platformer » 2D
The Messenger has an amazing narrative with a twist in every corner, be it in terms of story or the gameplay itself.
Undoubtedly one of the best indie game on Switch, The Messenger is a proof that there is still some value that can be added to the saturated retro platforming genre.
#11. Cadence of Hyrule: Crypt of the NecroDancer Featuring The Legend of Zelda
Release Data: Brace Yourself Games/Nintendo, 2019
Genre: Action » Rhythm » Music
The developer has crafted a unique Zelda game which fits in perfectly with the franchise.
By allowing a talented indie developer to get in, Nintendo has gained a fantastic entry in the franchise that feels like a celebration.
Cadence of Hyrule is not just a brilliant game, it's a brilliant Zelda game – one that you won't want to miss.
#10. Super Mario Maker 2
Release Data: Nintendo, 2019
Genre: Action » Platformer » 2D
Put in as simple a manner as possible, this is likely to be the last 2D Mario game you'll need.
It's Super Mario Maker but with more of everything that made the original so phenomenal.
For any fan of Mario who owns a Switch buying this game is an absolute necessity.
#9. Dead Cells
Release Data: Motion Twin, 2018
Genre: Action » Platformer » 2D
Dead Cells is a masterclass in excellent roguelike design, mixing together intense action sequences, gorgeous vistas, and an addictive loop of rewards into a beautiful experience.
There are hundreds of hours of content available here, and though some sense of repetition can creep in every now and then, it's remarkable how fresh Dead Cells can stay through all those hours.
#8. Ikaruga
Release Data: Treasure/Nicalis, 2018
Genre: Action » Shooter » Shoot-'Em-Up » Vertical
Ikaruga is pure fun and excitement, and it's a fantastic game to play with a friend.
And despite its insanely hard difficulty, Ikaruga is fun to play and a great challenge time and time again.
This classic arcade shoot 'em up remains fun years after its release, and the Nintendo Switch gives it an awesome boost in portability.
#7. Star Wars Pinball
Release Data: Zen Studios, 2019
Genre: Action » Pinball
With short and snappy missions, it's perfect for bursts of short play on a commute or longer sessions in search of high scores and holocron shards.
Switch-exclusive features such as the Career mode, the updated Galactic Struggle, an unlockable soundtrack and support for vertical play make this a fine addition to the platform's growing pinball library.
#6. Cuphead
Release Data: Studio MDHR, 2019
Genre: Action » Platformer » 2D
Cuphead was a masterpiece when it launched on Xbox One and nothing has been sacrificed in its move to the Switch.
In other words, it's the same difficult game it was on Microsoft's console.
Its focus on intense boss battles won't be to everyone's tastes, but as long as you know what you're getting yourself into, it's absolutely recommended.
#5. INSIDE
Release Data: PLAYDEAD, 2018
Genre: Action » Platformer » 2D
INSIDE's game developer successfully created a minimalist dystopian world with an immersive dark atmosphere.
The story itself is always mysterious and engaging as you don't know what to expect at the end of the story.
INSIDE is a perfect example of an atmospheric game design that'll leave you with existential dread by the time you finish the game.
#4. Sonic Mania Plus
Release Data: Sega, 2018
Genre: Action » Platformer » 2D
If you already own Sonic Mania, Sonic Mania Plus will add several hours of gameplay into the existing game and continue right away to where you left off in the original game.
All in all, Sonic Mania Plus is a great game and a great refreshed version from the old game with amazing graphics and entertaining gameplay.
#3. Super Smash Bros. Ultimate
Release Data: Nintendo, 2018
Genre: Action » Fighting » 2D
Its entertaining single-player content helps keep the game rich with interesting things to do, as well as bolstering its spirit of loving homage to the games that have graced Nintendo consoles.
Ultimate's diverse content is compelling, its strong mechanics are refined, and the encompassing collection is simply superb.
#2. Celeste
Release Data: Matt Makes Games Inc., 2018
Genre: Action » Platformer » 2D
Celeste is one of the most beautiful and challenging platforming games in existence.
You'll likely die thousands of times before beating it, but you'll do so with a smile on your face.
The story is light, but impacting, and deals with heavy topics like depression and anxiety.
Altogether, it's a redeeming and heartfelt story with incredibly satisfying and challenging gameplay to match.
#1. Super Mario Odyssey
Release Data: Nintendo, 2017
Genre: Action » Platformer » 3D
Super Mario Odyssey gives us the expected 3D platforming of a traditional Mario game, but adds an exciting twist.
The game delivers an adventure unlike any other, and it rewards players for being clever and skillful.
All told, Super Mario Odyssey is not only the best Nintendo Switch game, but possibly the best 3D Mario game of all time.
---
Browse Switch Games By Genre
See also: Best Wii U Games & Best Gaming Chairs
Are your favorite games on the list?
Deciding which Switch action game is the best is no doubt a never ending topic, but it's fun to do!