We already published the list of best Switch games of all time, now it's time to discover the best Switch roguelike games of all time.
With amazing titles available, the Switch definitely has a great library of roguelike games.
So, if you're a fan of both the Switch and roguelike games, there's a chance you'll like this list.
And some of you may already know some of the games mentioned in this list.
#5. Omega Labyrinth Life
Release Data: D3Publisher, 2019
Genre: Role-Playing » Roguelike
Omega Labyrinth Life is a well-crafted game that is intended to appeal to a particular audience.
However, it should be noted that the game's themes may not be suitable for all audiences, and there is the option to skip certain content.
Despite this, it is overall a recommended game for those it may appeal to.
#4. Chocobo's Mystery Dungeon: Every Buddy!
Release Data: Square Enix, 2019
Genre: Role-Playing » Roguelike
Chocobo's Mystery Dungeon: Every Buddy! is a delightful game that is packed with content.
It may not bring many new ideas to the table, but it executes everything it does very well.
And while the difficulty level may be off-putting for some players, this game is likely to be considered one of the best in the Mystery Dungeon series.
#3. For the King
Release Data: IronOak Games/Curve Digital, 2019
Genre: Role-Playing » Roguelike
For The King is a surprisingly addictive blend of roguelike and tabletop RPG elements.
Despite being conceptually simple, it offers a charming and engaging experience with multiple campaigns, customizable parties, enjoyable cooperative play, and a currency system that encourages replayability.
The game does have some flaws, including an underdeveloped combat system, but it is still a worthwhile adventure overall.
#2. Mary Skelter 2
Release Data: Compile Heart, 2019
Genre: Role-Playing » Roguelike
Mary Skelter 2 is a highly polished dungeon-crawler that excels in every aspect.
The labyrinths are exciting to explore and feature a variety of creative gimmicks that add to the game's unique identity without becoming overwhelming.
Additionally, the enhanced edition of the first Mary Skelter game is included, making this a must-have for any dungeon-crawler fan.
#1. Tangledeep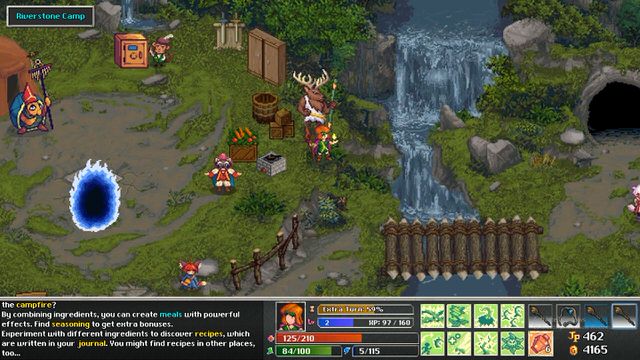 Release Data: Impact Gameworks, 2019
Genre: Role-Playing » Roguelike
The game has impressive visuals and sound effects, and the mechanics are easy to understand.
And while the Switch version have a clunky interface, the depth and variety of the RPG elements make it well worth the effort.
Overall, Tangledeep is a great choice for those seeking a challenging and entertaining roguelike dungeon crawler.
---
Browse Switch Games By Genre
See also: Best Wii U Games & Best Gaming Chairs
Are your favorite games on the list?
Deciding which Switch roguelike game is the best is no doubt a never ending topic, but it's fun to do!