We already published the list of best Switch games of all time, now it's time to discover the best Switch action puzzle games of all time.
With amazing titles available, the Switch definitely has a great library of action puzzle games.
So, if you're a fan of both the Switch and action puzzle games, there's a chance you'll like this list.
And some of you may already know some of the games mentioned in this list.
#10. Pikuniku
Release Data: Sectordub/Devolver Digital, 2019
Genre: Puzzle » Action
In Pikuniku, you play as a red creature named Piku who must travel through a variety of beautifully crafted environments, solving puzzles and helping out the quirky inhabitants along the way.
Overall, Pikuniku is a joy to play and a perfect game for players looking for a lighthearted and entertaining experience.
#9. Death Squared
Release Data: SMG Studio, 2017
Genre: Puzzle » Action
The premise of the game is simple: guide a group of robots to their designated goals without letting them fall off the edge of the platform or collide with each other.
However, as you progress through the levels, the challenges become more complex, requiring precise timing and clever thinking to solve.
#8. Bombslinger
Release Data: Mode4, 2018
Genre: Puzzle » Action
The game puts you in the shoes of a gunslinging cowboy who must navigate through a variety of levels and defeat enemies using bombs and quick reflexes.
One of the standout features of Bombslinger is its pixel art style, which gives the game a charming and nostalgic feel.
Overall, Bombslinger is a great pick for fans of action puzzle games.
#7. Slayaway Camp: Butcher's Cut
Release Data: Blue Wizard Digital/Digerati Distribution, 2018
Genre: Puzzle » Action
In Slayaway Camp, players control Skullface, a killer who is tasked with dispatching victims in a series of gruesome and challenging levels.
The game features a top-down perspective and requires players to slide Skullface around the level to strategically eliminate the victims while avoiding obstacles and hazards.
Overall, fans of puzzle or horror games will want to give it a try.
#6. Friday the 13th: Killer Puzzle
Release Data: Blue Wizard Digital, 2018
Genre: Puzzle » Action
In this game, players control the iconic horror movie character Jason Voorhees as he stalks and kills his victims in a variety of increasingly challenging puzzle levels.
The puzzle mechanics are well-designed, with players having to carefully plan out their movements in order to successfully eliminate all of the victims on each level.
Overall, it is a solid horror puzzle game.
#5. Baba Is You
Release Data: MP2 Games/Hempuli Oy, 2019
Genre: Puzzle » Action
Baba Is You is a groundbreaking puzzle game that introduces innovative concepts and flawlessly executes them.
Its thought-provoking nature keeps players engaged and wanting more after each puzzle.
And the Switch's portability makes it the perfect platform for Baba Is You, as inspiration for solving levels can strike at any time and place.
#4. BoxBoy! + BoxGirl!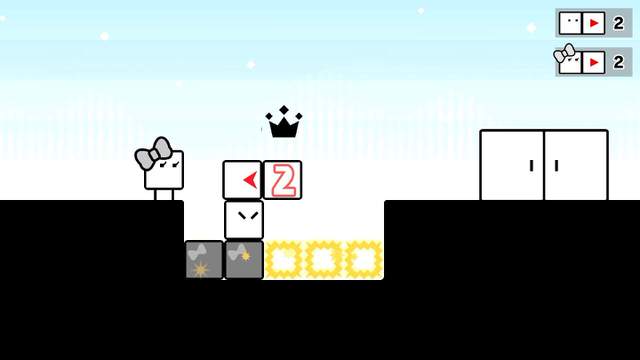 Release Data: HAL Labs/Nintendo, 2019
Genre: Puzzle » Action
At first, BoxBoy! + BoxGirl! might seem like a simplistic game, but it actually showcases the truth that sometimes less is more.
This puzzle platformer features two boxy characters that you can control either solo or in a fun co-op mode with friends.
Simply put, it's a lightweight, bite-sized game that's definitely worth the price.
#3. Toki Tori 2 +
Release Data: Two Tribes, 2018
Genre: Puzzle » Action
The game follows the adventures of Toki Tori, a charming little bird with the ability to use a variety of tools and gadgets to solve puzzles and progress through levels.
And in addition to the main campaign, the game also includes a level editor, which allows players to create and share their own levels with the community.
#2. Toki Tori
Release Data: Two Tribes, 2018
Genre: Puzzle » Action
In the game, players control Toki Tori, a small yellow bird, as they navigate through levels and solve puzzles to progress through the game.
Moreover, the levels are well-designed and require players to use their problem-solving skills to figure out the correct path to take and the proper sequence of actions to reach the end of each level.
#1. World of Goo
Release Data: Tomorrow Corporation, 2017
Genre: Puzzle » Action
One of the strengths of this title is its innovative gameplay.
Each level presents a new challenge, and players must use their problem-solving skills to figure out how to build a structure using the limited number of goo balls.
The game also does a good job of introducing new mechanics gradually, so players can adapt as they progress through the game.
---
Browse Switch Games By Genre
See also: Best Wii U Games & Best Gaming Chairs
Are your favorite games on the list?
Deciding which Switch action puzzle game is the best is no doubt a never ending topic, but it's fun to do!