We already published the list of best Switch games of all time, now it's time to discover the best Switch beat 'em up games of all time.
With amazing titles available, the Switch definitely has a great library of beat 'em up games.
So, if you're a fan of both the Switch and beat 'em up games, there's a chance you'll like this list.
And some of you may already know some of the games mentioned in this list.
#10. Phantom Breaker: Battle Grounds Overdrive
Release Data: 5pb/Mages., 2017
Genre: Action » Beat-'Em-Up » 2D
Looking lovely and colorful, it is a quality little chibi beat 'em up that deserves a chance by any genre fan.
It can take a little getting used to, but once the mechanics are down, the depth and uniqueness in terms of each fighter is second to none, and the outlandish and weird enemy designs give it its distinct personality.
#9. Fate/Extella: The Umbral Star
Release Data: Marvelous Inc./XSEED Games, 2017
Genre: Action » Beat-'Em-Up » 3D
A real treat for anime-action fans, this is a frantic hack-and-slash with a feeling all its own.
Appealing characters and an irresistible sense of style draw you into its world, and addictive, satisfying gameplay and excellent writing keep things exciting throughout.
So if you're looking for a fun, fast-paced hack and slash game on Switch, this is a perfect choice.
#8. Fate/Extella Link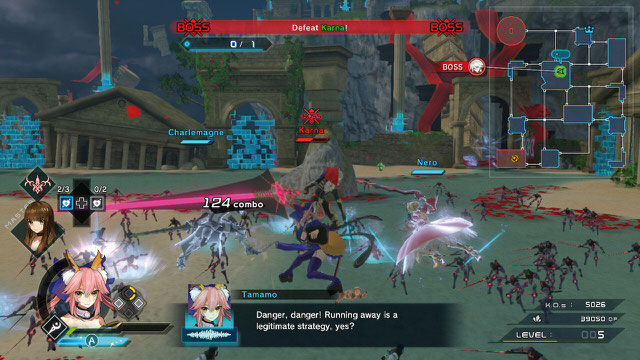 Release Data: Marvelous First Studio/Marvelous Inc., 2019
Genre: Action » Beat-'Em-Up » 3D
Fate/Extella Link doesn't provide a significant improvement from The Umbral Star, but pretty much everything about it is just better.
If you're a fan of the Fate franchise then this game is an absolute must.
And even if you're not familiar with Fate, Fate/Extella Link provides an interesting and wholly engrossing variation on the tried-and-tested Dynasty Warriors gameplay.
#7. Fire Emblem Warriors
Release Data: Omega Force/Nintendo, 2017
Genre: Action » Beat-'Em-Up » 3D
This title combines enjoyable combat with real-time tactics, faithfully paying tribute to the two franchises it fuses together.
Musou fans will love the fantasy setting and blade-based action, while Fire Emblem followers will appreciate the strategic wrinkles that series adds to proceedings.
And while the story is largely forgettable there's plenty of fan-service for Fire Emblem lovers here.
#6. River City Girls
Release Data: WayForward/Arc System Works, 2019
Genre: Action » Beat-'Em-Up » 2D
Fans of River City Ransom and similar games will adore how it respects the past but makes it relevant today, while those new to the series will simply find a hugely enjoyable and infectiously cheerful beat 'em up.
Overall, River City Girls is a great brawler, and though it's not above its genre, it's still an excellent example of one.
#5. Wulverblade
Release Data: Darkwind Media, 2017
Genre: Action » Beat-'Em-Up » 2D
Overall, Wulverblade is a pretty interesting game with classic action and a heavy dose of history, but it's also a game that is primarily for hardcore brawler fans who enjoy the pain of control issues and merciless gameplay.
If that's not your cup of tea, you may want to look elsewhere.
#4. Hyrule Warriors: Definitive Edition
Release Data: Koei Tecmo Games/Nintendo, 2018
Genre: Action » Beat-'Em-Up » 3D
Hyrule Warriors Definitive Edition is a fantastic hack and slash title that brings together the best of the Legend of Zelda series and the Dynasty Warriors games.
With plenty of content, superb performance and phenomenal gameplay, this is a must-have title.
#3. The Ninja Saviors: Return of the Warriors
Release Data: NATSUME ATARI Inc./Taito Corporation, 2019
Genre: Action » Beat-'Em-Up » 2D
Just like any other beat 'em up game, The Ninja Saviors: Return of the Warriors gives a satisfactory feeling each time you learn a difficult technique that can be applied in the game.
With 8 different levels, the game might be short but the fun is in replaying the game trying to be as fluid and as good as possible.
#2. Dynasty Warriors 8: Xtreme Legends – Definitive Edition
Release Data: Omega Force/Koei Tecmo Games, 2018
Genre: Action » Beat-'Em-Up » 3D
This hack and slash game won't win over any new fans, but existing fans will love the sheer amount of content here.
With the many long modes available and all of the DLC present, this title offers some real value, and while the presentation isn't breathtaking, it is good enough to keep up with the relentless action.
#1. Battle Chef Brigade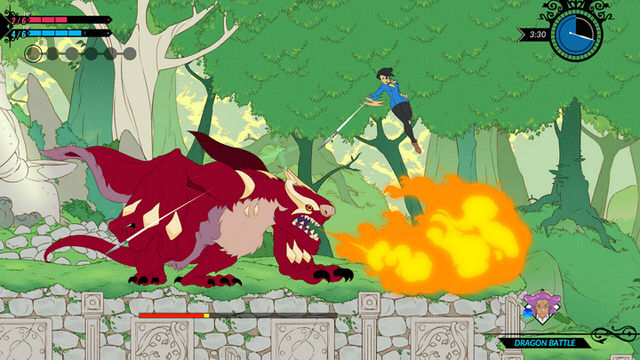 Release Data: Trinket Studios/Adult Swim, 2017
Genre: Action » Beat-'Em-Up » 2D
The game will have you engaging in tough match-three puzzle battles, wherein you'll match certain colored blocks together to cook food.
You can prepare for these battles by scouring the land for exotic ingredients, which plays out in a 2D side-scrolling fashion.
Generally speaking, this game mixes up a bunch of fun ideas and ends up being an incredibly fun crossover.
---
Browse Switch Games By Genre
See also: Best Wii U Games & Best Gaming Chairs
Are your favorite games on the list?
Deciding which Switch beat 'em up game is the best is no doubt a never ending topic, but it's fun to do!