We already published the list of best Switch games of all time, now it's time to discover the best Switch simulation games of all time.
With amazing titles available, the Switch definitely has a great library of simulation games.
So, if you're a fan of both the Switch and simulation games, there's a chance you'll like this list.
And some of you may already know some of the games mentioned in this list.
#10. Manticore: Galaxy on Fire
Release Data: Deep Silver/Koch Media, 2018
Genre: Simulation » Space » Combat
Manticore: Galaxy on Fire is a fantastic example of how a mobile game can be successfully ported to the Switch.
And while it may appeal more to a specific group of players, fans of space shooting games will definitely enjoy the exciting adventures and alien encounters that the game has to offer.
#9. Oh…Sir! The Insult Simulator
Release Data: Gambitious, 2018
Genre: Simulation » General
The Insult Simulator is a somewhat amusing game, but its appeal quickly wears off.
The idea of constructing insults by selecting specific words and phrases is initially clever, but the limited options available and the flawed point-scoring system hinder the player's ability to utilize strategy or skill.
Ultimately, the game may provide a brief period of enjoyment.
#8. Farming Simulator: Nintendo Switch Edition
Release Data: Giants Software/Focus Home Interactive, 2017
Genre: Simulation » Virtual » Career
The realistic nature of the simulator is a key part of its appeal, and it is sure to be a hit with those interested in the modern farming lifestyle, or simply those who enjoy looking at and interacting with farming machinery.
Overall, Farming Simulator: Nintendo Switch Edition is a reliable game, but it could benefit from some upgrades.
#7. Daemon X Machina
Release Data: Marvelous First Studio/Nintendo, 2019
Genre: Simulation » Vehicle » Combat
While this game offers excellent gameplay, the story and characters are lacking.
And although the mech combat mechanics are highly polished, the developers appear to have neglected other important elements of the game.
But despite some weaknesses, those who can look past them will find a well-crafted mecha game that captures the essence of the genre.
#6. A Normal Lost Phone
Release Data: Plug In Digital, 2018
Genre: Simulation » General
A Normal Lost Phone is an emotionally charged and engaging game that makes full use of the Nintendo Switch platform.
Its investigative gameplay is gripping and requires a keen attention to detail, and the atmospheric soundtrack enhances the experience of searching through a lost mobile phone.
While the game may be relatively short, it is well-paced and offers excellent value.
#5. Starlink: Battle for Atlas
Release Data: Ubisoft Toronto/Ubisoft, 2018
Genre: Simulation » Space » Combat
Starlink: Battle for Atlas has successfully achieved greatness in many ways.
It offers a likable cast of characters, impressive toy-to-life features, and stunning graphics.
The Switch version, in particular, stands out due to its added Star Fox content.
Overall, Starlink is an enjoyable game and a promising start for a new gaming universe.
#4. Skies of Fury DX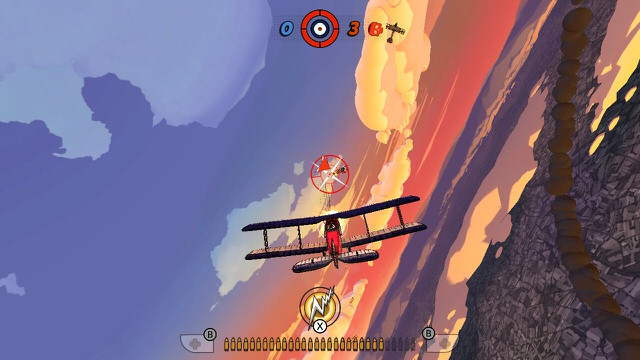 Release Data: Seed Interactive/IlluminationGames, 2018
Genre: Simulation » Flight » Combat
While Skies of Fury DX does not offer online multiplayer and has a somewhat awkward off-screen targeting system, it is still a thrilling and enjoyable dogfighting game for the Nintendo Switch.
With 100 campaign missions and local multiplayer options, it is a strong addition to the Switch's digital library and demonstrates the console's status as the premier portable gaming platform.
#3. Bomber Crew
Release Data: Runner Duck/Curve Digital, 2018
Genre: Simulation » Flight » Combat
Beneath its cute exterior, Bomber Crew is a challenging management simulator set in World War II.
While missions can be repetitive, the satisfaction of executing them perfectly is counterbalanced by the devastation of losing your entire crew in a crash.
Overall, Bomber Crew offers a unique and challenging twist on the simulator genre that requires quick thinking and quick reactions.
#2. Untitled Goose Game
Release Data: House House/Panic Inc., 2019
Genre: Simulation » General
Despite being a light and humorous game, Untitled Goose Game impresses with its clever puzzles and well-designed gameplay.
The minimalist graphics and charming soundtrack enhance the game's atmosphere and add to the overall charm of the absurd premise.
In the end, players can expect to be surprised and have unique experiences while playing this game.
#1. VA-11 Hall-A: Cyberpunk Bartender Action
Release Data: Sukeban Games/Ysbryd Games, 2019
Genre: Simulation » General
This is a game that immerses players in a futuristic world full of interesting characters and a captivating story.
Rather than relying on dialogue choices to progress, the game's story is driven by the drinks you serve as a bartender.
With beautiful aesthetics, a delightful synthwave soundtrack, and lovable characters, this game is the perfect choice for fans of the genre.
---
Browse Switch Games By Genre
See also: Best Wii U Games & Best Gaming Chairs
Are your favorite games on the list?
Deciding which Switch simulation game is the best is no doubt a never ending topic, but it's fun to do!