The Nintendo Switch is a new hybrid gaming device, being able to act as a home console and also as a portable handheld.
With great AAA titles, such as the Zelda series and Mario series, surely this distinctive gaming device will have its own market, just like the other Nintendo consoles.
If you have this console, I know that you want to know the best Switch games of all time.
Most of you will recognize some of the games mentioned on this list.
See also: Best Gaming Chairs That Sit On The Floor & Must-Have Gaming Room Accessories
#50. Skylanders Imaginators
Toys for Bob/Activision, 2017
Action » Platformer » 3D
Synopsis
Defeat an ancient evil by crafting an unstoppable army of soldiers fueled by your imagination.
Short Review
This Skylanders game is the first one to feature a fully customized main character.
You can still use your physical Skylanders figurines and phase them into the game using the included portal add-on.
There are new figurines to collect, as well as multiple new powerful characters to meet.
Your journey to defeat the evil sorcerer Kaos will have you solving puzzles, beating up bad guys, and navigating colorful worlds.
#49. Blaster Master Zero
Inti Creates, 2017
Action » Platformer » 2D
Synopsis
With the help of his tank named SOPHIA, Jason Frudnick travels into a vast underground world to rescue his friend.
Short Review
This remake of the classic NES game pays great attention to the source material.
While the graphics are modern and flashy, the game still retains its retro soul.
Exploring the large 2D environments is awesome, and you can do so on foot or in your tank.
Both styles have a different gameplay feel, which keeps things fresh.
The difficulty has been toned down a bit as well, so it's more welcoming to newcomers than the original.
#48. Graceful Explosion Machine
Vertex Pop, 2017
Action » Shooter » Shoot-'Em-Up » Horizontal
Synopsis
Battle an armada of cartoonish and colorful alien ships in this high octane shoot 'em up.
Short Review
Like other great shoot 'em ups, Graceful Explosion Machine pulls a lot of fun out of a pretty basic concept.
Using a variety of weapon types, you navigate looping corridors and tightly packed spaces.
You'll have to eliminate numerous enemy ships as you make your way through the game's colorful and vivid areas.
The shooting action is responsive and interesting, thanks to the Switch's HD rumble features.
Using your weapons to create high kill combos is incredibly entertaining, as are the glorious displays of color that ensue.
#47. Nintendo Labo: Toycon 01 Variety Kit
Nintendo, 2018
Casual » Party / Minigame
Synopsis
Add some physicality to your gameplay with this toy and game combo pack.
You'll get to assemble a variety of accessories using the game's included cardboard cut outs.
Short Review
This Nintendo exclusive is an interesting take on a DIY project.
By following the on-screen instructions, you piece together physical accessories using the included cardboard.
These surprisingly sturdy creations are used in a variety of different mini-games.
Some encourage creativity, like the piano accessory.
Others provide classic gameplay experiences like racing, fishing, and more.
This is a great game for those who enjoy using their imagination, creating something from scratch, and having a great time while doing it.
#46. ARMS
Nintendo, 2017
Action » Fighting » 3D
Synopsis
Rock and sock your opponents in one-on-one battles using your elongated arms to box in style.
Short Review
This fighting game is a bit more wacky and fun than most of its peers.
There are 10 different characters to choose from (plus 5 bonus downloadable characters), and each has a different fighting style.
Due to their springy nature, you throw your fists like baseballs, knocking around your enemy.
You can participate in standard round-based fights as well as several other modes.
Play against friends in multiplayer, enjoy a game of volleyball in Battle mode, or even face off against the entire roster in Grand Prix mode.
Regardless of how you like to play, ARMS is an enjoyable and ridiculous fighting game.
#45. Death Squared
SMG Studio, 2017
Puzzle » Action
Synopsis
Control small and cute robots while navigating different tests that will tease your brain.
Short Review
This puzzler is mostly meant to be played with friends, but every mode is completely playable as a solo player.
The objective of each puzzle is fairly simple; you must navigate each colored robot onto their corresponding colored square.
Each puzzle focuses on a slightly different mechanic, with later puzzles stacking mechanics together.
You'll have to create bridges, dodge lasers, and use your noggin if you want to succeed.
The fun puzzles are accompanied by a lighthearted and humorous story that balances out the frustration you might feel.
#44. Sushi Striker: The Way of Sushido
Indies Zero/Nintendo, 2018
Puzzle » Matching
Synopsis
In a world where sushi is outlawed, a young boy takes up the title of "sushi striker".
Using his magical sushi powers, he attempts to overthrow the oppressive military force that banned the food in the first place.
Short Review
Sushi Striker mixes a fun anime story with addictive and fast paced puzzle gameplay.
As you follow the main character along his journey, you engage in one-on-one battles against enemy opponents.
You must chain together plates of sushi based on their color, and then throw them at your opponent.
Progressing through the game opens up new upgrades and abilities, making you an even more fearsome sushi-slinging foe.
The reactive nature of the game makes this a fun action/puzzler to sink hours into.
The entertaining and well written story makes it that much more enjoyable.
#43. South Park: The Fractured But Whole
Ubisoft San Francisco/Ubisoft, 2018
Role-Playing » General
Synopsis
When the boys of South Park group up to play superheros, a rivalry between two factions is started.
Enjoy a gross out role playing adventure that's as funny as it is controversial.
Short Review
As a follow up to the previous South Park game, this RPG adds a decent amount of depth to both the gameplay and the story.
This time, the narrative is heavily focused on the superhero aspect of the show, with each kid in town embodying their own superhero persona.
As the new kid in town, its your job to explore South Park and complete a variety of quests and missions for the townsfolk.
Along the way you'll encounter some absolutely hilarious scenarios, exciting combat, and unforgettable moments.
#42. Resident Evil: Revelations Collection
Capcom, 2017
Casual » Compilation
Synopsis
On an abandoned ship out at sea, two special agents try to prevent the mass pollution of the Earth's oceans.
Unfortunately, something far more sinister lurks in the steel giant.
Short Review
This Resident Evil title returns to the series' roots, offering more tense and spooky situations than before.
The game takes place on a labyrinthine boat, where the main characters Jill and Chris investigate a known terrorist organization.
A combination of intense combat and brain-stumping puzzles makes this a fun and creepy excursion.
You can play in both single player and multiplayer modes, so be sure to bring a friend for extra strategic power.
#41. The Legend of Zelda: Breath of the Wild – The Master Trials
Nintendo, 2017
Action Adventure » Open-World
Synopsis
This DLC for the massively popular Legend of Zelda title ups the difficulty by providing new modes of play, stronger enemies and weapons, and an exclusive set of trials.
Short Review
The Breath of the Wild took gamers by storm when it first released, and this DLC added a strong dose of difficulty to the base game.
While the DLC doesn't include any new story content, it does amp up the difficulty on the existing gameplay.
In addition to the new "Master Mode" that dials up the enemy difficulty, there are several new features added in.
You can now track where you have visited on the map, thanks to a new feature called the "Hero's Path".
Additionally, you can try your hand at the "Trial of the Sword", a survival mode that has Link traveling through 45 rooms of increasingly hard foes.
#40. Hyrule Warriors: Definitive Edition
Koei Tecmo Games/Nintendo, 2018
Action » Beat-'Em-Up » 3D
Synopsis
Smash through hordes of enemies and bosses based on The Legend of Zelda series in this Dynasty Warriors-esque crossover.
Short Review
Like the Dynasty Warriors titles that inspire it, Hyrule Warriors contains tons of hack 'n slash action against endless armies of themed foes.
Whether you're playing solo or with a friend, you'll travel through dozens of levels based on popular locations in the Zelda franchise.
As you complete these full scale battles, you'll level up a huge roster of characters that contains all the original game's DLC.
Additionally, you can try your hand at "Adventure Mode", which has you traveling across a grid based on maps from retro Zelda titles.
All in all, this is an action packed adventure with plenty of replayability.
#39. L.A. Noire
Virtuos/Rockstar Games, 2017
Adventure » 3D » Third-Person
Synopsis
The year is 1947, the place is Los Angeles.
You play as beat cop Cole Phelps, who investigates disturbing crimes across five different police divisions.
Short Review
L.A. Noire is strongly inspired by the classic genre of film noir.
The game's dark and gritty story tasks the player with solving murders, drug crimes, and much more.
As a budding detective, you'll investigate crime scenes and gather clues, formulating evidence and building your case.
In addition to driving around Los Angeles and engaging in occasional gun fights or car chases, you'll also have to interrogate witnesses and suspects.
In this gameplay mechanic, you have to judge the truth of a character's statement by their facial behavior.
This mechanic is strengthened by the incredibly impressive facial recognition technology that the game was create with, and the ensuing realism adds significant weight to every situation.
#38. Golf Story
SideBar Games, 2017
Action Adventure » General
Synopsis
A golf enthusiast leaves behind his career, his family, and his home to become a golfing champion.
Short Review
While the concept of Golf Story might seem very serious, the game is anything but.
Its story is light and humorous, the characters are witty and sarcastic, and the gameplay is extremely easy to learn.
The fun nature of the gameplay is accented well by the game's colorful pixel-art style.
In your quest to become a professional golfer you'll hit the greens a numerous golf courses, participating in traditional matches and completing wacky side quests.
The brevity of most of the game's missions make it perfect to pick up and play in short bursts, but the game still contains dozens of hours of content.
#37. Layers of Fear: Legacy
Bloober Team, 2018
Adventure » 3D » First-Person
Synopsis
Explore the home of a deranged painter who seemingly lost his mind while trying to finish his mangum opus.
Short Review
This creepy horror game is more unsettling than it is straight up scary.
There's no combat to speak of; you'll mostly be solving rudimentary puzzles while you explore the expansive mansion.
The main quirk of Layers of Fear is its ability to subvert your expectations.
Doors appear out of thin air, rooms change completely as you navigate them, and the house seems to have a mind of its own.
The compelling mystery motivates you to continue, but the disturbing and uncomfortable images and themes make it hard to go on.
Layers of Fear is an all-around awesome horror title that's as creativity as it is disturbing.
#36. Gorogoa
Buried Signal/Annapurna Interactive, 2017
Puzzle » General
Synopsis
A young boy must travel through distant and unknown lands to collect precious medallions.
Short Review
Playing this puzzle game is incredibly surreal, as it slowly reveals itself over time.
Instead of explaining its mechanics, Gorogoa slowly introduces them to you, building your understanding of the story and world along the way.
The narrative is incredibly obtuse but provides a satisfying amount of intrigue.
The most astounding aspect of the game is its objective creativity, and the impressive number of scenarios it accomplishes using just four panels.
By swapping tiles and interacting with the four different images, you'll embark on an inventive and intoxicating puzzle experience unlike anything you've ever played.
#35. Pokken Tournament DX
Bandai Namco Games/Nintendo, 2017
Action » Fighting » 3D
Synopsis
It's time for the adorable Pokemon to get physical as they brawl it out in devastating one on one fights.
Short Review
Pokken Tournament DX is pure wish fulfillment for any kid from the 90's.
Instead of ordering your Pokemon to execute commands and use items, you'll punch, kick, and use super moves to beat your foe into submission.
The game features a variety of playable Pokemon, with over 30 support Pokemon to help you during battle.
Whether you're playing the single player story mode, online multiplayer, or some local battles with your friends, the excitement will always stay high.
Experimenting with different Pokemon characters and finding your perfect fit is exceptionally fun, as are the numerous modes of play.
This is a must-play for any Pokemon or 3D fighting game fan.
#34. DOOM
Panic Button/Bethesda Softworks, 2017
Action » Shooter » First-Person » Arcade
Synopsis
On Mars, scientists research dangerous portal technology.
When a bridge to Hell is created, the red planet is stormed with hordes of demonic beings.
Short Review
Like the classic franchise, this reboot of DOOM is all about fast and bloody gunplay.
Using a collection of traditional and experimental weaponry, you'll blast hellish demons into bloody bits by the dozen.
Each level in the lengthy campaign is full of secrets, hidden rooms, and fun diversions.
Besides the excessive level of blood and gore, DOOM is all about pure skills and no frills.
The light story lets you focus on killing demons, an act that never grows stale.
#33. I Am Setsuna
Tokyo RPG Factory/Square Enix, 2017
Role-Playing » Japanese-Style
Synopsis
In a land trapped in endless winter, a mercenary must accompany a sacrificial maiden on her journey towards her death.
Short Review
Get the tissues ready, because this RPG makes no qualms about being a tearjerker.
The depressing and somber story takes place in a beautiful world, but the fantasy setting does not alleviate the game's serious tone.
Your journey will take you through various locales like towns and dungeons, which you fight through using the game's familiar turn-based battles.
Modeled after classic RPGs like Chrono Trigger, the reactive combat gameplay is satisfying and tactical.
The excellent combat perfectly compliments the straightforward and sad tone of the story, resulting in an emotional and impacting experience.
#32. Pac-Man Championship Edition 2 Plus
Bandai Namco Games, 2018
Action » Arcade
Synopsis
Play Pac-Man like never before, with an absurd amount of ghosts, power pellets, and colors that will leave you baffled.
Short Review
If you're the kind of person who thinks classic arcade Pac-Man is a bit too slow, this is the game for you.
Pac-Man Championship Edition 2 Plus takes the classic formula of Pac-Man and amps it up at every turn.
Besides the noticeable improvement to the graphics and performance, this version of Pac-Man throws some exciting gameplay variations in the mix.
Pac-Man can now chomp down seemingly endless trains of ghosts, gaining insanely high scores.
As you reach the target score for each board, it'll be impossible to stop playing.
The highly addictive nature of Pac-Man is made that much more rewarding due to the vivid colors and exciting celebrations.
If you want a truly entertaining arcade classic with a modern twist, look no further than this.
#31. Fast RMX
Shin'en, 2017
Racing » Arcade » Futuristic
Synopsis
Reach blistering speeds in futuristic races in this expanded sequel of Fast Racing Neo.
Short Review
Although this game has a different title, a lot of the content has been lifted from the Wii U game, Fast Racing Neo.
This Switch title contains all of the courses and characters from the original Wii U game, and adds twelve new courses into the mix.
The game is often compared to the highly popular racing series, F-Zero.
There are multiple modes of play, including a lengthy career mode, local and online competitive racing, and even a high-difficulty setting called "Hero Mode".
If going 250 miles per hour is too slow for you, then Fast RMX should fit the bill nicely.
#30. Snipperclips – Cut it out, together!
SFB Games/Nintendo, 2017
Puzzle » General
Synopsis
This inventive puzzle game tasks you with cutting shapes out of your gaming partner to solve a wide variety of wack scenarios.
Short Review
Although Snipperclips can be played solo, the game was definitely developed with coop in mind.
Two players use a single Joy-con each, and control a character that is shaped like the Joy-con.
Players can cut pieces out of each other, changing their shape and providing different uses.
Each puzzle has a unique objective, and often requires ingenuity and strong cooperation to finish.
The inventive nature of the game's mechanics and puzzles make this a highly creative game with plenty of leeway for solutions.
#29. The Legend of Zelda: Breath of the Wild – The Champions' Ballad
Nintendo, 2017
Action Adventure » Open-World
Synopsis
Explore new dungeons, unlock new costumes, and even ride a motorcycle in this large expansion to The Legend of Zelda: Breath of the Wild.
Short Review
This expansion for Breath of the Wild features a bunch of fun and exciting content.
You can explore a brand new dungeon and defeat foes with a powerful new weapon known as the One-Hit Obliterator.
Everybody's favorite owl friend Kass has a new quest for you to experience, as he attempts to complete songs left behind by his teacher.
Besides the new weapon and locations, you can now deck out your trusty steed with some new armor, as well as equip a variety of fun new costumes.
Most exciting of all, Link can now speed through Hyrule using the Master Cycle Zero, a powerful motorcycle.
#28. Subsurface Circular
Mike Bithell, 2018
Adventure » General
Synopsis
An android detective working in the subway system learns of a disappearance.
He decides to take on the case, which unveils a surprisingly complex mystery.
Short Review
This interesting game takes its inspiration from classic text adventure games.
The game is presented in a three dimensional world and from a third person perspective, and follows the android detective on his mission.
You explore the subway as you see fit, engaging in conversations, finding items, and solving puzzles when necessary.
The gameplay is a bit light besides the interesting puzzles, and the experience focuses more on the story than anything else.
The mystery being told is interesting and exciting, and well worth your time and brain power.
#27. Street Fighter: 30th Anniversary Collection
Capcom, 2018
Casual » Compilation
Synopsis
Experience one of the best fighting game franchises ever in all of its arcade glory.
Play numerous Street Fighter arcade games from over the years all in one place!
Short Review
If you grew up around arcades, you probably have fond memories of Street Fighter.
This collection celebrates the game's thirtieth birthday, and does so by presenting the entirety of its arcade run.
You're able to play the original Street Fighter, most variants of Street Fighter II, and a wide variety of Street Fighter Alpha titles.
Each game is available in its original glory (and difficulty), and can be enjoyed offline.
Certain titles have online multiplayer included, so you'll be able to test you abilities against other players online in a variety of classic fighters.
This great package gives you a ton of great fighting games in one place, and at a great price to boot.
#26. Rayman Legends: Definitive Edition
Ubisoft Montpellier/Ubisoft, 2017
Action » Platformer » 2D
Synopsis
The underdog king of 2D platforming is back again, and you must use Rayman's disconnected arms and legs to hop across a variety of dangerous yet beautiful stages.
Short Review
Although the Rayman series might not be as popular as something like Mario, it plays just as well.
This definitive version of the latest Rayman title features a great collection of exciting 2D sidescrolling levels, wherein you hop, punch, and glide your way through numerous obstacles.
There's a plethora of unlockable content to find, as well as online leaderboards and daily challenges.
The extensive single player mode can also be played in coop, making it a great time both solo and with a friend.
Some of the game includes fantastic music stages, which will have you jumping and attacking to the beat.
This is an incredibly fun and challenging platformer that is guaranteed to have you hooked.
#25. Disgaea 5 Complete
Nippon Ichi Software, 2017
Strategy » Turn-Based » Tactics
Synopsis
An evil demon lord named Void Dark has grown to power after destroying various Netherworlds.
While under the Void Dark's reign, powerful Netherworld entities prepare to strike back.
Short Review
This version of Disgaea 5 contains all of the released content for the game, including all post-released downloadable content.
Unfortunately, it does not contain any new content besides this DLC.
The game sees your character traveling to various Netherworlds in an attempt to rally troops.
This more powerful game can display up to 100 characters on screen at once.
There are new playable character classes, as well as a range of new features added into the series.
You can team up with another character for specialty duo attacks, as well as execute new powerful attacks called Maougis.
#24. Dragon Quest Builders
Square Enix, 2018
Action Adventure » Sandbox
Synopsis
The world from the original Dragon Quest title, Alefgard, has been destroyed.
You are a builder, and are tasked with reforming the once majestic kingdom into its former glory.
Short Review
This game borrows gameplay mechanics from Minecraft and uses them to flesh out its fantasy world.
Like Minecraft, you'll spend time gathering resources from a variety of locations.
You then use your acquired resources to build up bases, towns, and other buildings.
You'll encounter traditional Dragon Quest enemies like slimes, which you must defeat to ensure survival.
In addition to fending off enemies, you'll also have to keep healthy by eating and getting enough rest.
This game does a great job taking the exciting world of Dragon Quest and injecting it with a good dose of creativity.
#23. Battle Chef Brigade
Trinket Studios/Adult Swim, 2017
Action » Beat-'Em-Up » 2D
Synopsis
Become one of the worlds greatest chefs by exploring the land and gathering your own ingredients.
Then, craft your delicious recipes in match-three puzzle battles!
Short Review
Battle Chef Brigade mixes a lot of influences together and still manages to be amazing.
The game will have you engaging in tough match-three puzzle battles, wherein you'll match certain colored blocks together to cook food.
You can prepare for these battles by scouring the land for exotic ingredients, which plays out in a 2D side-scrolling fashion.
The storyline is over the top and heavily inspired by anime, and it feels a lot like a television show about a food competition.
Generally speaking, this game mixes up a bunch of fun ideas and ends up being an incredibly fun crossover.
#22. Pinball FX3
Zen Studios, 2017
Action » Pinball
Synopsis
Play a variety of amazing pinball machines, most of which are based on highly popular media licenses like movies and television shows.
Short Review
Virtual pinball has never been better, and Pinball FX3 shows us just how much that is true.
The game features an insane collection of fantastic pinball tables, each with their own modes, highscores to beat, and leaderboards to post your scores on.
There's a wide variety of themes for the pinball tables, including popular licenses like Star Wars, Marvel superheroes, and cartoon classics.
Whether you're smashing ramps in The Walking Dead Pinball, hanging out with your favorite cartoons in South Park Pinball, or enjoying some horror movie madness with Aliens Pinball, Pinball FX3 has any kind of pinball table you could want.
#21. Xenoblade Chronicles 2
Monolith Soft/Nintendo, 2017
Role-Playing » Action RPG
Synopsis
A young salvager named Rex takes on a mission to aid some people trying to salvage an ancient ship.
When he discovers a powerful weapon, his life changes permanently.
Short Review
This expansive and exciting RPG takes place in the beautiful open world of Alrest.
Your journey takes you down to the watery lands, the cloudy cities above, and even more amazing locations.
The gameplay plays out like any other standard RPG; you control one character out of your party, engaging in tactical battles with numerous foes.
There's a new system in this sequel that deals with the Blades, a group of beings that deliver powerful weapons to use in combat.
The exciting exploration and lengthy story makes this a treasure trove of excellent RPG content.
#20. Splatoon 2
Nintendo, 2017
Action » Shooter » Third-Person » Arcade
Synopsis
The power source that keeps Inkopolis up and running has been stolen by the evil Octarians yet again.
A rookie inkling joins forces with a pop idol in an effort to foil the plans of those who stole it.
Short Review
Splatoon 2's colorful nature and wacky combat is a great departure from the more violent shooting games of this modern era.
You play as an Inkling, a semi-aquatic being that can shoot ink out of their guns and then swim through it.
This also plays into the major mechanics of the game, which has you shooting and swimming through a variety of levels in its story-driven campaign.
The game also has a dedicated online community, so it's easy to find opponents to play competitively against.
As you work your way through the online battlefield, your inkling will level up, unlocking new weapons and costumes to express yourself with.
#19. Yoku's Island Express
Villa Gorilla, 2018
Action » Pinball
Synopsis
You're the new postmaster on Yoku Island, and you must deliver the mail to the best of your abilities.
There's just one problem; you're a beetle who rolls a ball around and cannot jump.
Short Review
This lighthearted and colorful adventure is a mixture of "metroidvania" mechanics and classic pinball gameplay.
You work your way across the large world of Yoku Island, meeting fun characters and working hard at your job delivering parcels.
This can be a bit difficult, as your character cannot jump; instead they simply move left and right.
Luckily, the world is littered with pinball-like boards, wherin you fling yourself around collecting fruits.
The gameplay is addictive and enjoyable, and the end result is a wonderful mixture of adventuring and pinball.
#18. Puyo Puyo Tetris
Sonic Team/Nintendo, 2017
Puzzle » Stacking
Synopsis
Two of the most historical puzzle game franchise, Tetris and Puyo Puyo, get mixed together in this monumental crossover title.
Short Review
It's no secret that Tetris is one of the world's most popular puzzle games.
That sentiment rings true for Puyo Puyo as well.
Both games revolve around fitting colored tiles together to achieve big combos and clear the board.
This crossover allows you to play both games in a variety of modes, as well as a special mode that combines both games together.
There's a seemingly endless amount of content for both group and solo play.
All in all, the game has hundreds upon hundreds of hours of excellent puzzle gameplay for you and your friends.
#17. VOEZ
Flyhigh Works, 2017
Action » Rhythm » Music
Synopsis
Tap to the beat and refine your musical skills in this active and at times overwhelming rhythm game.
Short Review
VOEZ looks similar to other dancing-based rhythm games.
As the song plays out, diamond shapes approach you on a static track, and you must tap the diamonds along with the beat of the song.
Since you're playing this game with your fingers and not your feet, this opens up an exciting amount of gameplay difficulty.
As you progress through the game's extensive list of EDM and Japanese-inspired songs, the game starts expanding and throwing more complex patterns at you.
By the final stages, you'll be feverishly tapping to the beat in a hypnotic trance.
#16. Mario + Rabbids: Kingdom Battle
Ubisoft Paris/Ubisoft, 2017
Strategy » Turn-Based » Tactics
Synopsis
A portal between the Mushroom Kingdom and the Rabbids world has been opened, mixing the two together.
It's now up to Mario and company to figure out how to reverse this mix up.
Short Review
Despite the cute and cuddly characters that are in this game, Mario + Rabbids is a highly tactical turn-based game that will require strategy and forward thinking.
You assemble a team of character, each with their own special abilities and powers.
Then, you position the characters on the battlefield at strategic points, cornering your enemies and dealing damage.
The game's complex mechanics are explained slowly and with time, making it a relatively easy experience to understand.
However, don't be confused, this is a Mario title for the more grown up fans.
#15. The Elder Scrolls V: Skyrim
Iron Galaxy Studios/Bethesda Softworks, 2017
Role-Playing » Western-Style
Synopsis
A prisoner narrowly escapes with his life after a dragon interrupts his execution.
This sets in motion an epic story that sees a destined hero realizing their place in a huge fantasy world.
Short Review
Heralded by many as one of the best RPGS of the modern era, Skyrim gives the player a ton of choice.
Your character grows more powerful as you use certain skills, meaning that you will naturally become stronger as you play the way you like.
There are hundreds upon hundreds of unique quests and dungeons to complete, as well as a fully fleshed out main quest that deals with a local civil war.
You can join a variety of guilds and complete their quests, such as the Fighters, Assassin's, Thieves, and Mage's guild.
There's just so much stuff to do in Skyrim that you'll never become bored, and you're likely to spend hundreds of hours in the world of Skyrim before you notice any repeats.
#14. Sonic Mania
Tantalus/Sega, 2017
Action » Platformer » 2D
Synopsis
Sonic and his friends are back for another retro trip through his colorful world.
With a mixture of classic and new stages, this is a throwback Sonic title you shouldn't miss!
Short Review
The Sonic franchise has had it's fair share of blunders lately, but Sonic Mania rights all of those wrongs.
This amazing Sonic game brings us back to yesteryear, as the graphics are more reminiscent of Sonic's time on the Sega Genesis.
The game features a combination of both classic Sonic levels and brand new ones, offering a good mixture of familiar and exciting new content.
You can play both singleplayer and coop, and the game also lets you choose what character you want to play as.
There are ton of collectibles and secrets to find, giving Sonic Mania an infinite level of replayability.
Plainly put, this might just be the best Sonic game of all time.
#13. Night in the Woods
Infinite Fall/Finji, 2018
Adventure » General
Synopsis
College drop-out Mae returns to her home town of Possum Springs, where she laments on her situation and considers the finer points of life.
However, townspeople have been disappearing lately, and Mae quickly finds herself tangled in the mysterious and confusing happenings.
Short Review
If you're looking for a heartwarming, suspenseful, and incredibly charming story, than look no further than this indie darling.
Night in the Woods tells the story of Mae and her friends, a group of ragtag misfits living in modern suburbia.
You spend your time chatting with friends and choosing who to hang out with, which builds up the strength of each individual friendship.
As you experience Mae's life (told through sidescrolling exploration and dialogue), you'll quickly uncover an odd conspiracy tied into the town's creepy backstory.
Night in the Woods is absolutely fantastic, with great music, fantastic visuals, and an irresistibly addictive mystery.
#12. Shovel Knight: Specter of Torment
Yacht Club Games, 2017
Action » Platformer » 2D
Synopsis
A knight wielding a shovel travels across a medieval land, facing off against other powerful knights in an effort to save the world.
Short Review
This fantastic indie game recalls classic action platformers like Mega Man and Castlevania.
The insanely colorful game takes you across a number of themed levels, with fun and memorable bosses.
The controls are tight and responsive, and the basic attacks and digging mechanics are incredibly easy to pick up.
The game is challenging in a satisfying way, striking a perfect balance of difficulty.
Even better, Shovel Knight includes other game modes that are essentially full games themselves.
You can play an entire prequel campaign in the form of Specter of Torment, or play a modified version of the original game as Plague Knight.
This pixel art indie is an absolute masterpiece, and should be played by anyone who is a fan of retro sidescrollers.
#11. Rocket League
Psyonix, 2017
Sports » Team » Soccer » Arcade
Synopsis
One of the most popular competitive games ever made, Rocket League mixes fast paced racing with the world's most popular sport… soccer.
Short Review
Rocket League is impressive due to its staying power, the consistent updates from developers, and highly active community.
Despite the game's age, Rocket League continues to be one of the most popular competitive games both casually and in the eSports scene.
The game is deceptively simple; you play a game of soccer using race cars.
There are also tons addition modes like Hockey, Basketball, and the hilarious Rumble mode.
There are hundreds of unlockables in the game, including new cars, boost trails, and a plethora of cosmetics.
There's nothing quite like it, and Rocket League has proven that it's here to stay.
#10. Donkey Kong Country: Tropical Freeze
Retro Studios/Nintendo, 2018
Action » Platformer » 2D
Synopsis
Donkey Kong and his family are threatened when the ice-wielding Snowmads threaten to invade his homeland.
It's up to DK and his awesome platforming skills to save the day.
Short Review
This Wii U game was amazing when it was first released, and the Switch version adds even more awesome features.
You can now play as Funky Kong, who offers a slightly more forgiving difficulty than the original game.
Funky Kong has a bit of extra health, can glide through the air, and is even unaffected by spike traps.
This more powerful character alleviates a bit of the challenge of the original game, which was well known for its surprisingly tough difficulty.
You'll jump and roll through a variety of awesome looking levels across the game's multiple worlds, before taking on the Snowmads in their frosty kingdom.
This is a great game for those looking for a colorful platforming challenge.
Check it out on Amazon »
#9. Axiom Verge
Tom Happ/Badland Games, 2017
Action Adventure » General
Synopsis
A scientist named Trace awakens on an alien world, and is asked to hunt down a dangerous scientist.
He sets off to explore the interesting land of Sudra, a land of giant machines and harmful creatures.
Short Review
This indie game is heavily inspired by games like Metroid and Castlevania, and sees your character traveling across a maze-like map.
As you explore the alien world of Sudra, you'll unlock new abilties and weapons that will allow you to reach previously inaccessible places.
The game has awesome looking retro graphics that fit its tone, and there's a good amount of difficulty to boot.
Finding and experimenting with new weapons is tons of fun, and the world is incredibly interesting to explore.
If you're a fan of classic games like Metroid, than this is totally the game for you.
Check it out on Amazon »
#8. SteamWorld Dig 2
Image & Form, 2017
Action Adventure » General
Synopsis
A robot named Dorothy travels to the town of El Machino, where she searches for Rusty, the protagonist of the original game.
This leads her on an adventure that sees her digging through a mine, upgrading her powers, and collecting precious resources for cash.
Short Review
Steamworld Dig 2 tells an interesting narrative while expanding upon the addictive gameplay of the original game.
You control Dorothy, a robot who explores a deep mine searching for her pal Rusty.
As you dig deeper into the mine, you'll find resources that you can sell for cash.
This allows Dorothy to gain new abilities and upgrades, which aid her in progression.
This results in a highly addictive gameplay loop that makes you feels stronger with each new delve.
As you discover more of the mine's secrets and the narrative grows more complex, Steamworld Dig 2 quickly becomes impossible to put down.
Check it out on Amazon »
#7. Minecraft: Switch Edition
4J Studios/Mojang AB, 2017
Action Adventure » Sandbox
Synopsis
Explore a world teeming with life that encourages endless creativity and where the limit is your imagination.
Short Review
Minecraft is easily on of the most popular games of all time, and the Nintendo Switch is the perfect home for this creative adventure.
In the game, you explore randomly generated worlds, collecting resources and building your own inventions.
This version of the game features Nintendo specific game elements, allowing you to recreate scenes from your favorite Nintendo games.
The massive online world of Minecraft is made even larger thanks to cross-play, which allows you to play with other console and computer players.
For many people, Minecraft is like a home away from home, where they are free to express themselves and explore to their heart's content.
Check it out on Amazon »
#6. Ikaruga
Treasure/Nicalis, 2018
Action » Shooter » Shoot-'Em-Up » Vertical
Synopsis
Blast ships to smithereens in this incredibly challenging and endlessly replayable shoot 'em up.
Short Review
Ikaruga is pure fun and excitement, and it's a fantastic game to play with a friend.
The concept is pretty basic; you control a spaceship at the bottom of the screen, shooting down enemy ships at the top of the screen.
You can swap the color of your ship between white and black, which absorbs enemy bullets depending on their color.
After the first few minutes of gameplay, Ikaruga quickly becomes a shower of bullets and mayhem.
Despite its insanely hard difficulty, Ikaruga is tons of fun to play and a great challenge time and time again.
The game feels incredibly tight and responsive, and the ability to swap ship colors never gets boring.
This classic arcade shoot 'em up remains fun years after its release, and the Nintendo Switch gives it an awesome boost in portability.
Check it out on Amazon »
#5. Bayonetta 2
PlatinumGames/Nintendo, 2018
Action Adventure » Linear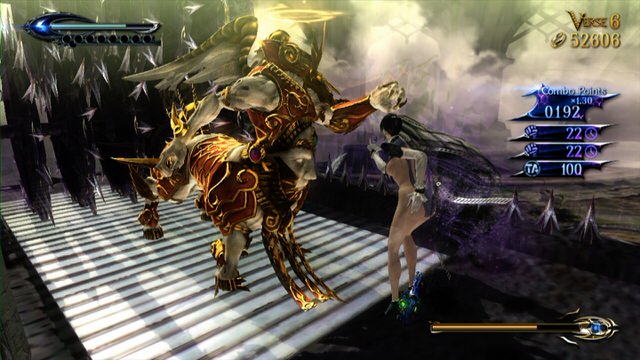 Synopsis
The demonic witch Bayonetta is back, and the war between the forces of Heaven and Hell wage on.
Using her devilish style and quick strikes, she battles countless foes and fights for the underworld.
Short Review
Bayonetta 2 is not only tons of fun to play, but it's also sexy and stylish.
The main character of Bayonetta 2 is a smooth talking, seductive witch who has guns on her boots.
The combat is fast paced and exciting, and you'll find yourself performing crazy combos in no time.
The graphics are over the top, and many fights (including the awesome boss battles) have a huge sense of scale.
Although the story might be a bit complicated for some people, the gameplay is undeniably fun.
Bayonetta 2 is easily one of the most exciting action games in the past 10 years.
Check it out on Amazon »
#4. Celeste
Matt Makes Games Inc., 2018
Action » Platformer » 2D
Synopsis
A girl named Madeline climbs the intimidating Celeste Mountain, as she attempts to reach the peak which is rumored to hold magical powers.
Short Review
Celeste is one of the most beautiful, colorful, and challenging platforming games in existence.
The joyous visuals and fantastic use of colors shouldn't fool you; the game is incredibly hard.
You'll likely die thousands of times before beating the game, but you'll do so with a smile on your face.
The story is light, but impacting, and deals with heavy topics like depression and anxiety.
Altogether, it's a redeeming and heartfelt story with incredibly satisfying and challenging platforming gameplay to match.
The game lends itself to short bursts of play, which makes the Nintendo Switch the best platform to play it on.
Check it out on Amazon »
#3. Mario Kart 8 Deluxe
Nintendo, 2017
Racing » Arcade » Automobile
Synopsis
This is the most content-filled Mario Kart ever, with a staggering amount of characters, vehicles, and courses to race on.
Short Review
This version of Mario Kart 8 contains all of the downloadable content and original content that has ever been released for the game.
There are dozens of awesome racers to choose from, including all of your favorite Nintendo characters.
There are a bunch of new vehicles to race in as well, including motorcycles, karts that can go underwater, and a cool new gliding accessory.
This is an excellent kart racing game for both solo and group play, as it features a bunch of modes for both occasions.
You can race in multiple different themed championships, as well as take out your friends in a variety of battle modes.
If you think you're good enough, you can take your skills online to compete for first place.
Overall, Mario Kart 8 Deluxe is a great racing title full of awesome content for racers of all skill levels.
Check it out on Amazon »
#2. The Legend of Zelda: Breath of the Wild
Nintendo, 2017
Action Adventure » Open-World
Synopsis
Link is back on a brand new adventure, and this time creativity, exploration, and natural storytelling are the focus.
Short Review
This Legend of Zelda title is a huge departure from the series' norm, as it lets you go pretty much anywhere you want right from the start.
Using a handful of abilities that you acquire early on, you're able to complete most of the game's puzzles in any order you see fit.
If you really want to, you can even try and take on the final boss battle without any preparation.
That's because Breath of the Wild encourages players to explore its open world at their leisure, solve its puzzles as they see fit, and generally craft their own personal story.
The vibrant world is full of life and has a jovial sense of glee to it.
There's a great amount of freedom given to the player that we've never seen in a Zelda game before, and it pays off incredibly well.
Many people even consider this to be the best Legend of Zelda game ever made.
Check it out on Amazon »
#1. Super Mario Odyssey
Nintendo, 2017
Action » Platformer » 3D
Synopsis
Mario takes on Bowser in another 3D adventure, but this time he is joined by his new pal, the sentient hat Cappy.
Short Review
Super Mario Odyssey gives us the expected 3D platforming of a traditional Mario game, but adds an exciting twist.
With the addition of Cappy, Mario's new hat friend, players can now possess different characters and control their bodies.
Additionally, Cappy opens up a variety of new movement abilities that see Mario jumping further than every before.
The game has Mario collecting hundreds of Power Moons, which provide fuel for his spaceship, the Odyssey.
You'll hop from world to world collecting Power Moons, all in attempt to stop Bowser from marrying Princess Peach.
The game delivers an adventure unlike any other, and it rewards players for being clever and showing off a high level of skill.
All told, Super Mario Odyssey is not only the best Nintendo Switch game, but possibly the best 3D Mario game of all time.
Check it out on Amazon »
Are your favorite games on the list? Leave a comment below!
If you think there are games that should OR shouldn't be on this list, let us know by leaving a comment below.
Deciding which Switch game is the best is no doubt a never ending topic (mostly because new games are still being released), but it's absolutely exciting!
List by ProFanboy
Synopses & short reviews by Matt Owen from Super Gamecast 64