The Nintendo Switch is a hybrid gaming device, being able to act as a home console and also as a portable handheld.
With great exclusive AAA titles, surely this distinctive gaming device has its own market, similar to other Nintendo consoles.
For those of you who have played this console in the past, I bet you want to know the best Switch games of all time.
And some of you may already know some of the games mentioned in this list.
#25. Axiom Verge
Release Data: Tom Happ/Badland Games, 2017
Genre: Action Adventure » General
This indie game is heavily inspired by games like Metroid and Castlevania, and sees your character traveling across a maze-like map.
As you explore the alien world of Sudra, you'll unlock new abilities and weapons that will allow you to reach previously inaccessible places.
If you're a fan of classic games like Metroid, then this is totally the game for you.
#24. Cadence of Hyrule: Crypt of the NecroDancer Featuring The Legend of Zelda
Release Data: Brace Yourself Games/Nintendo, 2019
Genre: Action » Rhythm » Music
The developer has crafted a unique Zelda game which fits in perfectly with the franchise.
By allowing a talented indie developer to get in, Nintendo has gained a fantastic entry in the franchise that feels like a celebration.
Cadence of Hyrule is not just a brilliant game, it's a brilliant Zelda game – one that you won't want to miss.
#23. The Legend of Zelda: Link's Awakening
Release Data: GREZZO/Nintendo, 2019
Genre: Action Adventure » Open-World
This beautiful Switch remake adds modern conveniences, a dungeon creator, amiibo support and lots of little quality of life improvements whilst infusing every single square inch of Koholint with a level of detail and depth that totally reinvigorates both its timeless story and classic Zelda gameplay for a whole new generation of gamers.
#22. Sid Meier's Civilization VI
Release Data: Aspyr/2K Games, 2018
Genre: Strategy » Turn-Based » 4X
Watching and influencing how the world unfolds is as addictive as ever, and the boon of portability make this a great way to play.
Lack of online play is an obvious disappointment, but the core game works fantastically well on the handheld.
Overall, Civilization VI on Switch is a brilliant introduction.
#21. Katamari Damacy REROLL
Release Data: Bandai Namco Games, 2018
Genre: Action Adventure » General
Katamari Damacy Reroll serves up an engaging and rewarding game that hasn't let any of its original charm or personality be lost in the transition from one platform to another.
With support for gyro controls and multiplayer this Switch edition is easily the best way to play it outside of blowing the dust off your old PS2.
#20. Super Mario Maker 2
Release Data: Nintendo, 2019
Genre: Action » Platformer » 2D
Put in as simple a manner as possible, this is likely to be the last 2D Mario game you'll need.
It's Super Mario Maker but with more of everything that made the original so phenomenal.
For any fan of Mario who owns a Switch buying this game is an absolute necessity.
#19. SteamWorld Dig 2
Release Data: Image & Form, 2017
Genre: Action Adventure » General
For fans of SteamWorld Dig the recommendation isn't needed as they'll buy this anyway.
For those that skipped the first game, however, Dig 2 is a must-have – its charming aesthetic and cast set the scene for a tightly designed and clever exploration game.
#18. Minecraft: Switch Edition
Release Data: 4J Studios/Mojang AB, 2017
Genre: Action Adventure » Sandbox
Minecraft is easily one of the most popular games of all time, and the Nintendo Switch is the perfect home for this creative adventure.
In the game, you explore randomly generated worlds, collecting resources and building your own inventions.
This version of the game features Nintendo specific game elements, allowing you to recreate scenes from your favorite Nintendo games.
#17. Dead Cells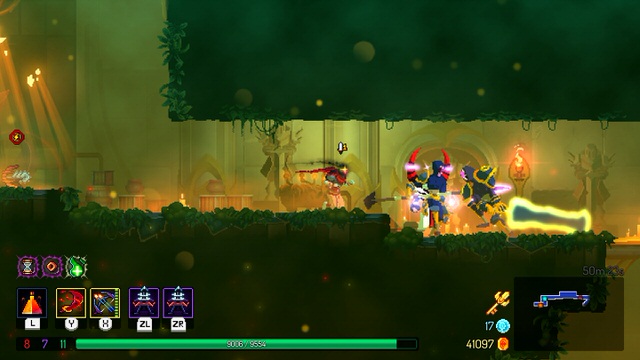 Release Data: Motion Twin, 2018
Genre: Action » Platformer » 2D
Dead Cells is a masterclass in excellent roguelike design, mixing together intense action sequences, gorgeous vistas, and an addictive loop of rewards into a beautiful experience.
There are hundreds of hours of content available here, and though some sense of repetition can creep in every now and then, it's remarkable how fresh Dead Cells can stay through all those hours.
#16. Diablo III: Eternal Collection
Release Data: Blizzard Entertainment, 2018
Genre: Role-Playing » Action RPG
In short, Diablo III: Eternal Collection is a port of a classic RPG that keeps its feet firmly in the past.
The execution is wonderful, but its gameplay is not something that will appeal to everyone due to the high level of repetition.
If you're looking for an RPG that focuses on grinding and looting, this is the game for you.
#15. Okami HD
Release Data: Capcom, 2018
Genre: Action Adventure » General
Though it may be showing its age a bit visually and its combat is sometimes a little on the easy side, Okami is an important, fun, and notable landmark in gaming history — and one of the easiest recommendations for your Switch library.
#14. Ikaruga
Release Data: Treasure/Nicalis, 2018
Genre: Action » Shooter » Shoot-'Em-Up » Vertical
Ikaruga is pure fun and excitement, and it's a fantastic game to play with a friend.
And despite its insanely hard difficulty, Ikaruga is fun to play and a great challenge time and time again.
This classic arcade shoot 'em up remains fun years after its release, and the Nintendo Switch gives it an awesome boost in portability.
#13. Star Wars Pinball
Release Data: Zen Studios, 2019
Genre: Action » Pinball
With short and snappy missions, it's perfect for bursts of short play on a commute or longer sessions in search of high scores and holocron shards.
Switch-exclusive features such as the Career mode, the updated Galactic Struggle, an unlockable soundtrack and support for vertical play make this a fine addition to the platform's growing pinball library.
#12. Cuphead
Release Data: Studio MDHR, 2019
Genre: Action » Platformer » 2D
Cuphead was a masterpiece when it launched on Xbox One and nothing has been sacrificed in its move to the Switch.
In other words, it's the same difficult game it was on Microsoft's console.
Its focus on intense boss battles won't be to everyone's tastes, but as long as you know what you're getting yourself into, it's absolutely recommended.
#11. Fire Emblem: Three Houses
Release Data: Intelligent Systems/Nintendo, 2019
Genre: Strategy » Turn-Based » Tactics
The expanded gameplay styles, lovable characters, and in-depth character customization hook you fast and are almost guaranteed to keep you engaged for hundreds of hours as you come to understand this enormous game in its entirety.
Fans both new and old won't want to miss out on what Fire Emblem: Three Houses has to offer.
#10. Hollow Knight
Release Data: Team Cherry, 2018
Genre: Action Adventure » General
Hollow Knight feels exceptional because so many of its smaller, expertly designed parts fit so well together over an extraordinarily long adventure that could easily have fallen prey to poor pacing.
From its punchy combat system to its charming art and sound design, this is one of the finest adventures you can have on Nintendo Switch.
#9. INSIDE
Release Data: PLAYDEAD, 2018
Genre: Action » Platformer » 2D
INSIDE's game developer successfully created a minimalist dystopian world with an immersive dark atmosphere.
The story itself is always mysterious and engaging as you don't know what to expect at the end of the story.
INSIDE is a perfect example of an atmospheric game design that'll leave you with existential dread by the time you finish the game.
#8. Bayonetta 2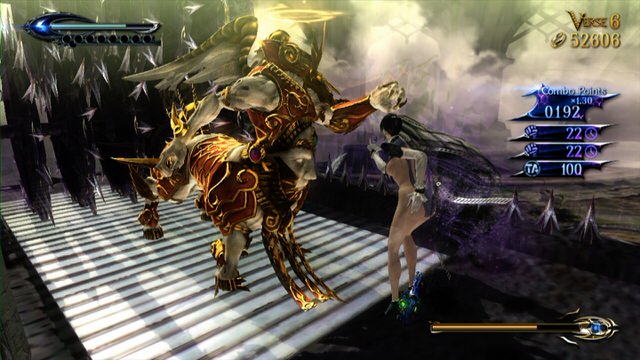 Release Data: PlatinumGames/Nintendo, 2018
Genre: Action Adventure » Linear
Despite being an old port, Bayonetta 2 shines brightest on Nintendo Switch.
It runs without a hitch at 60fps, looks incredible and offers an addictive free-flowing combat formula that sprinkles in platforming, light exploration and a ridiculous story to create something that you simply need to experience.
If you've never played it before, you're in for a treat.
#7. Sonic Mania Plus
Release Data: Sega, 2018
Genre: Action » Platformer » 2D
If you already own Sonic Mania, Sonic Mania Plus will add several hours of gameplay into the existing game and continue right away to where you left off in the original game.
All in all, Sonic Mania Plus is a great game and a great refreshed version from the old game with amazing graphics and entertaining gameplay.
#6. Dragon Quest XI S: Echoes of an Elusive Age – Definitive Edition
Release Data: Square Enix, 2019
Genre: Role-Playing » Japanese-Style
The Dragon Quest series has been an industry standard for any Japanese role-playing game genre.
The storyline, although it can be a bit linear, is well-paced, engaging, and expansive with a wondrous underrated soundtrack for an RPG.
With a decline of the JRPG genre in recent years, Dragon Quest XI brings a ray of new hope to the genre.
#5. Super Smash Bros. Ultimate
Release Data: Nintendo, 2018
Genre: Action » Fighting » 2D
Its entertaining single-player content helps keep the game rich with interesting things to do, as well as bolstering its spirit of loving homage to the games that have graced Nintendo consoles.
Ultimate's diverse content is compelling, its strong mechanics are refined, and the encompassing collection is simply superb.
#4. Celeste
Release Data: Matt Makes Games Inc., 2018
Genre: Action » Platformer » 2D
Celeste is one of the most beautiful and challenging platforming games in existence.
You'll likely die thousands of times before beating it, but you'll do so with a smile on your face.
The story is light, but impacting, and deals with heavy topics like depression and anxiety.
Altogether, it's a redeeming and heartfelt story with incredibly satisfying and challenging gameplay to match.
#3. Mario Kart 8 Deluxe
Release Data: Nintendo, 2017
Genre: Racing » Arcade » Automobile
This version of Mario Kart 8 contains all of the DLCs and original content that has ever been released for the game.
You can race in multiple different championships, as well as take out your friends in a variety of modes.
Overall, Mario Kart 8 Deluxe is a great racing title full of awesome content for racers of all skill levels.
#2. The Legend of Zelda: Breath of the Wild
Release Data: Nintendo, 2017
Genre: Action Adventure » Open-World
The Legend of Zelda: Breath of the Wild is a landmark release for its franchise and Nintendo.
It's the first time that Nintendo has truly taken on the open-world genre and embraces some strengths from top-of-the-class games while also forging its own identity.
And although this game is a revolution for the franchise, the Zelda essence is still there.
#1. Super Mario Odyssey
Release Data: Nintendo, 2017
Genre: Action » Platformer » 3D
Super Mario Odyssey gives us the expected 3D platforming of a traditional Mario game, but adds an exciting twist.
The game delivers an adventure unlike any other, and it rewards players for being clever and skillful.
All told, Super Mario Odyssey is not only the best Nintendo Switch game, but possibly the best 3D Mario game of all time.
---
Browse Switch Games By Genre
See also: Best Wii U Games & Best Gaming Chairs
Are your favorite games on the list?
Deciding which Switch game is the best is no doubt a never ending topic, but it's fun to do!