We already published the list of best Switch games of all time, now it's time to discover the best Switch puzzle games of all time.
With amazing titles available, the Switch definitely has a great library of puzzle games.
So, if you're a fan of both the Switch and puzzle games, there's a chance you'll like this list.
And some of you may already know some of the games mentioned in this list.
#10. Sushi Striker: The Way of Sushido
Release Data: Indies Zero/Nintendo, 2018
Genre: Puzzle » Matching
This title is a fast-paced puzzle game that is perfect for playing on the go.
The game has a unique gameplay mechanic where players must match colored plates of sushi to hurl at their opponent in order to defeat them.
If you're a fan of puzzle games and sushi, then you definitely need to give this one a try.
#9. Pikuniku
Release Data: Sectordub/Devolver Digital, 2019
Genre: Puzzle » Action
In Pikuniku, you play as a red creature named Piku who must travel through a variety of beautifully crafted environments, solving puzzles and helping out the quirky inhabitants along the way.
Overall, Pikuniku is a joy to play and a perfect game for players looking for a lighthearted and entertaining experience.
#8. Death Squared
Release Data: SMG Studio, 2017
Genre: Puzzle » Action
The premise of the game is simple: guide a group of robots to their designated goals without letting them fall off the edge of the platform or collide with each other.
However, as you progress through the levels, the challenges become more complex, requiring precise timing and clever thinking to solve.
#7. Gorogoa
Release Data: Buried Signal/Annapurna Interactive, 2017
Genre: Puzzle » General
Gorogoa is a beautifully crafted puzzle game that tells a rich and engaging story through its stunning hand-drawn artwork and clever gameplay mechanics.
Players must manipulate the environment in order to progress through the game's four unique panels, finding connections and solving puzzles to uncover the mysteries of the strange world of Gorogoa.
#6. Snipperclips – Cut it out, together!
Release Data: SFB Games/Nintendo, 2017
Genre: Puzzle » General
Snipperclips is a cooperative puzzle game that is played using one Joy-con controller per player.
Each player controls a character that can be modified by cutting pieces out of it or out of the other player's character.
The goal is to work together and use your ingenuity to solve the unique objectives presented in each level.
#5. Baba Is You
Release Data: MP2 Games/Hempuli Oy, 2019
Genre: Puzzle » Action
Baba Is You is a groundbreaking puzzle game that introduces innovative concepts and flawlessly executes them.
Its thought-provoking nature keeps players engaged and wanting more after each puzzle.
And the Switch's portability makes it the perfect platform for Baba Is You, as inspiration for solving levels can strike at any time and place.
#4. BoxBoy! + BoxGirl!
Release Data: HAL Labs/Nintendo, 2019
Genre: Puzzle » Action
At first, BoxBoy! + BoxGirl! might seem like a simplistic game, but it actually showcases the truth that sometimes less is more.
This puzzle platformer features two boxy characters that you can control either solo or in a fun co-op mode with friends.
Simply put, it's a lightweight, bite-sized game that's definitely worth the price.
#3. Puyo Puyo Tetris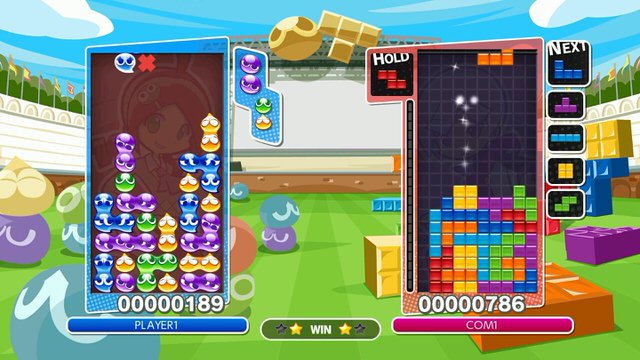 Release Data: Sonic Team/Nintendo, 2017
Genre: Puzzle » Stacking
Tetris and Puyo Puyo are both highly beloved puzzle games that involve fitting colored tiles together to score big combos and clear the board.
This crossover game lets you enjoy both games in a range of modes, including a unique mode that combines them.
All told, this game offers hundreds of hours of top-notch puzzle action for players to enjoy.
#2. Tetris 99
Release Data: Arika/Nintendo, 2019
Genre: Puzzle » Stacking
Experience the thrill of a battle royale with 99 other players in Tetris 99, as you fight to be crowned the ultimate Tetris champion.
The excitement of knocking out your opponents and defending your own position is incredibly satisfying.
This new and innovative version of Tetris is sure to provide chaos, adrenaline, and addiction all at once.
#1. Lumines Remastered
Release Data: Enhance Games, 2018
Genre: Puzzle » Matching
Lumines Remastered may require some adjustment if you're used to playing Tetris, but it's easy to learn and difficult to master.
With a variety of modes including endless, puzzle, arcade, mission, and battle mode, you'll have plenty of content to keep you entertained for hours on end.
If you enjoy laid-back, rhythm-based puzzle games, Lumines Remastered is definitely worth checking out.
---
Browse Switch Games By Genre
See also: Best Wii U Games & Best Gaming Chairs
Are your favorite games on the list?
Deciding which Switch puzzle game is the best is no doubt a never ending topic, but it's fun to do!