We already published the list of best Switch games of all time, now it's time to discover the best Switch 3D adventure games of all time.
With amazing titles available, the Switch definitely has a great library of 3D adventure games.
So, if you're a fan of both the Switch and 3D adventure games, there's a chance you'll like this list.
And some of you may already know some of the games mentioned in this list.
#5. Layers of Fear: Legacy
Release Data: Bloober Team, 2018
Genre: Adventure » 3D » First-Person
The main quirk of Layers of Fear is its ability to subvert your expectations.
Doors appear out of thin air, rooms change completely as you navigate them, and the house seems to have a mind of its own.
The compelling mystery motivates you to continue, but the disturbing and uncomfortable images and themes make it hard to go on.
#4. ABZU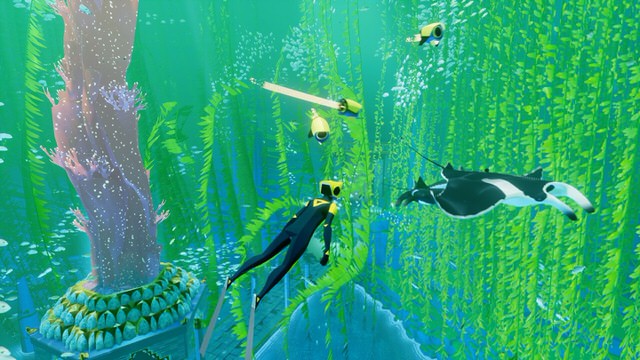 Release Data: Giant Squid/505 Games, 2018
Genre: Adventure » 3D » Third-Person
In ABZÛ, players control a diver who explores the depths of the ocean, encountering a variety of sea life and uncovering the mysteries of the underwater world.
The player is free to explore the ocean at their own pace, and there is no enemy encounters.
Overall, ABZÛ is a beautiful adventure game that is perfect for fans of exploration and discovery.
#3. Return of the Obra Dinn
Release Data: Lucas Pope/3909, 2019
Genre: Adventure » 3D » First-Person
The game takes place on a ship called the Obra Dinn, which has returned to port after being lost at sea for years.
Your job is to investigate the ship and figure out what happened to the crew and passengers by using a special pocket watch that allows you to see and hear the last moments of each person's life.
#2. Keep Talking and Nobody Explodes
Release Data: Steel Crate Games, 2018
Genre: Adventure » 3D » First-Person
In this game, one player is tasked with disarming a bomb while the other players, who are referred to as "experts," provide instructions on how to do so.
This creates a fun and exciting dynamic as the player and the experts work together to communicate and figure out the best course of action.
Overall, this is a fantastic casual multiplayer game.
#1. What Remains of Edith Finch
Release Data: Giant Sparrow/Annapurna Interactive, 2019
Genre: Adventure » 3D » First-Person
What Remains of Edith Finch is a narrative-driven experience that puts players in the shoes of different members of the Finch family as they explore the mansion and uncover the secrets of their past.
Each character's story is told through a series of interactive vignettes, and players must use their problem-solving skills to unravel the mysteries of each character's fate.
---
Browse Switch Games By Genre
See also: Best Wii U Games & Best Gaming Chairs
Are your favorite games on the list?
Deciding which Switch 3D adventure game is the best is no doubt a never ending topic, but it's fun to do!