So far I've covered a lot of different chairs, peripherals and other things which are very 'small picture' and focus on specific categories.
Yeah, it's nice to know the best rocker chair, or the best keyboard, or what have you, but what about the overall gaming experience outside of just the gaming hardware?
Well, this is where this list comes in. In here I'll list the 30 different types of gaming room accessories you'll not only need, but absolutely want.
Whether it's making snacking easier, your seating more comfortable, your area more organized or even just quality of life things, you'll find it here.
Oh and you'll be happy to know that this isn't PC focused, but most of this stuff can work for either PCs or consoles.
1. Home Theater System
What's better than the full immersion you can get by being completely surrounded by ambient sounds and sound effects?
Having a home theater system with surround sound and hooking it up to your computer will certainly make you feel as if you're in the middle of whatever you're doing.
Not only that, but audio quality is heaps better on these kinds of systems vs your traditional 2.1 surround and even mid-tier headsets.
You'll also be able to have directional awareness of what's going, which is especially great if you play lots of FPS games.
I'll also add that you don't necessarily have to go with a home theater system, there are 5.1 and 7.1 surround systems that are more targeted to PC setups.
Either way, get yourself something high-quality.
2. 4K Projector
A 4K monitor is cool, but a 4K projector is even cooler. There aren't tons of these around but if you can get one, you can massively upgrade your experience.
Rather than sitting really close to your screen, you can project a high-quality image on to a surface and literally immerse your eyes in what you're doing, the same way that a home theater system does for your ears.
Of course, you are going to need a powerful graphics card to run it!
3. Projector Screen
No point having a 4K projector and not using a projector screen. I know a lot of people just project on to a white wall, but truth is that you lose a lot of the quality by doing that.
Use a projector screen instead, they're made with a special reflective fiber that gives you some really crisp image quality.
4. 4K Smart TV (For Console)
Of course, that can be quite a bit of setup cost, and if you don't game on PC then you probably do on a console.
For those that do, you most likely don't have lots of space to fit a massive projector and projector screen, so going for a 4K smart TV is the right option.
Not only that, but it's smart, so you can do a bunch of different things (Such as loading apps, browsing the internet, etc.)
5. Curved 4K Monitor (For PC)
Truth be told though, sometimes 4K projectors and 4K TVs aren't what you're looking for. That's where curved 4K monitors for your PC come in.
They offer a similar level of immersion as a projector, but without taking up a massive amount of space. They're also generally cheaper compared to getting a 4K projector and good quality projector screen.
One variant of curved monitors is Ultra-Wide, which can almost be the size of two monitors side to side. You should consider getting one of those, especially if you do a lot of work on your PC.
Ultra-wide monitors allow you almost split/screen it, so if do audio/image editing work, you can have two windows open without needing another monitor.
6. Soundproofing Foam
The nice thing about soundproofing foam is that it works both ways:
On one hand, it blocks the sound from leaving the room, and on the other, it blocks it (although far less) from coming in.
For those of you who live with other people, you probably know the struggle of constantly having somebody come in and complain about noise levels.
Well, while soundproofing foam won't completely fix the issue, getting 10-20 squares and putting them in your gaming room can mitigate the issue.
7. Gaming Wi-Fi Router
This is the 21st century! Who uses wires anymore?! Gaming Wi-Fi routers are specifically made to handle the high level of performance required to play online without any lag or latency.
While some of them are hit and miss, most gaming routers at the $200+ range tend to work incredibly well for this, having several antennas and a pretty long range.
8. Wireless Gaming Headset
Speaking of wireless and how awesome it is, why not consider a wireless gaming headset? Cables are annoying, and for anybody who uses wired headsets often, you know the feeling of constantly having to deal with a cable that's basically attached to your head.
Not to mention that wireless gaming headsets have come a long way in the past few years, with battery life and quality increasing considerably.
9. Wireless Gaming Keyboard & Mouse
The same idea behind the WiFi router and wireless headset applies to keyboards and mice. Now, I myself always had an issue with these, especially in terms of charging and performance for the mouse.
Thankfully, much like the headsets, wireless tech for gaming keyboard and mice has come a long way, and nowadays they're nearly indistinguishable from wired peripherals.
10. Gaming Racing Wheel/Yoke/Joystick
If you're a big fan of simulation games (such as racing and flight sims) having a racing wheel or yoke/joystick can massively up your game.
The biggest issue with sims and PCs is that you almost always have to use a controller since it has an analog stick.
By doing away with a controller and going with a wheel or HOTAS, you not only get the analog aspect of controllers, but you also get the massive immersion that comes with actually having the gear used in the game (to an extent).
11. Cockpit Gaming Chair
So say you buy yourself one of these aforementioned racing wheels or yoke/joysticks, where are you going to put it?
Just sitting there on your desk? No way! Instead, get yourself a cockpit gaming chair that's made for this kind of thing, with special mounts to fit all the different types of gear you could want.
Some are even so adjustable that they allow you to move the shifter from left to right, or even put a joystick between your legs like in some jet fighters!
For an in-depth guide, check out the best cockpit gaming chairs list.
12. VR Headset
It's true that VR headsets are expensive (not to mention the hardware needed to run it), but I've tried one and they're really, really awesome!
I mean, it's something that's hard to explain to really get the point across, but I assure you, playing in VR is incredibly immersive and tons of fun.
If you can at least try one, do so.
Also, keep in mind if you're at your desk, you're probably better with an Oculus, whereas the Vive is better for a big space like a living room.
13. Power Strips/Surge Protectors
Having a good quality power strip means two things:
You don't need a ton of them, just get one with 5-6 plugs.
If you get ones with surge protectors, you can save your gear from getting fried randomly.
Mains power is really 'dirty' and not always balanced, so surges can and do happen often. A particularly bad one could fry not just your PC parts, but even your fridge and TV.
14. Gaming Desk
No point having some amazing gear if your desk is just plain old boring wood stuck together. Gaming desks generally have a bunch of features that gamers would find useful, from being the right height to cable management holes and channels and sometimes LED strips.
Not to mention that gaming desks are generally made to a height that keeps your monitor centered on your eyes vertically, and maybe even sometimes specific spots for extra monitors (in case of streamers).
15. Cable Clips
Cable clips are incredibly useful for cable management, and I'd go as far as saying that you can't do any real cable management without them.
Incidentally, there are tons of different cable clips, from big ones for big cables to smalls ones for small cables, like the ones inside your PC.
That's right, cable management should be something you aim for everywhere!
16. TV Stand
If you do game on a console (or in the living room), having a TV stand can be immensely helpful. Just in the same way that a gaming desk is made to be the right height to center your monitor, TV stands are also made to center the TV.
Granted, TV sizes can vary even more than monitor sizes but even so, they generally keep it to within a specific range.
17. External Cooling Fan for Consoles/Gaming Laptop
You don't often see this one, but it's actually a legitimate purchase if you game a lot on consoles or gaming laptop.
While most modern consoles and gaming laptop are made to with cooling mind, sometimes it's just not enough, whether it's because you live in a hot climate, or because you game for very long hours.
Getting these cooling fans will help the onboard fans, which in the long run will prolong the life of your console/laptop and reduce screen tears/freezes/etc.
18. Charging Station for Consoles
If you are gaming on consoles, then having charging stations for your controllers is going to be a massive help in the long run.
I mean, who can't relate to the situation where you sit down, start playing, and 5 minutes in you start getting the battery low warning?
With a charging station, you just pop the controller on whenever you finish playing, and it will charge away while you do other things.
The best part is that you don't have to deal with a bunch of charging cables going all over the place or using up one of the USB slots on your console.
19. Game Storage Tower/Cabinet/Rack
Even though digital distribution is becoming more of a thing these days, game devs have been making larger and larger games, and they can't always fit on your console.
That's why a lot of people still buy physical disks, which leads to the problem of what do you do with all of them?
If you have a TV stand with integrated storage that's great, but otherwise your only solution is a storage tower, cabinet or rack.
The big positive is that with standalone storage units, they generally don't have a door that closes, so all your games are displayed all the time (which makes it easy to pick one out to play!).
20. Controller Silicone Skins
Having tons of fancy gear is nice, but if it's going to be used often and banged up as a result, it would be a massive shame.
That's where silicone skins for your controllers come in. Not only do they protect your controllers from day to day use (and the occasional throw) but they can be pretty stylish as well.
I've actually seen lots of skins for different games, shows, anime's, pretty much whatever you want!
21. Racer Gaming Chair (Desk)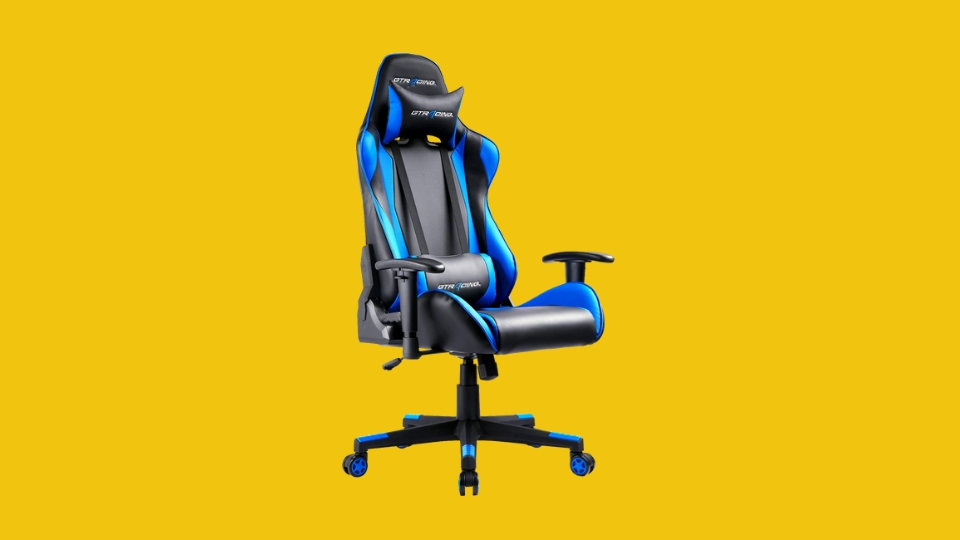 Racer gaming chairs are all the rage and for good reason. They're comfortable, usually ergonomic, and are made for gaming, so they have some ventilation for when you sit there for hours.
Oh, and they also look super cool.
I've actually featured a lot of them on this site over the last few months so you have a lot of them to pick from depending on your needs!
For an in-depth guide, check out the best racer gaming chairs list.
22. Rocker Gaming Chair (Floor)
Rockers are another category of chairs I've featured a lot because they're very useful for living room gaming.
While your average couch or sofa is fine, having one of these rockers is several magnitudes better; they're usually padded more, have extra features like speakers, and they're made for one person, so no need to share!
One other advantage is if you don't have a TV stand and your TV sits very close to the floor, having a rocker chair puts you at roughly the right height for your eye line.
For an in-depth guide, check out the best rocker gaming chairs list.
23. Portable Air Conditioner
Air conditioning units are very, very expensive, not only from the initial investment, but also the costs of maintenance and electricity.
While portable air conditioners still have high electrical costs, their initial investment and maintenance are considerably smaller.
Not only that, but you can freely move them around your house, unlike normal air conditioners that are stuck to one spot.
The only really big downside is that portable air conditioners can't get the temperature *as low* as standard air conditioners, and I've seen people sometimes have two going on really hot days.
Also, you need to constantly top them up with cold water/ice, which can be a pain in the long run.
24. Gaming/Cinema Couch
This entry might sound weird given my earlier comment about standard sofas/couches, but the thing is, these aren't standard in any way shape or form.
Gaming/cinema couches have a ton of extra features, such as extra thick padding, PU or real leather covering, tiltable footrests that are sometimes motorized and you can even find some with trays that have integrated plugs in them to charge your devices with.
Granted, these can get very expensive, and they're generally considered a major purchase.
Still, getting one will upgrade your gaming or film watching experience by at least 100%. I've actually reviewed a few gaming/cinema couches and sofas, so you should definitely check those articles out if you're in the market for buying one.
For an in-depth guide, check out the best gaming couches list.
25. Refrigerator
Gaming can be thirsty work, and drinking tepid or warm drinks isn't fun. Similarly, getting up every hour or so to get yourself a drink from the fridge can be annoying.
That's why mini-fridges are so cool (pun totally intended).
Mini-fridges tend to come in lots of different sizes, and I've even seen USB ones that can fit a single can, which is pretty interesting.
Of course, they're also good for keeping snacks cool, like chocolates and things of that nature.
Make sure to find the right-sized one for your needs, no point in wasting money!
26. Microwave
On the other end of the scale is the microwave, for when you want things so hot you can barely touch them!
A lot of people might see microwaves as these big things that go in the kitchen, but you can get reasonably good small ones nowadays which are perfect for preparing your hot chocolate drink or even some tea.
Just keep in mind when buying one that Microwaves tend to draw a lot of power, so don't put them in the same strip as a lot of other stuff, or at the very least, get yourself a really high quality and powerful one.
27. Rugs
This one might seem like a weird one, but it actually makes a lot of sense. Having your feet resting on something soft is incredibly comfortable and heaps better than just resting them directly on the floor.
Not to mention that you can kick off your shoes, or slippers and go with the freedom from dirty only a rug can offer!
28. Bean Bags (For Chilling Out)
If you've never sat on a bean bag chair, then go find one and do it. Right now. I'll wait.
.
.
.
Ok, you're back? Good!
Jokes aside, bean bag chairs are awesome, especially since modern bean bag chairs have tons of different types of filling, from the traditional beans to shredded memory foam.
They're great for just sitting back and relaxing after a long day of gaming, or even actually gaming on them in lieu of a gaming chair.
One thing to watch out for before you buy one though, is to make sure that it's double stitched for durability, and that it has an internal cover to make washing of the external one much easier.
For an in-depth guide, check out the best bean bag gaming chairs list.
29. Blankets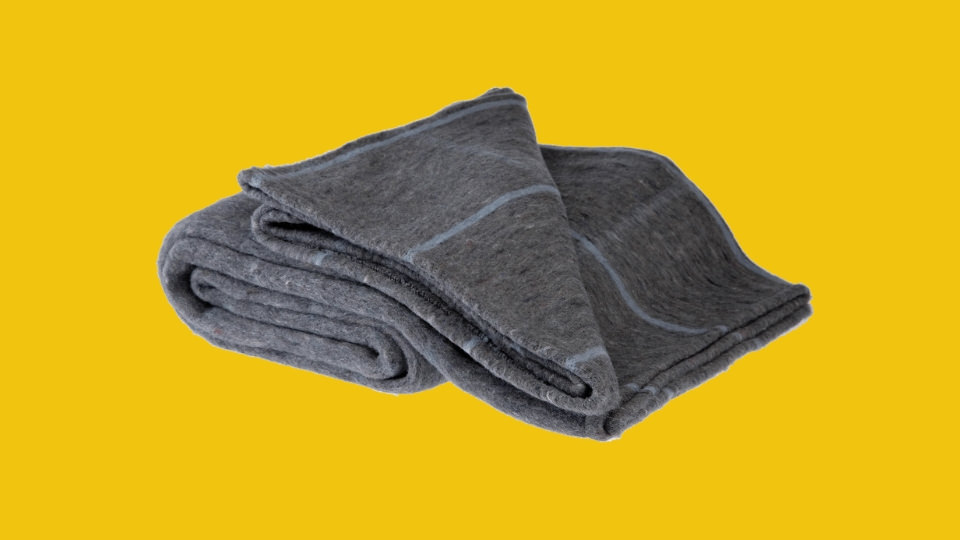 To be fair, this entry is probably only going to be useful for the people who live in really cold environments, or where winter months are long.
Either way, blankets are a nice thing to have so that you can just curl up in comfort and watch that movie, or if you're awesome enough, gaming with the blanket on!
Personally, I'd suggest getting those blankets with the arms in them, those are pretty fun (even though there are so many negative connotations around them).
30. Dimmable Ceiling Lights with Remote Control
Dimmed or no lights is a must have for some genres such as horror, but it's not very convenient to always have the lights switched off.
Maybe you want to top up your portable AC or microwave something. Maybe you want to take something out of your fridge, or adjust your cable management.
Whatever it is, constantly getting up to dim or turn off your lights is a pain, and that's why remote controlled lights are a godsend.
There are actually lots of different types with varying levels of complexity and features. One one hand, you have high-tech bulbs which allows you to control your lights from your smart device, and even gives you the option of tons of colors.
On the other hand, there are little motherboards that fit directly in the light fixture which have a simple remote that comes along with it to switch lights on/off or dim them.
---
So there you have it, folks! A list of pretty much everything you could need to bring your gaming experience all the way to the top.
Of course, I don't really expect you to get everything, so here are some of my must-have suggestions:
Home Theater/Surround Sound System
Soundproofing foam
High-end power strips
Wireless gaming headsets
Some kind of gaming chair/sofa
Those are really the things you want to focus on at the start. The bigger items like the mini-fridge or portable air conditioner you can buy over time.
Either way, I wish you all the best of luck in building your perfect gaming room!