We already published the list of best PS Vita games of all time, now it's time to discover the best PS Vita RPGs of all time.
With amazing titles like the Atelier series, Ys: Memories of Celceta, and Muramasa Rebirth, the PS Vita surely have a great collection of RPGs.
If you're a fan of both PS Vita and RPGs, there's a chance you'll like this list.
Most of you will know (or even still playing) some of the games mentioned in this list.
See also: Best PS3 Games & Best PS4 Games
#25. Sorcery Saga: The Curse of the Great Curry God
Zerodiv/Compile Heart, 2013
Role-Playing » Roguelike
Synopsis
Sorcery Saga is the story of a girl, Purupuru who has a problem.
That problem is her favorite curry shop is going to close down.
She won't let that happen on her watch, so she has no choice but to go adventuring to gather ingredients and search for the "Legendary Magic Curry".
Short Review
With a story loaded with humor, interesting characters and insane dungeon variety, Sorcery Saga: The Curse of the Great Curry God is an excellent game.
The randomized dungeons give the game a ton of replayability.
The quirky story will keep you invested and want to see where it goes next.
If you like Roguelike RPGs this will be a great one for you to try if you haven't already.
#24. Hyperdimension Neptunia Re;Birth3: V Generation
Felistella/Compile Heart, 2015
Role-Playing » Japanese-Style
Synopsis
This game is an action RPG set in the Hyperdimension Neptunia universe.
The story revolves around a deeper dive into the "Console Wars" story arc and added variations on the Hyper Dimension Neptunia Mk 2 style of combat.
Short Review
Hyperdimension Neptunia Re;Birth3: V Generation brings a new spin on their action RPG style by providing you the ability to customize your characters' combos.
The frenetic action is also made more exciting by giving you slick-looking combo attacks by using your EXP gauge.
The EXP gauge is used for special attacks and can be charged up by landing combos on your enemies.
Top all that off with shining light on an unknown aspect of the Console Wars arc give you plenty of reasons to play.
#23. Demon Gaze
Experience Inc./Kadokawa, 2014
Role-Playing » Western-Style
Synopsis
In the world of Mythrid, you play as Oz, a man with a mysterious power.
His eye can seal demons, which is a pretty good power for the protagonist to have.
The gameplay is split between your dungeon diving escapades and chilling with your NPCs at the Inn, to develop your bonds with them.
Short Review
The game provides a very satisfying central gameplay loop.
The basics involve you dungeon diving to slay some demons and then taking your loot back to town.
The cyborg demons you battle can be captured and used in battle, like some wonderful marriage of Doom and Pokemon.
There's also a fun mechanic where you make your own secondary characters.
With its depth of customization and the gameplay simple to understand, you can't go wrong with ​Demon Gaze​.
#22. Mary Skelter: Nightmares
Compile Heart, 2017
Role-Playing » Roguelike
Synopsis
You play as Jack, trapped in an underground prison called "The Jail".
Surrounded by evil Machens who want nothing more than to catch humans and torture them mercilessly.
When you and your childhood friend are rescued by a giant scissor wielding girl named Red Riding Hood, you must battle through the Machen threat and escape.
Short Review
Mary Skelter: Nightmares ​is a unique blend of turn-based combat and first-person dungeon crawling.
There's a fun blood spatter mechanic that helps you in multiple ways.
First, the blood can be used to heal. Another benefit to the blood splatter is that if your "Blood Maidens" get coated in it, they gain a powerful boost called "Massacre Mode".
Lastly, the blood is a way to navigate the dungeon when you run into Nightmares, a powerful unkillable Machen that makes the map disappear and aren't constrained by the turn system.
With its strange and beautiful combination of mechanics and interesting story, you need to play this game at least once.
#21. Hyperdimension Neptunia Re;Birth1
Felistella/Compile Heart, 2014
Role-Playing » Japanese-Style
Synopsis
Hyperdimension Neptunia Re;Birth1 ​is an interesting combo of Adventure game and RPG mechanics.
The story is delivered through a visual novel format, while the dungeon exploration is 3D, and has obstacles that can only be removed by simple puzzle solving.
Utilize your party's talents to clear your path and defeat your enemies.
Short Review
While the original ​Hyperdimension Neptunia ​had its charms, the port to the Vita pulled out all the stops to make it even better.
In fact, I wouldn't call it a port, but a full-on remake.
The interface and battle system were upgraded to match the other Hyperdimension games, and the EXE meter is in full effect.
The story and character script were all redone to make the fans happy, and they did an excellent job.
They also added a ton of new content in the "remake system".
If you want the best way to play this classic, it's got to be this version.
It's jam-packed with exciting content, and the story is even better than the PS3 version.
#20. Ray Gigant
Bandai Namco Games, 2016
Role-Playing » General
Synopsis
Ray Gigant​ takes place in a Tokyo that has been left standing after the world has been destroyed by Aliens called Gigants.
The heavy story focus travels across three chapters, focusing on three separate protagonists.
Short Review
Ray Gigant ​is a great looking game.
The lovingly crafted 2D assets are smoothly animated and eye-catching.
The game itself borrows elements from rhythm games, visual novels and more traditional RPGs like ​Xenogears​ and ​Bravely Default.
The heavy story focus is the big highlight, however.
Time and effort were put into crafting the tale of these three characters and their interactions with the people in their lives.
If you are interested in a tightly woven tale of three heroes fighting to save the world from an alien menace, you should enjoy this game.
#19. Stranger of Sword City
Experience Inc./NIS America, 2016
Role-Playing » General
Synopsis
Imagine that you're on a flight, watching the movie, or maybe listening to the music channels on the expensive headsets they hand out when suddenly you're dragged into an alternate dimension.
That's the setup for one of the toughest JRPG dungeon crawlers ever made.
Short Review
To complete your quest to return back to your home you'll need to defeat lineage monsters.
Lineage monsters are basically the upper-tier monster in a list of monsters that are designed to destroy you on a cellular level.
What makes ​Stranger of Sword City​ tough is the high level of difficulty of common enemies, along with permadeath and tightly designed dungeons.
It introduces the idea of character age and what that means for stats.
A younger character will have more health points than an older character, but an older character is slightly more effective in combat because they've lived longer and seen a thing or two.
If you like games that will take you to town on the pain train, check this game out.
#18. Tokyo Xanadu
Falcom, 2017
Role-Playing » Action RPG
Synopsis
Tokyo is in the midst of a secret war.
You, the protagonist, one Kou Takisaka is a normal high school student.
You catch a fellow classmate in the company of some rough characters, and when you go to confront them you are sucked into an alternate dimension.
This nightmare realm is called "Eclipse" and you find that your classmate is part of an organization that will stop at nothing to close these vortexes for good.
Short Review
Tokyo Xanadu​ is a fun game with some great boss designs.
As the highlight of any dungeon crawler, the bosses should be the focal point, and this game pulls it off in spades.
The story is a fun time too, though it does drag a little in the beginning.
Once you get the cast of characters together, the game really picks up the pace and becomes difficult to tear yourself away from.
Despite the slow burn start, the story and gameplay will keep any JRPG fan engaged right up until the end.
#17. Freedom Wars
SCE Japan Studio/SCEI, 2014
Role-Playing » Action RPG
Synopsis
It's the future, and you're serving a 1000 year sentence in prison for the crime of "living".
As a citizen of your Panopticon, it is your duty to serve your sentence and the nightmarish city-state by fighting in a perpetual war with rival Panopticons, and giant monsters called Abductors.
Watched over by your personal warden and battle partner, a robot called an Accessory, you third-person shoot your way through humans and monsters to retrieve resources and take years off your lengthy prison sentence.
Short Review
With a great setup, ​Freedom Wars​ gets off to a running start, and it gets even harder from there.
Your custom protagonist is replete with unlockable outfits, weapons, and other fun swag.
You get to participate with other players in PVP combat or play a single-player campaign dripping with atmosphere and intrigue.
It really sets itself apart from other JRPGs by combining the two-man team (or in this case one human one android) third-person shooter mechanics with RPG elements and the character customization is the cherry on top.
I could keep gushing, but only playing it will do it justice.
#16. Dungeon Travelers 2: The Royal Library & the Monster Seal
Aqua Plus, 2015
Role-Playing » Western-Style
Synopsis
Monsters have been sighted in the Kingdom of Romulea.
It's up to you to bring together a formidable group of allies to take down the monsters, plumb the depths of dungeons, and bring back that sweet loot.​
Dungeon Travelers 2​ doesn't need to reinvent the wheel with its storytelling, because simplicity itself can be a satisfying experience if it's designed well.
Short Review
Dungeon Travelers 2: The Royal Library & the Monster Seal ​is a lighthearted dungeon crawler.
Its design isn't looking to redefine the genre, and it isn't going to turn its nose up at the conventions of a classic JRPG.
That isn't a bad thing at all.
The team kept it simple because they knew they could make the most out of all these familiar concepts, and get a fun, engaging and funny game out of it.
The art style is great and really brings across the tone of the adventure.
The turn-based combat and party mechanics are well designed and are intuitive for any fan of JRPGs.
You have five main classes that branch out into a bunch of subclasses that you can refine and specialize in to make your team the OP killing machine you want it to be.
It's like settling into your favorite comfy chair if your chair was hunting down bloodthirsty beasts.
#15. Superdimension Neptune VS Sega Hard Girls
Compile Heart/Idea Factory, 2016
Role-Playing » Japanese-Style
Synopsis
What if anthropomorphized Sega consoles had a cross over adventure with an anthropomorphized Sega console that was canceled before it could reach production?
Well, the answer to that question is Superdimension Neptune VS Sega Hard Girls.
I could barely contain my joy in writing those sentences.
Now, the story is about the protagonist IF and a girl who falls from the sky, Segami.
They travel to a library where the world's history is stored, only to be attacked.
Once the fight is over, they discover that history itself is disappearing, and have to travel on IF's time-traveling bike to restore the past, and save the future.
Short Review
Superdimension Neptune VS Sega Hard Girls ​premise is fun in of itself, but the gameplay is no slouch either.
The turn-based combat is easy to pick up, but well designed to keep its depth.
There are plenty of strategies to experiment with and optimization options for days.
The game's character animations for super moves are also appropriately bombastic with plenty of anime-style action to satisfy your cartoon bloodlust.
There are also three endings to keep you coming back for more.
Its great value, story, and well-designed mechanics make this a must-play title.
#14. Oreshika: Tainted Bloodlines
Alfa System/SCEI, 2015
Role-Playing » General
Synopsis
In Feudal Japan, devastating natural disasters are wracking the country after six holy artifacts have gone missing.
Seime, a powerful sorcerer and advisor to the Emperor suggests a human sacrifice to appease the Gods.
Unfortunately for you, your clan is chosen as the sacrifice.
The Gods aren't pleased with this turn of events and help resurrect your clan, but your salvation comes at a cost.
Your family is left with a terrible curse that causes you to die after 2 years, and make you unable to pass on your genes with normal humans.
The gods will help you with keeping your family going, provided you show them enough loyalty and devotion.
Short Review
Oreshika: Tainted Bloodlines ​is a fun game mechanically, not just because it hits all those JRPG traditions, but because of the family planning and loyalty mechanics that underline all the progress of the game.
Each choice you make outside of the dungeons will literally mean the life or death of your family line.
The stakes are personal, and not just because you were massacred.
Every two years in-game, you have to make sure your clan is running well, and your future party members are loyal and going to keep up the fight after you pass.
It's a ton of fun, and add a massive amount of depth to a tried and true RPG battle system.
#13. Atelier Escha & Logy Plus: Alchemists of the Dusk Sky
Gust/Koei Tecmo Games, 2016
Role-Playing » Japanese-Style
Synopsis
The story is about two protagonists, Escha and Logy respectively, who you get to choose to see the main story through their perspective.
You're a newly minted alchemist, tasked with helping the town of Colseit's R&D division.
As you progress and learn more about the area and the people you work with, more is revealed about your character's past and their motivations.
Short Review
Atelier Escha & Logy Plus: Alchemists of the Dusk Sky ​is a pretty intimate story when all is said and done.
While you do grapple with larger problems, it all comes down to the moments of personal character growth that make this game great.
The other part that makes this game fun is the game mechanics themselves.
The Synthesis mechanic allows you to create items and equipment allowing for a great deal of customization.
It's a fun rabbit hole to dive into if you're a nerd for optimization.
The battle system is deep as well.
Your party consists of 6 members, and there's a neat support mechanic that keeps you thinking during battles.
It's all wrapped in a beautiful art style so it's a feast for the eyes as well as your mind.
#12. Tales of Hearts R
7thChord/Bandai Namco Games, 2014
Role-Playing » Action RPG
Synopsis
Tales of Hearts R​ starts off on an isolated island community where the main protagonist, Kor is training to be a "Somatic", an ancient order of warriors who fight creatures who shatter the emotional essence of humans.
One day Kor happens upon Hisui and his sister Kohaku, fleeing a monster.
The monster attacks the village, leaving Kor without his mentor, and the sister infected with "Despair".
Kor attempts to cure the infection but triggers her emotions to shatter and scatter across the world.
Feeling responsible for Kohaku's fate, Kor decides to go after the shards of her emotions.
Short Review
The story is fun, with plenty of twists and turns to keep the simple setup entertaining throughout the whole game.
The battle system is also fun, bringing a fighting game style to the proceedings.
You have a chance to set up combos and present a risk-reward type strategy to keep in mind.
Do you wind up with a juggle combo and leave yourself open to a devastating attack, or do you stay on the defensive, waiting for the perfect moment to turn the tables?
With plenty of interesting story beats and fun fights, there's no reason you shouldn't pop this into your Vita and enjoy the hours you'll pour into it.
#11. Soul Sacrifice
SCE Japan Studio/SCEI, 2013
Role-Playing » Action RPG
Synopsis
You are a slave, set to be sacrificed by a powerful sorcerer who plans on using you to keep himself immortal.
Before you are put up on the chopping block, a magical book visits you and gives you the key to your survival, and the chance to end the immortal sorcerer's reign.
Short Review
Soul Sacrifice​ is a 3rd person action RPG that has you take your custom protagonist through the memories of another sorcerer to gain their experience by defeating monsters and learning spells.
Your character customization doesn't just stop at your clothing and physical appearance.
You can also customize your abilities.
These are set around the sacrifice mechanic, where you sacrifice a part of your body to cast powerful spells.
This only happens during desperate times, as your spells are usually cast through items called offerings.
You have limited uses for offerings, and if they break you need to spend valuable resources to get them fixed.
If you sacrifice a part of yourself, you'll suffer a massive debuff that can also only be repaired after the fight is over.
This gives the game a personal feeling to the combat encounters.
You literally need to give up a part of yourself for victory.
It's so cool that you've got to try it out yourself to really appreciate it.
#10. Shiren the Wanderer: The Tower of Fortune and the Dice of Fate
Spike Chunsoft/Aksys Games, 2016
Role-Playing » Roguelike
Synopsis
You play as Shiren, the titular protagonist, traveling with his talking ferret companion.
You've heard rumors that at the top of the Tower of Fortune there is an item that can literally change your fate.
A treasure like that is impossible for a wandering adventurer to pass up, and you decide to try to make it to the top, and grab the impossible.
Short Review
Roguelikes aren't the most forgiving of formats.
Every time you die, everything gets reset, including your levels, and skills.
Items and money can be squirreled away, to help ease your way back in, but your incredible luck may suddenly give out and there you are, back at the bottom of the tower, wondering how things went sideways.
That might sound like a bad thing, but if you enjoy this genre, it's one of the main draws.
That singular buzz you get for overcoming the odds is what keeps you climbing that tower, and ​Shiren the Wanderer: The Tower of Fortune and the Dice of Fate ​hits that sweet spot.
The graphics are straight SNES nostalgia bait, and that makes the repeated trips through the RNG dungeons pleasing to the eye as well.
Check it out on Amazon »
#9. Atelier Ayesha Plus: The Alchemist of Dusk
Gust, 2015
Role-Playing » Japanese-Style
Synopsis
You play as Ayesha Altugle, a simple purveyor of herbal remedies with her sister, Nio.
One day Nio vanishes and Ayesha tries to find her.
She's helped by a wandering alchemist named Keithgriff Hazeldine who informs her that in order to find her sister she'll need to master the art of alchemy, and she'll need to hurry or her sister will be lost forever.
Short Review
Atelier Ayesha Plus: The Alchemist of Dusk​ proceeds as you complete objectives and branches out in a nice organic way.
The story is a personal one, so a lot of attention is given to Ayesha and her dealing with her missing sister and trying to become a great alchemist so she can save her.
These kinds of smaller stories really give characters room to breath and allow the themes to come across.
The gameplay is great too.
Battles are well designed and keep you thinking with support mechanics and distance from foes playing a big part in your decision making.
There's also a cool thing with Ayesha's journal.
You can fill entries by spending the points you earn from completing objectives.
This allows you to get into the main character's head to get a better understanding of what she's going through and unlocks helpful bonuses.
If you like a good character-driven story, and fun battle mechanics, you need to play this game.
Check it out on Amazon »
#8. The Legend of Heroes: Trails of Cold Steel
Falcom, 2015
Role-Playing » Japanese-Style
Synopsis
You are Rean Schwarzer, recruit of Thors Academy and member of newly formed Class VII.
The class is exceptional because it's formed by both the nobility and commoners of the Erebonian Empire.
The plot follows the class through their training and takes them out across the empire to witness the class divide and see the harsh realities of the empire from both sides.
Short Review
Like any good JRPG, the story of ​The Legend of Heroes: Trails of Cold Steel ​is the centerpiece.
The RPG elements revolve around the school aspect.
As a student of Thors Academy, you'll need to stay on top of your studies, combat drills and tests in order to be the best.
You'll also have the opportunity to get closer with your classmates, help out the folks you meet out in the real world and learn all you can about the problems the empire faces.
This is all going towards the battles you'll be participating in, so the social interaction isn't just filler.
The newest mechanic shows this off the best.
The "Tactics Link" ability gives you the chance to perform a combo attack with a party member, and if your bonds are strong, the ability becomes even more effective.
With a system as strongly designed as this, and the story driving the mechanics in perfect harmony, this game is a must for any JRPG enthusiast.
Check it out on Amazon »
#7. Atelier Shallie Plus: Alchemists of the Dusk Sea
Gust/Koei Tecmo Games, 2017
Role-Playing » Japanese-Style
Synopsis
A once flourishing Oasis town is drying up, slowly killing off the local plants and wildlife.
The town is in danger of collapsing leaving the area uninhabitable.
This is where the two protagonists come in.
Shallistera Argo is in search of the means of stopping the drought while Shallotte Elminus is just a local girl struggling to keep her family business alive.
Short Review
With all Atelier games, the story is the main course.
Whether you play as one protagonist or the other, you'll be granted a tale that is as much about the protagonist as the giant problems they look to overcome.
In this version, there is a life goal system that's different from the simpler time limit system used in previous games, as well as an impact from your resource gathering.
If you don't complete enough life goals as the story progresses, you'll be hurting in the end game, and if you aren't careful with how much you harvest from spots on the map, the resource might not respawn for the rest of the game.
It's a subtle change, but one that keeps the gameplay engaging and keeps you invested in the characters and the state of the world.
Check it out on Amazon »
#6. Muramasa Rebirth
Vanillaware/Marvelous AQL, 2013
Role-Playing » Action RPG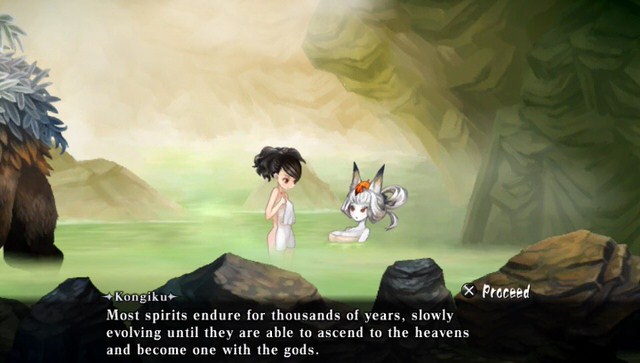 Synopsis
Muramasa Rebirth​ is the tale of two warriors.
One is Momohime, a woman possessed by a vengeful Ronin, while the other is Kisuke, a rogue Ninja with amnesia.
The stories weave together to make a compelling period piece, using folklore from Sengoku era Japan.
Short Review
The game is gorgeous.
The art style and character animations really make the game explode off the screen.
The side-scrolling action RPG gameplay also compliments the art direction and gives the hard work the team put into the game room to breathe on screen.
The stories are interwoven through their various twists and turns and makes the work to get the multiple endings for each character worth the time.
The battle system is also well crafted.
You can wield multiple blade types, combo attacks and the ability to level your characters and your weapons.
This game is a work of art, through and through, and it would be a shame if you missed out on it.
Check it out on Amazon »
#5. Atelier Rorona Plus: The Alchemist of Arland
Gust, 2014
Role-Playing » Japanese-Style
Synopsis
The story begins with an introduction of the town on Arland itself, setting up the introduction of our main character Rorolina Frixell.
She's an apprentice alchemist, and the fate of the alchemist shop hinges on her ability to become a master alchemist and prove to the local government that the shop will work in the current economy.
Short Review
Atelier Rorona Plus: The Alchemist of Arland​ revolves around the synthesis system and proving Rorona has what it takes to run a thriving shop in an area that is quickly becoming industrialized.
You go out, find ingredients and other resources, battle monsters for their parts and make as many things as you can to keep your shop afloat.
You need to do all this to prepare for the 12 tests you have to complete to prove that you're a master alchemist.
The simple premise and straightforward gameplay give the visual novel sections the spotlight and allow the personal journey of Rorona time to shine.
Check it out on Amazon »
#4. The Legend of Heroes: Trails of Cold Steel II
Falcom, 2016
Role-Playing » Japanese-Style
Synopsis
You play as Rean, the protagonist from the previous game.
You've been in a month-long coma after the events that transpired at the end of the first Trails of Cold Steel.
You must reunite with your classmates, who have been scattered throughout the empire, and try to resolve the events that were set in motion.
Short Review
Since The Legend of Heroes: Trails of Cold Steel II ​is a direct sequel, not a lot has changed in the battle system, but the map did get a big upgrade, as well as your methods of travel across it.
You get access to a motorcycle that is fully customizable and of course, you get to continue a stellar story that was left on a cliffhanger from the previous installment.
The game is just overall bigger and better looking than the previous game, and it adds a bunch of depth to the setting and nuance to the characters you got to know in the last game.
This is a must for anyone who's played the first game.
Check it out on Amazon »
#3. Soul Sacrifice Delta
SCE Japan Studio/SCEI, 2014
Role-Playing » Action RPG
Synopsis
Soul Sacrifice Delta ​is a direct sequel to the first Soul Sacrifice.
It's essentially the same story but with new wrinkles that really flesh out the story of the Magusar and the history of the world.
You are a sacrificial lamb for the Magusar, and that sacrifice will prolong the Magusar's unnatural life span and his reign of terror.
Short Review
The sequel is bigger and better than the original in a lot of ways.
The story now includes three factions that will affect the powers you gain from sacrificing or sparing the enemies you defeat, and with the third faction, it also brings a new option to the table.
Instead of sparing or sacrificing, you can also choose fate.
The customization options have been expanded.
Gameplay has also added combo skills and a bigger story that really gives you the hidden mystery behind the Magusar and how this mess started and how it continues.
If you've never tried a Soul Sacrifice game, this one is great and doesn't require the first one to understand the story.
Check it out on Amazon »
#2. Ys: Memories of Celceta
Falcom, 2013
Role-Playing » Action RPG
Synopsis
In Ys: ​Memories of Celceta ​you play as Adol Christin, an adventurer with amnesia, in the town of Casnan.
After wandering around you run into a shady information broker who claims they know who you are.
In order to get your memories back, and survive you join up with the broker and take a job mapping the surrounding area for the local government.
Short Review
The action part of the action RPG format is well-executed here with responsive controls and the ability to dodge and parry attacks to allow for critical follow-ups or temporary invincibility for your party.
With the fast-paced action, there is also a streamlined crafting mechanic that will keep you collecting resources and fighting monsters to maximize your gear.
The story is the wonderful cherry on top. It keeps you engaged through it all.
Solve the mystery of who you are and why you got amnesia and reveal the sinister machinations in the region.
Check it out on Amazon »
#1. Persona 4 Golden
Atlus, 2012
Role-Playing » Japanese-Style
Synopsis
As the player, you've come to the sleepy town of Inaba for the year and are almost immediately drawn into a murder mystery.
Corpses hanging from TV antennas keep popping up, and being a stranger to the town, suspicion falls on you.
There are also rumors of a midnight channel that can show you your soulmate.
Are these things connected? Can you solve the mystery and prevent more needless bloodshed?
Short Review
Persona 4 Golden is the poster child for the Vita.
It not only showcases the system's power and graphical fidelity, but it also proves that it can handle ambitious games.
Persona 4 Golden is a port of the original PS2 game, with added features and characters.
The story is a hallmark of the JRPG genre.
The social link system not only incentivizes you to get to know your party mechanically, once you start it becomes difficult to ignore because of the characterization of all the party members.
The game does an excellent job of getting you to care about everyone you meet, and invests you deeply in solving the murders at the center of the plot.
It's a masterpiece and if you haven't played it yet, there's no time like the present to change that.
Seriously, it's number one on the list because it executes everything that exemplifies JRPGs with such finesse and style that it can't be ignored.
Check it out on Amazon »
Are your favorite games on the list?
Determining the best PS Vita RPG is no doubt a never ending topic (mostly because new games are still being released), but it's worth the time!