We already published the list of best PS Vita games of all time, now it's time to discover the best PS Vita arcade racing games of all time.
With amazing titles available, the PS Vita definitely has a great library of arcade racing games.
So, if you're a fan of both the PS Vita and arcade racing games, there's a chance you'll like this list.
And some of you may already know some of the games mentioned in this list.
#5. Jet Car Stunts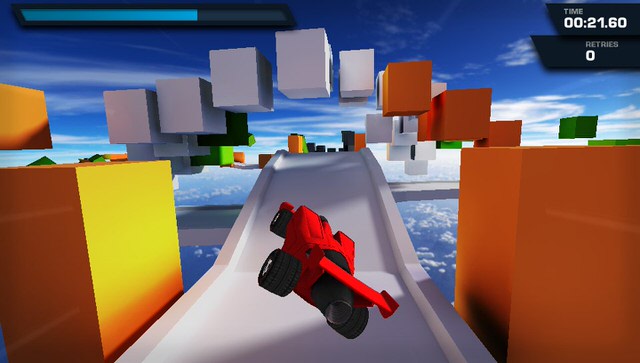 Release Data: True Axis/Grip Games, 2014
Genre: Racing » Arcade » Automobile
Jet Car Stunts is a game that features a simplistic design, but the gameplay is both enjoyable and challenging at the same time.
What's good is that you can play this in short sessions anywhere with the Vita.
If you want a real racing challenge and haven't tried Jet Car Stunts, then check it out.
#4. Table Top Racing
Release Data: Playrise Edge Ltd./Ripstone, 2014
Genre: Racing » Arcade » Automobile
Table Top Racing is one of the better miniature car racers out there.
It controls well, has wonderful racing action, a lovely helping of content, and it's easier to play while on commute.
The game has its fair share of issues, but those wanting some fun toy car action will find plenty of enjoyment with Table Top Racing.
#3. MotorStorm RC
Release Data: Evolution Studios/SCEE, 2012
Genre: Racing » Arcade » Automobile
Racing games are few and far between on handheld systems but MotorStorm RC is a quality effort that is amazing fun and a necessity for every PS Vita library.
Simply put, MotorStorm RC lets you slalom through the mud with the best of them and offers players an intense if brief racing experience on the PS Vita.
#2. Wipeout 2048
Release Data: Studio Liverpool/SCEI, 2012
Genre: Racing » Arcade » Futuristic
If you never had the chance to play the original on the Sony PlayStation back in the day, then the PS Vita iteration of the popular Wipeout series, Wipeout 2048, is a great place to start.
As a challenging racer that is dripping with style, Wipeout 2048 continues the traditions established by its namesake and others that came before it.
#1. Joe Danger 2: The Movie
Release Data: Four Door Lemon/Hello Games, 2015
Genre: Racing » Arcade » Other
Besides not being able to share levels and the somewhat overwhelming backgrounds, Joe Danger 2: The Movie is a fun and addictive game that easily lives up to the energy of its prequel.
Movie buffs, casual gamers, and fans of funny arcade racers should all try Joe Danger 2—you won't regret it.
---
Are your favorite games on the list?
Deciding which PS Vita arcade racing game is the best is no doubt a never ending topic, but it's fun to do!