The PlayStation 3 (commonly called PS3) is one of the most popular seventh generation consoles, being the main rival to the Xbox 360.
The success of the PS3 is not only due to its powerful performance, but also because of its large library of exclusive AAA titles.
For those of you who have played this console in the past, I bet you want to know the best PS3 games of all time.
And some of you may already know some of the games mentioned in this list.
#25. Mass Effect 3
Release Data: BioWare/Electronic Arts, 2012
Genre: Role-Playing » Action RPG
This is the finale to one of the greatest sci-fi game series of all time, and it's full of awesome action and role-playing.
Hard choices await you on this dramatic adventure, and your choices will have significant consequences.
Packed with action in an awesome space setting, this is a highly unique RPG that delivers the thrills.
#24. Uncharted 3: Drake's Deception
Release Data: Naughty Dog/SCEA, 2011
Genre: Action Adventure » Linear
This game not only delivers amazing action sequences but looks incredible at the same time.
Both visually beautiful and thrilling to play, the third adventure of Nathan Drake is one of the best in the series.
The game's main story will take you to locations all around the globe, from Yemen to Syria.
#23. The ICO & Shadow of the Colossus Collection
Release Data: Bluepoint Games/SCEA, 2011
Genre: Casual » Compilation
This collection contains two of the best PlayStation 2 games ever, completely remastered in high definition!
In ICO, you'll guide a young girl through a dangerous land, escaping from a terrifying shadow creature.
In Shadow of the Colossus, players will have to face off against thirteen humongous boss fights.
#22. Rayman Legends
Release Data: Ubisoft Montpellier/Ubisoft, 2013
Genre: Action » Platformer » 2D
This quick-paced platformer has tons of heart and charm, providing quite the joyful adventure.
The game has over 100 intense levels of platforming fun, including dozens of remastered levels from the previous game.
You'll be surprised at how challenging this wonderful sequel can be, and how much you enjoy trying over and over.
#21. LittleBigPlanet 2
Release Data: Media Molecule/SCEA, 2011
Genre: Action » Platformer » 2D
This fantastic platforming game encourages players to unlock their imagination by creating their very own levels!
Players can choose to play the main story mode, fool around in creative mode, or browse the wide catalog of levels online.
The story mode is super fun, and a great appetizer for the millions of user-created levels available.
#20. Batman: Arkham Asylum
Release Data: Rocksteady Studios/Eidos Interactive, 2009
Genre: Action Adventure » General
This amazing action-adventure game really puts you into the shoes of Batman, giving you access to all of his iconic gadgets and abilities.
Players will roam the island of Arkham Asylum, running into the various supervillains that are housed there.
This game makes you feel like Batman while simultaneously telling a rich, original story.
#19. God of War III
Release Data: SCE Santa Monica/SCEA, 2010
Genre: Action Adventure » Linear
Although the previous God of War games were violent and action-packed, this sequel amps things up by using the power of the PlayStation 3.
As you defeat enemies and progress through the story, you'll be able to upgrade Kratos' weapons and abilities.
Things get exceptionally bloody in this intense PlayStation 3 exclusive.
#18. Journey
Release Data: ThatGameCompany/SCEA, 2012
Genre: Action » Platformer » 3D
Traveling across an expansive desert, you and other random adventurers will navigate imaginative environments on your quest.
Although there are a few collectibles to find, this game is mostly about relaxing and enjoying the scenery.
Often considered one of the best indie games on the PlayStation 3, this is a game you shouldn't miss.
#17. The Elder Scrolls IV: Oblivion
Release Data: 4J Studios/Bethesda Softworks, 2007
Genre: Role-Playing » Western-Style
This is an RPG you can get lost in for hours, with an incredible amount of quests and customization.
Whether you choose to play as a mage, a warrior, or anywhere in between, this is a sprawling adventure with hundreds of hours of exciting content.
#16. Mass Effect 2
Release Data: BioWare/Electronic Arts, 2011
Genre: Role-Playing » Action RPG
This sequel makes some great improvements on combat gameplay while retaining the fantastic narrative quality of the original game.
Players can embark to a number of different planets, meeting new characters and picking up quests.
With more action, romance, and mystery than the original, this is one of the best sci-fi RPGs ever made.
#15. Braid
Release Data: Hothead Games/Number None Inc., 2009
Genre: Action » Platformer » 2D
Although it might seem simple at first, this puzzle game is deceptively challenging.
Players will guide the main character through six unique worlds, attempt to collect jigsaw pieces.
As you solve the increasingly witty puzzles, the story takes on a new light, resulting in a truly memorable experience.
#14. Call of Duty: Modern Warfare 2
Release Data: Infinity Ward/Activision, 2009
Genre: Action » Shooter » First-Person » Arcade
This is one of the games that really put the Call of Duty series on the map.
The fantastic campaign has eighteen unique levels, each one packed with thrilling sequences of intense war combat.
Tons of progression systems give you reasons to keep on playing, providing countless hours of quality FPS gameplay.
#13. Metal Gear Solid 4: Guns of the Patriots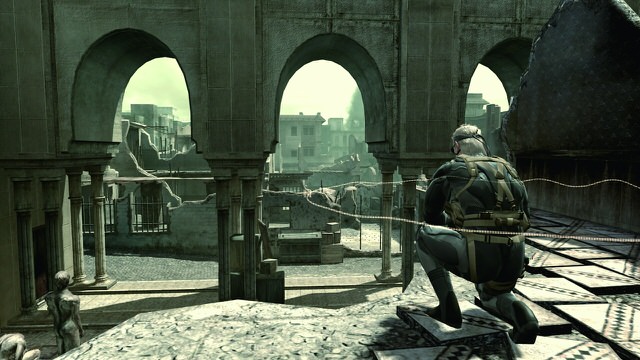 Release Data: Kojima Productions/Konami, 2008
Genre: Action Adventure » General
This stealth game sequel provides a cinematic quality that few games can achieve.
Playing as Solid Snake, players will sneak their way through a very lengthy campaign.
In the end, careful planning is required when taking on this difficult yet satisfying tale of revenge.
#12. Call of Duty 4: Modern Warfare
Release Data: Infinity Ward/Activision, 2007
Genre: Action » Shooter » First-Person » Arcade
Often considered one of gaming's most thrilling FPS games, this intense title will keep you playing for hours on end.
The immersive story mode is chock-full of intense action and war drama, reeling players in.
Multiple difficulty levels provide some replayability, with the ultra-tough "Veteran" mode reserved for specialists only.
#11. Street Fighter IV
Release Data: Capcom, 2009
Genre: Action » Fighting » 2D
This game is responsible for reinvigorating the fighting game genre in the PlayStation 3 generation.
There are over 15 characters to play as, including Ryu, Chun-Li, Akuma, and Blanka, and other fan-favorites.
The controls are super simple to learn and regardless of your skill level, you'll be fighting with style in no time.
#10. BioShock
Release Data: Digital Extremes/2K Games, 2008
Genre: Action » Shooter » First-Person » Arcade
By effortlessly combining invigorating gameplay with an amazing story, this FPS has gained worldwide critical acclaim.
In addition to wielding a variety of weapons, players can use superhuman abilities by consuming potions known as plasmids.
You'll run around Rapture shooting lightning from your fingertips as you attempt to uncover the unbelievable mysteries that await.
#9. Portal 2
Release Data: Valve Software, 2011
Genre: Action » Shooter » First-Person » Arcade
Utterly packed with hilarious dialogue and well-constructed brain teasers, this puzzle game is one for the ages.
Like the original game, players must complete a series of puzzles contained inside research labs, progressing through the facility.
Either solo or with a friend, you'll have an amazing experience as you explore the ruins of Aperture Science.
#8. Red Dead Redemption
Release Data: Rockstar San Diego/Take-Two Interactive, 2010
Genre: Action Adventure » Open-World
Playing as John, you'll explore the American Wild West, completing a variety of missions for citizens in need.
You have complete freedom to roam the land and take on activities, including hunting, fishing, and more.
The emotional story will have you invested from the very beginning, resulting in a wholly memorable experience.
#7. LittleBigPlanet
Release Data: Media Molecule/SCE Australia, 2008
Genre: Action » Platformer » 2D
This PlayStation 3 exclusive gives players every tool they need to make their very own platforming level.
There are a main set of levels to complete, but after that, you're free to unleash your imagination in the comprehensive level editor.
Once you've completed your masterpiece, you can upload it online for the entire world to see.
#6. The Last of Us
Release Data: Naughty Dog/SCEE, 2013
Genre: Action Adventure » General
The gameplay is a mixture of stealth and action, with a focus on survival and crafting.
As you explore the post-apocalyptic country, you'll have to deal with a huge variety of dangers.
From the terrifying mutated humans to the dangers of mother nature, Joel will have to deal with every imaginable horror on his journey with Ellie.
#5. Batman: Arkham City
Release Data: Rocksteady Studios/Warner Bros. Interactive Entertainment, 2011
Genre: Action Adventure » Open-World
This sequel adds in a much larger map, more side activities, and some cool new upgrades to boot.
The excellent storyline contains some of Batman's most popular villains, coming together for an exciting crossover.
With so much to see and do, you'll find it easy to sink tons of time into this sequel.
#4. BioShock Infinite
Release Data: Irrational Games/2K Games, 2013
Genre: Action » Shooter » First-Person » Arcade
Another excellent entry in the BioShock franchise, this sequel takes players to the cloud city of Columbia.
Here, players must blast their way through the scummy civilians and militia as they attempt to rescue a young girl named Elizabeth.
This amazing FPS will consistently surprise you with its plots twists, neat combat mechanics, and interesting setting.
#3. Uncharted 2: Among Thieves
Release Data: Naughty Dog/SCE Australia, 2009
Genre: Action Adventure » Linear
As in the original game, this adventure contains some great shooting segments with stunning visual set-pieces.
The stakes have been raised in this sequel, putting Nathan Drake into even more dangerous situations than ever before.
The increased cinematic scale and awesome action make this a must-own game for your PlayStation 3 library.
#2. Grand Theft Auto V
Release Data: Rockstar North/Rockstar Games, 2013
Genre: Action Adventure » Open-World
One of the titans of the open-world genre, this Grand Theft Auto game has a staggering amount of content.
Players can live in the shoes of three different characters, each distinctly different and living in different parts of the city.
There are hundreds of missions and side activities to complete, with an unbelievably large map to explore.
#1. Grand Theft Auto IV
Release Data: Rockstar North/Rockstar Games, 2008
Genre: Action Adventure » Open-World
This amazing open-world game puts you in the middle of an awesome recreation of New York City.
The city is packed with stuff to do when you're not on a mission, including strip clubs and bowling alleys.
Whether you're taking a beautiful woman out on a date or swapping bullets in a gunfight, this astonishing PS3 game takes the cake.
---
Browse PS3 Games By Genre
See also: Best PSP Games & Best PS Vita Games
Are your favorite games on the list?
Deciding which PS3 game is the best is no doubt a never ending topic, but it's fun to do!