We already published the list of best PS Vita games of all time, now it's time to discover the best PS Vita action games of all time.
With amazing titles available, the PS Vita definitely has a great library of action games.
So, if you're a fan of both the PS Vita and action games, there's a chance you'll like this list.
And some of you may already know some of the games mentioned in this list.
#25. Open Me!
Release Data: SCEI, 2013
Genre: Action » General
Open Me! is tough but a ton of fun.
Solving the puzzles is an enormously satisfying experience, and the online creation aspect is a brilliant idea.
The augmented reality can be a touch finicky in places, but creative design ensures that the title eschews the gimmicky nature of similar releases.
#24. When Vikings Attack!
Release Data: Clever Beans/SCEA, 2012
Genre: Action » General
When Vikings Attack! is a game that is best played in short spurts, beating a level or two and then moving on to something else.
It is a game with only 15 levels to complete and each one taking just only a few minutes.
You can play it on both the PS3 and Vita but it's better suited for the Vita.
#23. Rocketbirds: Hardboiled Chicken
Release Data: Ratloop Asia Pte Ltd, 2013
Genre: Action » Platformer » 2D
The developer's greatest achievement with Rocketbirds: Hardboiled Chicken is the successful combination of diverse 2D gameplay, dark story tones, atmospheric visual settings, and imaginative audio work.
This delightful handheld port will surprise Vita gamers who wrongly anticipate a generic platformer or shooter.
#22. A Rose in the Twilight
Release Data: Nippon Ichi Software, 2017
Genre: Action » Platformer » 2D
A Rose in the Twilight is a gorgeous yet gruesome game filled with lots of clever puzzles.
And although it won't take you too long to explore the setting, there are collectibles and a fun speed run mode to keep you busy.
The pure innocence and bravery of Rose in the face of the castle's cruelty makes for a haunting journey.
#21. Killzone: Mercenary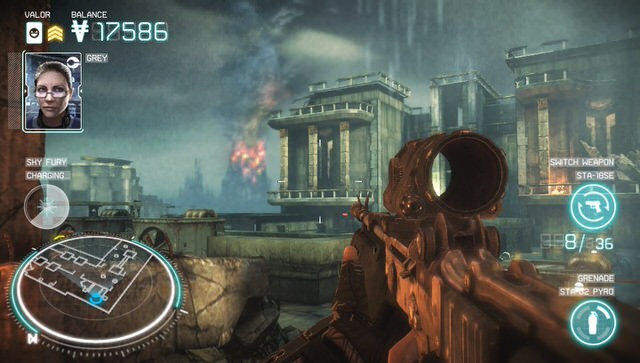 Release Data: Guerilla Cambridge/SCEI, 2013
Genre: Action » Shooter » First-Person » Arcade
Distinguishing itself as the first Vita FPS to really showcase the system's strengths, this is one of those ambitious titles the system can be proud to showcase, proving that a console experience can not only work in the handheld space, but be damn fun without suffering too much in the way of compromise.
#20. Dokuro
Release Data: Game Arts/GungHo, 2012
Genre: Action » Platformer » 2D
Dokuro's charming aesthetic and accessible gameplay make it an enjoyable portable distraction that's certainly worth your valuable time.
It can get a touch repetitive during prolonged sessions, but that's the only major slight on this otherwise adorable voyage through the underworld.
#19. Persona 4: Dancing All Night
Release Data: Atlus, 2015
Genre: Action » Rhythm » Music
Packed full of the charm that you'd expect from the series, Persona 4: Dancing All Night is an entertaining rhythm game that could warm even the coldest heart.
And if you're a Persona 4 fan then this is for you, and while it may not be the best example of the rhythm genre, it certainly has the most personality.
#18. SUPERBEAT: XONiC
Release Data: Nurijoy/Arc System Works, 2015
Genre: Action » Rhythm » Music
While it may be confusing and bizarre at first, Superbeat: Xonic quickly becomes an addictive time sink for fans of rhythm games.
The combination of difficulty, sense of progression, and unlockable content can make it a hard title to put down even after your fingers get sore.
In short, it's one of the best rhythm games on the platform.
#17. Street Fighter X Tekken
Release Data: Capcom, 2012
Genre: Action » Fighting » 2D
Street Fighter X Tekken on the Vita is certainly worth picking up if you're a Vita owner and a fighting game fan, and continues the excellent port work put forth by Capcom with their Marvel vs. Capcom 3 release when the Vita launched.
#16. Ultimate Marvel vs. Capcom 3
Release Data: Capcom, 2012
Genre: Action » Fighting » 2D
Ultimate Marvel vs. Capcom 3 on Vita is identical to the console editions, so if you already own it there isn't much more here.
Anyone looking to get into the fighting genre would do well here: it's not too technical at first, but offers enough gameplay and modes to turn you into a combo-mashing pro while keeping you entertained.
#15. Super Stardust Delta
Release Data: Housemarque/SCEA, 2012
Genre: Action » Shooter » Shoot-'Em-Up » Top-Down
It's not often that a console title end up being a better fit on a portable system, but it's clear that Super Stardust Delta fits the system like a glove.
With its huge number of game modes and quick bursts of intense shooting action, it's the perfect type of game for when you only have a few minutes to play.
#14. BlazBlue: Continuum Shift Extend
Release Data: Arc System Works, 2012
Genre: Action » Fighting » 2D
With this, not only are you getting one of the deepest fighting games you're ever likely to encounter, you're also getting more playing modes than you'll know what to do with.
But if you're one of those fighting game fans that likes to be able to pick up a fighter and become skilled quickly, this is probably not for you.
#13. Luftrausers
Release Data: Vlambeer/Devolver Digital, 2014
Genre: Action » Shooter » Shoot-'Em-Up » Top-Down
The goal of most games is to keep you coming back time and time again, and Luftrausers knows how to do just that.
It leaves you feeling frustrated enough to try again, but never so much so that you'll just give up completely.
It's a tough sweet spot to hit, but it's one that Luftrausers nails.
#12. Stealth Inc: A Clone in the Dark
Release Data: Curve Studios, 2013
Genre: Action » Platformer » 2D
Overall, Stealth Inc: A Clone in the Dark is a very enjoyable game with plenty of replayability throughout the eighty levels the main game has to offer with the addition of forty levels split across two DLCs, an exceptional level editor and a ranking system that will have you returning to the game for a significantly long time.
#11. Dead or Alive 5 Plus
Release Data: Team Ninja/Tecmo Koei Games, 2013
Genre: Action » Fighting » 3D
There are games like Virtua Fighter that take themselves seriously and then there are games like Dead or Alive 5 Plus which abandons maturity for a zany presentation that emphasizes arcade-style action.
There is a story, but it is nonsense, however, it is probably one of the best fighting games for the Vita for fans of 3D fighters like Tekken.
#10. Sine Mora
Release Data: Grasshopper Manufacture/Digital Reality, 2012
Genre: Action » Shooter » Shoot-'Em-Up » Horizontal
A side-scrolling shoot 'em up game with a diesel punk aesthetic, Sine Mora separates itself from the pack with an emphasis on narrative where other games avoid this area entirely.
To top all of that, the game is absolutely gorgeous, with an art style that looks as close to a painting as you can get in a video game shooter.
#9. TxK
Release Data: Llamasoft, 2014
Genre: Action » Shooter » Shoot-'Em-Up » Top-Down
Have you ever played the Atari classic Tempest 2000?
TxK is the spiritual successor to that game, featuring similar graphics and a stereo-busting soundtrack.
This caught the attention of the aforementioned Atari who has sued to block this game on nearly every other system so if you want it, you gotta get the Vita version.
#8. Tales From Space: Mutant Blobs Attack
Release Data: DrinkBox Studios, 2012
Genre: Action » Platformer » 2D
You're a blob and you're up to no good.
You bust out of jail and you need to consume everything around you as you ooze through 1950s America causing chaos and terror.
It increasingly becomes more difficult as you play through the game solving puzzles until you realize you're a blob, and that makes the game all the more special.
#7. Sound Shapes
Release Data: SCEA, 2012
Genre: Action » Rhythm » Music
It's not often that a rhythm game combines elements of the platformer genre into it but Sound Shapes is just that game.
Overall, it's perfect for people that want a change to the standard formula in a really great game since Sound Shapes production values are extremely high.
#6. Guacamelee!
Release Data: DrinkBox Studios, 2013
Genre: Action » Platformer » 2D
Another game with a Mexican aesthetic, this game derives a lot of its lore and conceits from Mexican culture.
Ostensibly a platformer with fighting game inspirations, Guacamelee! keeps things lighthearted and engaging enough to stand out in the otherwise crowded genre.
#5. Mortal Kombat
Release Data: NetherRealm Studios/Warner Bros. Interactive Entertainment, 2012
Genre: Action » Fighting » 2D
Mortal Kombat is Mortal Kombat and this game brings it back to its roots, ditching the fully 3D fighting introduced in its first polygonal installments for a style that more closely resembles in the older games in form and function.
The combos, fatalities, and characters are all here in what is truly a complete fighting game for the Vita.
#4. Spelunky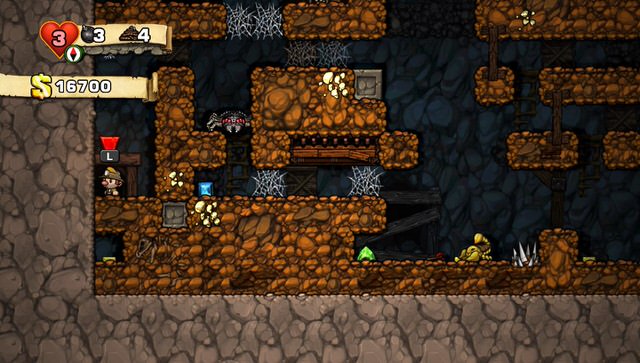 Release Data: Mossmouth, 2013
Genre: Action » Platformer » 2D
This game is like Mario meets Dig Dug.
The premise is simple, exploring tunnels yields treasure and the more you get the better you do.
In terms of challenge, Spelunky is NES level at times, proudly reminding you of its indie roots.
But at other times Spelunky is a delightful throwback to a different era in video games.
#3. Velocity Ultra
Release Data: FuturLab, 2013
Genre: Action » Shooter » Shoot-'Em-Up » Vertical
The PS Vita and shoot 'em ups go together like sugar and spice, and Velocity Ultra is a prime example of this.
This game really shines for its creativity more than anything and its unique features make it both more challenging and more fun at the same time.
#2. LittleBigPlanet PS Vita
Release Data: Tarsier Studios/SCEA, 2012
Genre: Action » Platformer » 3D
LittleBigPlanet on the PS Vita is just like its home console namesake except it's in portable format.
If you loved the charming sock puppets of the PS3 game, then you'll be equally enthralled with this edition.
Whether or not you're a creative person, LittleBigPlanet will give you hours of enjoyment.
#1. Rayman Origins
Release Data: UBIart Montpellier/Ubisoft, 2012
Genre: Action » Platformer » 2D
Rayman Origins doesn't do anything majorly innovative in the action platformer department and that's okay.
Rayman Origins combines the tried-and-true platforming we know and love with a little dash of the attitude you'd expect from a Sonic game.
What you get in the result is a charming game that never stops being awesome and endearing.
---
Are your favorite games on the list?
Deciding which PS Vita action game is the best is no doubt a never ending topic, but it's fun to do!