We already published the list of best Wii games of all time, now it's time to discover the best Wii team sports games of all time.
With amazing titles available, the Wii definitely has a great library of team sports games.
So, if you're a fan of both the Wii and team sports games, there's a chance you'll like this list.
And some of you may already know some of the games mentioned in this list.
#10. Madden NFL 08
Release Data: EA Tiburon/EA Sports, 2007
Genre: Sports » Team » Football » Sim
Madden NFL 08 for the Nintendo Wii is a great game.
Even though this game has its fair share of glitches and the graphics engine is not updated, it still remains a blast to play.
The inclusion of all of the multiplayer modes is a great treat and will make this a game not to leave your Wii for some time.
#9. FIFA Soccer 09 All-Play
Release Data: EA Canada/EA Sports, 2008
Genre: Sports » Team » Soccer » Sim
Seasoned players may pass at the lack of control options when compared to FIFA 09 on the Xbox 360 and PS3 versions, but the more casual players will agree that the ability to play with a wide range of friends and family more than make up for this drop in complexity.
#8. Mario Strikers Charged
Release Data: Next Level Games/Nintendo, 2007
Genre: Sports » Team » Soccer » Arcade
With Mario Strikers: Charged Football the developers have created an exciting, frantic, arcade footie title for all ages.
It clearly improves on its predecessor in all areas of the park and even adds a few new ideas into the mix.
Whilst understandably lacking any depth in single player mode, it truly shines as a party game for you and your friends.
#7. NBA Jam
Release Data: EA Canada/EA Sports, 2010
Genre: Sports » Team » Basketball » Arcade
NBA Jam revival is among the best arcade sports games on any platform this generation.
Unless you abhor the series or genre in general, it's tough not to get a kick out of Jam.
Its fast gameplay, playful graphics and over-the-top action make it easy to get that adrenaline pumping, especially if played with three other people.
#6. MLB Power Pros 2008
Release Data: Konami/2K Sports, 2008
Genre: Sports » Team » Baseball » Arcade
This title is simple, and deep, and goofy, and realistic at the same time.
By straddling these contradictions, MLB Power Pros 2008 manages to appeal to casual and hardcore players alike.
It doesn't step far from its predecessor's shadow, but that doesn't prevent it from shining.
#5. Madden NFL 07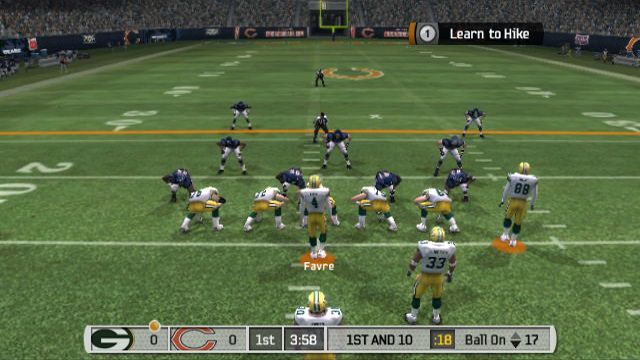 Release Data: EA Canada/EA Sports, 2006
Genre: Sports » Team » Football » Sim
The developers really took the time necessary to make sure the game felt very responsive and not gimmicky.
After playing the game on the Nintendo Wii it is hard to go back to the other versions as the game now draws you in it more and makes you feel that you are more a part of the game.
#4. MLB Power Pros
Release Data: Konami, 2007
Genre: Sports » Team » Baseball » Arcade
Much ado has been made about the Wii version's support for the remote's motion-sensing capability, but it's restricted to exhibition games and home run derbies only.
It's a fantastic choice for anyone interested in a fun-loving alternative to all of the other hardball sims, and one that doesn't skimp on statistical and physical realism in its pursuit of goofiness.
#3. Madden NFL 09 All-Play
Release Data: EA Tiburon/Electronic Arts, 2008
Genre: Sports » Team » Football » Sim
What few changes have been made to Madden 09 serve to make it more user-friendly to people who aren't familiar with the game of football.
Young kids should have a good time celebrating touchdowns and playing with big-headed players in Five-on-Five mode, while casual players will appreciate the simplified playbooks and "call your shot" play calling.
#2. Pro Evolution Soccer 2008
Release Data: Konami, 2008
Genre: Sports » Team » Soccer » Sim
Although this soccer title is available on other major gaming consoles, the Wii version is a very different experience.
Using your Wiimote, you'll drag and drop players across the field.
Passing and shooting is a simple affair, performed by simply aiming your Wiimote and tapping a button.
In the end, it will keep you and your friends kicking it all night long.
#1. Pro Evolution Soccer 2009
Release Data: Konami, 2009
Genre: Sports » Team » Soccer » Sim
This soccer simulation title makes some big improvements over previous years, including new modes, better controls, and smarter opponents.
You can enjoy a full season of soccer, or try your hand at playing like a pro in the "Become a Legend" mode.
There are even cooperative options, letting you and a friend simultaneously control a team together.
---
Browse Wii Games By Genre
See also: Best DS Games & Best 3DS Games
Are your favorite games on the list?
Deciding which Wii team sports game is the best is no doubt a never ending topic, but it's fun to do!