We already published the list of best Wii games of all time, now it's time to discover the best Wii matching puzzle games of all time.
With amazing titles available, the Wii definitely has a great library of matching puzzle games.
So, if you're a fan of both the Wii and matching puzzle games, there's a chance you'll like this list.
And some of you may already know some of the games mentioned in this list.
#5. Bust-A-Move Bash!
Release Data: Happy Happening/Majesco, 2007
Genre: Puzzle » Matching
Bust-A-Move Bash! exists merely to provide some innocent fun that can appeal to anyone.
Thanks to tried and true design, coupled with a mostly enjoyable control scheme made possible by the Wii, Bust-A-Move Bash! is everything its title implies.
Go in with reasonable expectations and you'll like what you find.
#4. Puzzle Kingdoms
Release Data: Infinite Interactive/Zoo Games, 2009
Genre: Puzzle » Matching
Puzzle Kingdoms will appeal to fans of the Puzzle Quest games, though it doesn't really add anything new to the franchise and isn't terribly impressive.
It's a solid puzzle game, and it's recommended to fans of the genre, though new players may end up being more puzzled by the gameplay rather than the actual puzzles.
#3. Magnetica Twist
Release Data: Mitchell/Nintendo, 2008
Genre: Puzzle » Matching
Magnetica Twist translates the addictive nature of the Nintendo DS game perfectly onto Wii, implementing a clever motion-control mechanic that makes for some very fast and frantic gameplay.
With lots of modes on offer, including plenty for more than one-player, this proves to be one of the best puzzle games on the Wii.
#2. Puzzle Quest: Challenge of the Warlords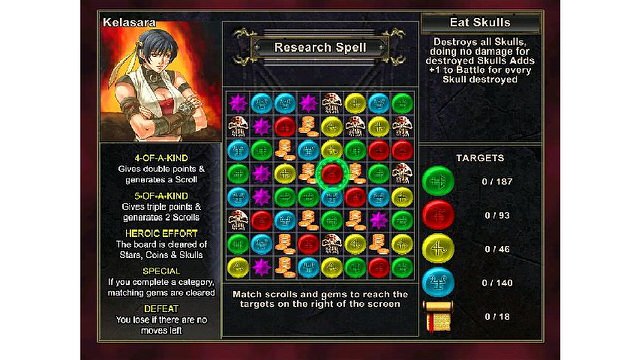 Release Data: Vicious Cycle/D3Publisher, 2007
Genre: Puzzle » Matching
The unlikely marriage of puzzle gameplay with RPG mechanics makes for one of the most addictive puzzle games on the Wii.
The core gameplay is rock solid, and you definitely don't want to miss out if you haven't already played the game.
If you're a fan of puzzle or role-playing games, you owe it to yourself to check it out.
#1. Dr. Mario Online RX
Release Data: Arika/Nintendo, 2008
Genre: Puzzle » Matching
Newcomers to the series will be thrilled, but puzzle veterans may be a little disappointed.
Dr. Mario was and still is a very, very good puzzle game and that fact remains unchanged here.
If you're a fan of Tetris or puzzle games in general then you will be delighted with this game.
---
Browse Wii Games By Genre
See also: Best DS Games & Best 3DS Games
Are your favorite games on the list?
Deciding which Wii matching puzzle game is the best is no doubt a never ending topic, but it's fun to do!