The Nintendo Wii (simply called Wii) is one of the most distinctive seventh generation consoles, being a popular alternative to the PS3 and Xbox 360.
The success of Wii is neither because of its performance, nor its graphical capability, but because it provides people with a new type of gaming experience, by using the Wii Remote to play games.
For those of you who have played this console in the past, I bet you want to know the best Wii games of all time.
And some of you may already know some of the games mentioned in this list.
#25. Tatsunoko vs. Capcom: Ultimate All-Stars
Release Data: Eighting/Capcom, 2010
Genre: Action » Fighting » 2D
For fans of games like Marvel vs Capcom, this crossover title contains the same colorful and chaotic fighting action.
You can take on Arcade mode, Survival mode, Time Attack mode, or battle online against other players!
Either way, you'll love picking a pair of your favorite characters and fighting your way to the top.
#24. Guitar Hero III: Legends of Rock
Release Data: Vicarious Visions/RedOctane, 2007
Genre: Action » Rhythm » Music
Although the Guitar Hero craze got going with the first two games, this third entry is where the franchise really hit its stride.
Using your trusty guitar controller, you'll jam your way through over 70 different popular rock songs.
Multiple difficulty levels offer a challenge for players of all skill, and the various multiplayer modes are awesome for intense competition.
#23. Guitar Hero World Tour
Release Data: Vicarious Visions/Activision, 2008
Genre: Action » Rhythm » Music
Everything that was awesome about the past Guitar Hero games is still here but raised to the next level.
With the inclusion of new instrument peripherals, you can now team up with your friends and enjoy a full band Career mode!
Take your band online and battle against other groups, all battling it out for the best score.
#22. Punch-Out!!
Release Data: Next Level Games/Nintendo, 2009
Genre: Sports » Individual » Combat » Boxing / Martial Arts
This intense boxing game is a perfect fit on the Wii, as the motion controls really make you feel like you're in the match!
Playing as Little Mac, you'll climb the ranks in the boxing circuit by knocking out opponents.
With multiple campaign modes and a split-screen mode, there is more than enough variety to keep racking up the KO's.
#21. Boom Blox Bash Party
Release Data: EA LA/Electronic Arts, 2009
Genre: Puzzle » General
This sequel provides more of the same great ball-throwing action as the original, with more variety and levels.
Using a select number of thrown items, you must topple carefully stacked towers of blocks.
There are over 400 levels with varying themes, including new space and water worlds.
This is an excellent game for parties due to the plethora of content and options.
#20. Donkey Kong Country Returns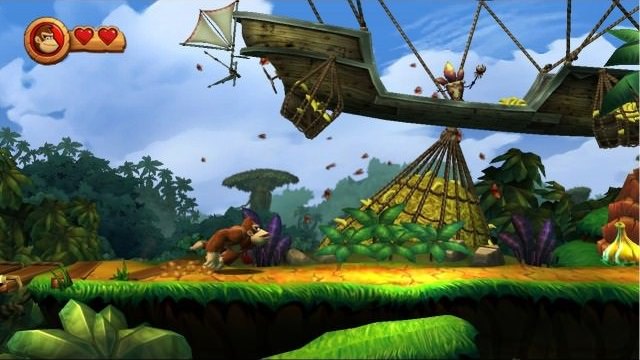 Release Data: Retro Studios/Nintendo, 2010
Genre: Action » Platformer » 2D
If you played the original Donkey Kong Country games, you'll feel right at home with this fresh new adventure.
Although the graphics are updated and modern, the classic platforming gameplay is just as challenging and fluid as ever before.
This is a must-own for any Super Nintendo fan, as it easily lives up to the legacy of the original.
#19. New Super Mario Bros. Wii
Release Data: Nintendo, 2009
Genre: Action » Platformer » 2D
This sequel to the Nintendo DS platformer hit brings co-op Mario Bros. action directly to your Wii console!
With up to four friends, you'll dash through colorful levels and attempt to reach the goal.
New power-ups like the Propellor Suit and Ice Flower bring fresh gameplay variety, making this an excellent sidescroller for players of all skill levels.
#18. Kirby's Epic Yarn
Release Data: Good-Feel/Nintendo, 2010
Genre: Action » Platformer » 2D
This cute and cuddly Kirby game brings the iconic pink fluff ball to a brand new world, completely crafted out of yarn.
Using your yarn whip ability, Kirby can pick up enemies and toss them, creating an impromptu slingshot.
The game is fully playable with a co-op partner as well, making this a great platformer for young children and adults alike.
#17. DJ Hero 2
Release Data: FreeStyleGames/Activision, 2010
Genre: Action » Rhythm » Music
Like the original game, this rhythm game uses a cool DJ-deck peripheral that simulates spinning discs like a true superstar.
With 83 unique remixes, there are more than enough dance tracks to get your heart rate pumping!
This sequel also puts a bigger emphasis on freestyle track-mixing, letting the player groove to the beat in their own style.
#16. Tiger Woods PGA Tour 10
Release Data: EA Tiburon/Electronic Arts, 2009
Genre: Sports » Individual » Golf » Sim
Although the new controls and extra modes are the main attractions, it's hard to deny just how great the core golfing gameplay is in this Tiger Woods sequel.
Whacking the ball with your choice of clubs feel great, especially when you use the Wii Motion Plus accessory.
There's a great selection of courses as well, including some championship tournaments.
#15. Guitar Hero 5
Release Data: Vicarious Visions/Activision, 2009
Genre: Action » Rhythm » Music
While the gameplay of Guitar Hero 5 is very similar to Guitar Hero World Tour, it manages to stand out due to some cool new features.
And the new Rockfest competitive mode adds tons of new scoring metrics, encouraging you to play in new and exciting ways.
#14. The Beatles: Rock Band
Release Data: Harmonix Music Systems/MTV Games, 2009
Genre: Action » Rhythm » Music
Often considered the most focused Rock Band game, this title really makes you feel like part of the legendary band.
The main story mode guides you through the band's history, as you perform new songs at a variety of locations and real-world venues.
This is highly recommended for any fan of the series, or anyone who enjoys The Beatles discography.
#13. Okami
Release Data: Ready at Dawn/Capcom, 2008
Genre: Action Adventure » General
Originally released on the PS2 and GameCube, this is a colorful and vibrant adventure full of life and quirky characters.
The game is steeped in Japanese folklore, and players use a giant paintbrush to defeat enemies and clear obstacles.
You'll have a blast exploring the lands and discovering its secrets, as this lengthy adventure has tons of content to enjoy.
#12. Metroid Prime 3: Corruption
Release Data: Retro Studios/Nintendo, 2007
Genre: Action » Shooter » First-Person » Arcade
This conclusion in the Metroid Prime franchise brings tons of awesome first-person-shooter action while introducing some new mechanics as well.
Players will enjoy traversing the various planets in the game, finding new power-ups and fighting against Space Pirates.
This cosmic journey is intense and lengthy, providing plenty of chaos and entertainment.
#11. Cave Story
Release Data: Nicalis, 2010
Genre: Action » Platformer » 2D
This updated version of the hit indie adventure game makes its way to the Wii, bringing a new visual look, brand new modes, and awesome music remixes.
You'll make various choices as you play, which can change the outcome of the story.
Overall, this is a challenging game with a neat art style and one that has plenty of replayability.
#10. Rayman Origins
Release Data: UBIart Montpellier/Ubisoft, 2011
Genre: Action » Platformer » 2D
This exciting side-scrolling platformer was well received due to its colorful visuals, excellent gameplay, and challenging difficulty.
Your journey through the Glade of Dreams can be executed either by yourself or with friends, thanks to the drop-in cooperative play.
There are plenty of hidden levels and unlockable content, ensuring you'll always have some Rayman action available.
#9. Resident Evil 4: Wii Edition
Release Data: Capcom, 2007
Genre: Action Adventure » Survival
Often regarded as the best game in the Resident Evil franchise, this bloody and graphic adventure is as fun to play as it is scary.
Using the Wii remote to aim at the screen, you'll cautiously make your way through the game world, battling terrifying enemies and monsters.
If you haven't played this classic third-person shooter, be sure to get it!
#8. Xenoblade Chronicles
Release Data: Monolith Soft/Nintendo, 2012
Genre: Role-Playing » Action RPG
This massive role-playing game is full of engaging combat, interesting settings, and a gripping fantasy narrative.
The game has tons of quests to complete, and additional systems that track your relationships with characters.
This is an excellent RPG experience with dozens of hours of content, sure to please any fan of the genre.
#7. Metroid Prime Trilogy
Release Data: Retro Studios/Nintendo, 2009
Genre: Casual » Compilation
This amazing collection brings together Metroid Prime, Metroid Prime: Echoes, and Metroid Prime: Corruption for one epic first-person package!
Not only is this an excellent deal, but the first two games have been updated with Wii motion controls and extra content as well.
All of the three games are masterpieces in their own right and provide countless hours of single-player action.
#6. Super Smash Bros. Brawl
Release Data: Game Arts/Nintendo, 2008
Genre: Action » Fighting » 2D
If you're a fan of Nintendo and party games, this fighting game is perfect for you and your friends to play!
Enjoy a slew of multiplayer modes where you and your friends battle it out, using various upgrades and weapons.
Also, this is considered one of the best fighting games of all time, so you should definitely play it!
#5. The Legend of Zelda: Skyward Sword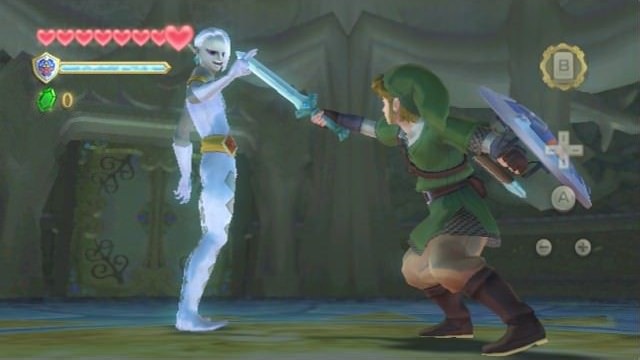 Release Data: Nintendo, 2011
Genre: Action Adventure » Open-World
This entry in the The Legend of Zelda series takes the story to the sky and beyond, introducing a variety of new mechanics and gameplay possibilities.
Like previous games, you'll journey through different areas, fighting enemies and completing dungeons.
There are plenty of bosses and enemies to fight, and furthermore, Skyward Sword is one of the longest Zelda games yet!
#4. World of Goo
Release Data: 2D Boy, 2008
Genre: Puzzle » Action
This quirky puzzle game mixes simplistic controls and easy-to-understand physics to create an excellent brain teasing experience.
Players must guide the Goo through the four chapters of the main game, stacking on top of each other to form bridges and structures.
World of Goo is simply one of the best indie games of all time.
#3. The Legend of Zelda: Twilight Princess
Release Data: Nintendo, 2006
Genre: Action Adventure » Open-World
This dark and gritty adventure game is another excellent entry in the prestigious franchise The Legend of Zelda.
Players will once again guide Link through a lengthy adventure, delving into dungeons and upgrading his gear.
The lengthy story will take you to several beautiful and mystical worlds, where you must use all your training to survive.
#2. Super Mario Galaxy 2
Release Data: Nintendo EAD Tokyo/Nintendo, 2010
Genre: Action » Platformer » 3D
This sequel takes all the original joy and wonder of the first Super Mario Galaxy title and introduces new mechanics, more levels, and tons of platforming entertainment.
As players explore various planets collecting Power Stars, they'll unlock some awesome abilities.
You can ride on fan-favorite character Yoshi, play as Mario's brother Luigi, and transform with a wide selection of new powerups.
#1. Super Mario Galaxy
Release Data: Nintendo, 2007
Genre: Action » Platformer » 3D
In many ways, this 3D platformer feels like a direct sequel to Super Mario 64, flooding players with nostalgia and positive feelings.
This cosmic adventure will have players exploring over 40 unique planets, collecting valuable Power Stars to fuel Mario's trip back home.
If you loved Super Mario 64, you absolutely have to play this game.
---
Browse Wii Games By Genre
See also: Best DS Games & Best 3DS Games
Are your favorite games on the list?
Deciding which Wii game is the best is no doubt a never ending topic, but it's fun to do!