We already published the list of best Wii games of all time, now it's time to discover the best Wii action puzzle games of all time.
With amazing titles available, the Wii definitely has a great library of action puzzle games.
So, if you're a fan of both the Wii and action puzzle games, there's a chance you'll like this list.
And some of you may already know some of the games mentioned in this list.
#10. Kororinpa: Marble Mania
Release Data: Hudson, 2007
Genre: Puzzle » Action
Kororinpa: Marble Mania is without a doubt a fun and engaging game that works well on the Wii with its accurate and intuitive motion control.
Your family will have a blast learning those controls as they perfect their routes through more than 40 challenging levels of marbles and mazes.
This is definitely the perfect game for the weekend.
#9. LIT
Release Data: WayForward, 2009
Genre: Puzzle » Action
LIT is a highly original take on the puzzle genre that uses its oppressive atmosphere to focus the action and deliver an innovative experience that you're unlikely to find in most other puzzlers.
It's not perfect but if you're in the mood for a puzzle game with a difference, this title fits the bill.
#8. Marble Saga: Kororinpa
Release Data: Hudson Entertainment/Konami, 2009
Genre: Puzzle » Action
The game's challenge creates for an addictive experience that will draw in players of all types and skill levels.
With a large variety of extra collectibles, four-player simultaneous multiplayer, single-player trophy achievements, a level editor, and three difficulty settings, Marble Saga: Kororinpa is a huge offering in a tiny package.
#7. MySims Agents
Release Data: Electronic Arts, 2009
Genre: Puzzle » Action
Despite some flaws, EA has constructed a great game anyone from fans of the series to newcomers can enjoy.
It is easily one of the most original games in the series, thanks to its mystery-solving theme along with gameplay that recalls classic game conventions while successfully putting a MySims theme on it.
#6. You, Me, and the Cubes
Release Data: fyto/Nintendo, 2009
Genre: Puzzle » Action
You, Me, and the Cubes is a great deal of logic-based, thoughtful fun, and its puzzles are appropriately satisfying to solve.
Its design is an exercise in perfect, effective simplicity, and with only a few tweaks it would have slotted perfectly into the Art Style series.
It's clean, it's simple, and it's understated in the best kind of way.
#5. Toki Tori
Release Data: Two Tribes, 2008
Genre: Puzzle » Action
This puzzle/platformer title is similar in nature to Lemmings, as you are given just a few specific tools to work with.
Each level is a race against the clock to collect all the eggs, while also avoiding dangerous enemies.
Simply put, you'll have to intelligently use unique tools to save Toki Tori's siblings, all while avoiding the dangers along the way.
#4. escapeVektor: Chapter 1
Release Data: Nnooo, 2011
Genre: Puzzle » Action
escapeVektor: Chapter 1 is, to put it simply, fantastic.
Brilliant visual design, unforgettable music and addictive, challenging gameplay all come together to create what is easily one of the finest experiences on the Wii.
Badges, medals and secret exits all beg loudly for you to replay this game, but even without them you'd have a hard time putting it down.
#3. Maboshi's Arcade
Release Data: Mindware/Nintendo, 2008
Genre: Puzzle » Action
The three distinct arcade games offer some very fun and difficult casual gameplay, and the interactive element of playing all three on the same screen is simply brilliant.
Puzzle addicts, arcade enthusiasts, and players seeking a solid and inexpensive multiplayer experience will find this title fits the bill nicely.
#2. Bomberman Blast
Release Data: Hudson, 2008
Genre: Puzzle » Action
Bomberman Blast adds to the long-running Bomberman Nintendo franchise of quick paced non-stop multiplayer action.
This offering doesn't innovate but it's got that classic, addictive quality we've been enjoying since Super Bomberman on the SNES.
Whether you've played Bomberman before or are new to the series, Bomberman Blast is loads of explosive fun.
#1. World of Goo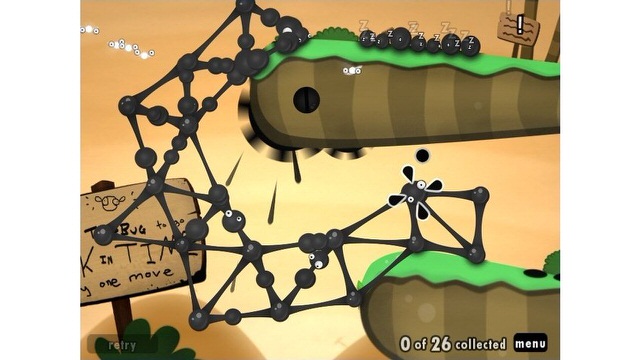 Release Data: 2D Boy, 2008
Genre: Puzzle » Action
This quirky puzzle game mixes simplistic controls and easy-to-understand physics to create an excellent brain teasing experience.
Players must guide the Goo through the four chapters of the main game, stacking on top of each other to form bridges and structures.
World of Goo is simply one of the best indie games of all time.
---
Browse Wii Games By Genre
See also: Best DS Games & Best 3DS Games
Are your favorite games on the list?
Deciding which Wii action puzzle game is the best is no doubt a never ending topic, but it's fun to do!