We already published the list of best Wii games of all time, now it's time to discover the best Wii puzzle games of all time.
With amazing titles available, the Wii definitely has a great library of puzzle games.
So, if you're a fan of both the Wii and puzzle games, there's a chance you'll like this list.
And some of you may already know some of the games mentioned in this list.
#25. Jenga World Tour
Release Data: Atomic Planet Entertainment/Atari SA, 2007
Genre: Puzzle » General
In all honesty, there are a lot worse games out there.
In fact, if you do get the title you'll probably find yourself beating the World Tour because the gameplay, though jerky, is quite addictive.
However, there are some reasons why this game is #25 on this list, and you'll probably know why.
#24. Neopets Puzzle Adventure
Release Data: Infinite Interactive/Capcom, 2008
Genre: Puzzle » General
The only problem with Neopets Puzzle Adventure on the Wii is long loading times between battles slow things down, and it also causes choppiness during the game, too.
However, Neopets Puzzle Adventure is a great game for kids who enjoyed Puzzle Quest, Neopets, or board games like Othello.
#23. Bust-A-Move Bash!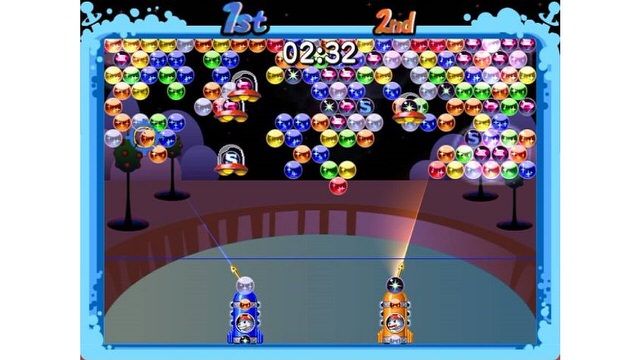 Release Data: Happy Happening/Majesco, 2007
Genre: Puzzle » Matching
Bust-A-Move Bash! exists merely to provide some innocent fun that can appeal to anyone.
Thanks to tried and true design, coupled with a mostly enjoyable control scheme made possible by the Wii, Bust-A-Move Bash! is everything its title implies.
Go in with reasonable expectations and you'll like what you find.
#22. Ghost Mania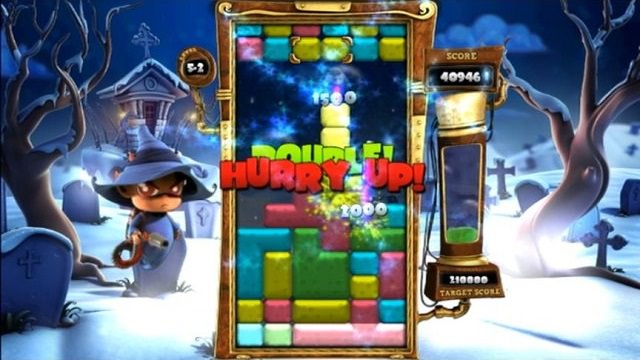 Release Data: Legendo Entertainment, 2011
Genre: Puzzle » Stacking
Ghost Mania is a fun, challenging, and well-developed puzzle game.
Players will get one of the best falling block games on the Wii platform.
It may not be the most original, as it borrows heavily from the Tetris formula, but it sure is a whole lot of fun.
#21. Professor Heinz Wolff's Gravity
Release Data: Deep Silver, 2009
Genre: Puzzle » Action
Professor Heinz Wolff's Gravity gives you a virtual playground where you can mess around with mass and momentum, and the physics on display more or less mirror real life.
Most of Gravity's puzzles are great fun, with Wolff providing helpful advice at first then slowly backing off and allowing you to tackle the consistently ramping challenges on your own.
#20. Rooms: The Main Building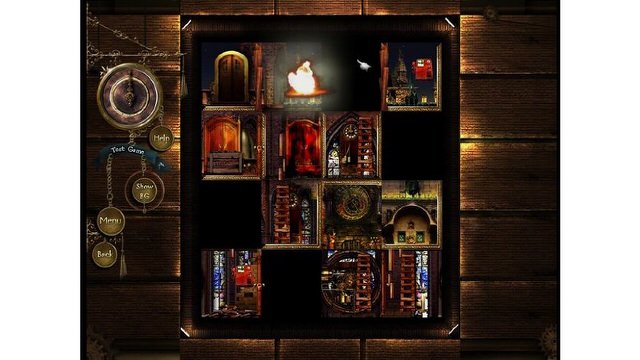 Release Data: Hudson Entertainment, 2010
Genre: Puzzle » General
Rooms: The Main Building requires a lot of cleverness and mental flexibility, and the satisfaction you gain from unraveling its puzzles is substantial.
The graphical issues aren't bad enough to hinder the whole game, and the multilayered, challenging puzzles shine through the haze.
With plenty of good puzzles, Rooms is worth a visit for anyone seeking a brain challenge.
#19. Pop
Release Data: Nnooo, 2008
Genre: Puzzle » General
All in all, this game is certainly well worth getting, particularly if you have other people to play with.
The developer has certainly balanced the title well and while it's unlikely to withstand prolonged play, it offers enough depth and enjoyment to keep you coming back for short bursts.
#18. Line Rider 2: Unbound
Release Data: InXile Entertainment/Genius Products, Inc., 2008
Genre: Puzzle » General
This simple puzzle game packs a surprising amount of depth, making hours fly by as you desperately try to pass a tricky course and keeping a steady hand in the Wii version.
If you have the patience to learn the subtleties of sled-track design, there is a lot of value in this little package.
#17. Mystery Case Files: The Malgrave Incident
Release Data: Sanzaru Games/Nintendo, 2011
Genre: Puzzle » Hidden Object
Mystery Case Files: The Malgrave Incident blends a competent logic-based adventure with excellent and cleverly designed hidden object gameplay, even managing to throw in a solid and somewhat compelling storyline.
It's a title that anyone should be able to pick up and have a fun time with, whether alone or with friends or family.
#16. Block Breaker Deluxe
Release Data: Gameloft, 2008
Genre: Puzzle » Action
Block Breaker Deluxe is a pretty decent game on the whole, but at times it takes some patience to play.
It may have not utilized the Wiimote as much as it could have, but the control is pretty slick still.
Give it some time and it might just grow on you.
#15. Roogoo: Twisted Towers
Release Data: SpiderMonk/SouthPeak Games, 2009
Genre: Puzzle » General
Roogoo Twisted Towers is a solid puzzler that might garner some fans thanks to its compelling gameplay concepts and interesting character designs.
Unfortunately, its sometimes overcomplicated gameplay causes it to fall short of greatness.
All in all, Roogoo: Twisted Towers is an attractive and amusing diversion that challenges you in just the right ways when it's running on all cylinders.
#14. Kororinpa: Marble Mania
Release Data: Hudson, 2007
Genre: Puzzle » Action
Kororinpa: Marble Mania is without a doubt a fun and engaging game that works well on the Wii with its accurate and intuitive motion control.
Your family will have a blast learning those controls as they perfect their routes through more than 40 challenging levels of marbles and mazes.
This is definitely the perfect game for the weekend.
#13. Puzzle Quest: Challenge of the Warlords
Release Data: Vicious Cycle/D3Publisher, 2007
Genre: Puzzle » Matching
The unlikely marriage of puzzle gameplay with RPG mechanics makes for one of the most addictive puzzle games on the Wii.
The core gameplay is rock solid, and you definitely don't want to miss out if you haven't already played the game.
If you're a fan of puzzle or role-playing games, you owe it to yourself to check it out.
#12. Dr. Mario Online RX
Release Data: Arika/Nintendo, 2008
Genre: Puzzle » Matching
Newcomers to the series will be thrilled, but puzzle veterans may be a little disappointed.
Dr. Mario was and still is a very, very good puzzle game and that fact remains unchanged here.
If you're a fan of Tetris or puzzle games in general then you will be delighted with this game.
#11. LIT
Release Data: WayForward, 2009
Genre: Puzzle » Action
LIT is a highly original take on the puzzle genre that uses its oppressive atmosphere to focus the action and deliver an innovative experience that you're unlikely to find in most other puzzlers.
It's not perfect but if you're in the mood for a puzzle game with a difference, this title fits the bill.
#10. Marble Saga: Kororinpa
Release Data: Hudson Entertainment/Konami, 2009
Genre: Puzzle » Action
The game's challenge creates for an addictive experience that will draw in players of all types and skill levels.
With a large variety of extra collectibles, four-player simultaneous multiplayer, single-player trophy achievements, a level editor, and three difficulty settings, Marble Saga: Kororinpa is a huge offering in a tiny package.
#9. Art Style: CUBELLO
Release Data: Nintendo, 2008
Genre: Puzzle » General
Despite its basic presentation and superficially simplistic gameplay, Cubello is the kind of game that delivers an engrossing experience every time you pick it up.
It's also an example of a game that couldn't be done anywhere else but Wii as traditional control inputs would not feel fast enough to play it as it was intended.
#8. Mercury Meltdown Revolution
Release Data: Ignition Entertainment, 2007
Genre: Puzzle » General
While Mercury Meltdown Revolution is essentially the same game as its PSP counterpart, the Wii's control system refines its gameplay, which makes it the definitive version as a result.
The sheer amount of levels gives the game plenty of longevity, while the quality of the design means that they're always fun without being complicated.
#7. MySims Agents
Release Data: Electronic Arts, 2009
Genre: Puzzle » Action
Despite some flaws, EA has constructed a great game anyone from fans of the series to newcomers can enjoy.
It is easily one of the most original games in the series, thanks to its mystery-solving theme along with gameplay that recalls classic game conventions while successfully putting a MySims theme on it.
#6. Toki Tori
Release Data: Two Tribes, 2008
Genre: Puzzle » Action
This puzzle/platformer title is similar in nature to Lemmings, as you are given just a few specific tools to work with.
Each level is a race against the clock to collect all the eggs, while also avoiding dangerous enemies.
Simply put, you'll have to intelligently use unique tools to save Toki Tori's siblings, all while avoiding the dangers along the way.
#5. Tetris Party
Release Data: Hudson Soft/Hudson, 2008
Genre: Puzzle » Stacking
Tetris Party combines the classic modes that you would expect in a Tetris game with some more unique modes of play.
Besides Marathon mode, you can enjoy linking tetriminos together in Co-op Tetris, Shadow Mode, and even a mode that utilizes the Wii Balance Board accessory.
#4. Art Style: ORBIENT
Release Data: Nintendo, 2008
Genre: Puzzle » General
Part of the Art Style indie game franchise, Orbient is a simple but addictive puzzle experience.
As you tweak the gravitational pull of your planet, you'll absorb smaller planets, navigating your way to the size goal.
Although it's not very complex, Orbient is surprisingly fun and engaging.
#3. Boom Blox
Release Data: EA LA/Electronic Arts, 2008
Genre: Puzzle » General
Boom Blox is one of the Wii's most satisfying games, as it rewards you for knocking down giant towers of blocks.
Each level presents you with a limited number of items, and your goal is to successfully knock down the structure.
The game can be played alone or with a group of friends, and players can even create their own levels.
#2. Boom Blox Bash Party
Release Data: EA LA/Electronic Arts, 2009
Genre: Puzzle » General
This sequel provides more of the same great ball-throwing action as the original, with more variety and levels.
Using a select number of thrown items, you must topple carefully stacked towers of blocks.
There are over 400 levels with varying themes, including new space and water worlds.
This is an excellent game for parties due to the plethora of content and options.
#1. World of Goo
Release Data: 2D Boy, 2008
Genre: Puzzle » Action
This quirky puzzle game mixes simplistic controls and easy-to-understand physics to create an excellent brain teasing experience.
Players must guide the Goo through the four chapters of the main game, stacking on top of each other to form bridges and structures.
World of Goo is simply one of the best indie games of all time.
---
Browse Wii Games By Genre
See also: Best DS Games & Best 3DS Games
Are your favorite games on the list?
Deciding which Wii puzzle game is the best is no doubt a never ending topic, but it's fun to do!