We already published the list of best 3DS games of all time, now it's time to discover the best 3DS western RPGs of all time.
With amazing titles available, the 3DS definitely has a great library of western RPGs.
So, if you're a fan of both the 3DS and western RPGs, there's a chance you'll like this list.
And some of you may already know some of the games mentioned in this list.
#5. Etrian Odyssey V: Beyond the Myth
Release Data: Atlus, 2017
Genre: Role-Playing » Western-Style
This entry in the Etrian Odyssey series once again tasks players with surviving an adventure through a difficult, multi-leveled dungeon.
You'll spend time crafting your party of characters, with tons of unlockable skills and techniques to learn.
While not the best for beginners, this is one RPG that older fans of the genre will adore.
#4. Shin Megami Tensei: Strange Journey Redux
Release Data: Atlus, 2018
Genre: Role-Playing » Western-Style
From its demon collecting to its sci-fi South Pole setting, Strange Journey Redux is a fantastically engrossing adventure, and an excellent reason to get lost in your 3DS once again.
Redux adds in enough new content to make a replay worth your time, along with tweaks to help let newcomers in on one of Shin Megami Tensei's best kept secrets.
#3. Etrian Odyssey Nexus
Release Data: Atlus, 2019
Genre: Role-Playing » Western-Style
Staggering amounts of character customization, a beautifully arranged soundtrack, dozens of hours of content, and excellent usage of stereoscopic 3D all combine to make this the definitive Etrian Odyssey experience.
This is one of the deepest and most involved RPGs you're likely to find on the 3DS, and it stands as a compelling reason to dust off your 3DS.
#2. Etrian Odyssey 2 Untold: The Fafnir Knight
Release Data: Atlus, 2015
Genre: Role-Playing » Western-Style
Both a wonderful upgrade to the original Etrian Odyssey 2 and an impressive improvement on Etrian Odyssey Untold, Untold 2: The Fafnir Knight is a dungeon-crawling delight.
With satisfying combat, endless customization, and beautiful labyrinths that are as fun to map out as they are to explore, this is a joyously engrossing adventure.
#1. Etrian Odyssey IV: Legends of the Titan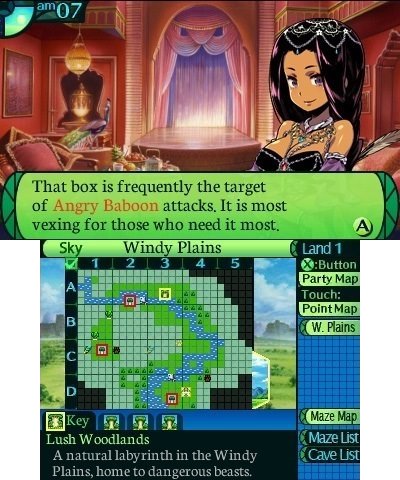 Release Data: Atlus, 2013
Genre: Role-Playing » Western-Style
It's still an old-school experience at heart, and players put off by serious difficulty, grinding, or the lack of a character-driven narrative won't find what they're looking for here, but the addition of a Casual mode means anyone taken in by the enchanting road to Yggdrasil will be able to enjoy it at their own pace.
---
Browse 3DS Games By Genre
See also: Best Wii Games & Best Wii U Games
Are your favorite games on the list?
Deciding which 3DS western RPG is the best is no doubt a never ending topic, but it's fun to do!