We already published the list of best PS4 games of all time, now it's time to discover the best PS4 RTS games of all time.
With amazing titles available, the PS4 definitely has a great library of RTS games.
So, if you're a fan of both the PS4 and RTS games, there's a chance you'll like this list.
And some of you may already know some of the games mentioned in this list.
#25. McDROID
Release Data: Elefantopia LLC/Grip Games, 2016
Genre: Strategy » Real-Time » Defense
McDROID is a game with plenty of charisma and sweet ideas.
It takes a tired genre and throws it together with elements from elsewhere to create an engaging and charming hybrid.
Difficulty spikes and repeated levels let the game down and prevent if from being truly memorable, but underneath the issues lies an interesting game which provides quite a rush.
#24. GUNS UP!
Release Data: Valkyrie Entertainment/SCEE, 2015
Genre: Strategy » Real-Time » General
Guns Up! is addictive and provides a seriously fun formula of mutually beneficial attack and defense tactics.
Its initially intimidating economy only works to give the game depth once you've completed the enlightening tutorial, leaving you with a constant desire to progress and improve both your settlement and your garrison of units.
#23. There Came an Echo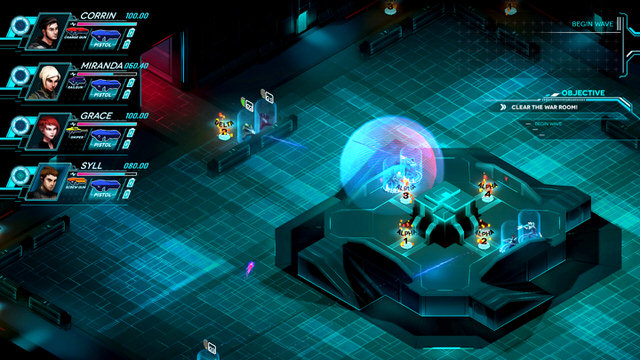 Release Data: Iridium Studios, 2016
Genre: Strategy » Real-Time » General
The game creates a dynamicity of feelings within the player, from being calm and cool-headed to frantic and chaotic.
There's really no end to what you need to be in order to beat this game.
Whether you're in the offense or in the defense side of it, the possibilities on how to approach There Came an Echo is endless.
#22. 8-Bit Hordes
Release Data: Petroglyph, 2019
Genre: Strategy » Real-Time » Command
8-Bit Hordes doesn't really do anything special to put it into a league of its own.
However, the visuals provide an adorable and charming spark and when utilizing your troops to your full potential, you can pull off some really strategic and satisfying maneuvers.
If you're a fan of RTS titles, 8-Bit Hordes can provide a fun experience, even for beginners.
#21. Siegecraft Commander
Release Data: Blowfish Studios, 2017
Genre: Strategy » Real-Time » Defense
Siegecraft Commander is a fun and delightful RTS title that is easily approachable for serious strategists and newcomers alike.
With the focus being on expanding across the map and staying in the action as opposed to resource management, the game never feels like it is lagging and is constantly nudging you into the struggle of war.
#20. Warhammer 40,000: Inquisitor – Martyr
Release Data: Maximum Games/Bigben Interactive, 2018
Genre: Strategy » Real-Time » General
Warhammer 40,000: Inquisitor – Martyr is one of the finest real-time strategy/action RPG experience on the market for the PS4, despite its technical blemishes.
Its vast world, spanning entire solar systems, is astounding and its gameplay mechanics are immersive, especially when played with others.
#19. Grand Ages: Medieval
Release Data: Gaming Minds Studios/Ubisoft, 2015
Genre: Strategy » Real-Time » General
All in all, it's refreshing to see a title that focuses on trade and economics instead of battles and warfare.
Grand Ages: Medieval shows assigning assets and constructing businesses can make for a compelling gameplay mechanic.
With so few games in this genre available, it fills the void adequately, providing an engaging experience that'll likely take up much of your time.
#18. Korix
Release Data: StellarVR, 2017
Genre: Strategy » Real-Time » General
Korix is a good strategy, tower defense title for PlayStation VR with solid gameplay, bright and vibrant visuals, and outstanding motion control tracking.
Unfortunately, there are some issues with guidance for new players, but still, this title is definitely worth picking up if you have a few friends who you want to destroy.
#17. Sudden Strike 4
Release Data: Kalypso, 2017
Genre: Strategy » Real-Time » General
Fans of the WWII era or the RTS genre will get the most out of Sudden Strike 4.
It's a high-quality product in terms of graphics and immersion, and the title provides a great experience full of tense and satisfying moments.
There's a lengthy campaign that'll take more than a dozen hours to get through, with multiplayer mode offering endless playability.
#16. Masters of Anima
Release Data: Passtech Games/Focus Home Interactive, 2018
Genre: Strategy » Real-Time » MOBA
Masters of Anima is for those who love to multitask.
Ordering various groups of guardians to attack groups of enemies while also moving around, dodging attacks and performing combos can make for a very hectic game.
But for those who live for the thrill of a job well done amidst a bunch of chaos, Masters of Anima was made for them.
#15. The Castle Game
Release Data: Neptune Interactive Inc., 2015
Genre: Strategy » Real-Time » Defense
For players new to the genre, this is an excellent, expertly crafted version of the tower defense.
It helps that each stage is crafted so that there is no "right way" to win, allowing flexibility and well-thought out personal choice win the game.
This is also a great time for genre fans who just want a basic version for their PS4.
#14. Sheltered
Release Data: Unicube/Team 17, 2016
Genre: Strategy » Real-Time » Defense
Sheltered is one for people that enjoy a tough survival game, and micro management too.
You will never sure which outsiders who seek shelter are good, and which are bad.
Overall, Sheltered is a well-crafted game that is quite tough at first to make progress in, but once you're used to its systems there can be a rewarding experience.
#13. Ancestors Legacy
Release Data: Destructive Creations, 2019
Genre: Strategy » Real-Time » General
Ancestors Legacy is a fun historical RTS that's made the transition from PC to PlayStation 4 intact, offering engaging single-player campaign content, fast and frantic squad-based tactical combat scenario, stellar graphics and performance and a UI and controls that have been fine-tuned for the gamepad and television screen.
Check this out if you're craving a great indie RTS.
#12. They Are Billions
Release Data: Numantian Games/BlitWorks, 2019
Genre: Strategy » Real-Time » Defense
There's not a lot of groundbreaking stuff here in terms of gameplay but that doesn't mean that They Are Billions is in any way derivative.
Part strategy game in the vein of Command and Conquer and StarCraft and part tower defense game, They Are Billions provides nearly limitless replayability.
#11. PixelJunk Monsters 2
Release Data: Q-Games/Spike Chunsoft, 2018
Genre: Strategy » Real-Time » Defense
It doesn't do anything to revolutionize the tower defense genre, but what it does do is provide an enjoyable experience based on a tried and true formula.
PixelJunk Monsters 2 is straightforward enough to be enjoyed by casual gamers, but trying to perfect it on the highest difficulty will provide a worthwhile challenge to the hardcore gamers.
#10. No Heroes Allowed! VR
Release Data: Acquire/Sony Interactive Entertainment, 2017
Genre: Strategy » Real-Time » Defense
No Heroes Allowed! VR is a deeply satisfying and surprisingly humorous PlayStation VR strategy game.
It doesn't do much with virtual reality, but it looks great inside the headset and has some unique gameplay ideas to boot.
There isn't a deeply strategic RTS element, but it does offer a clever commentary on one of gaming's most persistent and often silliest mechanics.
#9. Awesomenauts Assemble!
Release Data: Ronimo Games, 2014
Genre: Strategy » Real-Time » MOBA
Awesomenauts Assemble! is a great online or local couch co-op game to enjoy with your friends.
You get a ton of variety in the game thanks to a huge cast of characters, and no game will feel the same as you will always be up against different teams.
This is a definite recommendation if you would like to try something different.
#8. Anomaly 2
Release Data: 11 bit studios, 2014
Genre: Strategy » Real-Time » General
Anomaly 2 combines so many critical elements that comprise the real-time strategy genre that it is both a testament to fusion and an example of everything that makes the genre great.
11 bit Studios knocked it out of the park with this sequel which offers more unit combinations and possible strategies than ever before.
#7. CastleStorm: Virtual Reality
Release Data: Zen Studios, 2017
Genre: Strategy » Real-Time » Defense
If you already have CastleStorm and want the added atmosphere that VR brings to it, you might consider picking this up.
And if you never played Castlestorm, then this is the version you'll want to start with.
It may not be the best VR game out there, but it's still an excellent game.
#6. This War of Mine: The Little Ones
Release Data: 11 bit studios/Deep Silver, 2016
Genre: Strategy » Real-Time » General
As you guide your characters through their daily lives and choices, the player has to start making decisions about what to do with increasingly little as the game is ostensibly about survival but also about how humans interact with one another as the ties of society come under strain.
#5. DG2: Defense Grid 2
Release Data: Hidden Path Entertainment/505 Games, 2014
Genre: Strategy » Real-Time » Defense
Combining the appeal of tower defense with a grid strategy game, DG2 is simultaneously about the big picture as well as the small scene.
In every respect a traditional strategy game, DG2 prides itself on offering challenges catering to all player levels and is perfect for the casual as well as the hardcore.
#4. Tooth and Tail
Release Data: Pocketwatch Games, 2017
Genre: Strategy » Real-Time » General
Tooth and Tail deserves your attention if you're a fan of the genre, and its campaign will give you a solid 8-10 hours of gameplay, not to mention the many hours of fun you can end up having in multiplayer.
#3. Stellaris: Console Edition
Release Data: Paradox Development Studio/Tantalus, 2019
Genre: Strategy » Real-Time » General
This space exploration and colonization game involves layered gameplay and a procedurally-generated universe that is never the same.
Replay value aside, the quirky nature of the various civilizations you encounter coupled with the unpredictable game world make Stellaris a title not to be taken lightly but also one that can be picked up and played at any time.
#2. Orcs Must Die! Unchained
Release Data: Robot Entertainment, 2017
Genre: Strategy » Real-Time » Defense
The wave-based gameplay is a lot of fun, particularly when playing with other people, and the unique versus mode creates a whirlwind of cooperation and competition.
They could have done a little more to tailor the PS4 release specifically to the console, as well as better functions for quick communication, but these are small gripes on an otherwise great experience.
#1. Shadow Tactics: Blades of the Shogun
Release Data: Mimimi Productions/Kalypso, 2017
Genre: Strategy » Real-Time » Tactics
Shadow Tactics: Blades of the Shogun is an immense stealth game that features dozens of satisfying mechanics and an undying focus on the art of tactical warfare.
The controls take a little getting used to but the characters, level design and strategy-stealth gameplay will reward you plenty for putting in the effort.
---
Browse PS4 Games By Genre
See also: Best PS Vita Games & Best Gaming Chairs
Are your favorite games on the list?
Deciding which PS4 RTS game is the best is no doubt a never ending topic, but it's fun to do!