We already published the list of best PS4 games of all time, now it's time to discover the best PS4 racing games of all time.
With amazing titles like the F1 series, DiRT series, and Crash Team Racing: Nitro-Fueled, the PS4 surely have a great collection of racing games.
If you're a fan of both PS4 and racing games, there's a chance you'll like this list.
Most of you will know (or even still playing) some of the games mentioned in this list.
Browse Games By Genre
See also: Best PS Vita Games & Best Gaming Chairs
#25. FlatOut 4: Total Insanity
Kylotonn/PQube, 2017
Racing » Arcade » Automobile
#24. NASCAR Heat 2
Monster Games Inc./704Games, 2017
Racing » Simulation » Automobile
#23. Danger Zone
Three Fields Entertainment, 2017
Racing » General
#22. RIDE
Milestone S.r.l, 2015
Racing » Simulation » Automobile
#21. Assetto Corsa
Kunos Simulazioni/505 Games, 2016
Racing » Simulation » Automobile
#20. F1 2015
Codemasters/Ubisoft, 2015
Racing » Simulation » Automobile
#19. MXGP: The Official Motocross Videogame
Milestone S.r.l, 2014
Racing » Arcade » Other
#18. Driveclub VR
Evolution Studios/Sony Interactive Entertainment, 2016
Racing » Simulation » Automobile
#17. Need for Speed
Ghost Games/Electronic Arts, 2015
Racing » Simulation » Automobile
#16. WRC 6: World Rally Championship
Kylotonn/Bandai Namco Games, 2017
Racing » Simulation » Automobile
#15. Driveclub
Evolution Studios/SCEA, 2014
Racing » Simulation » Automobile
#14. Sebastien Loeb Rally Evo
Milestone S.r.l/Intergrow, 2016
Racing » General
#13. MotoGP 14
Milestone S.r.l/Bandai Namco Games, 2014
Racing » Simulation » Automobile
#12. Gran Turismo Sport
Polyphony Digital/Sony Interactive Entertainment, 2017
Racing » Simulation » Automobile
#11. Trials Fusion
RedLynx/Ubisoft, 2014
Racing » Arcade » Automobile
#10. Project CARS 2
Slightly Mad Studios/Bandai Namco Games, 2017
Racing » Simulation » Automobile
Project CARS 2 is the next evolution in the award-winning racing series, featuring the most iconic cars racing under the most thrilling conditions to deliver the Ultimate Driver Journey.
Created by gamers, tested by world-class racing drivers from Team SMS-R, and the definitive choice of Esports pros…
Project CARS 2 captures the essence of real racing in the most beautiful, intense, authentic, and technically-advanced racing game on the planet.
Over 170 licensed cars from the most iconic brands.
The largest track roster of any console racing game including ice and dirt tracks.
New vehicle types and motorsport classes including Rallycross, IndyCar, and Oval.
Dynamic time of day, weather, and new seasonal conditions.
New Online Championships mode.
LiveTrack 3.0 powers dynamic surface conditions that affect vehicle performance and handling, and evolves the track over the course of a race weekend.
Esports built-in from day one with full ranking, and broadcasting / streaming functionality.
Bleeding-edge tire physics, advanced AI, and intuitive gamepad control.
#9. Trackmania Turbo
Nadeo/Ubisoft, 2016
Racing » Arcade » Automobile
Available for the first time on PS4, Trackmania offers you the ultimate arcade racing universe.
Test your skills and challenge your friends at home or online.
4 Environments = 4 Gameplays
Rollercoaster Lagoon: Defy gravity on magnetic tracks in a tropical paradise,
International Stadium: Use your driving skills to master this worldwide competition.
Canyon Grand Drift: Drift through narrow tracks in this red canyon landscape.
Down & Dirty Valley: Use air control and jump through this countryside setting.
Campaign Mode
Unlock up to 200 unique tracks in over 5 difficulty levels. Drive your way to the top of worldwide rankings!
Double Driver
For the first time in a racing game, team up with a friend and control one car with two controllers!
Trackbuilder
Design your own tracks or simply generate random ones. Save and share your best tracks to make the competition last forever
#8. Need for Speed: Rivals
Ghost Games/Electronic Arts, 2013
Racing » Simulation » Automobile
Welcome to Redview County, where a street-racing rivalry between cops and racers never stops as both sides compete in an all-out war featuring the fastest cars, mods and technology in a gritty open road environment.
Play as either a cop or racer, where each side of the law has its own set of high stakes challenges, rewards and consequences.
Risk everything in the ultimate high stakes rivalry.
Cops vs. Racers — Racers are lone wolves out for their own glory; driving agile cars built for high speed racing and epic chases. Cops work in teams to hunt down and bust racers using the full power of the police force. Intense racing moments are made even more thrilling with access to upgradeable pursuit technology customized to each side.
High Stakes Rivalry — Watch the stakes grow through a new scoring system that lets racers risk their speed points to shoot for higher multipliers and greater rewards, or bank their speed points safely when they return to a hideout. The more risk you take on, the faster you can progress, but get busted by the cops and they take your speed points as a reward.
AllDrive — This revolutionary new feature lets you seamlessly join a world where your friends are already racing and chasing. Single-player and multiplayer are no longer isolated game modes. There are no lobbies, no waiting; everything is seamless.
Your Car, Your Identity — Power up your car with the latest upgrades in pursuit technology and personalize your bodywork with fresh paintjobs, liveries, custom license plates, rims, and decals to show off your car to the world. With millions of potential combinations you can save different configurations and keep a variety of car packages on alert to leave your mark no matter the situation.
NFS Network — NFS Network will be the hub for continuing your racing and chasing with access to stats, leaderboards and content uploads direct from the game. Breakdown whats happening in your friends worlds in real time to see how AllDrive has shaped who owns what in their world. Also in the Network, engage with Need for Speed Rivals from the web, tablet, or mobile in Overwatch, a mini-game that connects you with the console/PC game by letting you help or hinder your friends to earn points towards exclusive paintjobs. Keep a watch on all the other players in your world using a real-time map that locates the cops before you start a race, or quickly find out which hideout is closest for you or your friend to bank Speed Points. Drop police road blocks and helicopters, or alert friends of inbound cops.
#7. Driveclub Bikes
Evolution Studios/SCE Australia, 2015
Racing » Simulation » Automobile
RIDE TOGETHER, WIN TOGETHER.
Prepare for the most immersive and dynamic superbike racing experience you've ever played.
Create events from scratch to ride day or night, and play with the fully customizeable weather conditions to make every event unique.
Race the worlds best superbikes from Yamaha, Ducati, Kawasaki, Honda, Bimota, BMW and more.
78 tracks in stunning locations from Canada, Chile, Japan, Norway, Scotland & India.
Form a Club with your mates and race online in challenges & multiplayer matches to earn big rewards.
Go it alone in the offline Tour campaign with 42 events including Races, Time Trials, Skill challenges & Championship events.
Send challenges to your friends & rivals to compete for glory.
Customize your bikes & racing leathers.
Choose from simulation or arcade camera views: first person rider, handlebar, dash, front wheel, near chase & far chase.
#6. F1 2016
Codemasters, 2016
Racing » Simulation » Automobile
Create your own legend in F1 2016.
Get ready to go deeper into the world of the most prestigious motorsport than ever before.
F1 2016 is the official videogame of the 2016 FIA FORMULA ONE WORLD CHAMPIONSHIP and includes the full 2016 season calendar of 21 tracks, including the brand new Baku circuit in Azerbaijan, and the full roster of 22 drivers and 11 teams, including the new Haas F1 Team.
#5. Project CARS
Slightly Mad Studios/Bandai Namco Games, 2015
Racing » Simulation » Automobile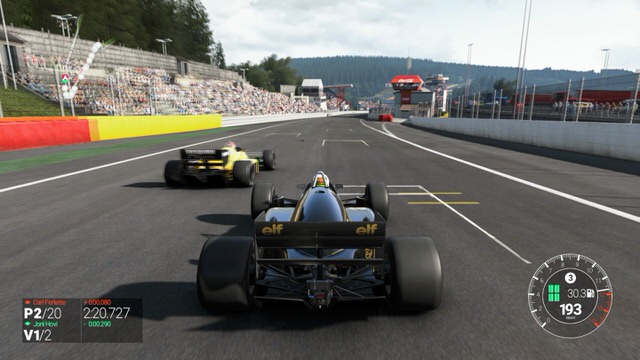 Project CARS is the ultimate driver journey!
Guided, tested, and approved by a passionate community of racing fans and real-life drivers, Project CARS represents the next-generation of racing simulation as the ultimate combination of fan desire and developer expertise.
Discover an unrivaled immersion fueled by world-class graphics and handling that allows you to truly feel the road.
Create a driver, pick from a huge variety of motorsports in a dynamic career mode and write your own tale in an intense online multiplayer.
Featuring the largest track roster of any recent racing game with a ground-breaking dynamic time of day & weather system as well as deep tuning & pit stop functionality, Project CARS leaves the competition behind in the dust.
#4. DiRT Rally
Codemasters, 2016
Racing » Simulation » Automobile
DiRT Rally is the most authentic and thrilling rally game ever made, road-tested over 80 million miles by the DiRT community.
It perfectly captures that white knuckle feeling of racing on the edge as you hurtle along dangerous roads at breakneck speed, knowing that one crash could irreparably harm your stage time.
Every stage tests you differently, as you race on the edge of control across snow, ice, tarmac and dirt and tackle a variety of weather types.
As the car suffers attrition and stages string together, your dedicated rally team tries to keep you competitive and each rally becomes a marathon-like test of concentration and skill.
DiRT Rally also includes officially licensed World Rallycross content, allowing you to experience the breathless, high-speed thrills of some of the worlds fastest off-road cars as you trade paint with other drivers at some of the series best-loved circuits, in both singleplayer and high-intensity multiplayer races.
#3. DiRT 4
Codemasters, 2017
Racing » Simulation » Automobile
DiRT 4 is a Racing game, developed and published by Codemasters, which was released in 2017.
#2. Wipeout: Omega Collection
Sony Interactive Entertainment, 2017
Racing » Arcade » Futuristic
A name synonymous with PlayStation, Wipeout is the rapid combat racer that defies gravity and defines generations.
Known for its blistering speed, iconic music and pure multiplayer mayhem, Wipeout has starred on every PlayStation format since 1995 and is now set to rip through the air on PlayStation 4 and PlayStation 4 Pro.
Featuring all the content from Wipeout HD, Fury and 2048, Wipeout Omega Collection packs in 26 reversible circuits, 46 unique ships, a ton of game modes and some new and classic music tracks.
Its time for Wipeout veterans to come out of retirement and new pilots to make their debut.
#1. F1 2017
Codemasters/Deep Silver, 2017
Racing » Simulation » Automobile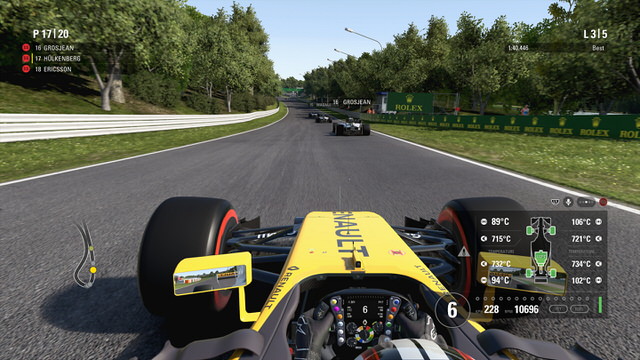 F1 2017 is a Racing game, developed by Codemasters and published by Deep Silver, which was released in 2017.
Are your favorite games on the list?
Determining the best PS4 racing game is no doubt a never ending topic (mostly because new games are still being released), but it's worth the time!