We already published the list of best Wii U games of all time, now it's time to discover the best Wii U JRPGs of all time.
With amazing titles available, the Wii U definitely has a great library of JRPGs.
So, if you're a fan of both the Wii U and JRPGs, there's a chance you'll like this list.
And some of you may already know some of the games mentioned in this list.
#5. Squids Odyssey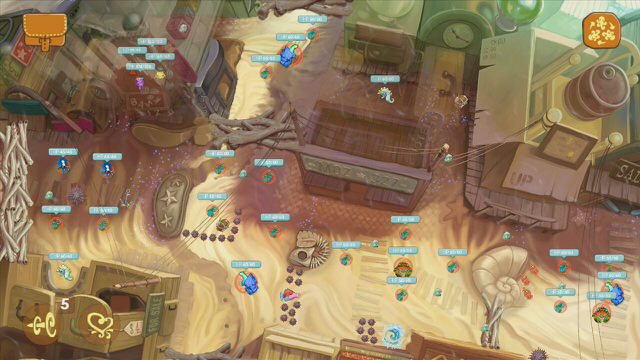 Release Data: The Game Bakers, 2014
Genre: Role-Playing » Japanese-Style
Squids Odyssey is tough after the first few levels, especially if characters aren't leveled up properly.
But that's fine; it never reaches to a frustrating level.
Overall, it's a charming game that, at its core, is actually very deep in customization and gameplay.
#4. Costume Quest 2
Release Data: Double Fine Productions/Midnight City, 2014
Genre: Role-Playing » Japanese-Style
Costume Quest 2 is an enjoyable experience through an appealing story of fun and sugary treats.
Its simplistic gameplay is more suited to those with less gaming experience, but there's still plenty to be enjoyed by more hardcore fans looking for something a bit more relaxing or less complicated for a change.
#3. Citizens of Earth
Release Data: Eden Industries/Atlus, 2015
Genre: Role-Playing » Japanese-Style
Citizens of Earth runs for about 15 hours if you tackle the side quests and level up your team, which is pretty short by RPG standards.
However, a strong cast, some excellent visuals and a fun soundtrack help tie the experience together, while a rewarding combat system with multiple difficulty levels can match the adventure to suit your skill.
#2. Paper Mario: Color Splash
Release Data: Intelligent Systems/Nintendo, 2016
Genre: Role-Playing » Japanese-Style
Although there are many similarities with the previous Paper Mario game, the developers have created a much more rounded and enjoyable experience.
And if you're willing to give it a chance, Paper Mario: Color Splash is a charming journey that will delight your senses and the part of your brain that houses your nostalgic feelings towards Nintendo.
#1. Tokyo Mirage Sessions #FE
Release Data: Atlus/Nintendo, 2016
Genre: Role-Playing » Japanese-Style
This crossover between the Shin Megami Tensei series and the Fire Emblem franchise is notable due to its vibrant visuals and interesting setting.
And the Wii U gamepad also offers some unique functionality, such as featuring an in-game social app that lets you stay in touch with other characters, as well as displaying dungeon maps when appropriate.
---
Browse Wii U Games By Genre
See also: Best 3DS Games & Best Switch Games
Are your favorite games on the list?
Deciding which Wii U JRPG is the best is no doubt a never ending topic, but it's fun to do!