We already published the list of best PSP games of all time, now it's time to discover the best PSP simulation games of all time.
With amazing titles like the Pursuit Force series, Ace Combat series, and The Sims 2, the PSP surely have a great collection of simulation games.
If you're a fan of both PSP and simulation games, there's a chance you'll like this list.
Most of you will recognize (or even still playing) some of the games mentioned on this list.
Browse Games By Genre
See also: Best PS2 Games & Best PS3 Games
#10. EyePet
SCEE London Studio/SCEA, 2010
Simulation » Virtual » Virtual Life
Synopsis
Ever wondered what if Tamagotchi come to life?
EyePet is here to actualize your childhood daydream.
EyePet redefines the pet simulation genre with the advanced usage of augmented reality.
Fondle your lovable monkey-like animal straight in your living room, cute addition to your 'virtual' family member.
Short Review
If you have a younger brother or kids this is the game for you, keep your little human busy and accompanied for several hours of fun.
Although the PSP version of EyePet lacks the features of interacting with your pet with hands like in PS3, EyePet still a great pickup for anyone who misses the Tamagotchi era and wanted to keep a virtual pet.
Lack of content is from this game is somewhat a deal-breaker, EyePet can be a bit monotonous after several hours.
Check it out on Amazon »
#9. Fired Up
SCEE London Studio/SCEE, 2005
Simulation » Vehicle » Combat
Synopsis
History tends to repeat itself, somewhere in eastern Europe, the evil emperor dictator has started the quest to invade any neighboring country.
Drive and destroy the evil empire's troops using your collection of weaponized lightweight buggy and help the resistance army to put an end to this aggression.
Short Review
The graphic and level design was top-notch, the destruction, smoke, and fire effect looks really good for PSP games.
All vehicle choice is distinctive, you'll really feel that you are driving a different vehicle with different handling, acceleration, and stability.
Fired Up really shine in multiplayer department, get past the singleplayer campaign (which is more like a tutorial for multiplayer) and convince your friend to play this game together for a great party game.
Check it out on Amazon »
#8. The Sims 2
Maxis/Electronic Arts, 2005
Simulation » Virtual » Virtual Life
Synopsis
We are back in Strangetown, a town whose weirdly foreshadowed in the name, strange.
Uncover the dark story behind Strangetown, from conspiracy theory, murder mystery, cult activities, alien encounters, and the undead.
Short Review
Successfully ported from console and PC version, The Sims 2 comes with a superior graphic for a PSP game.
The character looks very well detailed and distinguishable, the environment appears really sharp and carefully detailed.
A new feature called sanity meter, would you trade your friend's secret for money and losing your sanity?
Despite the great gameplay, The Sims 2 also has its own flaws, the constant loading took so long to load and interrupt the game flow.
Overall, The Sims 2 is a lovely addition to your PSP library that still hold the core element from the previous game and lots of new things to offer.
Check it out on Amazon »
#7. Armored Core: Formula Front – Extreme Battle
From Software, 2005
Simulation » Vehicle » Combat
Synopsis
Robot fighting lovers rise up!
Armored Core brings the metal clanking and firepower explosion to PSP.
Play as a rookie team leader from a futuristic robot fighting sport called Formula Front.
Draft your Armored Core, tune and tweak them to suit your needs, and build the ultimate Armored Core.
Short Review
A treat to hardcore simulation game lover, choose from hundreds of parts and tweak different parameters to create your best version of Armored Core.
Enjoy the glorious battle effect from your PSP screen—smoke, explosion, gunfire and mech damage will cover your screen in its great detail.
Armored Core: Formula Front Extreme Battle only cater to a small group of niche gamer who loves both mecha and hardcore simulation.
If you're not both you would find it hard to enjoy this game since the learning curve is quite steep.
Check it out on Amazon »
#6. After Burner: Black Falcon
Planet Moon Studios/Sega, 2007
Simulation » Flight » Combat
Synopsis
A terrorist organization has infiltrated and fled with 13 military-grade fighter jets.
As the elite military member and notorious jet fighter pilot, it is up to you to take back what is yours.
Play as 3 pilots with a different style of flying in this first arcade-style flight simulator exclusive to PSP.
Short Review
One thing very crucial in the game genre is the control and After Burner: Black Falcon nailed it.
From acrobatic maneuvers to firing a rocket to other jets is really smooth and handled accurately.
Level design is a bit tedious, blue sky with a pack of clouds and ever-changing terrain.
Black Falcon also could use some upgrade in special effects.
After Burner: Black Falcon is leaning to an arcade simulation game.
For arcade fanatics out there Black Falcon is an action-packed game with challenging enough difficulty and straightforward gameplay.
Check it out on Amazon »
#5. Ace Combat: Joint Assault
Project Aces/Namco Bandai Games, 2010
Simulation » Flight » Combat
Synopsis
Climb to the cockpit and take control of the skies.
In Ace Combat you are an elite fighter pilot, tasked to take down any enemies you encounter in intense dogfighting thousands of feet above the ground.
Short Review
More than 40 real licensed fighter jets model to hop on.
Control is a bit frustrating at times, it is obvious that this game isn't made for PSP.
For Ace Combat standard, the story is a bit tedious and dull.
Just skip the singleplayer and jump straight to the multiplayer mode to really maximize your experience with this game.
Check it out on Amazon »
#4. Pursuit Force: Extreme Justice
Bigbig Studios/SCEE, 2008
Simulation » Vehicle » Combat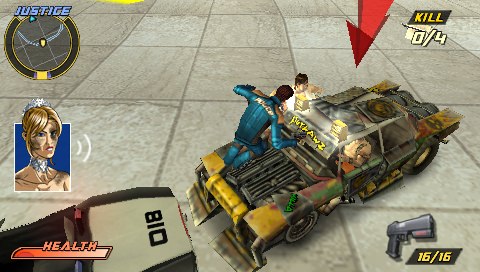 Synopsis
Continuing the story from the first series, you are now a commander of an elite task force in Capital City, given the authority to stop any criminal with any means necessary.
This time it is more extreme.
Short Review
Honestly, this game exceeds my expectation, adrenaline-packed gameplay fused with a solid storyline.
The cartoon arcade style is stunning, graphic wise.
It is not designed to be the most realistic but to be an enjoyable eye-pleasing experience.
If you love the first Pursuit Force just buy this game and you're not gonna regret it, proofing that action movie genre game can be exceptionally fun.
Check it out on Amazon »
#3. Pursuit Force
Bigbig Studios/SCEE, 2006
Simulation » Vehicle » Combat
Synopsis
It is not the time for normal police chase where you turn on your sirene and told them to pull over.
It is time for Hollywood style chase, yes I'm talking about shoot-first-ask-later kind of style.
You are a rookie cop, working for Pursuit Force, an elite task force tasked to eliminate criminals all across the country.
Short Review
This game added cliche Holywood movie moves to its core mechanic, a jumping mechanic.
Who would've thought jumping from car to car as you chase the perpetrators can be so amusing.
Each missions averaging 10 minutes to finish, making this game a perfect handheld game to play while you wanted to kill some times while waiting for someone/something.
Check it out on Amazon »
#2. Ace Combat X: Skies of Deception
Project Aces /SCE Korea, 2006
Simulation » Flight » Combat
Synopsis
Ace Combat series is all about jumping in the cockpit and intense tactical dogfight in the skies combined with a remarkable storyline.
Ace Combat X: Skies of Deception is no different, free your home country, Arelia, from the invading deceptive neighboring country, Leasath.
Take the fight into the skies and restore your home country's freedom.
Short Review
A captivating storyline will get you on the edge of your seat every time you play.
Fixed and intuitive control from its predecessor, now you can focus on outmaneuvering enemy dogfighter and blast them with your missile.
Sound effect from firing missile, explosion, and radio chatter is unbelievably realistic.
All in all a great game for its fast-paced jet combat and immersive environment design.
Check it out on Amazon »
#1. Twisted Metal: Head-On
Incognito Inc./SCEA, 2005
Simulation » Vehicle » Combat
Synopsis
Twisted Metal: Head On is Death Race movie without the race, total destruction in this twisted maniacal vehicular combat game.
Join the twisted metal tournament, where the winner gets all of their wishes granted.
Short Review
Twisted Metal: Head On really satisfy your appetite for a good vehicular battle game.
Large scale battle arena, tons of vehicle choice, grandeur explosion effect and an excellent boss battle.
What's more fun than destroying your way into Twisted Metal tournament other than doing it with your friend?
There is nothing that can top 6 players, duking it out with a missile-firing vehicle.
Check it out on Amazon »
Are your favorite games on the list?
Determining which PSP simulation game is the best is no doubt a never ending topic, but it's absolutely fun!