We already published the list of best PSP games of all time, now it's time to discover the best PSP racing games of all time.
With amazing titles like the Wipeout series, Need for Speed series, and Midnight Club series, the PSP surely have a great collection of racing games.
If you're a fan of both PSP and racing games, there's a chance you'll like this list.
Most of you will recognize (or even still playing) some of the games mentioned on this list.
Browse Games By Genre
See also: Best PS2 Games & Best PS3 Games
#25. MX vs. ATV Unleashed: On the Edge
Rainbow Studios/THQ, 2006
Racing » Simulation » Automobile
Synopsis
MX vs. ATV Unleashed lets you drive off-road in different vehicles, including ATVs, monster trucks, and sand rails, in an effort to conquer all-new racing challenges.
You can compete in new racing events, minigames, or challenges. Begin a career in single-player mode, or take on your friends in online multiplayer modes.
A new "rhythm racing" mode lets you race through the game's nonlinear environments.
Short Review
At its heart, On the Edge is a dirt racer, with MX bikes and ATV quad-racers tearing around supercross tracks and outdoor courses, full of massive jumps, hairpin corners, and stiff competition from up to three on-track opponents.
Then there are the vehicles—MX bikes, available in four flavors (from 50 cc all the way up to 500 cc), and ATV racers, which are more stable on jumps than the bikes but a bit underpowered by contrast.
From a control standpoint, the game feels very similar to its console cousins.
You accelerate using the X button, brake with the square button, steer with either the analog stick or directional pad, and pull off a variety of points-earning stunts using the triangle or circle buttons.
On the Edge features a maximum of four riders on a track at once, down from six in the console games.
While the artificially intelligent drivers in On the Edge for the PSP seem more aggressive than in the console versions, they don't seem much smarter here.
Game modes in On the Edge include racing, where you can compete in supercross, national, short track, supermoto, hill climbs, and waypoint events; freestyle, for stunt-based gaming that requires you to out-trick everyone else on the track; and free ride, which is a perfect opportunity for you to practice your slickest moves without the encumbrance of opponents or a clock.
Graphically, On the Edge compares very favorably to the PlayStation 2 version of the game, with good-looking bikes and rider models, lively crash animations, and just enough detail in the course backgrounds to keep things lively.
Nothing feels particularly stand out in terms of sounds, but on the other hand, nothing seems particularly out of place, either.
Those who are desperate for off-road action on the PSP will get just that with On the Edge, provided they've got the patience to deal with its flaws.
#24. Ridge Racer 2
Bandai Namco Games, 2006
Racing » Arcade » Automobile
Synopsis
Ridge Racer is back with an adrenaline fuelled racing experience featuring many new courses and vehicles.
Put tour foot down, kick in the nitrous and roar through 21 intense, challenging courses.
Master the drift handling and take corners at exhilarating speeds to leave opponents trailing in your wake.
Short Review
There's nothing new in terms of gameplay in Ridge Racer 2.
It plays almost the same as RR1 down to HUD and the boost system.
Still, it's just as fun to play as the RR1.
It's basically a rehash of the first game with some more content thrown in.
The game does have new sets, rounding each tour out at 16 each, but they've basically squeezed in new ones alongside one's from the first game.
Considering that the main draw of this game is all-new content, the one element that brings this release down is the lack of new content.
Visually, the game is still as fantastic as RR1. Same case can be said for that audio.
Overall Ridge Racer 2 doesn't really feel like a worthy addition, but if you haven't played RR1, it's a great addition to your collection.
#23. F1 2009
Sumo Digital/Codemasters, 2009
Racing » Simulation » Automobile
Synopsis
F1 2009 offers a fully authentic FIA Formula One World Championship experience with all the teams, drivers, cars and tracks from the enthralling 2009 season.
This game will allow fans the opportunity to enjoy the world's most thrilling and glamorous sport on the move.
Short Review
F1 2009 is a fun, accessible take on Formula One racing, but it's arcade style, poor audio, and unrealistic physics mean it's something of a false start for the new series.
It has all the drivers, cars, and tracks of the FIA Formula One World Championship, but the whole experience is closer to go-karting than it is to what is arguably the most demanding motor-racing championship in the world.
And because of that, this game is easy to pick up and play.
There's a Career mode, in which you can race through three seasons' worth of races in this year's cars as a custom-made character, starting out with one of the weaker teams before rising through the ranks to one of this year's top teams.
When you're playing F1 2009 as an arcade racer with a Formula 1 twist, it can be very good fun.
Unfortunately, while F1 2009 has definite sim pretensions the engine at its core just isn't up to that job.
The physics are also not up to scratch.
Your car will bounce off walls and other vehicles with little regard for what would happen in the real world.
If you're looking for an arcade-style racer with a Formula 1 badge, then F1 2009 may fit the bill and is likely to keep you busy for quite some time.
While there is fun to be had in F1 2009, it's a long way from being a faithful reproduction of the pinnacle of motorsport.
#22. Need for Speed Carbon: Own the City
EA Canada/EA Games, 2006
Racing » Simulation » Automobile
Synopsis
What starts in the city is settled in the canyons as Need for Speed Carbon immerses you into the world's most dangerous and adrenaline-filled form of street racing.
You and your crew must race in an all-out war for the city, risking everything to take over your rivals' neighborhoods one block at a time.
As the police turn up the heat, the battle ultimately shifts to Carbon Canyon, where territories and reputations can be lost on every perilous curve.
Short Review
Own the City is ultimately a revenge tale, which starts off with a flashback to the event that triggers your character's vengeance.
Something goes wrong in a race you, and your brother, Mick, participates in, which leaves you in a hospital with nasty amnesia and your brother dead.
So you take to the streets, six months later, to find out who's responsible for your brother's death with your old racing buddy, Carter, and your brother's ex-girlfriend, Sara, by your side.
The story has some good twists and turns that really help to steel your character's resolve.
In its apparent continued effort to expand the Need for Speed geography, EA has set Own the City in an all-new fictional town called Coast City.
Coast City is effectively your playground, and you can tool around as you please.
There's little variety to the types of events. You can expect a number of standard circuit, sprint, and knockout races.
Even if the event types aren't fantastic, the handling on the cars makes up for a lot.
There's a great selection of real-world cars to purchase and customize, including many of the tuner, muscle, and exotic cars found in the console versions of Need for Speed Carbon.
One of the features that really sets Own the City apart from other street racers is its team racing mechanics.
In many of the events that you'll take on, you'll be allowed to take up to two wingmen with you onto the track with each of them will play a specific role.
There's already a ton of accomplished racing games on the PSP, but the core driving in Need for Speed Carbon: Own the City is solid enough.
All in all, Own the City is a very different game from the console versions of Need for Speed Carbon, but it's still an exciting racer in its own right.
#21. ModNation Racers
SCEA San Diego Studios/SCEE, 2010
Racing » Arcade » Other
Synopsis
ModNation Racers is a fresh take on classic kart racing that empowers the player to personalize their entire game.
Express yourself with your own Mod character, racing kart style, and buildings.
The easy-to-use editing studio tools make this creative process accessible to players of all levels.
ModNation Racers also presents a humorous story with a wealth of pre-made characters, karts, tracks and challenges for all players.
Short Review
ModNation Racers aims to combine an established genre with a powerful creative toolset.
It succeeds admirably, with a host of content and customisation tools for karts, tracks, and players, and excellent sharing facilities to easily upload your creations online.
The single-player is fun and rewards repeat play with new items, but the multiplayer mode is where the game thrives, with six-player connectivity both locally and online.
The racing itself should be familiar to karting veterans, as it's based on well-worn genre mechanics.
Each track features shortcuts, jumps, and boost pads, while collectible weapons such as rockets and electricity allow you to attack other racers.
Career mode contains some well-designed and varied tracks that feature insane jumps, devious traps, and time-saving shortcuts.
Once you start unlocking content, though, the game's creation tools allow you to put these bonuses to good use.
You can create your own karts, racers, and tracks, either from scratch or by modifying existing creations.
ModNation Racers is a fun kart racer that brings plenty of its own gameplay ideas to the mix, with a plenty of depth to the racing, and long and varied Career mode.
#20. GripShift
Sidhe Interactive/Sony Platform Publishing, 2005
Racing » Arcade » Automobile
Synopsis
GripShift is a driving game that combines racing, stunts, and puzzles.
You can play single-player on more than 100 maps in both race mode or in one of the eight bonus games.
GripShift also includes wireless multiplayer so you can challenge other racers to head-to-head matches with up to four players.
Short Review
GripShift is not so much a driving game as it is a puzzle game that happens to use cars as its focal point.
It's got far more in common mechanically with something like the PC cult favorite TrackMania than any brand of racer.
Unfortunately, driving in the game isn't much fun with the unwieldy control.
It's too bad, as the concept of a platform-heavy puzzler that features crazy cars sounds like a neat idea.
You can complete any course simply by hitting the finish line before it's over, but you need the objectives to earn credit, and it's pretty much a physical impossibility to complete more than one objective per try on most courses.
So, essentially what you get is a lot of you desperately trying to keep your car on the track at all times.
It will take you a good long time of playing GripShift to get any sort of regular handle on the cars, and even then you'll feel like you're gripping the PSP for dear life as you take every turn and jump.
What makes this problem so exasperating is that Sidhe included a metric ton of content for this package, all of which looks great on paper.
There's also ad hoc multiplayer for up to four players, and a fairly in-depth track editor.
Graphically, GripShift employs a pretty-looking engine.
Everything moves at a solid 30 frames per second, with no slowdown apparent, and the basic track environments have a neat look to them.
For as bad as the driving mechanics in GripShift are, big-time puzzle fans and those who really enjoy the notion of a track editor will at least get something out of the game.
#19. TOCA Race Driver 3 Challenge
Sumo Digital/Codemasters, 2007
Racing » Simulation » Automobile
Synopsis
In the World Challenge players take part in mission-based challenges, carrying from winning short races, following a racing line precisely, performing drifts and powerslides, and many more tests of driver skill and courage.
TOCA Race Driver 3 Challenge features great cars and tracks such as those of the British GT championship, series stalwarts the DTM and Aussie V8 Supercars, Sprint Cars, and open wheel racing all the way from Formula 3 to the BMW Williams Grand Prix Cars, and much more.
Short Review
Codemasters' TOCA Race Driver series has always been about two things: solid, simulation-based driving, and an insane amount of racing variety.
Unlike most other racers out there, TOCA skips the usual methodology of sticking to one main type of racing and overloading the package with a ton of licensed cars.
While this everything-to-everyone approach might seem like it would lead to a profoundly scattershot experience, it doesn't, because TOCA 3 knows exactly how to handle its business.
TOCA 3 has some really excellent damage effects, specifically in regards to what damage does to your car, like when you go crashing into a wall at high speeds.
The actual handling of the cars varies wildly between classes, though one thing remains constant: The faster the car, the more careful you'll need to be.
Above all else, racing in TOCA 3 just feels authentic.
Apart from being able to do all these types of races in a typical free race mode, TOCA 3 actually offers two distinct career modes, the World Your and actual story mode in which you play with Scottish fellow that works as your primary manager, mechanic, and confidant.
TOCA 3 boasts an awesome variety of racing disciplines, and it backs that boast up with some excellent driving mechanics.
#18. Sega Rally Revo
Bugbear/Sega, 2007
Racing » Arcade » Automobile
Synopsis
Sega Rally Revo is a high-tempo driving experience that is every racing fan's driving fantasy.
Vehicle selection affects driving strategy in Sega Rally Revo, as race course surfaces dynamically deform upon repeated contact with vehicle tires and changing weather effects.
Sega Rally Revo features a variety of fully deformable surfaces, from gravel-littered tracks and smooth tarmac roads, to snow-covered mountain passes.
Short Review
The second you get on a track, you'll know that this is pure arcade driving.
Cars are incapable of going off track, with invisible barriers causing vehicles to bounce off everything from trees to minor shrubs.
The opponent drivers in Sega Rally Revo don't have much interest in keeping you from victory.
Sure, they'll try to cut you off when you steer around them, but that's not much of an issue because you can just bowl right into them and send their cars flying.
Sega Rally Revo offers a few different modes of play.
Apart from the standard quick race mode, there is a time trial mode, as well as a championship mode.
There's multiplayer for up to four players, can play wirelessly via both ad hoc and infrastructure.
Graphically, Sega Rally Revo looks pretty solid, though it is a bit on the grainy side.
This version of the game does have the dynamic track deformation that the console versions did, though not to quite the same degree.
Overall, the wonky car physics and controls, as well as a general lack of challenge, prevent Sega Rally Revo from being interesting for very long.
#17. Need for Speed: Most Wanted 5-1-0
EA Canada/Electronic Arts, 2005
Racing » Simulation » Automobile
Synopsis
Try to become the most notorious street racer alive.
Outrun both racers and cops to increase your reputation and move up the street racing blacklist.
You can choose from a variety of vehicle types and destructible urban maps featuring shortcuts, traffic, and patrolling police.
Short Review
Need Speed Most Wanted 5-1-0 feels like a fairly meek street racer that only does a marginal job of bringing the new concepts found in the latest Need for Speed game on consoles to the PSP.
It's not all bad, though, if you were hoping for a step forward from what Rivals offered up, you won't find much of one here.
This game is, at its core, a basic street racer with all the usual toppings, like a variety of unlockable cars, both performance and visual tune-ups, and so on.
There's no storyline to speak of, but there is a blacklist consisting of the top 15 drivers, and you have to beat each and every one to move up in the rankings.
One interesting addition made to both the console and PSP game is the addition of police chases.
Cops will just start appearing on the track once your heat level is high enough. More hindrances appear as your heat level increases.
Need for Speed Most Wanted 5-1-0's graphics are easily its best feature, with a smooth-running racer no matter how much is happening on screen, and all the details, from the cars to the tracks, look about as good as most any racer on the platform.
The audio is less impressive, though not bad by any means.
Need for Speed Most Wanted 5-1-0 has most of what's needed to make a good PSP racing game, but it lacks the biggest one of all: excitement.
#16. Burnout Dominator
Criterion Games/Electronic Arts, 2007
Racing » Arcade » Automobile
Synopsis
Pushing the limits of the PSP, Burnout Dominator features the most explosive visuals seen on the platforms, engaging multiplayer modes to suit.
A PSP exclusive feature that allows you to synchronize your game with your friends and thrash their high scores and race times.
Short Review
Burnout Dominator isn't a proper sequel for the series.
Instead, Burnout Dominator takes bits and pieces of the driving mechanics and features from the past Burnout games and brings them together in a new way.
The key to the Burnout series has always revolved around driving dangerously and you'll earn a boost by doing that.
Once the boost bar is filled, you'll be ready to enter burnout mode, in which you'll be on top speed for quite a while.
The events in Dominator are what you'd expect to see from the Burnout series.
Burnout Dominator is more impressive on the PSP and you'll have a distinct impression that this game was designed for the system.
Overall, it's a great series and a must have for fans of Burnout series.
#15. FlatOut: Head On
Bugbear/Empire Interactive, 2008
Racing » Arcade » Other
Synopsis
FlatOut: Head On lifts destruction racing to a whole new level of bone-breaking slaughter.
FlatOut: Head On captures arcade destruction racing at its best and most extreme with real world physics and unparalleled, metal crunching anarchy.
Short Review
FlatOut: Head On feels like it has a gritty charm, like Burnout on a budget, if you will.
But what FlatOut lacks in refinement, it makes up for with a twisted sense of humour, an assortment of game modes, and some frankly outrageous stunts.
FlatOut: Head On offers a wide variety of race types, all of which have a destructive element.
The stunt mode is where FlatOut: Head On really comes into its own, and it's here that its twisted sense of humour shines through.
The idea behind is to drive down a short stretch of road to build up speed, and then launch your driver through the windscreen of your car, aiming him at some sort of target, causing variety of damage.
The satisfaction of driving in FlatOut is greatly enhanced by the excellent physics engine, and the weight and handling of the cars feel spot-on.
Vehicles crash and crumple in a realistic-looking manner, and as they become increasingly damaged you have to wrestle with the controls in order to keep yourself on the road.
Overall, FlatOut is a fantastic PSP game, offering a mix of racing modes that are great to play in short bursts or long sessions.
#14. Midnight Club 3: DUB Edition
Rockstar San Diego/Rockstar Games, 2005
Racing » Simulation » Automobile
Synopsis
The third installment in the Midnight Club series arrives with more speed and choices than in previous editions.
Midnight Club 3: DUB Edition delivers fast, open-city racing in Atlanta, San Diego, and Detroit, complete with vehicle customization.
Now you can drive authentic SUVs, import tuners, muscle cars, choppers, and luxury rides, and upgrade their rims, trims, and more.
Short Review
Unfortunately, a few serious liberties like bad load times, minimal damage modeling, a few periodic sound bugs, and one unpleasant frame rate had to be taken to make that happen.
Midnight Club 3 offers up huge, open-ended cities for you to race in.
You'll begin in San Diego, but you'll eventually be able to open up the cities of Atlanta and Detroit as well.
Each city is chock-full of back alleys, hidden shortcuts, and special jumps that you'll be hard pressed to discover until you've spent ample time driving around.
Midnight Club 3 is an arcade racer through and through, with the physics geared toward big jumps, taking tight corners at ridiculous speeds, big, exaggerated crashes, and frenetic action.
The controls are generally tight and easy to pick up, though it will probably take you at least a little time to get accustomed to the different car classes.
The cars in have special moves, mostly divided into 3 types, big cars with that ability all traffic around it, others can use an "agro" ability to inflict extra damage to cars you hit, and the speedier vehicles can use an effect that slows down time, letting you simply maneuver around any traffic that gets in your way.
One visual feature that is missing in sense of speed, due to the limitation of PSP and the choppy frame rate.
Thankfully the city environments look nice, and the car models are nicely detailed.
The audio in the PSP version is also less impressive, with more-repetitive sound effects and a few glitches here and there.
While PSP-owning street fans will likely find Midnight Club 3 to be a genuinely enjoyable game, there's no denying that it feels like a missed opportunity, overall.
#13. Gran Turismo: The Real Driving Simulator
Polyphony Digital/SCEA, 2009
Racing » Simulation » Automobile
Synopsis
With authentic cars, courses, and car physics, Gran Turismo: The Real Driving Simulator adds an even more realistic racing simulation to the series.
The characteristics of each car take into account weight, speed, friction, and more to deliver realistic handling.
Test-drive new vehicles in courses located in various sites available in this game.
Short Review
The first handheld iteration of "the real driving simulator" isn't as fully featured as some of its predecessors, and the lack of a structured Career mode is particularly unfortunate.
However, there's certainly no shortage of quality content with over 800 realistically handling cars of all kinds to put through their paces on 35 impressively varied tracks, and an engaging Challenge mode.
In the absence of a Career mode, much of your time with Gran Turismo is spent setting up and competing in your own one-off events.
Much like the license tests in older Gran Turismo games, challenges include everything from driving around a single corner to overtaking multiple opponents while navigating a treacherous series of "S" bends.
Improving your driving skills and earning prize money along the way are pretty good incentives for playing through the Challenge mode.
Every car in Gran Turismo is eligible either for sharing or for trade, and the former option lets you give cars to your friends without losing them from your own collection.
Not all cars can be shared in this way, and those that can't, can only be traded on a one-for-one basis.
Gran Turismo's presentation is uniformly slick. Car models look sharp and nicely detailed with impressive tracks and surroundings.
While it lacks a number of the features that the series was built on, Gran Turismo still has a lot to offer anyone who's ever had a poster of a car up on his wall or dreamed of taking a supercar for a test drive.
#12. Need for Speed Underground Rivals
Team Fusion/EA Games, 2005
Racing » Simulation » Automobile
Synopsis
Compete and earn respect in the Need for Speed Underground Rivals.
Like previous installments in the Need for Speed Underground series, Rivals lets you customize and challenge both Japanese and American tuner cars in pursuit of total domination of the street racing scene.
This time, you can race on new tracks designed specifically for the PSP console.
Short Review
Just like it's predecessor, Need for Speed Underground Rivals has done a good job of capturing the thrill of late-night illegal street races while including all of the parts and customization.
NFSU Rivals offers various race types. From the standard circuit race to the wild knockout races, where the last-place driver is eliminated after each lap until only one winner remains.
Drag racing returns here in all its camera-shaking and blur-effected glory, and it, along with nitrous run, is definitely one of the high points of the game.
You'll earn upgrade points and unlock visual add-ons for the cars in your garage as you play through those races.
Steering in NFSU Rivals can be done with the d-pad, but you're going to have better results with the analog control.
While the car models themselves look a little flat, the environments in NFSU Rivals are excellent.
The buildings are detailed, the streets look appropriately slick, and overall, the game looks great.
Sounds like squealing tires and throaty exhausts are key to good racing game sound, and Rivals does a good job with it.
Fans of the NFS Underground series will feel right at home with Rivals.
#11. ATV Offroad Fury Pro
Climax Studios/SCEA, 2006
Racing » Simulation » Automobile
Synopsis
Speed through more than 30 visually stunning environments with six distinct terrain types including snow, dirt, mud, ice, water, and grass.
Featuring five new events, new vehicles and mini-games, and cross compatibility with ATV Offroad Fury 4 on the PlayStation 2.
ATV Offroad Fury Pro will provide players the opportunity to tackle the trickiest off-road courses anytime, anywhere.
Short Review
ATV Offroad Fury Pro dramatically ups the ante in terms of content compared to its predecessor.
Simply put, there is an awful lot to do in ATV Offroad Fury Pro and much of it is a rollicking handheld good time.
As is the case with other off-road racing games of late, you're not simply tied to MX bikes and ATVs, but also be turning laps in dune buggies and sturdy Trophy Trucks.
While the driving model in Offroad Fury Pro certainly isn't bad, it just isn't sophisticated enough to convey drastic differences between vehicles in the same class.
If you can get past the straightforward nature of the driving, you'll find a game that is absolutely loaded with different race types.
Events include the standard supercross, rallycross, national, freestyle, and circuit events, as well as more unusual events such as the endurocross, rally, and snowcross races.
As usual, races earn you credits, with it you can upgrade your vehicle with new parts for practically every aspect of your ride.
If the massive single-player championship mode isn't enough for you, there's always multiplayer racing to keep you occupied, both via infrastructure and ad hoc.
Overall, this game provides so much value that you'll be hard-pressed to find more bang for your buck than this packed PSP off-road racing game.
#10. TOCA Race Driver 2: The Ultimate Racing Simulator
Sumo Digital/Codemasters, 2005
Racing » Simulation » Automobile
Synopsis
No more switching games to experience different types of racing.
TOCA Race Driver 2 features 15 different motor racing styles, including Street Racing, RallyCross, and Super Trucks.
The game's 31 licensed and fictional global race locations offer a whopping 48 tracks.
Short Review
One big advantage TOCA 2 has over the competition is a garage full of real-world racing cars.
The developer spent months driving these cars on race tracks around the world to make sure the virtual representations are accurate, and they succeeded.
Don't worry too though, the learning curve in TOCA Race Driver 2 is gentle, so much so you'll think the computer drivers aren't really trying at first.
Career mode is TOCA's most distinctive feature, it's actually a racing game with a fictional storyline.
You play a struggling and cash-strapped whippersnapper together with gruff Scottish managers who need to negotiate the world of professional racing by winning.
That on-track action combined with the wide range of authentic cars proves TOCA 2's key appeal.
This game has few annoying quirks though, for one, it seems to rely on a finer level of throttle and brake control than the PSP can provide with only its thumbstick and buttons.
Overall, you'll come to love TOCA Race Driver 2 as much as your first race-spec if you're a hardcore racing game fan.
Check it out on Amazon »
#9. Midnight Club: LA Remix
Rockstar London/Rockstar Games, 2008
Racing » Arcade » Automobile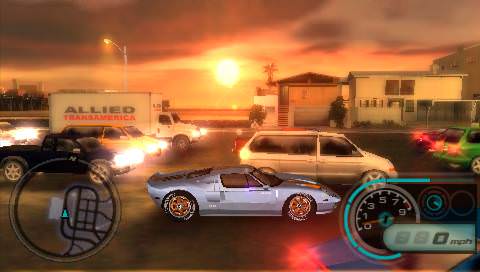 Synopsis
Midnight Club: L.A. Remix has been optimized for portable gameplay with faster races and reduced load times.
Customize your ride with body kits, paint styles, rims and vinyls that let you put your inimitable style on display and intimidate the competition.
Realistic damage modeling shows the effects of crashes and smashes.
Take control and rule the streets in this portable racing powerhouse.
Short Review
Midnight Club: LA Remix is a surprisingly dense PSP game, packed to the brim with hours of intensely fast racing as well as addictive aesthetic and performance upgrades.
Midnight Club: LA Remix has a surprisingly punishing career mode, even though it's still fun.
Vehicular customization is a rewarding process and where Midnight Club shines.
The game provides a quite detailed visual customization.
There's also performance customization, though it is not quite as deep as visual.
The last PSP version of Midnight Club, Dub Edition, was plagued with frame rate problems, insanely long load times, and hammy acting during its crummy story bits.
The only issue that remains in its newly released sequel, LA Remix, is the duration of the loading screens.
Almost as much an RPG as it is a racer, Midnight Club: LA Remix would be a great addition to any patient car nut's portable library.
Check it out on Amazon »
#8. Test Drive Unlimited
Melbourne House/Atari SA, 2007
Racing » Simulation » Automobile
Synopsis
An ultimate automotive experience for car and bike enthusiasts alike.
Visit the most sophisticated car and bike dealers to purchase new vehicles or simply take them for a spin.
Collect and trade rare performance parts and customize each vehicle to make it one-of-a-kind.
Test Drive Unlimited challenges players online to experience the most exotic and fastest vehicles on more than 1000 miles of diverse Hawaiian roads.
Short Review
As the game starts, you're whisked away to fabulous Hawaii to buy a car and a house, and do a lot of random racing. That's about all there is to the premise.
The way the game introduces itself and the open-ended nature of the game world give you the impression that there might be some kind of plot to tie everything you do together.
The objectives themselves don't extend beyond races, time trials, and speed challenges, but there are enough of them to keep you going as you explore the massive island of Oahu.
It's just too bad there's not more variety to what you end up doing.
Races are fairly typical street races, with up to seven opponent drivers and a number of checkpoints scattered throughout a course.
Those races earn you credits. With credits, you can buy any of the game's numerous cars, houses, or upgrades.
The cars in the game are modeled pretty nicely, looking like pristine renditions of their real-life counterparts.
There's no damage modeling to any of the licensed vehicles, nor can you damage any of the random AI traffic.
The in-game audio is reasonably enjoyable though not nearly as in-depth as many other racers.
This PSP version of Test Drive Unlimited cramps in just about every online feature found in the PS2 version, and it does so without mucking up the experience.
Check it out on Amazon »
#7. Race Driver 2006
Sumo Digital/Codemasters, 2006
Racing » Simulation » Automobile
Synopsis
A massively expanded edition of the European PSP system title TOCA Race Driver 2 comes complete with real performance cars, real damage, real physics, and intense pack racing with up to 21 cars on-screen competing for position.
Through a variety of event-based challenges, including Time Trials and Skill Tests rather than a series of straight races, players must drive hard to become the World's No. 1 ranked racer.
Short Review
Race Driver 2006, despite its largely recycled career mode, feels like a mostly new game, thanks to the addition of an all-new single-player mode, some new cars and tracks.
Apart from all of the car and track content from TOCA Race Driver 2, Race Driver 2006 includes 10 new tracks and 16 new cars.
Each of the cars handles quite differently. Big, hulking machines are slow and tough to control.
Conversely, open-wheel cars are quick and easy to control.
TOCA Race Driver 2's full career mode is back in Race Driver 2006 and appears basically untouched.
On top of the career mode, you'll also be able to engage in a brand-new single-player mode called the Trans-World Cup, which basically is a series of race-based challenges.
Race Driver 2006 is definitely looking pretty attractive, with car models having extremely realistic-looking, plenty of model details, and nice damage effects.
The audio is basically the same as it was in the console versions, with great-sounding race effects and voice acting.
Race Driver 2006 may be a port of a nearly two-year-old game, but the wealth of new content makes this version every bit as necessary as its predecessor.
Check it out on Amazon »
#6. MotorStorm Arctic Edge
Bigbig Studios/SCEA, 2009
Racing » Simulation » Automobile
Synopsis
The most brutal off-road racing festival returns, with players taking part in the latest off-beat and secret site to join the wild and alternative MotorStorm festival.
This time, the location is set in Alaskan terrain, where players will race through multi-route tracks, harsh terrain, and sub-zero conditions to try and become festival champ.
Short Review
Arctic Edge may be portable, but it otherwise encapsulates all the pros and cons of this series' fast-paced off-road racing.
Each course is meticulously crafted, offering an ideal path to the finish line no matter which of its vehicles you prefer.
As usual, the franchise weakness are also in play, such as super sensitive physics that make things feel a bit too out of control.
Yet, MotorStorm Arctic Edge mostly overcomes its flaws by letting you take to the unique courses and get rowdy.
Racing in Arctic Edge, like in its console brethren, is all about flexibility, with each of the 12 courses including multiple routes, each suited to a particular class of vehicle.
Aside from its online issues, this is what you'd expect from a MotorStorm game in portable form.
The multifaceted courses and vehicle variety provide plenty of reasons to keep returning, even after you've completed the Festival.
All in all, MotorStorm Arctic Edge provides plenty of boisterous fun, in spite of a few irregularities.
Check it out on Amazon »
#5. OutRun 2006: Coast 2 Coast
Sumo Digital/Sega, 2006
Racing » Arcade » Automobile
Synopsis
Power your way across 15 new American themed environments from the "OutRun2 SP" arcade experience.
Race from coast to glorious coast with a fresh new mission structure, a license mode and online play, with up to 6 players for a thrilling head-to-head journey.
Short Review
This game doesn't stray very far at all from the formula established by OutRun2, offering gameplay that largely feels the same as the previous game, but with a good deal more content to explore and unlock.
OutRun games have always relied on the classic design principle of simple to learn, but hard to master and Coast 2 Coast is no different.
The control is simple, you've got the accelerator and the brakes, and you steer your car with the left analog stick.
If that's too simple, you can drive with a manual transmission.
New to this game is a "slipstream" feature that lets you draft behind cars, which in theory increases your speed without using more power.
Various different modes available in Coast 2 Coast's single-player game with classic mode, heart attack mode, time attack mode, so on.
As you complete races, you'll earn points, or OutRun miles, which you can use in the game's showroom to unlock tons of content.
Visually, not much has changed since OutRun2 as far as the visuals go, but the environments and the cars still look great, with a good amount of detail and shine on the car bodies, as well as some nice smoke coming off the tires as you drift around corners.
OutRun 2006 Coast 2 Coast offers a fun, accessible experience to racing fans who just want to jam on the accelerator and go.
Check it out on Amazon »
#4. Wipeout Pulse
Studio Liverpool/SCEA, 2008
Racing » Arcade » Futuristic
Synopsis
This entry in the racing series features 24 new reversible circuits, a load of fresh high-speed vehicles and some deadly new weaponries.
There's also a new track feature called the Mag-Strip, which acts like a magnet and temporarily locks ships to the levels, enabling exciting things like loops and vertical drops.
Short Review
Wipeout Pulse is the follow-up to Wipeout Pure, which arrived in 2005.
Although the gameplay remains mostly unchanged, and reflects a similar racing style as Pure and Wipeout 2097 (Wipeout XL in the US), the wealth of content makes this a must-buy for fans of the series.
The main focus for the single-player game is the race campaign, which has 16 grids to complete, each with 8-16 individual challenges.
You progress by winning medals that open up new tracks, racing classes, and challenges, and you'll eventually unlock new race types in the form of speed lap, head-to-head, and eliminator.
There are 12 new tracks, and the addition of magnetic strips has led to more lavish track design, including loops and sheer drops.
The soundtrack boasts the usual mix of electronic dance from established artists such as Aphex Twin and Mason, all licensed and of a high quality.
Overall Wipeout Pulse offers a deep and rewarding career mode while pushing the technical capabilities of the PSP.
Check it out on Amazon »
#3. Burnout Legends
Criterion Games/EA Games, 2005
Racing » Arcade » Automobile
Synopsis
The Burnout series goes portable with Burnout Legends for the PSP.
Play through redesigned tracks from the earlier Burnout games in nine different game modes, including Crash mode and Pursuit mode.
Burnout Legends also contains new unlockable cars and content.
Short Review
Burnout Legends is like something of a greatest hits collection, combining gameplay elements with cars and tracks from the first three console Burnout games to form a package that feels pretty original and unique.
Legends also makes use of the PSP technology, providing impressive audiovisual experience and fast, frantic racing.
Burnout is all about the act of breaking cars in the most spectacular ways possible and this game really gets that aspect right.
Racing in Burnout is a high-speed, crash-filled affair. Your main controls are gas, brake, and boost.
Not to mention that the game gives you ways to control your wreck so you can ultimately cause even greater carnage.
That whole crashing is more prevalent than in the game's Crash mode, where the whole point is simply to cause the most havoc possible by steering your car into a carefully crafted traffic scenario.
You start the game with only one car class unlocked as well as just a couple of map locations available.
As you race through assorted events, you'll eventually unlock more races, and then GP events, which will unlock more car classes.
Burnout Legends is the best racer the PSP has to offer, and any PSP owner should definitely check it out.
Check it out on Amazon »
#2. Wipeout Pure
Studio Liverpool/SCEA, 2005
Racing » Arcade » Futuristic
Synopsis
Pure Speed. Pure Intensity. Pure Wipeout.
The year js 2197, only two things matter right now, victory and survival.
Pilot the most advanced race craft ever built and battle for complete domination of the FX300 Racing League.
Control one of 8 different Anti-Gravity race craft loaded with state-of-the-art weaponry and race through 12 new tracks as well as 4 classic Wipeout runs!
Short Review
Wipeout Pure is a distillation of all the Wipeouts that precede it, highlighting the traits that earned the series its fan base and straining out the impurities that have crept in over the years.
Wipeout Pure is a futuristic racing game.
You pilot unreasonably fast hovercrafts on narrow racetracks and using your wits as well as the strategically placed weapon pickups and turbo boost pads to outrun your opponents.
On paper, Wipeout Pure doesn't really sound like anything special, but it comes together beautifully in the execution, especially with regards to the presentation.
Easily one of the best launch PSP games.
The sound, most of which is brand new in Pure, is still able to evoke the Wipeout feel.
Easily one of the best PSP launch titles.
The high-speed gameplay that has always characterized the Wipeout series is still incredibly engaging and fun for the fans.
Check it out on Amazon »
#1. Ridge Racer
Namco, 2005
Racing » Arcade » Automobile
Synopsis
Ridge Racer is a drift racing gameplay, slick graphics, and a blazing soundtrack.
Featuring nitrous boosting and new modes, Ridge Racer delivers advanced 3D graphics, smooth analog steering, and the largest number of courses in the series.
Beat the clock in Time Attack Mode or test your racing skills with up to 8 players in Wi-Fi compatible Wireless Battle Mode.
Master the art of drifting and smoke the opposition anytime, anywhere, and in style.
Short Review
While the gameplay in Ridge Racer is certainly no slouch, the real treat to Ridge Racer on the PSP is how it looks.
Or, to be more specific, how the car moves.
This game is the smoothest-running PSP game on the block at launch.
The frame rate never stops to skip a beat, and all this ties in to give the game a great sense of speed.
On top of that, the environments all look fantastic.
The roads are sharp, and you'll get different lighting reflections on the road surface from sunsets and stuff like that. The only thing missing is antialiasing.
The control in the game is tight with either the analog disc or the D pad.
Due to the sort of digital nature of Ridge Racer, you can get by just fine with the D pad.
Beyond that, you've got your gas, brake, and nitro buttons.
This game has few modes, all of which are standard of the genre.
Ridge Racer has a fantastic soundtrack that fits right in with the previous entries in the series.
You're able to select it from handful of different playlists.
All in all, Ridge Racer does a fine job providing the same smooth gameplay that still holds up after all these years.
Check it out on Amazon »
Are your favorite games on the list?
Determining which PSP racing game is the best is no doubt a never ending topic, but it's absolutely fun!