The PlayStation 2 (popularly called PS2) is the best-selling console in the history of video games.
With over 150 million units sold, PS2 is surely a magnificent device for gaming.
For those of you who have played this console in the past, I bet you want to know the best PS2 games of all time.
And some of you may already know some of the games mentioned in this list.
#25. Madden NFL 2004
Release Data: EA Tiburon/EA Sports, 2003
Genre: Sports » Team » Football » Sim
This Madden game is most well-known for the additions made to the Franchise mode.
Players take on the role of a team owner, charged with hiring and firing coaches, setting merchandise prices, and much more.
A new training camp mode will help beginners get brushed up on the basics before diving into a full season of regulation football.
#24. Prince of Persia: The Sands of Time
Release Data: Ubisoft, 2003
Genre: Action Adventure » Linear
This exciting action title provides players with tricky platforming, intense combat, and interesting time-manipulation mechanics.
Using the magical dagger, players can rewind, slow down, and even pause time completely.
The fluid gameplay and fun time mechanics make this an unforgettable experience that every PlayStation 2 owner should enjoy.
#23. Guitar Hero
Release Data: Harmonix Music Systems/RedOctane, 2005
Genre: Action » Rhythm » Music
This rhythm game opened the floodgates for plastic instruments, starting a trend in rhythm gaming that is still prevalent today.
The songs range from modern metal hits to rock 'n roll classics, covering a wide variety of genres.
Both single-player and multiplayer modes are available, as well as multiple difficulties to test your skills.
#22. Guitar Hero II
Release Data: Harmonix Music Systems/RedOctane, 2006
Genre: Action » Rhythm » Music
Just like in the original Guitar Hero, players will utilize their sleek plastic guitar peripherals to jam along with a variety of popular rock songs.
There are over 40 different tracks included in the game, spanning both modern and classic hits.
New multiplayer modes include cooperative play, which includes rhythm and bass guitar sections!
#21. SSX 3
Release Data: EA Canada/EA Sports Big, 2003
Genre: Sports » Individual » Ski / Snowboard
Like previous SSX games, SSX 3 is all about pulling off ridiculously dangerous tricks at intense speeds, all while carving up snow and beating the competition.
Free-ride mode allows you to snowboard across the mountain unrestricted, enjoying the open-world aspect of the game.
Big tricks and huge jumps await you in this excellent extreme-sports title.
#20. Shin Megami Tensei: Persona 4
Release Data: Atlus, 2008
Genre: Role-Playing » Japanese-Style
Playing as the unnamed protagonist, players spend each day plotting out their activities.
Players can attend classes at school, participate in sports, and spend time strengthening their relationships.
When you're ready for action, players can head into "TV World", where you'll battle against supernatural monsters and level up each character's Persona.
#19. Madden NFL 2002
Release Data: EA Sports/Electronic Arts Victor, 2001
Genre: Sports » Team » Football » Sim
This entry in the Madden NFL series is packed with options, making it easy for newcomers to learn the ropes.
Players can jump into Exhibition games, play up to 30 seasons in Season mode, and dive deep in the expansive Franchise Mode.
Plainly put, this Madden game has everything a football fan could want.
#18. SSX
Release Data: EA Sports Big/Electronic Arts, 2000
Genre: Sports » Individual » Ski / Snowboard
This snowboarding title introduced the world to the SSX franchise with its signature arcade-style and wacky attitude.
Races are held on exciting courses designed for big tricks, containing huge ramps, lengthy rails for grinding, and more.
In addition to the competitive races, players can explore each course in Free-ride mode, finding the best trick lines available.
#17. SSX Tricky
Release Data: EA Canada/EA Sports Big, 2001
Genre: Sports » Individual » Ski / Snowboard
The tricks keep getting bigger in SSX Tricky, with the addition of "Uber Tricks".
During races, players can build up their boost meter and pull off insane stunts, gaining huge amounts of points.
There are both new tracks and remixed tracks from the original game, blending together familiar and fresh content.
#16. Tony Hawk's Pro Skater 4
Release Data: Neversoft Entertainment/Activision, 2002
Genre: Sports » Individual » Skate / Skateboard
The new Career mode removes the timer element found in previous Pro Skater games, offering a more open and relaxed gameplay experience.
Secret characters like Jango Fett from Star Wars can be unlocked, each with their own unique special trick.
Also, there are tons of gaps to jump and objectives to complete in this skater's dream-come-true.
#15. Devil May Cry
Release Data: Capcom, 2001
Genre: Action Adventure » Linear
Controlling Dante, players will fight their way through several missions, containing puzzles and enemy encounters.
Your performance is graded at the end of each mission, so you'll want to be stylish and varied in your attacks.
This game cleverly mixes horror and action to create a unique and intense experience.
#14. Okami
Release Data: Clover Studio/Capcom, 2006
Genre: Action Adventure » General
Like The Legend of Zelda: Ocarina of Time, this adventure game has you exploring a beautiful fantasy world, finding new gear, and delving into puzzle-filled dungeons.
The game also focuses on a unique paint-brush mechanic, where players trace various shapes and symbols.
This beautiful game is full of exciting levels and wonderful characters, and is an absolute PlayStation 2 classic!
#13. God of War II
Release Data: SCE Santa Monica/SCEA, 2007
Genre: Action Adventure » Linear
Like the original God of War game, this sequel is packed with bloody combat, interesting puzzles, and awesome levels.
The lengthy adventure takes you to various lands of Greek mythology, including Mount Olympus.
You'll need all the power you can muster to take down huge and intimidating bosses, which are some of the best that the PlayStation 2 has to offer!
#12. World Soccer Winning Eleven 7 International
Release Data: KCET/Konami, 2004
Genre: Sports » Team » Soccer » Sim
Once again, this soccer franchise impresses fans with challenging enemy AI, rich features, and cool unlockable content.
There are over 60 clubs to play as, including a selection of fully licensed Italian teams.
The gameplay is realistic and tough, offering a decent challenge for soccer fans and newcomers alike.
#11. Metal Gear Solid 3: Subsistence
Release Data: Aspect/Konami, 2006
Genre: Casual » Compilation
This two-disc package has tons of Metal Gear content, including the full Metal Gear Solid 3: Snake Eater story.
Players can also enjoy the original Metal Gear games, packed together with the exclusive online mode.
With all the extra features and added multiplayer support, this is the definitive Metal Gear Solid 3 version.
#10. NCAA Football 2004
Release Data: EA Sports, 2003
Genre: Sports » Team » Football » Sim
This entry in the NCAA Football franchise makes some key improvements in gameplay and brings a handful of new modes.
This includes the College Classics mode, which allows players to relive historical college football match-ups.
Improved opponent AI and smoother animations provide a more realistic are just a few of the tweaks that have been made in this iteration.
#9. Burnout 3: Takedown
Release Data: Criterion Games/Electronic Arts, 2004
Genre: Racing » Arcade » Automobile
Like other Burnout titles, this entry contains a lengthy single-player career in the form of World Tour mode.
The most notable addition is "Takedowns", which now enable you to cause opposing cars to crash and burn with aggressive action.
This hectic arcade-racer is full of explosive action, and one of the finest racing games on the PlayStation 2.
#8. Tony Hawk's Pro Skater 3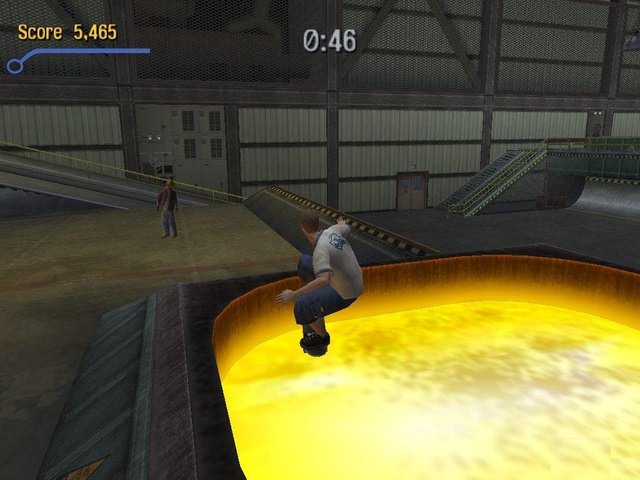 Release Data: Neversoft Entertainment/Activision, 2001
Genre: Sports » Individual » Skate / Skateboard
This addictive skateboarding presents players with intricate levels and a series of objectives to complete.
Levels are crafted for long trick lines, and the new "revert" mechanic allows you to keep those combos going for longer.
Players will love the endlessly replayable and competitive nature of the gameplay, which encourages you to continue shooting for the highest score possible.
#7. God of War
Release Data: SCE Santa Monica/SCEA, 2005
Genre: Action Adventure » Linear
Often regarded as one of the best action-adventure games of all-time, God of War effortlessly blends bloody combat and puzzle elements into an immersive experience.
The story of Kratos is compelling and adult, one filled with mature themes and bloodshed.
And most levels are punctuated by exciting boss fights, many taken directly from Greek mythology.
#6. Grand Theft Auto: Vice City
Release Data: Rockstar North/Rockstar Games, 2002
Genre: Action Adventure » Open-World
This amazing open-world game invites players to step into the shoes of Tommy Vercetti, a violent and notorious gangster.
Players can undertake a series of missions, where they must steal cars, deliver drugs, and eliminate enemy gangs.
This playground of action provides an unforgettable mobster story, along with an interesting and evocative environment to explore.
#5. Gran Turismo 3: A-Spec
Release Data: Polyphony Digital/SCEE, 2001
Genre: Racing » Simulation » Automobile
This game provides incredibly realistic graphics and a ton of gameplay for car-enthusiasts to enjoy.
The extensive Simulation mode contains a wide variety of challenges to complete, ranging from simple joy-rides to lengthy endurance races.
Although it might take a bit of practice to learn the controls, Gran Turismo 3 offers unprecedented realism and one of the best racing experiences around.
#4. Grand Theft Auto: San Andreas
Release Data: Rockstar North/Rockstar Games, 2004
Genre: Action Adventure » Open-World
San Andreas offers the largest explorable map in the Grand Theft Auto PlayStation 2 series, with multiple cities and countrysides to explore.
In addition to completing missions and progressing the story, players must keep an eye on CJ's core attributes.
Like other Grand Theft Auto titles, players can explore the map at their leisure, enjoying missions in a non-linear fashion.
#3. Metal Gear Solid 2: Sons of Liberty
Release Data: KCEJ/Konami, 2001
Genre: Action Adventure » General
This sequel to the PlayStation classic Metal Gear Solid, players control Raiden, a special agent in the group known as FOXHOUND.
In order to complete their mission, players must explore the industrial facility, sneaking through vents and avoiding enemy detection.
The extravagant and complex story is full of intrigue and espionage, guaranteed to both confuse and excite you.
#2. Grand Theft Auto III
Release Data: DMA Design/Capcom, 2001
Genre: Action Adventure » Open-World
The Grand Theft Auto franchise made the jump to 3D in this incredibly influential and controversial action-adventure game.
It essentially paved the way for many modern open-world games, with the introduction of non-linear game design.
Widely regarded as one of the most violent games of its generation, Grand Theft Auto III defined storytelling for many generations to come.
#1. Resident Evil 4
Release Data: Capcom, 2005
Genre: Action Adventure » Survival
This influential horror game gave birth the common "over the shoulder" camera angle seen in many modern games.
As Leon, players must navigate creepy and deadly environments, where crazed cultists and violent villagers await around every turn.
This is a game that's quality through and through, and worth playing for hours and hours upon end.
---
Browse PS2 Games By Genre
See also: Best PS1 Games & Best PSP Games
Are your favorite games on the list?
Deciding which PS2 game is the best is no doubt a never ending topic, but it's fun to do!