We already published the list of best PSP games of all time, now it's time to discover the best PSP action games of all time.
With amazing titles like the Tekken series, LocoRoco series, and Patapon series, the PSP surely have a great collection of action games.
If you're a fan of both PSP and action games, I know that you want to know the best PSP action games of all time.
Most of you will recognize (or even still playing) some of the games mentioned on this list.
Browse Games By Genre
See also: Best PS2 Games & Best PS3 Games
#25. Street Fighter Alpha 3 MAX
Capcom, 2006
Action » Fighting » 2D
Synopsis
Before they were the World Warriors, they were kids beating each other up on the streets.
Street Fighter Alpha 3 continues the prequel story established by the first game and integrates more of the Capcom gaming universe into the roster of available brawlers.
See the origins of M. Bison as well as the rest of the cast of the legendary Street Fighter II arcade game.
Short Review
The Alpha series of Street Fighter games is as gorgeous as it is deep and engaging.
This is no different with Alpha 3 MAX which is perhaps the purest distillation of old-school Street Fighter gaming out there.
A touchstone for people who miss the way Capcom used to make arcade fighters, this title stands up to the best on offer now as well.
#24. A Space Shooter for 2 Bucks!
Frima Studio, 2010
Action » General
Synopsis
The edge of space beckons as you pilot your trusty spaceship along with your trusty AI Edgar and take on the endless alien hordes together in a fight to the finish.
Short Review
Part bullet hell, part classic arcade shooter like Galaxian, A Space Shooter for 2 Bucks! has a tongue-in-cheek title but its a rock-solid gameplay effort.
If you enjoy older arcade shooters from the day or 16-bit shoot 'em ups and bullet-hell titles, then you can't go wrong with this title.
Also it has a pumping techno soundtrack that overlays everything and makes the action that much more intense.
#23. Dissidia: Final Fantasy
Square Enix, 2009
Action » Fighting » 3D
Synopsis
Chaos and Cosmos line their fighters up to battle for the fate of the galaxy in this fighting game that draws upon the Final Fantasy universe and its eclectic cast of heroes and villains as well as its iconic RPG fighting mechanics.
Short Review
If points are awarded for being unique, Dissidia wins on this list hands down.
Take all of your favorite Final Fantasy characters and put them into game and that's this in a nutshell.
The combat is realized in amazing 3D glory and the move anywhere feel mimics Dragon Ball and other magic-based fighters out there.
It's initially somewhat complicated to understand but, once you get it, you won't want to put it down.
#22. The Warriors
Rockstar Leeds/Take-Two Interactive, 2007
Action » Beat-'Em-Up » 3D
Synopsis
The 1979 film brought to life, The Warriors is about a street gang and the drama of maintaining their turf in 1970s New York City.
Short Review
Absolutely solid and shockingly one of those games that Blizzard rarely talks about but should absolutely relaunch at their nearest convenience.
The Warriors really pays homage to the classic movie which is somewhat unknown to popular audiences.
Even so, Rockstar went so far as to get the original cast to reprise their roles in the voice acting and the devs modeled the games graphics and atmosphere after the 70s film.
Since it is about street gangs the basic gameplay revolves around beat 'em up mechanics.
But it manages to keep itself fresh throughout by balancing dramatic needs and player engagement. We can't recommend this game enough.
#21. BlazBlue: Calamity Trigger Portable
Arc System Works, 2010
Action » Fighting » 2D
Synopsis
Six heroes used magic to save the world from the "Black Beast" but they couldn't save the world from humanity itself.
Now one person named Ragna seeks to take over everything with an artifact known as the Azure Grimoire.
Now warriors from around the world gather to retrieve it.
Short Review
Aside from its astonishingly beautiful graphics, BlazBlue is like a fighting game with a RPG storyline that not only takes itself seriously but is an exceptionally deep game.
The fighting system takes some getting used to but it is unique enough to justify this learning curve.
And it's also a lot of fun.
#20. SOCOM: U.S. Navy SEALs Fireteam Bravo
Zipper Interactive/SCEA, 2005
Action » Shooter » Third-Person » Tactical
Synopsis
Sandman and Lonestar are tasked with 14 missions in locales around the globe as they seek to stop enemy combatants and terrorism in their tracks.
Short Review
Many people were skeptical of SCEA's attempt to bring its legendary SOCOM console series to the portable format but Fireteam Bravo proved those doubters wrong.
Incredibly engaging and tactical, Fireteam Bravo is also a little bit more user friendly than the console game due to the aiming system.
Because of the PSP's lack of two analog sticks, the player has to lock on with the R-button which, as anyone will tell you, is way easier.
#19. Mega Man Maverick Hunter X
Capcom, 2006
Action » Platformer » 2D
Synopsis
Mega Man is brought back as X in this reimagining of the SNES classic game that pits our favorite blue bomber against the likes of Sigma and his Mavericks.
Short Review
A remake of a legendary game is typically a winning formula and that is the case here.
Redone in an interesting 3D graphical style, Maverick Hunter X is a great introduction the Mega Man X series and doesn't lose a lot of the tight gameplay and quick action that made that game so addictive even though it is on a portable system.
#18. Gitaroo Man Lives!
Koei/Inis/Koei, 2006
Action » Rhythm » Music
Synopsis
U-1 has a tough life.
He's picked on by the bully Kazuya and the girl that he likes, Pico, doesn't even know he exists really.
One day he meets a talking dog named Puma who gives him a gift: The Gitaroo.
Using this item, U-1 becomes the powerful Gitaroo Man, a person capable of achieving what shy and awkward U-1 cannot.
Short Review
Combining a rhythm battle and fighting game, Gitaroo Man is another supremely unique title that will carve out a place in your heart if you give it a chance.
The aesthetic and story are a bit tough at first but, once you get it, you've got it.
A really fun game, Gitaroo Man combines a uniquely weird manga-style story with an intuitive fusion of game genres.
#17. Crush
Zoe Mode/Sega, 2007
Action » Platformer » 3D
Synopsis
As Danny Roman, you're not sure what's going on anymore.
You see, you're sort of losing it.
Thankfully, Dr. Rubens has developed a device he calls CRUSH that can help you regain your sanity.
But to do so, you will have to face a variety of challenges and some of Danny's greatest fears.
Short Review
Wow what a weird game. It's also a wickedly delightful game but, wow, is it weird.
There are ten levels that take place across four different sections of the grim city that is Danny's past (in his mind).
A puzzler at its heart with action elements overlaid on top, you have to adjust between 2D and 3D views to figure out how to progress in the game.
Everything is tied in some way to the central story's concept, which makes it neat, and the game's aesthetic is anything if not unique.
#16. Tekken 6
Namco Bandai Games, 2009
Action » Fighting » 3D
Synopsis
The King of Iron Fist Tournament was thought to be concluded forever when Jin Kazama defeated his grandfather Jinpachi Mishima.
But when Jin takes Mishima Zaibatsu national and declares nothing short of war on the world, his father Kazuya rises to challenge him.
Now there's a new tournament being called and the Mishima clan will, once again, face off in the ring.
Short Review
Tekken 6 takes its lore very seriously which is hilarious since it is some of the most bonkers stuff out there.
But it's all in good fun. After all, no one plays a fighting game for the lore – right?
Tekken 6 is easily one of the best fighters on a handheld ever.
It feels exactly like a console release and that's on purpose.
If you find yourself with a hankering for some hardcore Tekken portable action, this title fits the bill.
#15. Space Invaders Extreme
Taito Corporation, 2008
Action » Shooter » Shoot-'Em-Up » Vertical
Synopsis
Does Space Invaders need any introduction?
The aliens are back and only you stand between the planet and their invading forces.
Short Review
A remaster and reimagining of the original arcade title, Space Invaders Extreme brings updated graphics and pumping sound to the table but it also does some novel things with gameplay modes and options.
Who is this for? Apparently, Taito was aiming at new gamers as well as old fans.
They've done a good job balancing that out and, as a game that rewards mastery and playing it over and over again, it almost checks all of the boxes for perfect portable gaming title.
#14. Resistance: Retribution
Sony Bend/SCEE, 2009
Action » Shooter » Third-Person » Arcade
Synopsis
The chimera have spread out across Europe and the prospects for humanity's survival in this new reality look slim.
That is, until a human, chimera hybrid changes everyone's perception of the unstoppable enemy menace.
Short Review
Sony Bend knew how to do it when it came to action, story, and atmosphere.
Resistance is pretty much your standard far FPS in many ways but the way it brings everything to life sets it apart from other games.
Even if you don't enjoy the story and its well-worn tropes, you will be drawn in by gameplay and mechanics that are so solid you'll wonder if this really is a portable game.
#13. Mega Man Powered Up
Capcom, 2006
Action » Platformer » 2D
Synopsis
The genius known as Dr. Light invented Mega Man and a series of industrial robots that would make the world a better place both humans robots alike.
Jealous of his rival, Dr. Wily stole the first design, known as Proto Man, and reprogrammed him to serve his ends.
He then took over the other robot masters and forced Dr. Light to convert Mega Man into a weapon of war who is tasked with defeating the robot masters and ending Wily's terrorism.
Short Review
There must be something about the PSP and Mega Man remakes because this is the second one on this list.
A remake of the first game ever in the series, Powered Up adds two robot masters to the original roster of 6 and updates the graphics.
The one area we think isn't that true to the spirit of Mega Man is the graphics.
They're far too cartoony.
Aside from that, this game is a little bit friendlier in terms of difficulty and still as fun as ever.
#12. Syphon Filter: Logan's Shadow
Sony Bend/SCEA, 2007
Action » Shooter » Third-Person » Arcade
Synopsis
Gabe Logan and crew are called in once again to make sure some classified info doesn't make it out into the public.
Of course, things never stay that simple and soon Gabe is off on an epic quest combining stealth and high-stakes espionage.
Short Review
Syphon Filter is like a more action-oriented version of Metal Gear Solid – sans the insane plotting that makes those games great.
The challenge with a portable action game like Syphon Filter is that you have to strategize and think through what you're doing which isn't always conducive to the pick-up-and-play nature of portable games.
Nonetheless, Syphon Filter balances out the action and strategy such that you can play it however you're comfortable and still get a near-console experience.
#11. Where is My Heart?
Die Gute Fabrik/Copenhagen Game Collective, 2011
Action » Platformer » 2D
Synopsis
Three monsters have lost their tree home to a breeze and it is up to you to help them find it as well as work through their problems as family.
Short Review
Starting out as a traditional platforming game, the screen is then broken up into various viewpoints that you have to shift between in order to collect hearts and solve puzzles.
It's very meta and artistic in ways you would rarely expect in a video game.
But it's also a solid platforming experience though it does take a little time to figure out what the heck it expects of you.
#10. LocoRoco
SCE Japan Studio/SCEE, 2006
Action » Platformer » 2D
Synopsis
The LocoRoco are pacifist and in tune with their home planet, tending its gardens and making a simple life for themselves alongside their friends the Mui Mui.
This all changes one day when the Moja Troop arrives and starts to dominate the planet these two call home.
Now the planet itself is called into action to aid the pacifist tribes and help them overcome the Moja.
Short Review
Think of this as Lemmings meets tower defense meets a platforming game.
That's a mouthful, we know, but it encapsulates the themes of the game and how ambitious it is in its attempt at conveying story and gameplay concepts.
Check it out on Amazon »
#9. Ratchet & Clank: Size Matters
High Impact Games/SCEA, 2007
Action » Platformer » 3D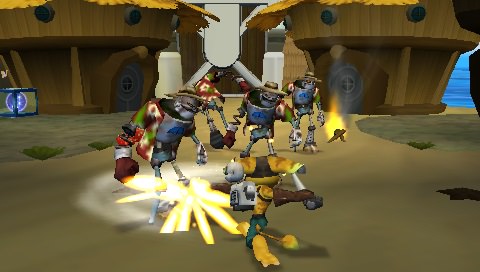 Synopsis
Ratchet and Clank can't even go on vacation without getting wrapped up in some trouble.
When their friend Luna is kidnapped by an ancient race of machines, there's no one else capable of saving her and figuring out just what these old robots want.
Short Review
Platforming and action gameplay come together in an intense title that is beautifully realized in gorgeous graphics and furiously addictive gameplay.
Whether you have played on of these games before or not, SCEA does a great job of making each one inviting on its own.
Like many of the games on this list, the fact that this is a portable title is just an amazing fact when you consider how close it is to its console counterparts.
Check it out on Amazon »
#8. Patapon 2
SCE Japan Studio/SCEI, 2009
Action » General
Synopsis
With their ship finished, the Patapons are ready to explore new lands.
But when they are attacked by a kraken mid-flight, they're once again forced to take up arms against an external threat.
Short Review
A rhythm game that combines that genre with titles like the PC classic Lemmings, Patapon 2 requires specific inputs in order to make the assembled mass move in the way you desire.
It's an interesting combination between a music game and a platform game.
Check it out on Amazon »
#7. Patapon
SCE Japan Studio/SCEA, 2008
Action » Rhythm » Music
Synopsis
You are the master of the Patapons, a group that responds to rhythm based commands and that is ready and willing to see your will done.
Will you guide them towards their destiny, or will you strike the wrong note?
Short Review
Another amazingly creative title from SCE Japan, Patapon is ostensibly a rhythm game but it combines a lot of different elements to make what can only be called a unique experience.
Mastering the rhythm based aspect and knowing when to tell the Patapons what to do is just a part of the charm of this game as the overall aesthetic and presentation is charming and disarming.
That definitely helps take some of the edge off of the frustrating difficulty found in the end game.
Check it out on Amazon »
#6. Daxter
Ready at Dawn/SCEA, 2006
Action » Platformer » 3D
Synopsis
Taking place right after Jak 2, this game follows Daxter as he attempts to rescue his kidnapped friend.
Short Review
Daxter starts out as a bug exterminator in a change of pace though things quickly ramp back around to the traditional Jak and Daxter gameplay you expect.
Utterly charming and a heck of a good time, Daxter shows that even a dynamic duo needs a break every once in a while.
Check it out on Amazon »
#5. LocoRoco 2
SCE Japan Studio/SCEI, 2009
Action » Platformer » 2D
Synopsis
The Moja Troop won't take their defeat lightly and that's why CEO Bon Mucho has resurfaced to take revenge on the pacifist LocoRoco.
Short Review
Like the first game, you assume the role of the planet itself as you seek to guide the LocoRoco in their struggles against Moja Troop.
The gameplay is more refined and streamlined this time around and that makes it somewhat more approachable by new gamers.
Check it out on Amazon »
#4. Syphon Filter: Dark Mirror
Sony Bend/SCEA, 2006
Action » Shooter » Third-Person » Tactical
Synopsis
Gabe Logan faces off against a multinational force seeking to unleash chaos and terror upon the nations of the world.
Short Review
A much greater emphasis on conspiracy-theory-laden narratives makes Dark Mirror way more engaging from a narrative standpoint.
As luck would have it, the iconic and addictive gameplay most of us expect and want is present and accounted for as well which makes this game a natural sequel to its predecessors.
Check it out on Amazon »
#3. Velocity
FuturLab, 2012
Action » Shooter » Shoot-'Em-Up » Vertical
Synopsis
As the star Vilio's life ends, the people stranded out in the middle of space because of this begin their journey home – and that's where you come into play.
Short Review
A shoot 'em up that requires some tactical thinking as well as quick reflexes, Velocity combines retro concepts with modern portable gaming to make a game that is recognizably arcade-inspired but also engaging and deep like more modern games.
Check it out on Amazon »
#2. LittleBigPlanet
Media Molecule/SCEA, 2009
Action » Platformer » 2D
Synopsis
LittleBigPlanet is Sony's sandbox game for PS3 in which the magic of creation and "playing with toys" is transported into the video game space.
Short Review
Remember how much fun you had playing with toys as a kid?
LittleBigPlanet asks you to tap into that nostalgia as you basically play with toys and set up various scenarios for them.
From realistic physics to awesome graphics and variety, LittleBigPlanet is a creator's gem.
Check it out on Amazon »
#1. Tekken: Dark Resurrection
Namco Bandai Games, 2006
Action » Fighting » 3D
Synopsis
Mishima Zaibatsu's enemies have gathered to bring it down once and for all with many combatants seeking revenge for themselves or someone who has fallen before.
Short Review
Tekken's intense arcade fighting action is brought to the next level in this game that feels like it was built from the ground up for the portable system.
Everything you'd expect in a major fighter is here and Tekken's penchant for crazy storylines and endless challenges is also here.
The only complaint we had with this game was that it got so intense that we worried we were going to damage our PSP at a point.
Check it out on Amazon »
Are your favorite games on the list? Leave a comment below!
If you think there are games that should OR shouldn't be on this list, let us know by leaving a comment below.
Determining which PSP action game is the best is no doubt a never ending topic, but it's absolutely fun!