We already published the list of best PSP games of all time, now it's time to discover the best PSP dance/music/rhythm games of all time.
With amazing titles available, the PSP definitely has a great library of dance/music/rhythm games.
So, if you're a fan of both the PSP and dance/music/rhythm games, there's a chance you'll like this list.
And some of you may already know some of the games mentioned in this list.
#5. PaRappa the Rapper
Release Data: Epics/SCEI, 2007
Genre: Action » Rhythm » Music
If you're really hot to experience PaRappa's adventures all over again or for the first time, give this one a quick session.
Even if the gameplay isn't worthwhile, the charming story and fantastic tunes are enough to make up for the hassle of getting it.
#4. Traxxpad
Release Data: Definitive Studios/Eidos Interactive, 2007
Genre: Action » Rhythm » Music
Traxxpad is a surprisingly powerful music app that does not disappoint.
While it is mainly hip-hop and electronic oriented, you can use it to write in just about any style you want.
It's not going to replace any professional music software you may use, but unless you are a professional composer it shouldn't matter.
#3. Rock Band Unplugged
Release Data: Backbone Entertainment/Electronic Arts, 2009
Genre: Action » Rhythm » Music
This portable version of Rock Band brings all of the plastic-instrument goodness of the home console versions to your PSP.
You'll switch between guitar, drums, bass, and vocals, making sure each part is played perfectly.
This gameplay mechanic completely changes how you play the game, and it makes the experience far more engaging and enjoyable.
#2. Gitaroo Man Lives!
Release Data: Koei/Inis/Koei, 2006
Genre: Action » Rhythm » Music
Combining a rhythm battle and fighting game, Gitaroo Man Lives! is another supremely unique title that will carve out a place in your heart if you give it a chance.
A really fun game, Gitaroo Man Lives! combines a uniquely weird manga-style story with an intuitive fusion of game genres.
#1. Patapon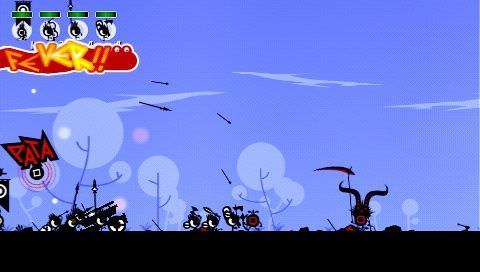 Release Data: SCE Japan Studio/SCEA, 2008
Genre: Action » Rhythm » Music
Mastering the rhythm-based aspect and knowing when to tell the Patapons what to do is just a part of the charm of this game as the overall aesthetic and presentation is charming and disarming.
That definitely helps take some of the edge off of the frustrating difficulty found in the end game.
---
Browse PSP Games By Genre
See also: Best PS2 Games & Best PS3 Games
Are your favorite games on the list?
Deciding which PSP beat 'em up game is the best is no doubt a never ending topic, but it's fun to do!