We already published the list of best PS1 games of all time, now it's time to discover the best PS1 simulation games of all time.
With amazing titles available, the PS1 definitely has a great library of simulation games.
So, if you're a fan of both the PS1 and simulation games, there's a chance you'll like this list.
And some of you may already know some of the games mentioned in this list.
#10. G-Police: Weapons of Justice
Release Data: Psygnosis, 1999
Genre: Simulation » Flight » Combat
G-Police 2 makes few improvements over the original and never really overcomes the issues that plagued its predecessor.
While the action is somewhat better, and the missions have a slightly increased sense of variety, the game is still rather boring.
It demonstrates that if you were looking for a futuristic air-combat game, you'd be better off with Colony Wars.
#9. Ace Combat 3: Electrosphere
Release Data: Namco, 2000
Genre: Simulation » Flight » Combat
For fans of the first and second games, Ace Combat 3 might be disappointing to say the least.
Certainly this game is more than the sequel-mania that has overtaken the PlayStation library like some cheap fad, but it's not what you would call a great game.
#8. R/C Stunt Copter
Release Data: Shiny Entertainment/Virgin Interactive, 1999
Genre: Simulation » Flight » Civilian
Going beyond the camera's capabilities, the controls in R/C are fantastic. You'll be amazed with some of the stunts you can pull off after spending a lot of time with the game.
There's a lot of value in the single-player mode because the control is so good. Altogether, R/C is a genre-bending title that's well worth checking out.
#7. Rogue Trip: Vacation 2012
Release Data: SingleTrac/GT Interactive, 1998
Genre: Simulation » Vehicle » Combat
There's still a lot of fun to be had here, and fans of any driving shooter will enjoy it, but those expecting as big of a leap as we saw from Twisted Metal to Twisted Metal 2 are going to feel Rogue Trip falls somewhat short.
#6. Star Trek: Invasion
Release Data: Warthog/Activision, 2000
Genre: Simulation » Space » Combat
For hardcore Star Trek fans this game should finally put to rest the idea that a Star Trek game can't be made for consoles.
There is no doubt that Star Trek: Invasion's storyline, visuals, and sound are of the utmost caliber.
If you have the burning need to blast things for hours upon hours then you'll love this game.
#5. Vigilante 8: 2nd Offense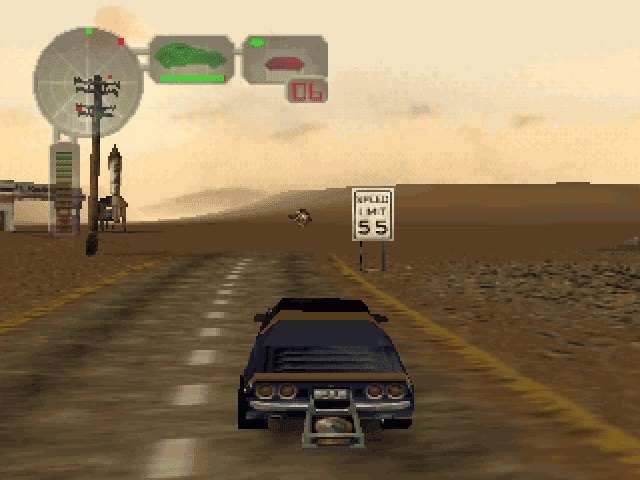 Release Data: Luxoflux, Inc./Activision, 1999
Genre: Simulation » Vehicle » Combat
As in the last game, you can play either on the good side or the bad side, each of which has its own mission requirements for each level, before all the other vehicles must be eliminated.
Also, you can unlock a host of hidden characters, and there are two multiplayer options, a two-player cooperative mode and two-player deathmatches.
#4. Colony Wars III: Red Sun
Release Data: Psygnosis/Midway, 2000
Genre: Simulation » Space » Combat
Thanks to a greater focus on plot development and presentation, Psygnosis delivers with Red Sun what is arguably one of the best Colony Wars title to date.
Just like in previous releases, the game's 50-plus missions can be tackled in a variety of ways, leaving room for more than one possible outcome.
#3. Vigilante 8
Release Data: Luxoflux, Inc./Activision, 1998
Genre: Simulation » Vehicle » Combat
Overall, Vigilante 8 is an incredible two-player game.
The one-player side of Vigilante 8 is short and easy, even on the most difficult setting.
Players who are still playing Twisted Metal 2 can finally retire their Twisted Metal 2 disc and move over to Vigilante 8.
#2. Colony Wars: Vengeance
Release Data: Psygnosis, 1998
Genre: Simulation » Space » Combat
The game's diversity and uncommonly developed story propel Colony Wars: Vengeance light years ahead of the average space shooter.
And graphically, the game is filled with great neons and brilliant light-sourced objects.
It's like a great book that you can't put down. But, a bit more fine-tuning could have made it truly stellar.
#1. Colony Wars
Release Data: Psygnosis, 1997
Genre: Simulation » Space » Combat
Gamers who were fans of the Wing Commander series on the PC may be disappointed that Colony Wars tends to feel more like an arcade game than an epic, engaging adventure.
But once in the cockpit, you are taken through the dynamic visual world of your own interactive sci-fi movie.
---
Browse PS1 Games By Genre
See also: Best Gaming Chairs & Best PS2 Games
Are your favorite games on the list?
Deciding which PS1 simulation game is the best is no doubt a never ending topic, but it's fun to do!