We already published the list of best PS1 games of all time, now it's time to discover the best PS1 matching puzzle games of all time.
With amazing titles available, the PS1 definitely has a great library of matching puzzle games.
So, if you're a fan of both the PS1 and matching puzzle games, there's a chance you'll like this list.
And some of you may already know some of the games mentioned in this list.
#5. Spin Jam
Release Data: Empire Interactive, 2000
Genre: Puzzle » Matching
Spin Jam is definitely a cool game. It's odd, but loads of fun.
This game will keep anyone coming back, even though it's obvious that it is made for kids.
In other words, Spin Jam is decidedly unique, and it may make a good purchase for puzzle fans looking for something fresh.
#4. Bust-A-Move '99
Release Data: Aisystem Tokyo/Acclaim, 1999
Genre: Puzzle » Matching
Like its predecessor, Bust-A-Move '99 is an excellent puzzle game that will keep you entertained for ages.
It's got everything Bust-A-Move fans could ask for—a plethora of premade puzzles, a puzzle creator and even the first four-player mode in the series.
Unfortunately, as well-balanced and addictive as the gameplay is, the graphics and sound are terribly outdated.
#3. Devil Dice
Release Data: Shift/SCEI, 1998
Genre: Puzzle » Matching
An extremely unique idea which has been handled with care and skill, Devil Dice is a great representation of the kind of quirky game that flourished on PS1 and is still fun and relevant today.
It might not be something that will give you weeks of gameplay, but it's safe to say there's a really enjoyable time here.
#2. Bust-A-Move 4
Release Data: Taito Corporation/D3Publisher, 1998
Genre: Puzzle » Matching
The single-player game has enough characters to achieve a high volume of replay, and for puzzle battles, the multiplayer mode stands among one of the best.
Bust-A-Move 4 will be the type of game you play with your non-gaming friends, because it's got so much character and because puzzle games are always respectable.
#1. Super Puzzle Fighter II Turbo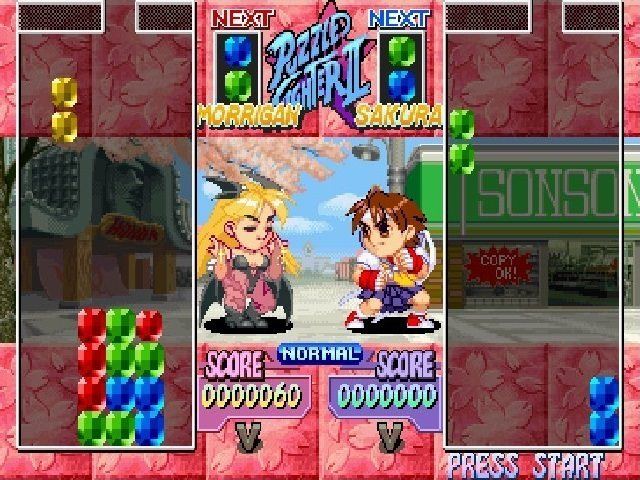 Release Data: Capcom/Virgin Interactive, 1996
Genre: Puzzle » Matching
Here was the puzzle game to beat all puzzle games, plus it had all our favorite Capcom characters.
Super Puzzle Fighter II Turbo is an excellent puzzle game, and is fun even when you're playing alone.
It doesn't matter if you like puzzlers or not, you owe it to yourself to check this game out.
---
Browse PS1 Games By Genre
See also: Best Gaming Chairs & Best PS2 Games
Are your favorite games on the list?
Deciding which PS1 matching puzzle game is the best is no doubt a never ending topic, but it's fun to do!