We already published the list of best PC games of all time, now it's time to discover the best PC space games of all time.
With amazing titles available, the PC gaming community will surely enjoy a great library of space games.
So, if you're a PC gamer and love space games, there's a chance you'll like this list.
And some of you may already know some of the games mentioned in this list.
#25. Bang! Gunship Elite
Release Data: Rayland Interactive/Red Storm Entertainment, 2000
Genre: Simulation » Space » Combat
Gunship Elite manages to excel in certain aspects, particularly its impressive visuals and accessible gameplay, making it a relatively easy space combat game to pick up.
However, this simplicity comes at the expense of depth.
The gameplay itself lacks complexity, often leading to prolonged battles against hordes of enemy ships that can become monotonous and tedious over time.
#24. X-COM: Interceptor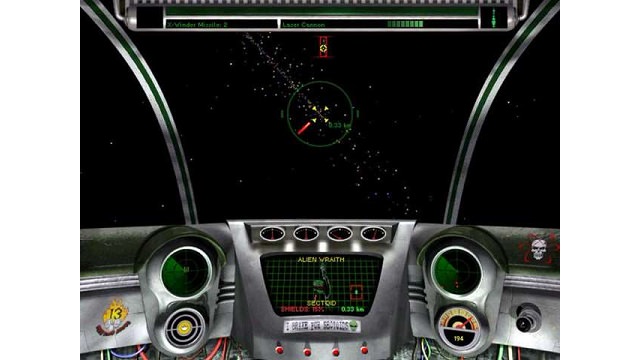 Release Data: MicroProse, 1998
Genre: Simulation » Space » Combat
X-COM fans who appreciate the series' strategic elements will likely find enjoyment in Interceptor due to its adherence to the established formula.
However, players expecting thrilling space combat may be disappointed by the game's lackluster execution in that regard.
But fortunately, the game's micromanagement and research aspects provide a more enjoyable experience compared to the somewhat monotonous missions.
#23. Star Wars: Starfighter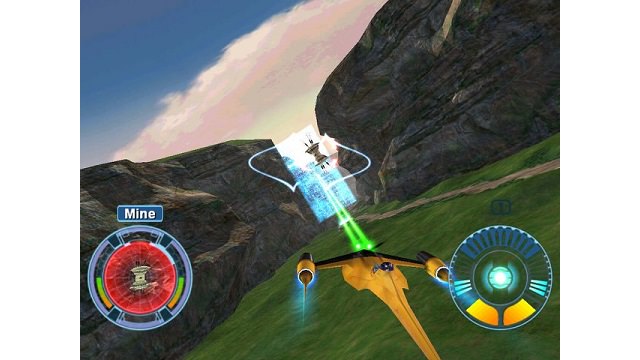 Release Data: LucasArts, 2002
Genre: Simulation » Space » Combat
Starfighter boasts impressive visuals and a compelling storyline, although some of its missions lack engagement and can become repetitive over time.
However, if you're looking for an enjoyable arcade shooter set in the Star Wars universe, Starfighter may still be worth a try.
Its strengths in graphics and narrative could provide a satisfying experience for fans of the genre.
#22. Terminus
Release Data: Vicarious Visions/Vatical Entertainment, 2000
Genre: Simulation » Space » Combat
Terminus provides a mixed experience of space combat action, showcasing both flaws and decent gameplay.
Moreover, the presence of glitches and a general lack of polish detract from the overall quality of the game.
But despite these drawbacks, players seeking space combat action may still find some enjoyment in this game.
#21. DarkStar One
Release Data: Ascaron Entertainment/cdv Software, 2006
Genre: Simulation » Space » Combat
In conclusion, DarkStar One stands as a solid title with its own strengths.
However, it is worth noting that there is still a sense that something is lacking.
Nevertheless, DarkStar One is definitely worth playing through, and even offers enjoyable free play opportunities once the main storyline is completed.
#20. Star Trek: Klingon Academy
Release Data: 14 Degrees East/Interplay, 2000
Genre: Simulation » Space » Civilian
Klingon Academy boasts two noteworthy aspects that contribute to its appeal.
First, its strong association with the Star Trek universe adds to the enjoyment of the game. Second, its distinctive personality makes this game stands out.
Overall, it is a game that stands apart from the norm and appeals to fans of both the franchise and captivating space dramas.
#19. X3: Reunion
Release Data: Egosoft/Deep Silver, 2005
Genre: Simulation » Space » Combat
X3, with its open-ended gameplay and focus on trading and exploration, is likely to captivate fans of the series.
Its emphasis on the beauty and vastness of space, coupled with its intricate trading mechanics and opportunities for exploration, make it an enticing experience for those seeking a more contemplative and immersive journey.
#18. Sublevel Zero
Release Data: Sigtrap Games/Mastertronic, 2015
Genre: Simulation » Space » Combat
Sublevel Zero serves as a compelling answer for fans of Descent who seek a modern-day take on the genre.
And while it excels as an expertly crafted six degrees of freedom game with tight controls, its cross-genre appeal, although promising, does have some rough edges that affect its overall polish.
#17. X2: The Threat
Release Data: Egosoft/Global Software Publishing (GSP), 2003
Genre: Simulation » Space » Combat
While there are a few shortcuts available, it generally takes a significant investment of time before you can establish an economic empire or command powerful vessels in X2.
However, for those willing to persevere, X2 does offer highly satisfying gameplay.
Overall, it serves as a testament to why the genre enjoyed greater popularity in the past.
#16. X3: Terran Conflict
Release Data: Egosoft/Deep Silver, 2008
Genre: Simulation » Space » Combat
The game seamlessly combines elements of real-time strategy, space combat, and economic simulation, providing players with a wealth of choices and opportunities.
And while the initial learning curve and the need for machine optimization may appear daunting, they are manageable obstacles when compared to the vast range of enjoyable experiences awaiting players in the depths of space.
#15. Tachyon: The Fringe
Release Data: NovaLogic, 2000
Genre: Simulation » Space » Civilian
Although it may not possess the same level of refinement and grandeur as ambitious projects like FreeSpace 2, Tachyon compensates with its charismatic protagonist, appealing graphics, and approachable gameplay.
As a result, Tachyon competes favorably with the genre's finest offerings and contributes to the resurgence of space-combat simulations in the gaming mainstream.
#14. Star Trek: Starfleet Command III
Release Data: Taldren/Activision, 2002
Genre: Simulation » Space » Civilian
It's unfortunate that this title was released in the same year as the exceptional Bridge Commander.
But if you're inclined towards an RTS-style game, then Starfleet Command III is the better choice.
It provides a more hands-on experience, allowing players to personally command the ship instead of relying on officer delegation.
#13. Star Wars: Rogue Squadron 3D
Release Data: Factor 5/LucasArts, 1998
Genre: Simulation » Space » Combat
Playing Rogue Squadron is a breeze, as its action is straightforward and enjoyable. The game also offers a constant stream of targets to engage and clear mission objectives to pursue.
And while it may not reach the level of depth found in titles like Wing Commander or Independence War, if you appreciate a solid shooter experience, Rogue Squadron is worth a try.
#12. Star Trek Bridge Commander
Release Data: Totally Games/Activision, 2002
Genre: Simulation » Space » Civilian
Bridge Commander may not have a long duration or extensive replayability, however, it stands out as the first Star Trek space simulation game that truly captures the essence of the Star Trek universe.
Simply put, the developer has successfully translated the deliberate and strategic nature of Star Trek's space battles into an engaging gaming experience.
#11. Descent: Freespace – The Great War
Release Data: Volition Inc./Interplay, 1998
Genre: Simulation » Space » Combat
This game offers much to appreciate, unless you are solely seeking a multiplayer dogfighting experience.
It successfully incorporates the finest elements from classic games in the genre while also introducing refreshing innovations.
And although it falls slightly short of being an exceptional game, it represents a positive stride forward for the genre.
#10. Elite: Dangerous
Release Data: Frontier Developments, 2014
Genre: Simulation » Space » Civilian
Elite: Dangerous is an ambitious title that has been executed well thus far.
But while the game boasts an exceptionally vast universe with approximately 400 billion star systems, the actual activities within this expansive galaxy are somewhat limited and tend to become repetitive over time.
Simply put, it only serves as a relaxing and relatively stress-free way to spend your time.
#9. Wing Commander: Prophecy
Release Data: Origin/Electronic Arts, 1997
Genre: Simulation » Space » Combat
The primary drawback of Wing Commander: Prophecy is its relatively short duration.
Additionally, the linear storyline and absence of multiplayer support limit its replay value. Once you complete the game, you may crave more substantial content.
However, the captivating gameplay, well-designed missions, and stunning visuals make this title an enjoyable experience throughout its duration.
#8. Independence War 2: Edge of Chaos
Release Data: Particle Systems/Infogrames, 2001
Genre: Simulation » Space » Civilian
Independence War 2 stands out as one of the most intricate and immersive space simulations to date, showcasing an impressive array of features that work exceptionally well.
The game also offers endless exploration opportunities within diverse solar systems, allowing players to customize and enhance their ships through theft or construction.
#7. StarLancer
Release Data: Digital Anvil/Microsoft Game Studios, 2000
Genre: Simulation » Space » Combat
StarLancer is a remarkable game that excels in various aspects, and while it leans slightly towards an arcade style, it strikes a good balance overall.
Simply put, the game impresses with its stunning visuals, intense gameplay, and captivating story.
It's a rare gem that successfully combines all three of these advantages, setting it apart from many other games in the genre.
#6. Star Wars: X-Wing Alliance
Release Data: Totally Games/LucasArts, 1999
Genre: Simulation » Space » Combat
While X-Wing Alliance's story-driven campaign may leave you wanting more closure, and the grand Battle of Endor may not fully satisfy, it's worth noting that the final mission is exceptionally unique and well-executed.
All in all, X-Wing Alliance is a highly enjoyable game and serves as a commendable conclusion to the series.
#5. Freelancer
Release Data: Digital Anvil/Microsoft Game Studios, 2003
Genre: Simulation » Space » Combat
While it may not satisfy fans of the genre seeking deeper complexity, Freelancer's simplified gameplay allow players to quickly immerse themselves in freely exploring a vast star system and engaging in looting and combat against enemy factions.
And although some of the original ambitious plans couldn't be fully realized, the compromised design still results in a well-crafted game.
#4. Allegiance
Release Data: Microsoft Game Studios, 2000
Genre: Simulation » Space » Combat
Allegiance stands out as a pioneering online game that embraces cooperative competitive play, a genre that has gained popularity over time.
While offering the thrill of a top-notch space combat simulator with its impressive graphics and diverse spacecraft options, what truly distinguishes Allegiance is its fusion of real-time strategy elements and support roles alongside dogfighting, resulting in a unique experience.
#3. FTL: Faster Than Light
Release Data: Subset Games, 2012
Genre: Simulation » Space » Combat
In essence, Faster Than Light presents a unique blend of challenging gameplay reminiscent of classic titles, simplistic yet intricate mechanics akin to board games, and an episodic structure found in casual games.
Moreover, FTL immerses players in a perilous journey where survival is a constant struggle, lending a thrilling and captivating quality to each passing day.
#2. Independence War
Release Data: Particle Systems/Ocean, 1998
Genre: Simulation » Space » Civilian
Independence War stands out as the premier simulation of piloting a large spacecraft, offering a refreshing and original experience in a genre that is becoming increasingly saturated.
And if you're willing to invest the effort and embrace its unique mechanics, it offers a truly rewarding and distinctive gameplay experience that is well worth the time and dedication.
#1. FreeSpace 2
Release Data: Volition Inc./Interplay, 1999
Genre: Simulation » Space » Combat
FreeSpace 2 is a game that redefines the space simulation genre, taking it to new heights.
In the game, you have the opportunity to assume multiple roles within the engaging storyline, ranging from engaging in intense dogfights to safeguarding civilian lives.
For space simulation enthusiasts, FreeSpace 2 is an absolute must-have.
---
Browse Games By Genre
See also: Best Gaming Chairs & Best Gaming Room Accessories
Are your favorite games on the list?
Deciding which PC space game is the best is no doubt a never ending topic, but it's fun to do!