We already published the list of best PC games of all time, now it's time to discover the best PC puzzle games of all time.
With amazing titles available, the PC gaming community will surely enjoy a great library of puzzle games.
So, if you're a PC gamer and love puzzle games, there's a chance you'll like this list.
And some of you may already know some of the games mentioned in this list.
#25. Puzzle Quest: Galactrix
Release Data: Infinite Interactive/D3Publisher, 2009
Genre: Puzzle » Matching
It seems that this is a game that caters to a specific audience, those who enjoy both puzzle and RPG genres.
However, it's not for everyone, and players should expect to solve the same type of puzzle repeatedly.
If you're part of its target audience and you're willing to put up with the repetition, then the game is worth it.
#24. Puzzle Agent
Release Data: Telltale Games, 2010
Genre: Puzzle » General
It sounds like Puzzle Agent has some flaws, particularly with its puzzles and instructions, but the overall experience is still enjoyable, especially for its low price.
There is potential for the series to improve in future episodes, and the graphics and story are strong points of the game.
#23. Full Bore
Release Data: Whole Hog Games, 2013
Genre: Puzzle » General
This is an entertaining game that features a variety of puzzles ranging from simple to difficult, all within a few minutes of each other.
The auto-save system allows for easy play in short bursts, but some players may find the puzzles in the main areas a bit too easy.
But despite this, Full Bore is a well-designed and enjoyable game overall.
#22. Lemmings Revolution
Release Data: Psygnosis/Take-Two Interactive, 2000
Genre: Puzzle » Action
Despite any bugs that may exist, Lemmings Revolution is an incredibly fun game.
The learning curve is gradual, the interface is user-friendly, and the new features make it a great choice for both newcomers and long-time fans of the series.
If you're a fan of action-packed puzzle games, or simply enjoy Lemmings-style gameplay, then it's definitely worth it.
#21. FRACT OSC
Release Data: Phosfiend Systems, 2014
Genre: Puzzle » General
One of the standout features of this game appears to be its use of sound and color to create a captivating and immersive world.
This is something that players of all skill levels can appreciate, regardless of their musical ability or experience with puzzle games.
#20. Puzzle Pirates
Release Data: Three Rings/Ubisoft, 2003
Genre: Puzzle » General
Puzzle Pirates doesn't try to compete with the likes of Half-Life 2 or World of Warcraft, but instead creates a playstyle that appeals to a broad range of players.
The game's combination of elements should appeal to both casual and more experienced gamers, making it a worthwhile experience for anyone who enjoys puzzle games without a significant investment of time.
#19. Cogs
Release Data: Lazy 8 Studios, 2009
Genre: Puzzle » General
Cogs boasts 50 levels and three different game modes, providing players with several days' worth of gameplay.
However, once players have memorized the solutions to each puzzle, the game loses some of its excitement.
But despite this, the budget-friendly price and charming visual style make Cogs just as addictive and satisfying as the classic toys that inspired it.
#18. Peggle Nights
Release Data: PopCap, 2008
Genre: Puzzle » Action
If you're new to Peggle, Peggle Nights is a great place to start.
And if you're a fan of the original looking for more levels to fuel your addiction, Peggle Nights is definitely worth checking out.
Overall, the game's formula has not gotten stale, and it remains an enjoyable and engaging experience.
#17. Crayon Physics Deluxe
Release Data: Petri Purho, 2009
Genre: Puzzle » General
This puzzle game is a perfect example of simple yet brilliant game design that can be enjoyed by anyone.
Even if you think you're too old for crayons, this game will transport you back to your youth and have you grinning with delight at the endless possibilities in front of you.
#16. MouseCraft
Release Data: Crunching Koalas, 2014
Genre: Puzzle » Action
While the narrative in MouseCraft may not be a standout feature, the puzzles are the real star of the show.
Most players will likely come for the puzzles and stay for the puzzles, and that's where the game truly shines.
And throughout this time, MouseCraft never overstays its welcome, always providing a solid and well-developed puzzle experience.
#15. Quantum Conundrum
Release Data: Airtight Games/Square Enix, 2012
Genre: Puzzle » General
Quantum Conundrum may not quite reach the same level of polish, humor, and intrigue as Portal, but it still offers a solid puzzle experience.
The game is priced very competitively, and there's around 5 hours worth of puzzle-solving to be had in the campaign.
Overall, it's a great option for anyone who enjoyed Portal and is looking for a temporary replacement.
#14. Bejeweled Twist
Release Data: PopCap, 2008
Genre: Puzzle » Matching
Bejeweled Twist is an exceptional matching puzzle game, despite some minor criticisms.
It presents a unique spin on the classic gem-matching formula and stands out from other games in the Bejeweled series.
Fans of the series will find plenty to enjoy in Bejeweled Twist, and it proves that the franchise still has plenty of sparkle left.
#13. Crazy Machines 2
Release Data: FAKT Software/Novitas, 2008
Genre: Puzzle » Logic
Crazy Machines 2 is a highly entertaining and addictive game that will challenge and delight puzzle lovers of all ages.
The puzzles range from easy to mind-bendingly difficult, and the physics engine is impressively realistic.
Overall, it is a great choice for anyone looking for a challenging and engaging puzzle game that offers a unique and creative experience.
#12. Bookworm Adventures: Volume 2
Release Data: PopCap, 2009
Genre: Puzzle » Logic
This game offers a satisfying 15 to 20 hours of addictive gameplay, which is a great value for its price.
And while PopCap has sometimes favored their own profit over players' enjoyment, this game is still worth trying if you're in the mood for a word battle or have exhausted other options.
#11. Zuma's Revenge!
Release Data: PopCap, 2009
Genre: Puzzle » Action
This game successfully builds on an existing formula, while adding new elements without ruining the original concept.
Priced at a reasonable price, Zuma's Revenge is a great option for those looking for a quick game to pass the time.
Whether you're waiting for a flight or need a mental break from work, this game is an enjoyable addition to any collection.
#10. Osmos
Release Data: Hemisphere Games, 2009
Genre: Puzzle » General
Osmos has the power to mesmerize you with its enchanting music, stunning graphics, and engaging gameplay.
And unlike other games that can be frustrating or overwhelming, Osmos offers a peaceful and immersive experience.
All in all, it's a must-play for anyone with a desire for a game that can be enjoyed for various reasons.
#9. Pandora's Box
Release Data: Microsoft Game Studios, 1999
Genre: Puzzle » General
It offers a great way to pass the time in short bursts, but the real draw comes from the sense of accomplishment you get when completing a series of puzzles.
It's the kind of game that you'll want to return to over and over again.
And although some puzzles may be weaker than others, the overall experience is still highly satisfying.
#8. Zombie Night Terror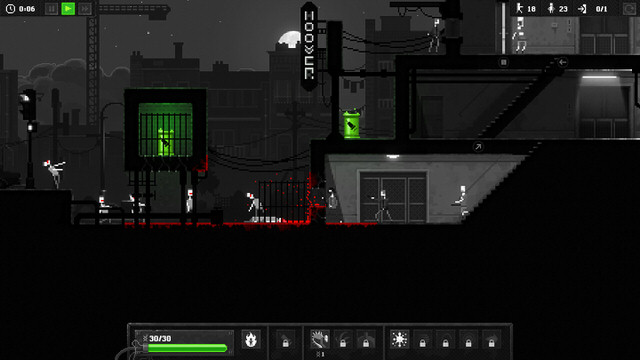 Release Data: NoClip/Gambitious, 2016
Genre: Puzzle » Action
Zombie Night Terror combines the well-worn zombie genre with the puzzle gameplay of the classic Lemmings series, resulting in an interesting and unique blend.
However, the game's difficulty and lack of clear direction can be a hindrance to the overall experience, leading to some frustrating moments of trial and error.
So, be prepared to endure all these things.
#7. Bejeweled 3
Release Data: PopCap, 2010
Genre: Puzzle » Matching
Whether you find Bejeweled 3 worth your time or not is ultimately up to how much you still enjoy matching colored gems on a grid.
If you've already played Bejeweled, Bejeweled 2, Bejeweled Blitz, and the Puzzle Quest series, you might feel like you've had enough and skip this one, despite it being the most extensive Bejeweled game yet.
#6. Gorogoa
Release Data: Buried Signal/Annapurna Interactive, 2017
Genre: Puzzle » General
Gorogoa presents a beautifully crafted world of sliding-tile puzzles that is both inventive and magical.
And despite its compact size, the game delivers a fulfilling adventure that will leave players enchanted.
Moreover, its ability to convey so much without dialogue lends it an air of mystery that will undoubtedly inspire players to revisit it with more attentive, thoughtful eyes.
#5. Antichamber
Release Data: Demruth, 2013
Genre: Puzzle » General
Antichamber offers a one-of-a-kind, almost psychedelic experience where you navigate through folding halls, transforming windows, and shifting paths.
So, for those seeking a good puzzle or a fresh gaming experience, Antichamber will test your mind and perception in thrilling ways, making it a game that's definitely worth exploring.
#4. Peggle Deluxe
Release Data: PopCap, 2007
Genre: Puzzle » Action
Peggle is a highly addictive and entertaining game that is perfect for playing during short breaks or at the end of a long day.
And although the gameplay can be frustrating at times, there is something about the game that keeps you coming back for more.
#3. Pony Island
Release Data: Daniel Mullins Games, 2016
Genre: Puzzle » General
Pony Island is a game that is full of surprises and twists, but it's executed with great confidence.
However, it may not be a game for everyone, especially those looking for complex gameplay mechanics, but its narrative is captivating and leads to a dark and ominous conclusion that will stay with players long after they've finished the game.
#2. Gunpoint
Release Data: Tom Francis, 2013
Genre: Puzzle » General
Gunpoint is a game that truly nails the stealth genre, offering an excellent combination of player movement, puzzles, and storytelling.
The game does an excellent job of removing anything that gets in the way of these aspects and presents them in a smart way.
It assumes that its players are intelligent, and the game's challenging nature is a testament to that.
#1. World of Goo
Release Data: 2D Boy/Take-Two Interactive, 2008
Genre: Puzzle » Action
Your objective is to use a limited number of goo balls to construct structures that span the gap from one end of the level to the other.
As you stack the goo balls, the weight of the structures causes them to shift and bend, forcing you to think quickly on your feet.
---
Browse Games By Genre
See also: Best Gaming Chairs & Best Gaming Room Accessories
Are your favorite games on the list?
Deciding which PC puzzle game is the best is no doubt a never ending topic, but it's fun to do!