We already published the list of best PC games of all time, now it's time to discover the best PC JRPGs of all time.
With amazing titles available, the PC gaming community will surely enjoy a great library of JRPGs.
So, if you're a PC gamer and love JRPGs, there's a chance you'll like this list.
And some of you may already know some of the games mentioned in this list.
#10. I Am Setsuna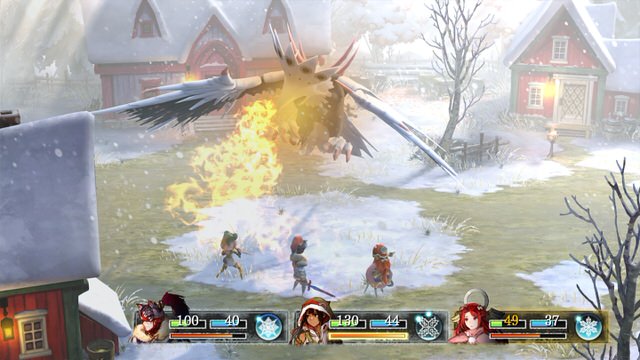 Release Data: Tokyo RPG Factory/Square Enix, 2016
Genre: Role-Playing » Japanese-Style
I Am Setsuna successfully captures the essence of classic RPGs while introducing a few new elements of its own.
The game pays homage to Chrono Trigger with great care, allowing players to relive the nostalgia while experiencing fresh ideas.
It proves that our memories of classic Japanese RPGs were not solely driven by nostalgia but also by their enduring impact.
#9. Fable III
Release Data: Lionhead Studios/Microsoft Game Studios, 2011
Genre: Role-Playing » Japanese-Style
Fable III faces some notable challenges, including characters that feel emotionally distant and a lack of compelling moral choices.
However, its most significant hurdle is its striking similarity to Fable II, which hinders its ability to establish a unique identity.
But while it may encounter some rough patches, the opportunity to immerse oneself in its magical world is still a delight.
#8. Grandia II
Release Data: Game Arts/Ubisoft, 2002
Genre: Role-Playing » Japanese-Style
Originally released in 2000 for the Dreamcast, the PC port of Grandia II remains faithful to the original game.
However, it may not necessarily appeal to fans of traditional PC role-playing games, as its linear gameplay, "young adult" sensibility, and anime artwork may not resonate with those seeking experiences akin to Baldur's Gate II.
#7. Battle Chasers: Nightwar
Release Data: Airship Syndicate Entertainment/THQ Nordic, 2017
Genre: Role-Playing » Japanese-Style
Battle Chasers: Nightwar is an impressive and well-crafted game that successfully captures the essence of classic JRPGs while avoiding many of their drawbacks.
It offers a delightful blend of modern elements and nostalgic charm, making it a highly appealing experience.
Overall, this game is a fantastic balance between contemporary features and a longing for the past.
#6. Penny Arcade Adventures: Episode Three
Release Data: Zeboyd Games, 2012
Genre: Role-Playing » Japanese-Style
The third installment sets itself apart from its predecessors with a fresh gameplay, and this new direction is truly commendable.
While the initial hour may require some patience, the enhanced combat mechanics and intricate encounters ensure that battles remain engaging.
Moreover, the clever and extended comedic elements beautifully offset the overly dramatic storyline, infusing it with a lighthearted and enjoyable atmosphere.
#5. Final Fantasy VIII
Release Data: SquareSoft/Square EA, 2000
Genre: Role-Playing » Japanese-Style
It is undeniable that Final Fantasy VIII represents a significant milestone in JRPGs.
Its ending sequence stands as one of the most mind-bending experiences in video game history, making it a noteworthy achievement in itself.
While it may not convert newcomers to the JRPG genre, there is enough enchantment within the game to leave any devoted fan tingling with excitement.
#4. Anachronox
Release Data: Ion Storm/Eidos Interactive, 2001
Genre: Role-Playing » Japanese-Style
If you can endure the slow start, Anachronox offers a gratifying experience with its superb dialogue, impressive voice acting, and a progressively deepening combat system.
And while its gameplay adheres to the established conventions of its genre, what truly sets it apart is its distinct American perspective and a skillful infusion of humor.
#3. The Legend of Heroes: Trails of Cold Steel
Release Data: Falcom/XSEED Games, 2017
Genre: Role-Playing » Japanese-Style
Trails of Cold Steel, in the end, caters to a specific audience of JRPG enthusiasts, but it excels by embracing and mastering the genre's tropes and mechanics, rather than attempting to appeal to everyone with disjointed elements.
While it may not introduce groundbreaking innovations, its meticulous attention to detail compensates admirably, resulting in a polished experience.
#2. Final Fantasy VII
Release Data: SquareSoft/Eidos Interactive, 1998
Genre: Role-Playing » Japanese-Style
The PC version of Final Fantasy VII had the potential to surpass its PlayStation counterpart, but it falls short of that mark.
However, the game's storyline is undeniably amazing, and the combat mechanics provide an enjoyable experience, making it a solid option for fans of CRPGs, especially those who appreciate a touch of action.
#1. Undertale
Release Data: tobyfox, 2015
Genre: Role-Playing » Japanese-Style
Undertale is a wholly unique experience, combining multiple mechanics from a variety of genres to create a masterfully crafted tale.
Most of the game is spent chatting with fun and hilarious characters and completing small quests for them.
It might not be the most graphically impressive game, but Undertale tells an exciting and unique story through fun and often subversive gameplay.
---
Browse Games By Genre
See also: Best Gaming Chairs & Best Gaming Room Accessories
Are your favorite games on the list?
Deciding which PC JRPG is the best is no doubt a never ending topic, but it's fun to do!