We already published the list of best PC games of all time, now it's time to discover the best PC platform games of all time.
With amazing titles available, the PC gaming community will surely enjoy a great library of platform games.
So, if you're a PC gamer and love platform games, there's a chance you'll like this list.
And some of you may already know some of the games mentioned in this list.
#25. Valiant Hearts: The Great War
Release Data: Ubisoft Montpellier/Ubisoft, 2014
Genre: Action » Platformer » 2D
Valiant Hearts: The Great War is an incredibly impressive game that provides an immersive look into the realities of World War 1 without becoming dull or overly distressing.
The game includes just enough cheerful moments to maintain a positive tone, and players will undoubtedly become invested in the well-crafted characters, particularly the lovable small dog.
#24. VVVVVV
Release Data: Terry Cavanagh, 2010
Genre: Action » Platformer » 2D
Although there are some minor issues, this is an exceptional port of an outstanding platformer.
VVVVVV expertly switches between challenging punishment and liberating freedom, delivering more joy in its brief two or three hour campaign than most games do in four times that length.
#23. CAPSIZED
Release Data: Alientrap, 2011
Genre: Action » Platformer » 2D
CAPSIZED is an enthralling game that offers a captivating gameworld packed with life.
Its artistic design and soundscape combine to create a thrillingly unique atmosphere that's rarely found in other games.
And while it may not be perfect, CAPSIZED is an excellent choice for those craving an adventure.
#22. Vessel
Release Data: Strange Loop Games/indiePub, 2012
Genre: Action » Platformer » 2D
Vessel may not have a huge budget backing it up as it's an independent game, and the development journey may not have been without its hiccups.
But if you're someone who values games that challenge your mind and offer satisfying moments of discovery, and if you're willing to overlook some flaws, then this game is definitely worth a try.
#21. Trine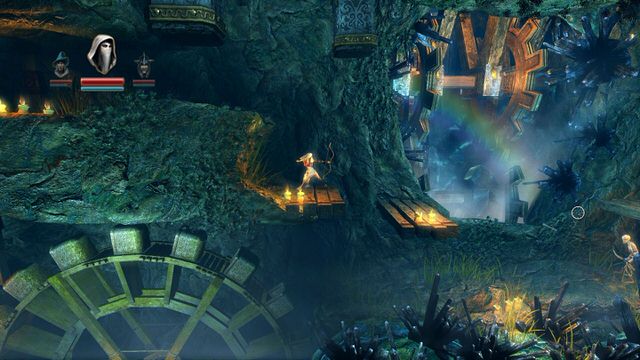 Release Data: Frozenbyte, Inc., 2009
Genre: Action » Platformer » 2D
Trine is a masterfully balanced game that offers just the right amount of combat, platforming, and puzzles.
The result is an enticing and enjoyable game that's sure to please.
The controls are responsive and smooth, making platforming action a breeze rather than a frustrating experience.
#20. Dustforce
Release Data: Hitbox , 2012
Genre: Action » Platformer » 2D
If you're after a more relaxing alternative to Super Meat Boy, and don't mind replaying levels to perfect your skills, Dustforce is a great pick.
While it may take some time to get used to, with a bit of patience and practice, you'll find Dustforce to be a fun and enjoyable indie game.
#19. Katana ZERO
Release Data: Askiisoft/Devolver Digital, 2019
Genre: Action » Platformer » 2D
One of the best things about Katana ZERO is its engaging story that offers different dialogue options and ways to approach each encounter.
And even though the story takes some wild turns, it only adds to the overall excitement of the game.
#18. Broforce
Release Data: Free Lives/Devolver Digital, 2015
Genre: Action » Platformer » 2D
Broforce is an absolute blast, and not just because of its nostalgic humor.
There's always something new to discover and experiment with, whether it's using a gatling gun to destroy a spawning chamber or throwing a corpse to distract a vicious guard dog.
#17. GRIS
Release Data: Nomada Studio/Devolver Digital, 2018
Genre: Action » Platformer » 2D
GRIS is a breathtaking puzzle platformer that is truly mesmerizing.
The experience is so captivating that you'll be sad to see it come to an end.
The poignant atmosphere and stunning visuals will linger in your mind long after the credits roll.
However, the game's only flaw is that it's relatively short, lasting around three hours.
#16. FAR: Lone Sails
Release Data: Okomotive/Mixtvision, 2018
Genre: Action » Platformer » 2D
FAR: Lone Sails is a poignant adventure through a stunning world that's slowly fading away.
Although it's not a long journey and doesn't have much replay value, it's difficult to break away from once you start.
If you enjoy this type of game, you won't regret giving it a try, and it's definitely worth the price.
#15. INSIDE
Release Data: PLAYDEAD, 2016
Genre: Action » Platformer » 2D
INSIDE is a game that doesn't provide all the answers, which may be frustrating for some who seek a clear resolution.
However, for those who can appreciate the allure of the unknown and mystery, INSIDE is a game that definitely deserves attention.
#14. Rogue Legacy
Release Data: Cellar Door Games, 2013
Genre: Action » Platformer » 2D
Rogue Legacy is an indie game that offers endless hours of fresh gameplay.
With each playthrough, you'll experience something new and exciting, and the game can be completed multiple times with an added level of difficulty.
The game is a prime example of great ideas meeting great game design, and for those who love old-school gaming, it's a must-try.
#13. The Bug Butcher
Release Data: Awfully Nice Studios, 2016
Genre: Action » Platformer » 2D
The Bug Butcher is an incredibly enjoyable and addictive arcade-style shooter.
Although the game's levels can be completed fairly quickly, it offers an impressive amount of replay value, as every point counts towards climbing the leaderboards.
You'll find yourself coming back to it time and time again, trying to beat your high score and improve your ranking.
#12. Bionic Commando Rearmed
Release Data: GRIN/Capcom, 2008
Genre: Action » Platformer » 2D
With its revamped gameplay mechanics and polished visuals, it successfully brings back the best elements of the original game, making them even better than before.
The inclusion of new, challenging bosses and a memorable final level adds to the already impressive gameplay experience.
Overall, Bionic Commando Rearmed is an amazing game that deserves a place in every gamer's collection.
#11. Trine 2
Release Data: Frozenbyte, Inc., 2011
Genre: Action » Platformer » 2D
Trine 2 is a platformer that transports players into a fantastic world with stunning environments.
It's slightly lengthier than the first Trine, clocking in at around 6 hours of gameplay.
But if you're looking for more, there are additional hours to be found hunting experience vials or teaming up with friends for amusing co-op.
#10. Oddworld: Abe's Exoddus
Release Data: Digital Dialect/GT Interactive, 1998
Genre: Action » Platformer » 2D
Exoddus may seem like it's holding your hand, but don't be fooled into thinking it's an easy game.
Just like its predecessor, Exoddus is extremely challenging and success will require continuous trial and error, regardless of your platforming skills.
But despite its inevitable frustrations, Abe's Exoddus is a rewarding experience that will test your dexterity and wit with countless difficult trials.
#9. Shovel Knight
Release Data: Yacht Club Games, 2014
Genre: Action » Platformer » 2D
In short, Shovel Knight is an amazing game.
It has the appearance and sound of a classic game, while incorporating the best gameplay mechanics of its time.
And unless you only play polygon-based games or dislike indie titles, Shovel Knight deserves a place in your video game library.
#8. Cuphead
Release Data: Studio MDHR, 2017
Genre: Action » Platformer » 2D
If you enjoy a challenging side-scrolling game with epic boss battles, then you'll absolutely love Cuphead's breathtaking graphics and original soundtrack.
However, players who are not accustomed to the unforgiving difficulty of retro games may find it hard to keep up.
Nevertheless, if you're up for a challenge, Cuphead delivers a gaming experience like no other.
#7. LIMBO
Release Data: PLAYDEAD, 2011
Genre: Action » Platformer » 2D
Visually, LIMBO is a masterpiece.
The monochromatic black and white aesthetic creates an eerie and moody atmosphere that perfectly captures the game's essence.
The interplay of shadows and silhouettes in the foreground and background is awe-inspiring, and one might even find themselves longing for more games like it.
#6. The Swapper
Release Data: Facepalm Games, 2013
Genre: Action » Platformer » 2D
With meticulously crafted puzzles and a tool that rivals the iconic Portal Gun, The Swapper provides an engaging and challenging gameplay experience.
Overall, The Swapper is a must-play for those seeking a thrilling and immersive game with top-notch gameplay, stunning visuals, and an introspective narrative.
#5. Psychonauts
Release Data: Double Fine Productions/Majesco, 2005
Genre: Action » Platformer » 3D
While those seeking a challenging or lengthy adventure won't find it here, the game's whimsical adventure, brilliant presentation, and fantastic story make up for it.
The graphics may have some rough edges, but that doesn't take away from the overall fun of the game.
In short, if you're looking for a fun and imaginative adventure, look no further than Psychonauts.
#4. Guacamelee! Gold Edition
Release Data: DrinkBox Studios, 2013
Genre: Action » Platformer » 2D
Guacamelee! Gold Edition is the ultimate version of an already amazing game.
It's packed with style, well-written dialogues, and an unexpectedly intricate gameplay.
Not only that, but it also comes with extra content that makes it even more satisfying to play.
Although some parts of the game can be challenging, it is recommended to anyone who loves action games or Luchadors.
#3. Dead Cells
Release Data: Motion Twin, 2018
Genre: Action » Platformer » 2D
Dead Cells is not a game you play for its storyline, as it's rather sparse.
However, the game's visuals and music are expertly crafted and add to the addictive gameplay.
As with any roguelike platformer, death is inevitable, but the game's immersive music and stunning visuals will keep you coming back for more, despite repeated failures.
#2. Braid
Release Data: Number None Inc., 2009
Genre: Action » Platformer » 2D
Braid was a popular indie game before we had the abundant indie game studios that we have today.
Unlike many platformer games, Braid focused more on puzzles, making it a unique experience.
If you enjoy puzzle-based games, Braid is a genius game that will provide you with a great brain exercise.
#1. Rayman 2: The Great Escape
Release Data: Ubisoft, 1999
Genre: Action » Platformer » 3D
A few minor issues aside, Rayman 2 is an excellent game that breathes new life into a well-worn genre with its unique style and outstanding creativity.
The game is enjoyable to play, with stunning visuals that are easy on the eyes.
In fact, it's so innovative that it makes other games seem inferior in comparison when it comes to originality.
---
Browse Games By Genre
See also: Best Gaming Chairs & Best Gaming Room Accessories
Are your favorite games on the list?
Deciding which PC platform game is the best is no doubt a never ending topic, but it's fun to do!