We already published the list of best DS games of all time, now it's time to discover the best DS survival/horror games of all time.
With amazing titles available, the DS definitely has a great library of survival/horror games.
So, if you're a fan of both the DS and survival/horror games, there's a chance you'll like this list.
And some of you may already know some of the games mentioned in this list.
#5. Theresia
Release Data: WorkJam/Arc System Works, 2008
Genre: Action Adventure » Survival
These types of survival games are all about trial and error, and the player should be free to examine objects.
But as a horror game, Theresia does a great job instilling a sense of dread in the player.
The fact that there are two lengthy stories to play through could provide a nice adventure injection to those who enjoy the genre.
#4. Resident Evil: Deadly Silence
Release Data: Capcom, 2006
Genre: Action Adventure » Survival
You wouldn't expect a portable game to be able to scare you, especially since this version's visuals simply aren't on par with the cutting-edge graphics Resident Evil is known for.
But Resident Evil DS packs in a lot of gory, atmospheric moments. It's pretty wild that now you can play a game like this on the go.
#3. Lost in Blue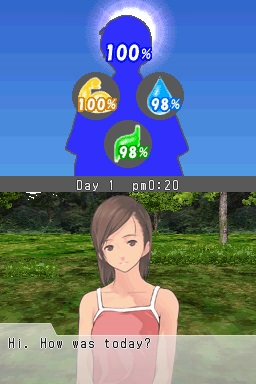 Release Data: Konami Computer Entertainment Hawaii/Konami, 2005
Genre: Action Adventure » Survival
Lost in Blue is a game that demands so much of your attention that it might wear you down in the end.
But it is still a game that shows us that the DS can be home to some interesting games.
In the end, this is a game that will seriously keep you busy.
#2. Dementium: The Ward
Release Data: Renegade Kid/Gamecock Media Group, 2007
Genre: Action Adventure » Survival
Ultimately, this title is an entertaining survival shooter that makes great strides in creating a portable horror experience.
Easily beatable in four to five hours by an accomplished player, its static puzzles and enemy placement leave no reason to run through it again, but its memorable sound design and creepy ambience make it well worth a play.
#1. Dementium II
Release Data: Renegade Kid/SouthPeak Games, 2010
Genre: Action Adventure » Survival
Dementium II is a decent game with lots of interesting elements combined with a surprising amount of impressive technology.
The campaign at four hours long is short, but it's definitely sweet.
The developer made a great first step with the original Dementium, and Dementium II has enough interesting elements to give it a try.
---
Browse DS Games By Genre
See also: Best GameCube Games & Best Wii Games
Are your favorite games on the list?
Deciding which DS survival/horror game is the best is no doubt a never ending topic, but it's fun to do!