We already published the list of best DS games of all time, now it's time to discover the best DS flight simulator games of all time.
With amazing titles available, the DS definitely has a great library of flight simulator games.
So, if you're a fan of both the DS and flight simulator games, there's a chance you'll like this list.
And some of you may already know some of the games mentioned in this list.
#5. Top Gun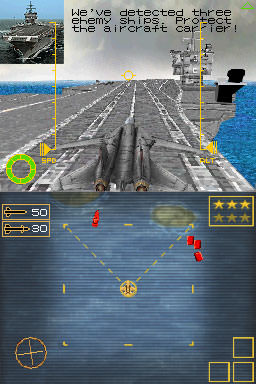 Release Data: InterActive Vision Games/Mastiff, 2006
Genre: Simulation » Flight » Combat
There's really little redeeming value to Top Gun, with its boring gameplay and lackluster presentation.
The developer didn't even really make use of the Top Gun license, other than using the names of the movie characters as selectable pilots and taking just one song from the soundtrack.
#4. Spitfire Heroes: Tales of the Royal Air Force
Release Data: Big John Games/Destineer, 2008
Genre: Simulation » Flight » Combat
It's a history based game so it's not going to have the aero acrobatics and gun power that Ace Combat or Star Fox do.
It handles well enough, and the missions provide a hefty amount of challenge, but it's ultimately repetitive and short.
Spitfire Heroes is yet another mediocre flight action game for the Nintendo DS.
#3. Time Ace
Release Data: Trainwreck Studios/Konami, 2007
Genre: Simulation » Flight » Combat
Time Ace has merit and isn't a terrible game—it just feels a little too slapped together and doesn't have enough polish to be considered even a "good" Nintendo DS action title.
There is some fun to be had here, but honestly Time Ace could have used a few more improvements.
#2. Star Fox Command
Release Data: Q-Games/Nintendo, 2006
Genre: Simulation » Flight » Combat
The bottom line is that for those of you hoping for a more traditional Star Fox experience, Star Fox Command will leave you disappointed.
What it instead offers is more of a new evolution in the franchise, a fresh start for a troubled series and one that comes highly recommended.
#1. AiRace
Release Data: NoWay Studio/QubicGames, 2010
Genre: Simulation » Flight » Civilian
AiRace looks good, plays great and stands out from the other DS flight games in more ways than just choice of vehicle.
A few more modes or tracks would have been nice, but considering the price it's not a bad deal at all, especially for anyone who is sick of the road and would rather take to the sky.
---
Browse DS Games By Genre
See also: Best GameCube Games & Best Wii Games
Are your favorite games on the list?
Deciding which DS flight simulator game is the best is no doubt a never ending topic, but it's fun to do!