We already published the list of best PS3 games of all time, now it's time to discover the best PS3 puzzle games of all time.
With amazing titles available, the PS3 definitely has a great library of puzzle games.
So, if you're a fan of both the PS3 and puzzle games, there's a chance you'll like this list.
And some of you may already know some of the games mentioned in this list.
#25. Red Johnson's Chronicles
Release Data: Lexis Numerique, 2011
Genre: Puzzle » Action
Red Johnson's Chronicles certainly throws some real brain teasers at you and has a pretty interesting murder mystery to solve.
It lacks a lot of the humor that you find in these types of games, and some of the questioning portions are dull and vague.
Overall, it's an original title that could probably improve itself with more episodes.
#24. Slam Bolt Scrappers
Release Data: Fire Hose Games/Sony Online Entertainment, 2011
Genre: Puzzle » Action
Slam Bolt Scrappers is definitely unique and original, but not without its share of issues.
Still, you will be hard-pressed to find a more chaotic and fun experience, especially if you have three friends and four controllers.
Slam Bolt Scrappers is certainly worth checking out if you are in the market for a new, and unique, puzzle game.
#23. Aqua Panic
Release Data: EKO Software, 2010
Genre: Puzzle » General
All in all, Aqua Panic! is a good game.
While it's nothing revolutionary, Aqua Panic! is a challenging, fun puzzler with aspects that can certainly be described as addicting and infuriating at the same time.
While the steep difficulty may turn some away, those looking test their skills will definitely find value here.
#22. Puddle
Release Data: Neko Entertainment/Konami, 2012
Genre: Puzzle » Action
The changing environments always keep the game fresh and becoming a master of the elements makes you feel godlike when you get that perfect run.
You can even live your fantasy of traveling through the human body, and yes it ends where you think it will end.
#21. Diner Dash
Release Data: GameLab/Big Fish Games, 2009
Genre: Puzzle » Action
There is a reason Diner Dash is so popular—the simple time management exercise is addictive and it can be very satisfying when you get an efficient restaurant up and running.
There are no glaring issues with the game, and with an added friend locally, it doubles the fun.
#20. Flock!
Release Data: Proper Games/Capcom, 2009
Genre: Puzzle » Action
This game is good.
It had a lot of potential and succeeded on a few fronts.
However, this game isn't for everyone, and some might see the gameplay as work, but if you're looking for a unique puzzle game then Flock! might just be the game for you.
#19. Bejeweled 2
Release Data: PopCap, 2009
Genre: Puzzle » Matching
Games like Bejeweled 2 live or die based on their addictive qualities.
This particular outing has no reason to worry; it delivers the goods just as it always has.
It's addictive fun, complete with trophies and custom soundtracks, resulting in a decent package that's made even better by the opportunity to replace the generic music with selections from your own library.
#18. Droplitz
Release Data: Blitz Arcade/Atlus, 2009
Genre: Puzzle » General
Droplitz is a nice puzzle game to waste your time.
Its system of unlocking new levels and game modes by reaching certain scores is very rewarding.
Some might regret the lack of multiplayer, but there's plenty of solid single-player puzzling to be done here.
The art style and music don't show a lot of personality, but the gameplay is simple and addictive.
#17. Cuboid
Release Data: Creat Studios/Tik Games, LLC, 2009
Genre: Puzzle » General
All in all this is a very fun and extremely addictive game.
The 66 levels have just enough variation so that it doesn't get old, although any more than 66 may have gotten repetitive.
This is a 'must pick up' for all you puzzle lovers out there.
#16. LocoRoco Cocoreccho!
Release Data: SCE Japan Studio/SCEI, 2007
Genre: Puzzle » Action
You can see all the game has to offer in just a few short hours, and if you're a fan of LocoRoco on the PSP, you may be disappointed that the game veers so much from the original formula.
However, the puzzle elements are cool, the music and art style are charming and the replayability is decent.
#15. Trash Panic
Release Data: SCEJ/SCEA, 2009
Genre: Puzzle » General
Trash Panic is an original, inventive puzzle game with an unexpected level of depth.
Sadly, the fierce learning curve will make this game inaccessible to most.
Get the game for it's quirky, hardcore puzzle mechanics, but a lot of players will be left cold by it's omission to leave out casual players altogether.
#14. Puzzle Quest: Galactrix
Release Data: Infinite Interactive/D3Publisher, 2009
Genre: Puzzle » Matching
Because of the brilliant layout of the battle field, it really does feel like you're piloting a spaceship, despite the puzzle-based gameplay.
Overall, it's nice to discover that Puzzle Quest's science fiction make-over isn't entirely cosmetic–it really does improve the feel of the game overall.
#13. Ibb & Obb
Release Data: Sparpweed, 2013
Genre: Puzzle » Action
Ibb & Obb is an excellent 2D puzzle-platformer with a unique gravitational mechanic and well-crafted co-op play.
What it lacks in online mode it makes up for with brilliant puzzles, and the variety and difficulty of those puzzles makes the somewhat repetitive level design easy to forgive.
It's a must-have for its great cooperative experience—just make sure you pick a good partner.
#12. Mercury Hg
Release Data: UTV Ignition Games, 2011
Genre: Puzzle » General
It may not fulfill all of its potential, but Mercury Hg is a fun game that will give you a few hours of enjoyment and can easily be picked up by anyone in the mood for a good puzzle game.
#11. Quantum Conundrum
Release Data: Airtight Games/Square Enix, 2012
Genre: Puzzle » General
The rewarding sense of experimentation and problem-solving that dominates this quest makes putting up with its flaws worthwhile.
It doesn't always play to its strengths, but the clever ideas and confounding brainteasers of Quantum Conundrum make it a mostly enjoyable journey.
#10. Puzzle Dimension
Release Data: Doctor Entertainment, 2011
Genre: Puzzle » General
Puzzle Dimension is everything a puzzle fan could ask for.
It has all of the complexity and brain teasing fun you'd want, combined with a fun soundtrack and killer visuals.
If you're looking for a great puzzle game, you could do a lot worse that Puzzle Dimension.
#9. Chime Super Deluxe
Release Data: Zoe Mode, 2011
Genre: Puzzle » Stacking
The puzzle fans will get their fix, and the gamers wanting something to chill with for a few minutes can find their answer here.
Chime Super Deluxe is just plain fun, especially in versus mode.
It is a lovingly crafted and wonderfully composed package that deserves to be part of your collection.
#8. Bomberman Ultra
Release Data: Hudson/Hudson Entertainment, 2009
Genre: Puzzle » Action
The graphics and sound may be simple compared to other games on the service, but the controls are easy for anyone to grasp.
More importantly, the gameplay is still solid.
While the single-player experience may be shallow, the local multiplayer finally gives you a good excuse to have seven PS3 controllers in your possession.
#7. echochrome ii
Release Data: SCE Japan Studio/SCEA, 2010
Genre: Puzzle » Action
echochrome ii makes great use of the Move controller, and never feels gimmicky.
That said, its a shame that players without a Move won't be able to enjoy this title, as the first game already proved these basic mechanics can be handled by the DualShock controller.
Nevertheless, its a great incentive to opt into the hardware and enjoy this title.
#6. Lumines Supernova
Release Data: Q Entertainment, 2008
Genre: Puzzle » Matching
Lumines Supernova retains the brilliantly charming gameplay that can turn puzzle junkies and newcomers alike into addicted insomniacs.
The refreshing skins and songs are excellent, and with so many ways to play, there's practically limitless replay value here.
Overall, Lumines Supernova is a great puzzle package for the PS3.
#5. echochrome
Release Data: SCE Japan Studio/SCEA, 2008
Genre: Puzzle » Action
Overall, Echochrome is a very interesting puzzle game.
And while its optical illusions and its challenge to a player's perception of the world will potentially scare off some players, the flexibility of each level and the simplicity of its presentation is incredibly effective, and should appeal to anyone looking for a challenge.
#4. Tetris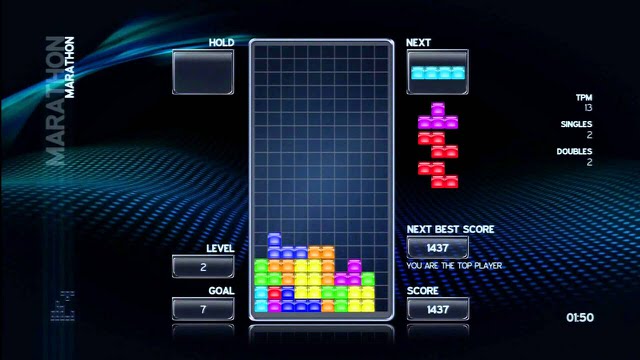 Release Data: EA Mobile/Electronic Arts, 2011
Genre: Puzzle » Stacking
Tetris is for gamers young and old, from casual to the most extreme of the hardcore.
EA somehow managed to improve on the unimprovable, making this the definitive version of a game that we never knew could change.
You will get addicted on Tetris again when you play this game, and you will love it.
#3. Stacking
Release Data: Double Fine Productions/THQ, 2011
Genre: Puzzle » Action
Stacking is full of charm, humor, and fun puzzles.
Though some of the solutions are really easy, if you avoid the hint system it'll take some time to decipher the harder ones.
However, it's hard not to get sucked into this colorful world, so if you can appreciate the style of humor Stacking has to offer, you'll enjoy this game immensely.
#2. Critter Crunch
Release Data: Player X/Capy Games, 2009
Genre: Puzzle » General
With a solo adventure that should easily take 5 or more hours to complete, multiplayer and several other modes, you'll be puzzling it out for quite awhile.
Addictive and endearing gameplay and offbeat humor make this puzzler one worth playing.
If you're looking for the latest brain teaser to add to your game library, Critter Crunch is a fantastic choice.
#1. Peggle
Release Data: PopCap, 2009
Genre: Puzzle » Action
In this extraordinarily fun puzzle game, you must properly line up shots to bounce balls off of brightly colored pegs.
There are over fifty unique levels to play, and ten characters with a unique special power to choose from.
Whether you're enjoying the solo Adventure mode or competitive multiplayer, Peggle provides endless party fun.
---
Browse PS3 Games By Genre
See also: Best PSP Games & Best PS Vita Games
Are your favorite games on the list?
Deciding which PS3 puzzle game is the best is no doubt a never ending topic, but it's fun to do!