We already published the list of best GBA games of all time, now it's time to discover the best GBA RPGs of all time.
With amazing titles like the Pokémon series, Castlevania series, and Final Fantasy series, the GBA surely have a great collection of RPGs.
If you're a fan of both GBA and RPGs, I know that you want to know the best GBA RPGs of all time.
Most of you will recognize (or even still play) some of the games mentioned on this list.
See also: Best GBC Games & Best GameCube Games
#25. Pokemon Emerald Version
Game Freak/Nintendo, 2005
Role-Playing » Trainer
Synopsis
You know how it goes, the classic pokemon trainer story.
Go on an adventure with your pokemon to claw your way to adventure league, and fight an evil team from using legendary pokemon.
Short Review
Pokemon Emerald proofing that good game design is timeless.
Visual is really appealing with all environment have its own thematic scheme.
Pokemon balancing is not that great but the pokemon fight can still be great nonetheless.
The game is challenging enough, you need to think your tactic through to win in a gym, while catching a legendary pokemon has its own sense of pride and accomplishment.
#24. Boktai 2: Solar Boy Django
KCEJ/Konami, 2004
Role-Playing » Action RPG
Synopsis
The first game title from Hideo Kojima, creator of the infamous Metal Gear series.
Play as a young boy named Django, destined to destroy the vampire that haunts the world around you with your solar-powered gun.
Short Review
Boktai 2 is the Pokemon: GO on its time, this game was the first game that utilizes solar sensor, making it an integral part of this game.
Your gun is powered by solar energy, thus going outside in sunlight is your way to charge your weapon, several locations also needed sunlight to be accessible.
The story is a very basic good guy bad guy story with not much character development.
#23. Kingdom Hearts: Chain of Memories
Jupiter Corporation/Square Enix, 2004
Role-Playing » Action RPG
Synopsis
Chain of Memories set after the event in the first game.
Make your way through Castle of Oblivion with your favorite Disney character in this card-based exploration RPG.
Short Review
Once you get past the slight learning curve, this game is a walk in the park (but still with a good balance of challenge) and let you enjoy the story.
Chain of Memories delivers a compelling narrative, supported by its eye-pleasing graphic and original soundtrack from the first game.
This game actually has its replay value, a game that successfully executed its unorthodox gameplay.
#22. Mega Man Battle Network 3: White Version
Capcom, 2003
Role-Playing » Action RPG
Synopsis
Lan, our main protagonist, discovers an evil plot by a corrupt corporation while attending a local net tournament.
Guide your Personal Electronic Trained character, Mega Man, through a plethora of levels, defeating enemies and save the cyberworld.
Mega fun, intuitive gameplay, and adventure that will keep you entertained for 20+ hours.
Short Review
Extensive customization, with Navi customizer, you could spend countless hours creating your interpretation of perfect Megaman.
The boss fight is decently challenging that will keep you at the back of your seat every time.
For those of you who like to stray from the main quest, Mega Man Battle Network 3 provide you with a numerous sidequest varied in difficulty.
#21. Hamtaro: Rainbow Rescue
Graphic Research/Nintendo, 2004
Role-Playing » Japanese-Style
Synopsis
Immerse yourself in endearing colorful mini-games and puzzle galore in the world of adorable talking hamsters.
Play as a group of lovely hamsters solving puzzles, earn your sticker, collecting pictures and help prince Bo return to rainbow land.
Short Review
Following the TV show's footsteps, this game has a decent sense of humor.
Clueless innocent hamster trying to figure out what's happening.
Hamtaro: Rainbow Rescue fully maximizing GBA potential, and delivered a pleasing colorful graphic.
Don't expect the puzzle to be a walk in the park, you'll need to pour your thought into the puzzle.
Perfect for you who like a challenging game.
#20. Lunar Legend
Game Arts/Media Rings, 2002
Role-Playing » Japanese-Style
Synopsis
PlayStation's title Lunar 'ported' into GBA for a portable classic RPG adventure.
Dive into the magical world of Lunar where you play as Alex an aspiring dragonmaster.
Short Review
Memorable character and story, some plot points will make you bawl in tears.
Intuitive gameplay, even for someone who isn't familiar with the RPG genre.
With a lengthy gameplay, you'll feel the emptiness when you finished, just like when you finished your favorite TV shows.
#19. The Lord of the Rings: The Return of the King
Griptonite Games/Electronic Arts, 2003
Role-Playing » Action RPG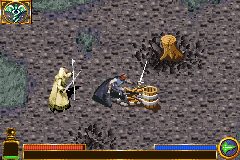 Synopsis
LOTR: Return of the King is a 2D isometric scrolling video game adaption from the epic final chapter of LOTR.
Play as the six heroes of middle earth as you revisit some of the epic settings from the movie and save the middle earth.
Short Review
Diverse playable character with its own path and story, adding replayability to the game.
The multiplayer feature is perfectly done where you and your buddy can carry your own character and slash your way through middle earth.
#18. Shining Soul II
Nex Entertainment/THQ, 2004
Role-Playing » Action RPG
Synopsis
Shining Soul II continue the story from the first iteration of Shining Soul.
Choose one from of the eight available class, and once again defeat darkness looming threat and restore the balance between light and darkness, as all things should be.
Short Review
A myriad of playable characters, multiplayer & colosseum mode, extra quest, and harder difficulty unlocked after you finished the game, make this game worth every penny based on replayability alone.
Slashing monster has never been this addictive, great for killing time during commute.
Sadly, the in-game graphics and audio are lackluster, undermining the great artwork this game has.
#17. Mega Man Battle Network
Capcom, 2001
Role-Playing » Action RPG
Synopsis
Capcom first takes on Mega Man Battle Network, this game laid the foundation for the other eight Battle Network series.
You play Lan and his internet persona Megaman, and together you must uncover underground criminal organization's plan to sabotage the battlenet.
Short Review
A fresh and innovative battle system that started Battle Network's series.
A real-time battle system that deviates from traditional RPG games.
While not as solid as Castlevania series in terms of graphic, this game sure still hold on to its own.
The mix between traditional RPG and standard Mega Man element really pays off in the end, making this a great game to start the series with.
#16. Riviera: The Promised Land
Sting, 2005
Role-Playing » General
Synopsis
Classic JRPG from sting entertainment, an adventure game sprinkled with a little dating sim.
Set place in the continent of Riviera, two warriors wielding ungodly weapon tasked to destroy the demon hell-bent on possessing fallen God's power.
Short Review
Captivating and fully fledged storyline which is a rare thing in an RPG game like this.
Another rare thing worth noticing is the excellent voice acting.
GBA game with a captivating storyline is already great, added with excellent voice acting made this game even better.
Limited usage of items added a challenging aspect into the game, strategize item usage and emerge victorious from battle.
#15. Summon Night: Swordcraft Story 2
Flight-Plan/Banpresto, 2006
Role-Playing » Action RPG
Synopsis
Swordcraft Story 2 is a direct sequel and an upgrade to the first series.
Released one year after its predecessor, Swordcraft Story 2 won't change the winning formula and came up with the same idea from the first Swordcraft Story.
You play as a legendary weapon crafter prodigy, uncovering Lyndbaum darkest secret.
Short Review
As a swordcrafter, you got tons of arsenal in your pocket.
Forge and re-forge your weapon in and out of combat, an interesting mechanic that got me hooked to the game.
Running on random encounter style RPG, you'll never know what's lurking in the shadow.
In terms of graphic, Swordcraft Story 2 trump all other GBA games in its time.
very detailed sprite works, pretty environment, and character design, plus other visual effects to immerse yourself in the game.
#14. Pokemon LeafGreen Version
Game Freak/Nintendo, 2004
Role-Playing » Trainer
Synopsis
Second pokemon game from this list, LeafGreen is a remastered version of Pokemon Red and Blue released in 2004.
LeafGreen retells the classic story that started it all, wander through Kanto island and prepare yourself to fight the supreme Elite Four.
Short Review
Pokemon LeafGreen and FireRed comes with the classic pokemon we all know and love.
Playing as dozens of imaginative characters with their own evolution is really fun.
Gamefreak sticks to the basic and decided to use old audio from the previous game and oh boy it works, there is some nostalgia feeling to the song and audio effect.
Train your pokemon and bring it for battle against your friend is where the fun begins, and don't forget the trading feature to complete your pokemon collection.
#13. Mega Man Battle Network 2
Capcom, 2002
Role-Playing » Action RPG
Synopsis
A new internet terrorist group arises from the dark and threaten to delete the internet.
Join Lan and his group to save the emerging threat and save the internet once again.
Short Review
Mega Man Battle Network continue formula from the first series while emphasizing challenging puzzle and tons of new feature.
A brand new story and adventure to pick up after the first game.
Expanding from the first game while still retaining the first game 'winning formula', a traditional RPG game combined with standard Mega Man gameplay.
#12. Pokemon FireRed Version
Game Freak/Nintendo, 2004
Role-Playing » Trainer
Synopsis
Pokemon FireRed version is adapted from Pokemon Red and Blue.
Basically the same games as Pokemon LeafGreen, Pokemon FireRed offer a different roster of pokemon to catch, adding some variation on which players can choose from.
Short Review
Pokemon LeafGreen and FireRed comes with the classic pokemon roster with a slight difference exclusive to each title that obliges you to trade with your friend to catch them all.
#11. Final Fantasy V Advance
TOSE/Square Enix, 2006
Role-Playing » Japanese-Style
Synopsis
The wind crystal has been shattered causing turbulence in the world, join the party of four heroes on an epic otherwordly quest to avert the four remaining crystal from destruction.
Short Review
Four new classes to play (Gladiator, Necromancer, Canooner, and Oracle) add new depth to the gameplay.
FF series don't urgently need a class variation but this new class surely adds a breath of fresh air into the game.
The story is probably the weakest from the series trio, but in terms of general RPG, the story itself still holds itself to a high standard.
Nonetheless, you still got to meet a lot of interesting and memorable character as the story progress.
#10. Final Fantasy IV Advance
TOSE/Nintendo, 2005
Role-Playing » Japanese-Style
Synopsis
Originally released in super Nintendo as Final Fantasy II, Square Enix brings the game that set the standard for turn-based RPG games into GBA.
Follow Cecil, an elite force stripped from his rank on an epic journey to find himself and the meaning of friendship, betrayal, and loss.
Short Review
The game that made Square Enix known as one of the best game publisher in creating captivating and memorable stories that stick within its player long after they finish the game.
There is no repetitive and boring gameplay.
There is always a purpose behind every move, every place and every action you take.
The narrative is slowly pushed forward, thanks to the smart story writing and level design.
Sure certain boss fights and encounters force you to really think out of the box, but that's what keeps this game interesting and memorable.
Check it out on Amazon »
#9. Pokemon Sapphire Version
Game Freak/Nintendo, 2003
Role-Playing » Trainer
Synopsis
Pokemon Sapphire brings a new generation of pokemon, a whole new region to explore and a new villain team to kick out.
A whooping new 350 pokemon has been added and it is your turn to catch them all and become the pokemon master.
Short Review
There's an improvement in terms of story, there is some sort of sandbox element where you have freedom to do things.
Pokemon game on GBA will always be timeless classic and provide you dozens hour of fun adventures.
The sheer number of stuff to do itself is enough to throne this game as GBA classic.
If you're a fan of catching the elusive legendary pokemon, you're in for a treat.
There are 7 legendaries scattered through Hoenn region waiting to be tamed.
Check it out on Amazon »
#8. Pokemon Ruby Version
Game Freak/Nintendo, 2003
Role-Playing » Trainer
Synopsis
Pokemon Ruby offers an alternative to Pokemon Sapphire.
Choose which pokemon roster you like from both and set out on your adventure to become the ultimate pokemon master.
Short Review
Alternate version from Pokemon Sapphire, Ruby version lets you choose a different roster of pokemon available in-game to trade with your friend to complete your collection.
Check it out on Amazon »
#7. Castlevania: Harmony of Dissonance
KCET/Konami, 2002
Role-Playing » Action RPG
Synopsis
Set 50 years after the first Castlevania, it is now Juste Belmont's time to continue the Belmont's family legacy.
Short Review
Enjoy a new game sub-genre inspired solely by this game, Metroidvania.
It takes you around 10 hours to whip your way back and forth between Dracula castle.
There are multiple ending into the game depends on how you play the game, which is always nice and adds replayability.
Check it out on Amazon »
#6. Golden Sun: The Lost Age
Camelot Software Planning/Nintendo, 2003
Role-Playing » Japanese-Style
Synopsis
Golden Sun: The Lost Age is the continuation from the previous Golden Sun.
Set shortly before the first game end, two heroes were tasked to complete the same task as our hero in the first game.
Short Review
The Lost Age provides a little recap in the prologue covering the entire backstory from the first series so the player doesn't feel left out.
With 30-40 hours worth of content, The Lost Age surely the best bang for your buck if you're looking to maximize game longevity.
The Lost Age sticks to the basic RPG games and it works spectacularly, there's something in the gameplay that keeps me hooked for another round of exploration.
Check it out on Amazon »
#5. Castlevania: Aria of Sorrow
KCET/Konami, 2003
Role-Playing » Action RPG
Synopsis
Teleported into Dracula castle during the solar eclipse, Soma Cruz must find a way to escape the castle while Dracula's power is at their peak.
Short Review
Best game to start with if you're new to Castlevania series.
As the game itself ease newer player to the core mechanic and Castlevania's lore.
One of the main strongpoints from this series is castle exploration.
No part of the vast castle feels wasted, everything has its purposes and perfectly placed.
Find and unlock all the secret passages. Plenty of refined and polished features.
Autosaving, checking the map, and managing your inventory never been easier.
Check it out on Amazon »
#4. Castlevania: Circle of the Moon
KCEK/Konami, 2001
Role-Playing » Action RPG
Synopsis
Dracula has risen once again and will deliver doom to humanity unless he is stopped.
Venture through Dracula castle as Nathan Graves and his trusty whip to slay the count of Dracula.
Short Review
Best world design in Castlevania series, the soundtrack, sound effect perfectly set up the game's mood.
Card magic and multiplay mode injecting a new layer of depth in terms of tactic and difficulty.
There are 4 alternate game modes once you finished the game for those who like the challenge.
Check it out on Amazon »
#3. Golden Sun
Camelot Software Planning/Nintendo, 2001
Role-Playing » Japanese-Style
Synopsis
Unleash your psychic power, spell arsenal, and utilize your alchemy skill in this world of fantasy.
Isaac must save the world from an evil hand threatening to destroy the world by recovering the elemental stone.
Short Review
Layer upon layer upon layer of story, it is easy to get lost in the story if you're not paying attention.
The story starts slowly, once you passed the first or introductory layer you're in for one hell of a ride.
Unique Djinn system, a creature you can attach to yourself to enhance your offense and defense.
The djinn mechanic is quite complex and you'll need sometimes before you can maximize this feature.
Camelot lot really puts emphasis on Golden Sun graphic.
Each graphic is rendered in extravagant detail, the magic and spell special effect is majestic and beautiful, and get more exponentially beautiful as the story goes.
Check it out on Amazon »
#2. Mario & Luigi: Superstar Saga
Alphadream Corporation/Nintendo, 2003
Role-Playing » Japanese-Style
Synopsis
Princess Peach's voice is magically stolen and this time it is up to Mario and Luigi to retrieve it back.
Set forth to the Beanbean Kingdom, a new mystical land and tons of new faces.
Will Mario and Luigi with the help of Bowser successfully bringing back Princess Peach's voice?
Short Review
An enjoyable RPG game with a complexity that gives you alternatives to traditional RPG.
The story is not your classic 'Princess Peach is kidnapped, please save her' kind of story, instead, Superstar Saga lays out interesting twist and turn throughout the game.
Check it out on Amazon »
#1. Final Fantasy VI Advance
TOSE/Square Enix, 2007
Role-Playing » Japanese-Style
Synopsis
Arguably the best FF in the series, join Terra as she learns to embrace his magic skill and trying to conjure mythical creatures called Espers.
Short Review
Diverse selection of playable character, customizable battle system, and extensive amount of side quest to keep you busy.
You can clearly see each character have their own distinguishable personality.
Every character will leave a mark.
Rather than focusing on one protagonist, Final Fantasy VI feels like a group story and how their stories connected to the plot.
Check it out on Amazon »
Are your favorite games on the list? Leave a comment below!
If you think there are games that should OR shouldn't be on this list, let us know by leaving a comment below.
Deciding the best GBA RPG is no doubt a little bit late since the handheld itself has been around for 18+ years, but thanks to emulator, it's still exciting!