We already published the list of best GBA games of all time, now it's time to discover the best GBA board/card games of all time.
With amazing titles available, the GBA definitely has a great library of board/card games.
So, if you're a fan of both the GBA and board/card games, there's a chance you'll like this list.
And some of you may already know some of the games mentioned in this list.
#5. Duel Masters: Kaijudo Showdown
Release Data: Mistic Software/Atari SA, 2004
Genre: Casual » Board / Card Game
Duel Masters, a card game with expansion sets like "Evo-Crushinators of Doom", is not aimed at a crowd above the age of 11 or 12.
Anybody old enough would see straight through what they were trying to do with this game. If anybody wants to play a card battler, pick up a Yu-Gi-Oh game.
#4. Virtual Kasparov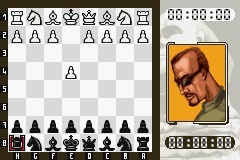 Release Data: Titus Software, 2002
Genre: Casual » Board / Card Game
Virtual Kasparov's one of the few games in town for chess-loving, GBA owners.
But that doesn't mean that the game doesn't suffer from some considerable shortcomings, most notably in the area of presentation.
The AI is still good enough to make the game enjoyable and challenging but the lack of some key features leaves you feeling somewhat unsatisfied.
#3. Uno / Skip-Bo
Release Data: Black Lantern Studios/Destination Software, 2006
Genre: Casual » Board / Card Game
This is a well-done implementation of two tried-and-true classic card games.
While these games are more fun played in person, sometimes it's not possible to lug around a boardgame or find others to play with you.
It's times like these that an electronic version comes in handy. Families will definitely enjoy these games!
#2. Chessmaster
Release Data: Ubisoft, 2002
Genre: Casual » Board / Card Game
Chessmaster is a fully rounded chess title on the go that even newcomers to the game will find very useful thanks to the included tutorial mode that acclimates new players to the basic rules and strategies of the game.
The replay ability of the game is enormous and the multiplayer component doesn't require a separate game-pak, which is nice.
#1. Ultimate Brain Games
Release Data: Cosmigo/Telegames, 2003
Genre: Casual » Board / Card Game
These games can be played elsewhere but their virtual renditions in Ultimate Brain Games have been pulled off very well.
And the developers made sure that their design was GBA-friendly, with its ability to save progress at any time, as well as putting all instructions up in the game's interface.
Ultimate Brain Games is definitely recommended for gamers on the go.
---
Browse GBA Games By Genre
See also: Best GBC Games & Best GameCube Games
Are your favorite games on the list?
Deciding which GBA board/card game is the best is no doubt a never ending topic, but it's fun to do!