We already published the list of best GBA games of all time, now it's time to discover the best GBA pinball games of all time.
With amazing titles available, the GBA definitely has a great library of pinball games.
So, if you're a fan of both the GBA and pinball games, there's a chance you'll like this list.
And some of you may already know some of the games mentioned in this list.
#5. Pac-Man Pinball Advance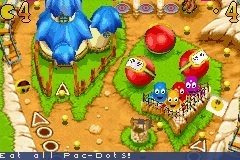 Release Data: Human Soft/Namco, 2005
Genre: Action » Pinball
The pinball physics, a huge part of any video pinball game, have been pulled off pretty well in Pac-Man Pinball Advance.
All the special, skillful techniques, like flipper passing, can be pulled off in the GBA game as long as you can slow the ball down to trap it with the flipper.
#4. Mario Pinball Land
Release Data: Fuse Games Limited/Nintendo, 2004
Genre: Action » Pinball
Mario Pinball Land acts as more than pinball, updating its objectives beyond the accumulation of points and providing varying boards with concrete goals to achieve.
It takes the concept of an adventure game and forces the player to move through it using pinball mechanics and it can be frustratingly challenging at times.
#3. The Pinball of the Dead
Release Data: Sega, 2002
Genre: Action » Pinball
Sega really knows how to pull out the quality Game Boy Advance products, as Pinball of the Dead is another decent title for the handheld.
It's not a fantastic pinball simulation, but the game's table design aren't exactly simulating real pinball either, it's the continuous action that makes Pinball of the Dead a solid GBA title.
#2. Sonic Pinball Party
Release Data: Sonic Team/Sega, 2003
Genre: Action » Pinball
Sonic Pinball Party takes the familiar characters and graphics from three of Sega's most cherished franchises and uses them to create three especially satisfying pinball tables.
The inclusion of a half dozen minigames, as well as the chao virtual pet, further broadens the mass appeal for those people who might only enjoy pinball in passing.
#1. Pokemon Pinball: Ruby & Sapphire
Release Data: Jupiter Corporation/Nintendo, 2003
Genre: Action » Pinball
There are plenty of pinball games to choose from on the Game Boy Advance.
But as good as those games are, Pokemon Pinball tops the bunch with not only two well-designed tables with several point-based combos to pull off, but also with its Pokemon-collecting element; catching 200 creatures just adds a whole new level of enjoyment to the classic pinball action.
---
Browse GBA Games By Genre
See also: Best GBC Games & Best GameCube Games
Are your favorite games on the list?
Deciding which GBA pinball game is the best is no doubt a never ending topic, but it's fun to do!