We already published the list of best Xbox 360 games of all time, now it's time to discover the best Xbox 360 puzzle games of all time.
With amazing titles available, the Xbox 360 definitely has a great library of puzzle games.
So, if you're a fan of both the Xbox 360 and puzzle games, there's a chance you'll like this list.
And some of you may already know some of the games mentioned in this list.
#25. Gyromancer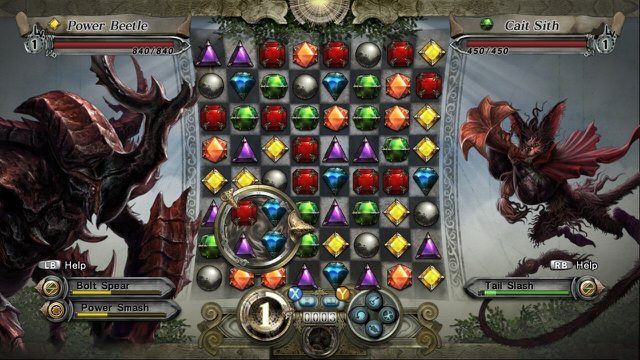 Release Data: PopCap/Square Enix, 2009
Genre: Puzzle » Matching
While the campaign could use a little tweaking and the game could certainly be a little easier on the eyes, the jewel puzzle core of the game works just about perfectly.
And like so many other PopCap games, this is one of those deceptively casual games that is easy to pick up and excruciatingly hard to put down.
#24. Hexic HD
Release Data: Carbonated Games/Microsoft Game Studios, 2005
Genre: Puzzle » General
It's hard to come up with a safer bet for a built-in game than something like Hexic HD, which offers a fun challenge that most people would enjoy.
The game puts a clever spin on the successful formula popularized by Bejeweled, which in turn was derived from Tetris.
If you like the genre, be sure to try it.
#23. Zuma's Revenge!
Release Data: PopCap, 2012
Genre: Puzzle » Action
This puzzle gameplay won't give you unlimited replay value, but is still solid enough where it'll have you coming back often at least.
A much more accessible game compared to the first thanks to unlimited retries, but still a difficult game as far as achievements are concerned.
#22. Mercury Hg
Release Data: UTV Ignition Games, 2011
Genre: Puzzle » General
It may not fulfill all of its potential, but Mercury Hg is a fun game that will give you a few hours of enjoyment and can easily be picked up by anyone in the mood for a good puzzle game.
#21. Zuma Deluxe
Release Data: Oberon Media, 2005
Genre: Puzzle » Matching
This is a good, solid matching puzzle game for the Xbox 360, all things considered.
It has a distinct look and feel and features a much more reflex-oriented design than most puzzle games do.
So if you're up for something a little more hands-on than the typical game of this sort, Zuma Deluxe will serve you well.
#20. Lumines Live!
Release Data: Q Entertainment, 2006
Genre: Puzzle » Matching
When Lumines veterans play this game, they will will blast through all of the game's skins almost immediately.
Overall, it's a quality puzzle game with a unique sense of style, and if you're willing to put up with the chunks of content that the game seems to have been sliced into, you might just get hooked on Lumines Live!.
#19. Raskulls
Release Data: Halfbrick Studios, 2010
Genre: Puzzle » Action
Raskulls offers lots of great single-player content and the option to play only your favorite parts is a fantastic bonus.
So if you're looking for a few hours of completely unique single-player and a sincerely funny experience, Raskulls might just be for you.
#18. Poker Smash
Release Data: Void Star Creations, 2008
Genre: Puzzle » General
While Poker Smash is a good game, it's not for everyone.
The unique gameplay and deep strategy make this the ultimate test of both brains and reflexes, and if you've been looking for poker with a twist, then this might be right up your alley.
#17. Lode Runner
Release Data: Southend Interactive/Tozai Games, 2009
Genre: Puzzle » Action
With 80 levels to the single-player journey, 48 for the co-op journey, and 50 puzzle stages to boot, there's certainly enough to Lode Runner to keep you busy for a while.
Overall, Lode Runner on the Xbox 360 is a testament to the enduring appeal of this innovative and challenging game.
#16. The Bridge
Release Data: The Quantum Astrophysicists Guild/Midnight City, 2013
Genre: Puzzle » Logic
Although rage-inducing difficulty spikes exist, The Bridge generally offers a middle path that should appeal both to newcomers and to expert puzzle solvers.
The game's main appeal may lie in both its unique visuals and its calming soundtrack, but the puzzles themselves are memorable set pieces worth revisiting after the first completion.
#15. The Adventures of Shuggy
Release Data: Smudged Cat Games/Valcon Games, 2011
Genre: Puzzle » General
Because each stage offers a different flavor from the one before it, the constantly cycling nature of the level designs keeps the puzzle action fun well into the adventure.
And when you get right down to it, sheer variety is what gives this puzzler some replayability and makes up for its flaws.
#14. Puzzle Quest: Galactrix
Release Data: Infinite Interactive/D3Publisher, 2009
Genre: Puzzle » Matching
Puzzle Quest: Galactrix is a whole new spin on the casual puzzle genre, mixing a space opera with the intricate workings of a complex game of match three.
The zero gravity board adds challenge and strategy, and the gameplay formula is so addictive and the quests so numerous that it is a difficult game to put down.
#13. Switchball
Release Data: Atomic Elbow/Sierra Online, 2007
Genre: Puzzle » Action
Switchball offers up a good chunk of addictive and clever content that's sure to please puzzle fans.
The challenge level is well balanced, the mechanics are solid, and the multiplayer adds replay value beyond the standard single-player stages.
It's not a game for the easily frustrated or impatient, but anyone else would do well to give it a look.
#12. Roogoo
Release Data: SpiderMonk/SouthPeak Games, 2008
Genre: Puzzle » General
Roogoo demonstrates that a very simple game doesn't have to be a shallow game.
In fact, Roogoo's simplicity is something of an asset, making the gameplay accessible to just about anyone but requiring tremendous skill to master.
Overall, Roogoo's fast-paced, challenging twist on the old falling-shapes concept is absolutely worth a look.
#11. AstroPop
Release Data: PopCap/Oberon Media, 2006
Genre: Puzzle » General
AstroPop is a charming and colorful puzzle game that mixes things up with some anime-style storytelling and even some space shooter action elements to create an original and engaging gameplay experience that will delight young and old alike for months to come.
#10. Bejeweled 3
Release Data: PopCap, 2011
Genre: Puzzle » Matching
Looking sharp and controlling well, the Xbox Live Arcade version of Bejeweled 3 is easily on par with its PC version.
And although the PC version has a slight visual edge, the addition of leaderboards and a customizable control scheme make the Xbox Live Arcade version a solid contender.
#9. Quantum Conundrum
Release Data: Airtight Games/Square Enix, 2012
Genre: Puzzle » General
Quantum Conundrum's inventive puzzles put your brain to satisfying work.
Taken in small doses, any given level in Quantum Conundrum can be a fun diversion.
In the end, it doesn't always play to its strengths, but the clever ideas and confounding brainteasers of Quantum Conundrum make it a mostly enjoyable journey.
#8. ilomilo
Release Data: Southend Interactive/Microsoft Game Studios, 2011
Genre: Puzzle » Action
While prone to feeling slow at times, Ilomilo is an undeniably well crafted title.
Most of its puzzles feel perfectly tuned, and despite the occasionally shocking controls, the amount of polish on display is something to be applauded.
Considering the game is a visual and aural delight, this is a game that deserves your attention.
#7. Puzzle Quest 2
Release Data: Infinite Interactive/D3Publisher, 2010
Genre: Puzzle » Action
The best-looking part of Puzzle Quest 2 is also its strongest element—the gem-matching puzzles themselves.
Puzzle Quest 2 is a fun experience that keeps your attention for the fifteen or so hours it takes to complete the game, and despite its RPG-lite approach, it's a game that's easy to recommend.
#6. Super Puzzle Fighter II Turbo HD Remix
Release Data: Backbone Entertainment/Capcom, 2007
Genre: Puzzle » Matching
The Super Puzzle Fighter II Turbo HD Remix does more than just gratify your sense of nostalgia.
However, it's a shame the characters didn't get a little graphical-update love, but it's hard to argue with Puzzle Fighter's gameplay.
Overall, it plays well and has enough options to keep you interested for a good amount of time.
#5. Bomberman Live
Release Data: Backbone Entertainment/Hudson Entertainment, 2007
Genre: Puzzle » Action
If you don't mean to play against other people, Bomberman Live will be a bummer.
But if you are competitive and love to have friends over for some beers and gaming, this game will give you plenty of bang for your buck.
#4. The Misadventures of P.B. Winterbottom
Release Data: The Odd Gentlemen/2K Play, 2010
Genre: Puzzle » General
The slight control problems coupled with the uneven difficulty keep this whimsical puzzle game from being something truly special, but it is still a thoroughly enjoyable game.
Overall, the vintage aesthetic gives this a charm all its own, and the clever puzzles are exceedingly rewarding to overcome.
#3. Stacking
Release Data: Double Fine Productions/THQ, 2011
Genre: Puzzle » Action
What you get is not just a game with a number of well-designed and satisfying puzzles to solve, though it certainly is that.
It's also an enchanting and imaginative world that encourages you to remember what it was like to just play around for the sheer fun of it, without being constantly focused on goals.
#2. Puzzle Quest: Challenge of the Warlords
Release Data: Infinite Interactive/D3Publisher, 2007
Genre: Puzzle » Matching
The appeal of Puzzle Quest for fans of either RPGs or puzzle games is quite obvious, but what's most remarkable about Puzzle Quest is how a simple change of context turns some tired genre conventions into something suitable for just about anyone, regardless of your interest in the components.
#1. Peggle
Release Data: PopCap, 2009
Genre: Puzzle » Action
Peggle is a game that requires you to think, use different angles and timing to complete the game.
It is a game that makes you sit back and rethink those strategies.
But most importantly, it is a game that is extremely fun and addictive.
You won't find a better puzzle game on the Xbox 360.
---
Browse Xbox 360 Games By Genre
See also: Best Original Xbox Games & Best Xbox One Games
Are your favorite games on the list?
Deciding which Xbox 360 puzzle game is the best is no doubt a never ending topic, but it's fun to do!