We already published the list of best Dreamcast games of all time, now it's time to discover the best Dreamcast survival/horror games of all time.
With amazing titles available, the Dreamcast definitely has a great library of survival/horror games.
So, if you're a fan of both the Dreamcast and survival/horror games, there's a chance you'll like this list.
And some of you may already know some of the games mentioned in this list.
#10. D2
Release Data: WARP, 2000
Genre: Action Adventure » Survival
Taken in pieces, the game has an excellent interface, a number of innovative gameplay features, and enough variety to satisfy even the most jaded gamer.
And with a great story, uniquely mature visuals, and a glowing soundtrack, D2 is a game to be highly recommended.
#9. Blue Stinger
Release Data: Climax Entertainment/Activision, 1999
Genre: Action Adventure » Survival
Blue Stinger has great visuals, great music, brilliant creature design, varied gameplay, incredible boss encounters, and deep puzzles, making the experience enjoyable, to say the least.
While it may disappoint Resident Evil fans, Dreamcast newcomers looking for an adventure fix on their console should be pleased.
#8. Carrier
Release Data: Jaleco Entertainment, 2000
Genre: Action Adventure » Survival
Overall, Carrier isn't an awful game, and it really does manage to grow on you after a while, but it definitely has problems.
It's worth having if you're an absolute survival-horror nut, but otherwise you might want to look into it as a casual session.
#7. Dino Crisis
Release Data: Capcom, 2000
Genre: Action Adventure » Survival
All in all, Dino Crisis is a wonderful game.
Choosing to create a survival horror game using dinosaurs was a brilliant move by Capcom, as Dino Crisis has sparked a lot of attention to the already popular genre.
With its great storyline and impressive gameplay, it's no wonder why Dino Crisis is such an attention-grabber.
#6. Alone in the Dark: The New Nightmare
Release Data: Darkworks/Infogrames, 2001
Genre: Action Adventure » Survival
Dreamcast owners who are fans of the genre will instantly feel at home with this game.
While there are better games available for the console, the game is sure to please just about any gamer willing to take the plunge into this well-saturated genre.
On the whole, it is a solid, playable game that offers many hours of enjoyment.
#5. Shadow Man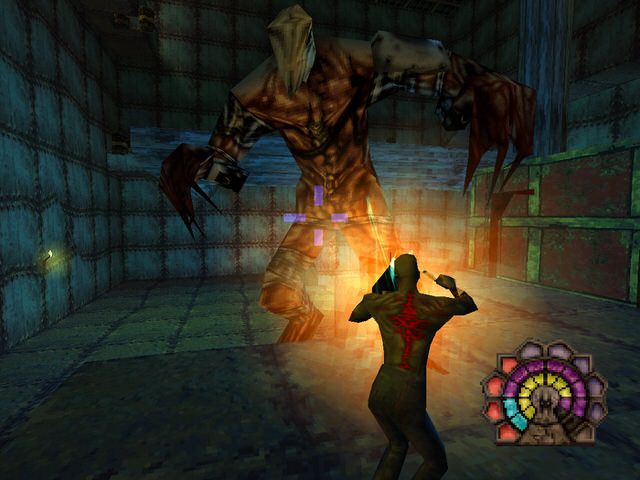 Release Data: Acclaim Studios Teeside/Acclaim, 1999
Genre: Action Adventure » Survival
All in all, Shadow Man is a welcome addition to the Dreamcast's library of games that fills a void in the Dreamcast action-adventure genre.
Easily the best console version of this survival-horror title, fans of dark storytelling and action-adventure fans alike will find a lot to praise here.
#4. Resident Evil 2
Release Data: Capcom, 2000
Genre: Action Adventure » Survival
If you haven't actually play Resident Evil 2, this is most likely the best version you can have.
All the pros and cons of the series are maintained here, and the Dreamcast hardware doesn't do anything to add or detract from the game.
Resident Evil 2 has always been a great game, and this is no exception.
#3. Resident Evil 3: Nemesis
Release Data: Capcom, 2000
Genre: Action Adventure » Survival
Resident Evil 3 Nemesis remains a very worthwhile game even though not much has been added to the port.
If you've already played the original, there's little reason to pick this one up, but if you haven't, you should.
While Resident Evil 3 Nemesis may not be the definitive product in the Resident Evil series, it's still a very good game.
#2. Legacy of Kain: Soul Reaver
Release Data: Nixxes Software/Eidos Interactive, 2000
Genre: Action Adventure » Survival
While Shadow Man has terrifically-disturbing images and stories worthy of awards and accolades, Legacy of Kain takes everything that makes the horror genre compelling and improves on it in nearly every way.
Some flaws aside, Kain is easily a favorite, and is a great choice for your growing collection.
#1. Resident Evil Code: Veronica
Release Data: NexTech/Capcom, 2000
Genre: Action Adventure » Survival
In the end, Resident Evil – Code: Veronica is the best game in the series, thanks to features like dynamic real-time camera angles, a wonderful linear story, and some of the best graphics seen on the Dreamcast.
To call it a must-own game is a definite understatement.
---
Browse Dreamcast Games By Genre
See also: Best Saturn Games & Best Gaming Chairs
Are your favorite games on the list?
Deciding which Dreamcast survival/horror game is the best is no doubt a never ending topic, but it's fun to do!