We already published the list of best Dreamcast games of all time, now it's time to discover the best Dreamcast puzzle games of all time.
With amazing titles available, the Dreamcast definitely has a great library of puzzle games.
So, if you're a fan of both the Dreamcast and puzzle games, there's a chance you'll like this list.
And some of you may already know some of the games mentioned in this list.
#5. Bust-A-Move 4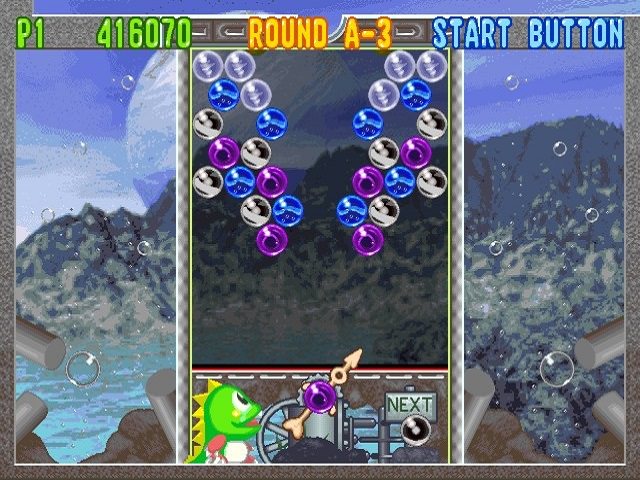 Release Data: Taito Corporation/Acclaim, 2000
Genre: Puzzle » Matching
The Dreamcast has a few solid puzzle games, but Bust-A-Move 4 is neither a new breed nor a game that will push the power of your Dreamcast to impressive new levels.
It is, however, exactly what most puzzle fans are looking for: a fun, value-packed addictive experience that looks as good as perhaps a puzzle game can or should.
#4. Sega Swirl
Release Data: Tremor Entertainment/Sega, 2000
Genre: Puzzle » Matching
The premise behind Swirl is actually very simple; clear a board of different colored swirling blocks and move on to the next level.
While it may not be the greatest puzzle game of all time, there is plenty here that will keep you busy.
Relaxing and a breeze to play, you can't go wrong with this little game.
#3. Mr. Driller
Release Data: Namco, 2000
Genre: Puzzle » Action
Overall Mr. Driller is the ideal pick up and play title for arcade junkies and puzzle fans.
The easy to learn gameplay is difficult to master and there is enough here to keep you coming back for more.
If you have any interest at all, pick it up and let the time waste away.
#2. Bomberman Online
Release Data: h.a.n.d. Inc./Sega, 2001
Genre: Puzzle » Action
If you're new to the series, Bomberman Online is a fine introduction to an explosive party game and performs admirably despite the poor titles that have come recently before it.
The control is spot-on, there are no perspective issues, and while the background music is a bit repetitive, the audio presentation isn't half bad.
#1. ChuChu Rocket!
Release Data: Sonic Team/Sega, 2000
Genre: Puzzle » General
This is not a very challenging game, but it is one of the more challenging puzzle games out there.
The simple fact that the game moves so fast and the fact that you have to make split second decisions about where to put your puzzle pieces and arrows adds to the challenge of the game.
---
Browse Dreamcast Games By Genre
See also: Best Saturn Games & Best Gaming Chairs
Are your favorite games on the list?
Deciding which Dreamcast puzzle game is the best is no doubt a never ending topic, but it's fun to do!