We already published the list of best Dreamcast games of all time, now it's time to discover the best Dreamcast simulation games of all time.
With amazing titles available, the Dreamcast definitely has a great library of simulation games.
So, if you're a fan of both the Dreamcast and simulation games, there's a chance you'll like this list.
And some of you may already know some of the games mentioned in this list.
#10. AirForce Delta
Release Data: KCE Studios/Konami, 1999
Genre: Simulation » Flight » Combat
The wide array of missions keeps the game interesting, and the briefings manage to move the story along without bogging the game down.
Just read the briefing, buy a plane or two, and start shooting. And sometimes, that's all you really need.
If you're looking for an epic storyline in your air combat games, then look to other games.
#9. Deep Fighter
Release Data: Criterion Games/Ubisoft, 2000
Genre: Simulation » Marine » Combat
While Deep Fighter isn't destined for any awards, the game's intriguing storyline, solid gameplay, and sharp graphics are certainly a winning combination that definitely makes playing it a pleasurable experience.
If you're looking for a unique Dreamcast game, Deep Fighter is certainly one of the best offbeat Dreamcast games out there.
#8. AeroWings 2: Air Strike
Release Data: CRI, 2000
Genre: Simulation » Flight » Combat
With its newbie-friendly approach, surprising depth, and great two player game, this game is not only better than its predecessor, it's a great game overall.
While it's not a must-own for everyone, anyone with even a minor interest in jet fighting will want to check this out.
#7. Iron Aces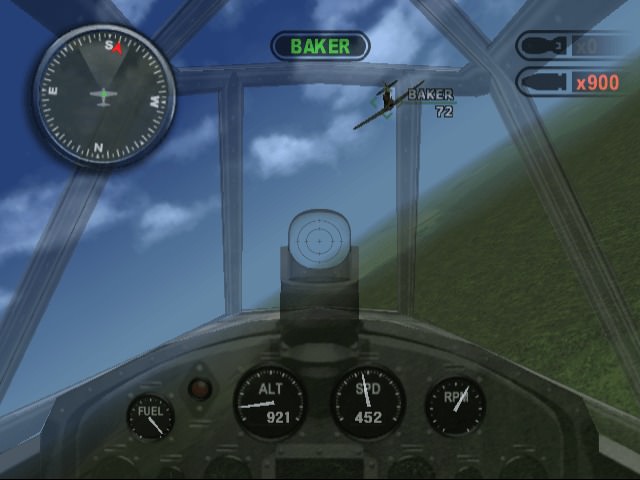 Release Data: Marionette/Xicat Interactive, 2001
Genre: Simulation » Flight » Combat
Though the visuals aren't very impressive, for a flight-sim type game, Iron Aces isn't that bad, and flight-sim fans will probably enjoy the varied missions, numerous selectable aircraft, and solid play mechanics.
There's even a two-player versus mode that doesn't seem to have any noticeable visual setbacks.
For those looking for some WWII dog-fighting action, Iron Aces will do.
#6. AeroWings
Release Data: CRI, 1999
Genre: Simulation » Flight » Combat
AeroWings is certainly a quality game, with little to diminish its worth and value.
Like Pilotwings 64, Aero Wings has realistic physics, and offers an authentic flying experience. Also like Pilotwings 64, Aero Wings is riding the fence between interesting and boring.
If that's your taste, then this game should suit you just fine.
#5. Gundam Side Story 0079: Rise from the Ashes
Release Data: Bandai, 2000
Genre: Simulation » Vehicle » Combat
First of all, this isn't a title designed exclusively for Gundam fanatics.
Bandai could've certainly had a larger hit on their hands if they'd made the game longer and maybe fixed some of the awkward control issues, but it's still recommended that you pick up the game and give it a go.
#4. Red Dog: Superior Firepower
Release Data: Argonaut Games/Crave, 2000
Genre: Simulation » Vehicle » Combat
With its complex control scheme and crazy level design, a lot of players will give up on this game because of the high learning curve.
However, if you can master the driving techniques, coordinate your driving and shooting accuracy, and look past a few dated visuals, Red Dog can be a lot of fun, especially in multiplayer modes.
#3. StarLancer
Release Data: Digital Anvil/Crave, 2000
Genre: Simulation » Space » Combat
Ultimately, StarLancer is just a port but it's a really great port.
The title offers a pretty engaging story, some thrilling gameplay and dresses it all up with some very attractive graphics that make it a title to definitely consider if you're at all into the genre.
#2. Vigilante 8: 2nd Offense
Release Data: Luxoflux, Inc./Syscom, 1999
Genre: Simulation » Vehicle » Combat
Combining the fantastic audio from the PlayStation version, the four-player mode offered on the N64, and the graphical advances of the Dreamcast, this version of Vigilante 8: 2nd Offense is clearly the best.
The level design has many improvements over earlier iterations, with even more interactive elements, a wider variety of environments, and a greater number of hidden areas.
#1. Seaman
Release Data: Vivarium, 2000
Genre: Simulation » Virtual » Pet
Visual issues aside, Seaman is a good game, provided you don't burn yourself out on it.
If you haven't got an hour a day over the course of six weeks to invest, Seaman's gameplay may seem boring and unoriginal.
However, the voice recognition aspect is innovative and does much to alleviate these issues.
---
Browse Dreamcast Games By Genre
See also: Best Saturn Games & Best Gaming Chairs
Are your favorite games on the list?
Deciding which Dreamcast simulation game is the best is no doubt a never ending topic, but it's fun to do!