We already published the list of best GameCube games of all time, now it's time to discover the best GameCube fighting games of all time.
With amazing titles available, the GameCube definitely has a great library of fighting games.
So, if you're a fan of both the GameCube and fighting games, there's a chance you'll like this list.
And some of you may already know some of the games mentioned in this list.
#10. Godzilla: Destroy All Monsters Melee
Release Data: Pipeworks Software, Inc./Infogrames, 2002
Genre: Action » Fighting » 3D
It'll definitely get the job done if you and people you know are fans of the classic films, and it makes a decent party game in any context, though the pacing isn't quite as quick as you might like.
And if it makes you feel any better, Godzilla: Destroy All Monsters Melee is actually the best Godzilla game to date.
#9. DreamWorks Shrek SuperSlam
Release Data: Shaba Games/Activision, 2005
Genre: Action » Fighting » 3D
Shrek SuperSlam is a good game for younger people and fans of the movies.
It's simple, easy entertainment that isn't at all demanding or convoluted.
The characters retain the same great charm from the movies, and there are even funny moments in some of the cutscenes.
#8. One Piece: Grand Adventure
Release Data: Ganbarion/Namco Bandai Games, 2006
Genre: Action » Fighting » 3D
If you're a fan of the One Piece franchise, Grand Adventure is simply a no-brainer.
The amount of depth and entertainment found in this seemingly tame fighter is just amazing, and even if you've already gotten your fill from One Piece: Grand Battle, there's still enough extra content to make this one worth your money.
#7. Naruto: Clash of Ninja 2
Release Data: 8ing/Raizing/Tomy Corporation, 2006
Genre: Action » Fighting » 3D
Clash of Ninja 2 is slightly more fleshed out than its predecessor, but the few updates and changes do little to negate the sensation of sameness that the game exudes.
It ultimately makes this technically superior sequel a little bit harder to recommend than the original, especially when you consider the close proximity of the two releases.
#6. Bloody Roar: Primal Fury
Release Data: Eighting/Raizing/Activision, 2002
Genre: Action » Fighting » 3D
Overall, Bloody Roar: Primal Fury isn't as good as any of the installments in the major 3D fighting game series, though it's totally competent and quite appealing in some ways.
It's a fine way to show off your GameCube and a fine way to kill some time, especially if you've got some friends around who'd be willing to try it.
#5. Mortal Kombat: Deception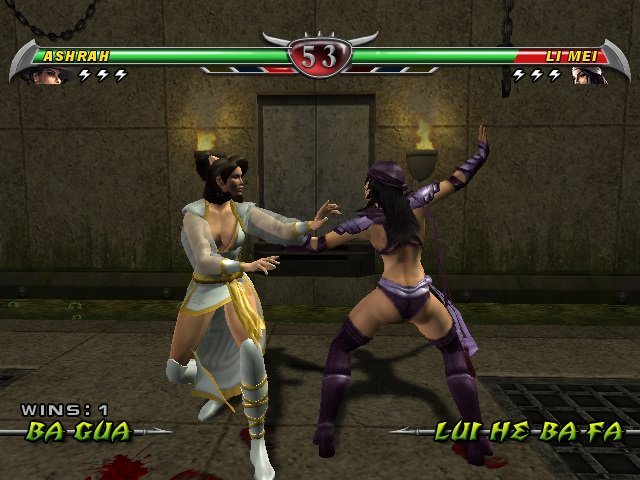 Release Data: Midway, 2005
Genre: Action » Fighting » 3D
Deception is best suited for the series' fans, especially those who liked Deadly Alliance.
The thing is, many of these players have already experienced the game on other platforms, though hardcore devotees might want to find the means to check this version out just to see Goro and Shao Kahn.
#4. Mortal Kombat: Deadly Alliance
Release Data: Midway, 2002
Genre: Action » Fighting » 3D
Deadly Alliance is a 3D fighter that doesn't fall into the same trap that some other games have fallen into when making the 2D-to-3D transition.
It is an unusual fighting game that does a great job of balancing the classic Mortal Kombat style with enough new additions to draw in people who aren't completely familiar with the series.
#3. Def Jam: Fight for NY
Release Data: Aki Corp./Electronic Arts, 2004
Genre: Action » Fighting » 3D
Def Jam: Fight for NY is a great sequel.
What worked in Def Jam Vendetta has been expanded and improved upon in almost every way, and the new story mode is simply a joy to play.
If you like wrestling games, fighting games, or even just the world of hip-hop, Def Jam: Fight for NY is a game well worth owning.
#2. Super Smash Bros. Melee
Release Data: HAL Labs/Nintendo, 2001
Genre: Action » Fighting » 2D
This exciting exclusive doubles as both a fighting game and a party game, as it is easy-to-learn but has tons of complex techniques to discover.
Players can battle it out in a variety of fun modes, including a handful of single-player and multiplayer modes.
If you're a fan of Mario or fighting games, this is a game you must own.
#1. SoulCalibur II
Release Data: Namco/Nintendo, 2003
Genre: Action » Fighting » 3D
This fighting game series brings more than simple fighting into the mix, as each character has a signature blade or weapon to utilize.
In addition to the dozen-plus characters, the GameCube version contains the exclusive character Link from the Zelda series.
Whether you're a newbie to the genre or a seasoned veteran, this is one fighting game you shouldn't miss.
---
Browse GameCube Games By Genre
See also: Best GBA Games & Best DS Games
Are your favorite games on the list?
Deciding which GameCube fighting game is the best is no doubt a never ending topic, but it's fun to do!