We already published the list of best N64 games of all time, now it's time to discover the best N64 casual games of all time.
With amazing titles like the Mario Party series, Midway's Greatest Arcade Hits Volume 1, and Namco Museum 64, the N64 surely have a great collection of casual games.
If you're a fan of both N64 and casual games, there's a chance you'll like this list.
Most of you will recognize (or even still play) some of the games mentioned on this list.
Browse Games By Genre
See also: Best SNES Games & Best GBC Games
#5. Midway's Greatest Arcade Hits Volume 1
Release Data: Digital Eclipse/Midway, 2000
Genre: Casual » Compilation
At the end of the day this game does offer up six spectacular classics nearly intact and in one or two cases actually takes advantage of the Nintendo 64's controller too.
If you're dying to get your hands on the oldies but goodies, this game might just be a wise one.
#4. Namco Museum 64
Release Data: Mass Media/Namco, 1999
Genre: Casual » Compilation
The graphics and sound in the games are, of course, incredibly dated by today's standards, but, nonetheless, all remain almost as addictive today as when they first came out.
It's likely that you'll find at least one game among the six that will make the collection worth picking up for you, making this a classic compilation to recommend.
#3. Mario Party 3
Release Data: Hudson/Nintendo, 2001
Genre: Casual » Party / Minigame
While pure innovation may not be king in the Mario Party world, Hudson's dedication to solid, addictive puzzle gaming that makes for an enjoyable multiplayer experience is apparent.
Mario Party 3 is fun, different enough from the early games due to the duel mode, and full of enough value, even if you played the other two.
#2. Mario Party 2
Release Data: Hudson/Nintendo, 2000
Genre: Casual » Party / Minigame
There's just something about the simple fun of Mario Party 2 that makes it so difficult to put down at times.
The game tends to be bland as a single-player experience, but if you can round up some additional players—and that's what this game is all about anyway—you're likely to get far more out of the game.
#1. Mario Party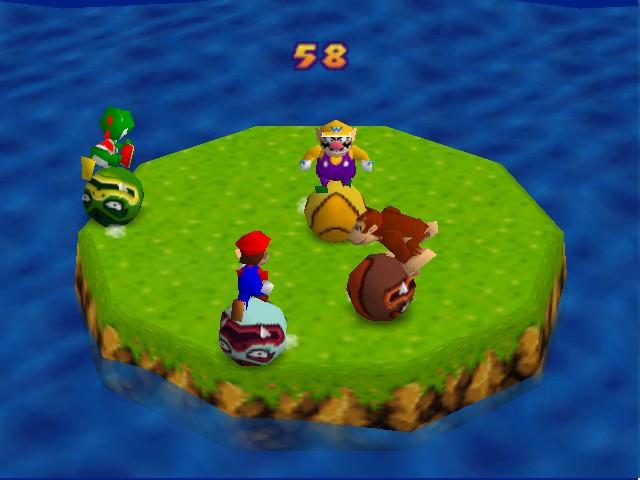 Release Data: Hudson/Nintendo, 1999
Genre: Casual » Party / Minigame
Really, it's that multiplayer competitive spark of screaming at your friends that injects life into these mini games, and without it, they're just mini games.
Mario Party is intended to be played with a group of friends, and for those people who can really take advantage of that, this game is a must-have.
---
Are your favorite games on the list?
Deciding the best N64 casual game is no doubt a little bit late since the console itself has been around for more than two decades, but thanks to its hardcore fans, it's still being discussed!