We already published the list of best N64 games of all time, now it's time to discover the best N64 action-adventure games of all time.
With amazing titles available, the N64 definitely has a great library of action-adventure games.
So, if you're a fan of both the N64 and action-adventure games, there's a chance you'll like this list.
And some of you may already know some of the games mentioned in this list.
#10. Nightmare Creatures
Release Data: Kalisto/Activision, 1998
Genre: Action Adventure » Survival
This title is a port of a game that doesn't make all the mistakes the original did, and it makes the title much easier to recommend.
Nightmare Creatures still isn't a perfect game, but it now has enough going for it to be worth the time it takes to explore its dark, spooky world.
#9. Indiana Jones and the Infernal Machine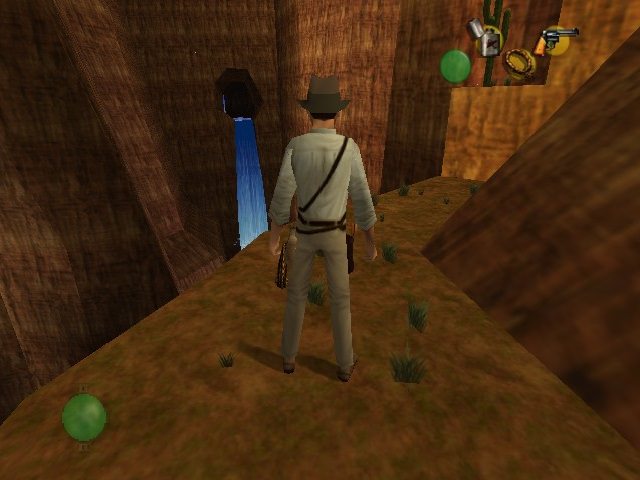 Release Data: Factor 5/LucasArts, 2000
Genre: Action Adventure » Linear
Indiana Jones and the Infernal Machine is a big game, to be sure, with enough levels to keep you busy over a three-day gaming session.
The puzzles within them aren't very original or entertaining, but seeing that this is the only Tomb Raider-style game to come to the Nintendo 64, it deserves at least a little space.
#8. Mission: Impossible
Release Data: Infogrames/Ocean, 1998
Genre: Action Adventure » General
Mission: Impossible is a very inconsistent game—some levels are great, and some just aren't any fun at all.
But overall, most of the game is challenging and fun.
Anyone who enjoyed the spy aspect of GoldenEye, with the gadgets and the sneaking around, should definitely give Mission: Impossible a try.
#7. Shadow Man
Release Data: Acclaim Studios Teeside/Acclaim, 1999
Genre: Action Adventure » Survival
Thanks to the sprawling levels, this game delivers plenty of multiple endings and opportunity for exploration, which is a huge plus in terms of value.
Shadow Man embodies the spirit of solid-gold game design: a worthwhile, captivating storyline; gameplay that lets you choose your own path; and tons of hidden areas to discover.
#6. Star Wars: Shadows of the Empire
Release Data: LucasArts/Nintendo, 1996
Genre: Action Adventure » General
What's strange about Shadows of the Empire is that the game is compelling enough for most gamers to want to play until the end.
But not because it gets better, but because the Star Wars universe itself is so fantastic.
If you like Star Wars, you'll like this, but if you like games, you're in for a bit of disappointment.
#5. Mystical Ninja starring Goemon
Release Data: KCEO/Konami, 1998
Genre: Action Adventure » Open-World
Mystical Ninja stands out from the rest of the N64 library as something with its own truly unique flavour.
Sure, it's not the longest or hardest adventure game ever and the camera could be more refined, but you'll want to come back and play it again and again.
#4. Spider-Man
Release Data: Edge of Reality/Activision, 2000
Genre: Action Adventure » General
Fans of the long-running comic series and players in search of the ever-elusive novel game would do themselves a favor by checking out Spider-Man for the N64.
Though the game isn't perfect, it is a wonderful accomplishment on the part of the developers, and it is simply very fun to play.
#3. Resident Evil 2
Release Data: Angel Studios/Capcom, 1999
Genre: Action Adventure » Survival
A huge improvement over the first title, Resident Evil 2 succeeds in making you feel as though you're in the middle of a horror film—one in which you'll jump many, many times.
And for N64 owners who haven't tried it yet, it's an absolute must-have.
#2. The Legend of Zelda: Majora's Mask
Release Data: Nintendo, 2000
Genre: Action Adventure » Open-World
Many would argue that this title is superior to Ocarina of Time in almost every way, and that it rightly deserves to be regarded as the pinnacle of the series instead.
As such, if you haven't played this game, you're missing out on a truly amazing experience.
#1. The Legend of Zelda: Ocarina of Time
Release Data: Nintendo, 1998
Genre: Action Adventure » Open-World
The game takes everything that was great about the Zelda series and somehow manages to bring it all into a 3D world.
In short, Ocarina of Time is honestly as close to video game perfection as you can get and an absolute must-play for any video game fan.
---
Browse N64 Games By Genre
See also: Best SNES Games & Best GBC Games
Are your favorite games on the list?
Deciding which N64 action-adventure game is the best is no doubt a never ending topic, but it's fun to do!