We already published the list of best N-Gage games of all time, now it's time to discover the best N-Gage individual sports games of all time.
With amazing titles available, the N-Gage definitely has a great library of individual sports games.
So, if you're a fan of both the N-Gage and individual sports games, there's a chance you'll like this list.
And some of you may already know some of the games mentioned in this list.
#5. Virtua Tennis
Release Data: Hitmaker/Sega, 2003
Genre: Sports » Individual » Tennis
Virtua Tennis could have been a great game, but it unfortunately doesn't make the cut due to its snail's pace gameplay and stripped down game modes.
If you just have to have a tennis game for your N-Gage, make sure you have someone to play with in multiplayer mode because playing against the computer is boring.
#4. WWE Aftershock
Release Data: Exient Entertainment/Nokia, 2005
Genre: Sports » Individual » Combat » Wrestling
To summarize, this game plays decently, but doesn't give you much of a mode to keep you playing.
The Bluetooth multiplayer could rope in those with N-Gage-owning friends, however.
The graphics isn't the most attractive, but the music rocks. At least it's somewhat better than most handheld wrestling games.
#3. SSX Out of Bounds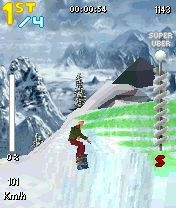 Release Data: EA Sports Big/Nokia, 2005
Genre: Sports » Individual » Ski / Snowboard
SSX: Out of Bounds has good intentions, but it's just shy of being good enough to recommend.
If you're willing to suffer the frame rate problems and the poor draw distance, there's enough of the SSX spirit in Out of Bounds to provide some fun.
#2. Tiger Woods PGA Tour 2004
Release Data: Backbone Emeryville/EA Sports, 2004
Genre: Sports » Individual » Golf » Sim
There are portable golf games with greater depth and a wider variety of options, but as the only golf game yet to arrive on the N-Gage, Tiger Woods is good enough.
The shining feature in Tiger Woods—namely, the online play—also leaves room for improvement, but it's all a step in the right direction.
#1. Tony Hawk's Pro Skater
Release Data: Neversoft Entertainment/Nokia, 2003
Genre: Sports » Individual » Skate / Skateboard
Tony Hawk's Pro Skater comes as a much needed addition to the N-Gage's library of games.
It is without a doubt one of the N-Gage's finest games so far, and also one of the most accurate portable recreations of the original PlayStation classic.
---
Browse N-Gage Games By Genre
See also: Best Gaming Chairs & Best Gaming Room Accessories
Are your favorite games on the list?
Deciding which N-Gage individual sports game is the best is no doubt a never ending topic, but it's fun to do!