The N-Gage is a phenomenal phone released by Nokia to compete with the Game Boy Advance.
With so many popular titles, the N-Gage offers you great games that can be played on a phone.
For those of you who owned this remarkable device in the past, I bet you want to know the best N-Gage games of all time.
And some of you may already know some of the games mentioned in this list.
#25. MotoGP
Release Data: THQ, 2003
Genre: Racing » Simulation » Automobile
At any rate, MotoGP for the N-Gage is not a great racing game any way you look at it.
Aside from multiplayer and the simple track editor, there is little excitement to be found due to its lack of variety, poor sense of speed and frustrating controls.
#24. MLB Slam!
Release Data: THQ, 2003
Genre: Sports » Team » Baseball » Sim
MLB Slam! has a solid foundation, but it's the lack of care from a technical and performance perspective that really holds it back.
There is some enjoyment to be had when the frame-rate manages to keeps itself steady, but in a sport built on quick reactions the last thing you need is to be fighting against the game engine.
#23. Virtua Tennis
Release Data: Hitmaker/Sega, 2003
Genre: Sports » Individual » Tennis
Virtua Tennis could have been a great game, but it unfortunately doesn't make the cut due to its snail's pace gameplay and stripped down game modes.
If you just have to have a tennis game for your N-Gage, make sure you have someone to play with in multiplayer mode because playing against the computer is boring.
#22. Puyo Pop
Release Data: Sega, 2003
Genre: Puzzle » Matching
Sega supplies the puzzle action here, with a version of its long-running Puyo Puyo series called Puyo Pop.
While the game provides a competent take on Tetris-like gameplay, the presentation and no-frills approach to the game leave a lot to be desired.
If you're an N-Gage owner in need of a portable puzzle game, Puyo Pop is your best bet.
#21. Spider-Man 2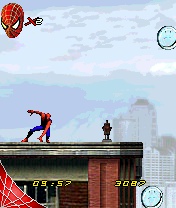 Release Data: Digital Eclipse/Activision, 2004
Genre: Action » Platformer » 2D
Despite the number of complaints this game received, Spider-Man 2 does provide N-Gage owners with a platformer title fix that is not horrible.
If you own an N-Gage, Spider-Man 2 is a decent title—just lower any expectations you have coming off the superior console version.
#20. Tomb Raider (2003)
Release Data: Ideaworks3D/Nokia, 2003
Genre: Action Adventure » General
Tomb Raider would primarily appeal to fans of the original game in the series.
This version of Tomb Raider is indeed an accurate reflection of the original look and feel of Tomb Raider, for the most part.
Fans of the original who want to relive the title in handheld form will enjoy this piece of gaming history gone portable.
#19. The Elder Scrolls Travels: Shadowkey
Release Data: Vir2L Studios/Nokia, 2004
Genre: Role-Playing » Western-Style
The game is structured around missions and jobs you receive from characters in the game.
Some will require you to kill a certain person or creature, while others will require you to find a certain item.
As you progress through the game you will acquire more powerful equipment and spells to accomplish more difficult goals as you travel to new areas.
#18. Red Faction
Release Data: Monkeystone/THQ, 2003
Genre: Action » Shooter » First-Person » Arcade
Red Faction delivers one of the most satisfying single and multiplayer gaming experiences on the N-Gage in addition to being one of the most impressive first-person-shooters made portable.
The only thing holding it back from being a must-buy is its touchy controls, and slightly steep learning curve.
#17. SonicN
Release Data: Sonic Team/Sega, 2003
Genre: Action » Platformer » 2D
SonicN is a great game that ultimately may be impossible to fully enjoy with the limitations of the N-Gage's screen ratio.
In the end, there's a good game buried underneath SonicN's multiple technical shortcomings, but it's buried too deep to find.
#16. Pandemonium!
Release Data: Ideaworks3D/Eidos Interactive, 2003
Genre: Action » Platformer » 3D
Pandemonium is one of the first games to come out for the N-Gage.
It didn't exactly set the world on fire when it was originally released, and the N-Gage version certainly won't get things blazing years later.
While the multiplayer is an interesting addition, the basic gameplay and blurry graphics make this game reserved to diehard fans only.
#15. Ashen
Release Data: Torus Games/Nokia, 2004
Genre: Action » Shooter » First-Person » Arcade
On its own terms, Ashen is really not a bad game.
Furthermore, when Ashen is compared with Red Faction, Ashen is definitely a more appealing alternative.
All in all, Ashen is an impressive and engrossing FPS and it's definitely one of the main reasons to own a Nokia N-Gage.
#14. Super Monkey Ball
Release Data: Amusement Vision/Sega, 2003
Genre: Casual » Party / Minigame
Super Monkey Ball is an ideal handheld game to dip in-and-out of, and despite its shortcomings this N-Gage port is very playable.
The level design is top-notch with a perfect degree of difficulty, and overall it has an addictive charm that's impossible to resist.
#13. SSX Out of Bounds
Release Data: EA Sports Big/Nokia, 2005
Genre: Sports » Individual » Ski / Snowboard
SSX: Out of Bounds has good intentions, but it's just shy of being good enough to recommend.
If you're willing to suffer the frame rate problems and the poor draw distance, there's enough of the SSX spirit in Out of Bounds to provide some fun.
#12. The King of Fighters Extreme
Release Data: Hudson/Nokia, 2005
Genre: Action » Fighting » 2D
The King of Fighters Extreme is a good game that noticeably could have been better.
If you've got an N-Gage and enjoy the King of Fighters series, or if you've ever liked 2D fighting games in the past and you want to have such a game in your pocket, then The King of Fighters Extreme is worthwhile.
#11. Tom Clancy's Splinter Cell Team Stealth Action
Release Data: Gameloft, 2003
Genre: Action Adventure » General
Translating the excitement of stealth action to a two-dimensional setting is an ambitious task, and Splinter Cell Team Stealth Action does a solid job for the most part.
It can be quite frustrating at times with its trial-and-error gameplay and the N-Gage's stifling screen-size, but where it really shines is in its ever-changing gameplay and great multiplayer modes.
#10. Tiger Woods PGA Tour 2004
Release Data: Backbone Emeryville/EA Sports, 2004
Genre: Sports » Individual » Golf » Sim
There are portable golf games with greater depth and a wider variety of options, but as the only golf game yet to arrive on the N-Gage, Tiger Woods is good enough.
The shining feature in Tiger Woods—namely, the online play—also leaves room for improvement, but it's all a step in the right direction.
#9. Pocket Kingdom: Own the World
Release Data: Sega/Nokia, 2004
Genre: Role-Playing » Massively Multiplayer
It's not revolutionary, it's not graphically advanced, nor does it offer a new type of gameplay.
What it gives you is a different take on a genre that hasn't been promoted as much as it was in the late 90s.
Being different can make an RPG go either way, but with Pocket Kingdom, Sega hit the bull's eye.
#8. X-Men Legends
Release Data: Barking Lizards/Nokia, 2005
Genre: Role-Playing » Action RPG
This game feels more complete and playable than all but a handful of N-Gage titles, and provides a fairly lengthy adventure to boot.
The game's excellent Bluetooth support also adds a lot of depth and value to the package, making this a great title if you tend to game with your friends.
#7. Tony Hawk's Pro Skater
Release Data: Neversoft Entertainment/Nokia, 2003
Genre: Sports » Individual » Skate / Skateboard
Tony Hawk's Pro Skater comes as a much needed addition to the N-Gage's library of games.
It is without a doubt one of the N-Gage's finest games so far, and also one of the most accurate portable recreations of the original PlayStation classic.
#6. The Sims Bustin' Out
Release Data: Ideaworks3D/EA Games, 2004
Genre: Simulation » Virtual » Virtual Life
It's pretty low-key and doesn't rely on a lot of twitchy-action gameplay mechanics, which is perfect for the N-Gage.
Certain aspects of the gameplay can become a little tedious over time, and the game could've benefited from a slightly cleaner presentation, but there's really nothing like it on the N-Gage, and it's still good fun, despite its shortcomings.
#5. Worms World Party
Release Data: Paragon 5/Nokia, 2005
Genre: Strategy » Turn-Based » Artillery
There's no question that this game offers a well-rendered Worms experience on the N-Gage.
The best reason to pick it up is if you have the opportunity to play using Bluetooth against multiple friends, or if you'd like to take your Worms with you.
This title might not be flawless, but it manages to be quite fun all the same.
#4. Glimmerati
Release Data: Bugbear/Nokia, 2005
Genre: Racing » General
Glimmerati is probably a game that every N-Gage owner should buy, unless they're seriously lame.
The lighthearted material is pure fluff, but it's also entertaining in a goofy sort of way, and the racing gameplay is enjoyable.
Glimmerati may not let you feel the leather seats or taste the champagne, but it's a great approximation.
#3. Tom Clancy's Ghost Recon: Jungle Storm
Release Data: Gameloft, 2004
Genre: Action » Shooter » First-Person » Tactical
Tom Clancy's Ghost Recon: Jungle Storm is a highly polished title that successfully translates the series to the smaller screen.
Each mission is a joy to play thanks to the superb control scheme and compelling objectives, and the only real criticism is that there's not more content to keep you playing beyond a couple of hours.
#2. Tom Clancy's Splinter Cell: Chaos Theory
Release Data: Gameloft/Nokia, 2005
Genre: Action Adventure » General
In short, Tom Clancy's Splinter Cell Chaos Theory is the best action-adventure game for the N-Gage.
Considering the overall quality of the N-Gage library, that isn't exactly a difficult task, but if you're still out there on the hunt for a great game for the N-Gage, this is one game you can't afford to be without.
#1. Pathway to Glory
Release Data: RedLynx/Nokia, 2004
Genre: Strategy » Turn-Based » Tactics
Pathway to Glory stands out immediately by being one of the few games specifically developed for the N-Gage that was designed to cater to the strengths of the device.
And with presentation and execution rivaling that of its PC influences, Pathway to Glory is a turn-based strategy game that stands out as the best the N-Gage has to offer.
---
Browse N-Gage Games By Genre
See also: Best Gaming Chairs & Best Gaming Room Accessories
Are your favorite games on the list?
Deciding which N-Gage game is the best is no doubt a never ending topic, but it's fun to do!